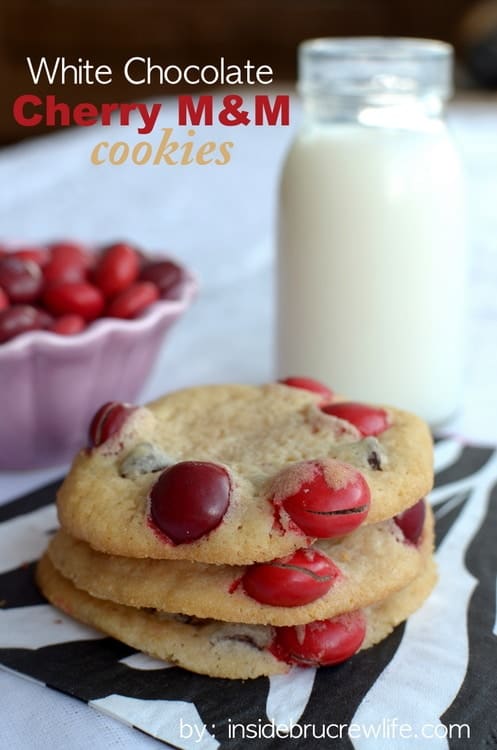 There are always some serious sugar cravings going on at my house.
It doesn't help that there is usually some sort
of baked good sitting on the cupboard or in the fridge
tempting us to dive right in.
Hello, White Chocolate Cherry M&M Cookies staring me down.
I have been trying really hard to watch what I am eating...
usually just by watching it go into my mouth:-)
It doesn't help when they come out with delicious Cherry M&M's.
After 3 bags, I had to cut myself off...
NO MORE CHERRY M&M'S for this girl!!!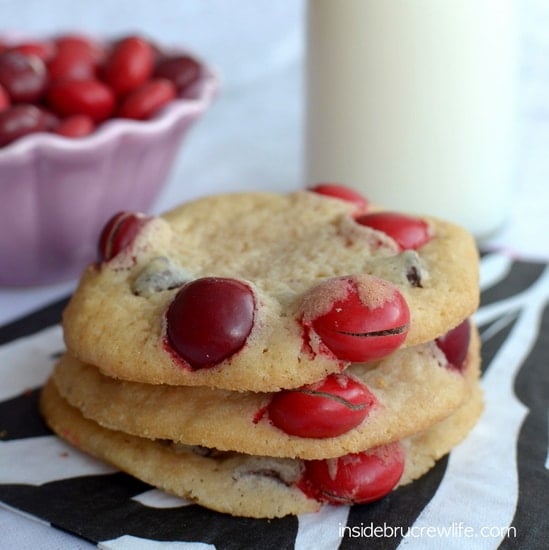 Good thing for kid's lunches and for friends that help
eat all the goodies that I feel the need to bake.
I would hate to give up baking
and bonding with my Kitchen Aid
just because I am trying to eat less sugary goodness.
Now where did I hide the last few M&M's???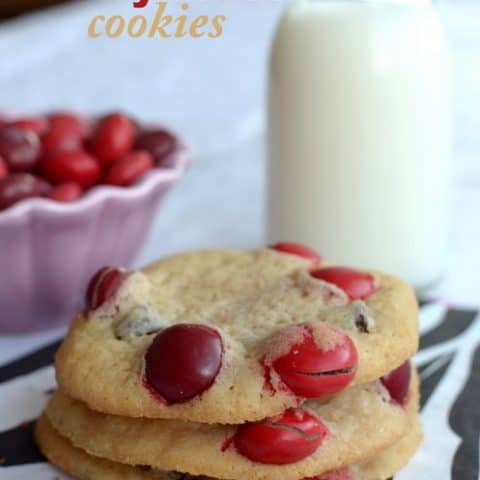 White Chocolate Cherry M&M Cookies
White chocolate and cherry give these chocolate chip cookies a fun new flavor.
Ingredients
1 cup butter, softened
3 ounces white chocolate, chopped
½ cup brown sugar
2 eggs
2 teaspoons cherry juice (from a jar)
2 ½ cups flour
1 teaspoon baking soda
¼ teaspoon salt
1 ½ cups chocolate chips
½ cup white chocolate chips
1 cup Cherry M&M's
Instructions
Preheat the oven to 375 degrees.
Place 4 Tablespoons butter and chopped white chocolate in a sauce pan over low heat. Stir until melted and creamy. Set aside to cool slightly.
Cream the rest of the butter and sugar. Beat in the cooled white chocolate mixture.
Add the eggs and cherry juice and beat again.
Stir together the dry ingredients and slowly add to the butter mixture.
Stir in the chips by hand. Chill the dough for 30-60 minutes. (this helps the dough from spreading too much)
Drop by small spoonfuls onto a baking sheet. Press 5-6 Cherry M&M's into the top of each cookie dough spoonful. Bake for 8-9 minutes. Cool on a wire rack. Store in a sealed container.
Notes
*If you can't find the Cherry M&M's, substitute regular or Raspberry ones.
Recommended Products
As an Amazon Associate and member of other affiliate programs, I earn from qualifying purchases.