These White Chocolate Gingerbread Pudding Cups are a sweet treat for the holidays. Take them to parties, or just enjoy them any time during the day.
*Thank you to ADA Mideast for partnering with me to make this recipe.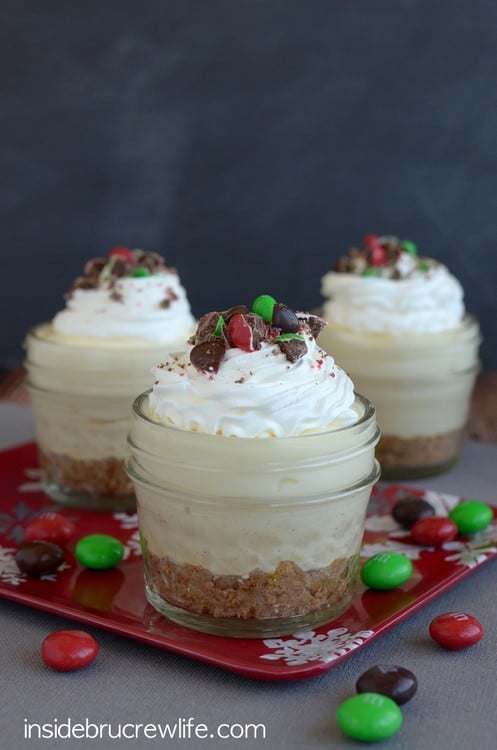 This time of year I just can't resist the urge to buy all the fun seasonal candies and cookies that the stores have out on display. They really know how to market those items to shoppers. Put it out in front of the store or in the checkout aisles where I am sure to see it, and you can bet it will end up in my cart.
Now to resist eating it when it sits on my kitchen counter for weeks at a time. I have had these gingerbread cookies and M&M's in my kitchen for a few weeks now, just waiting for the right inspiration to use them in.
I kept looking at them and trying to decide what they would work in best, but then I would just go back to my peppermint obsession and make things like these Oreo Peppermint Crunch Cookies.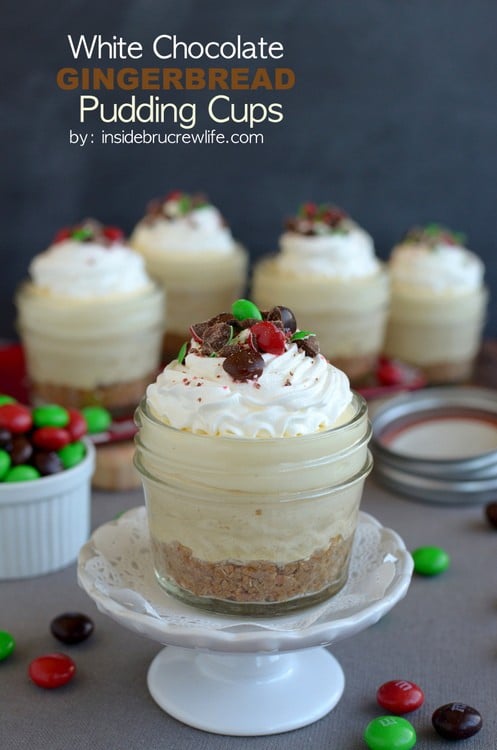 This past October I had the opportunity to travel to Cleveland with the American Dairy Association Mideast and to visit a few dairy farms. It was so interesting to follow the path of milk from farm to table. I have a much better appreciation for those dairy farmers who make milk and milk products available for people across America.
Dairy has so many nutrients for overall health, yet so many people do not eat enough each day. Studies have shown that increased dairy consumption can improve bone health in children. So many people struggle to keep a consistent diet full of dairy products. This can lead to health issues, obesity, and poor academic performances.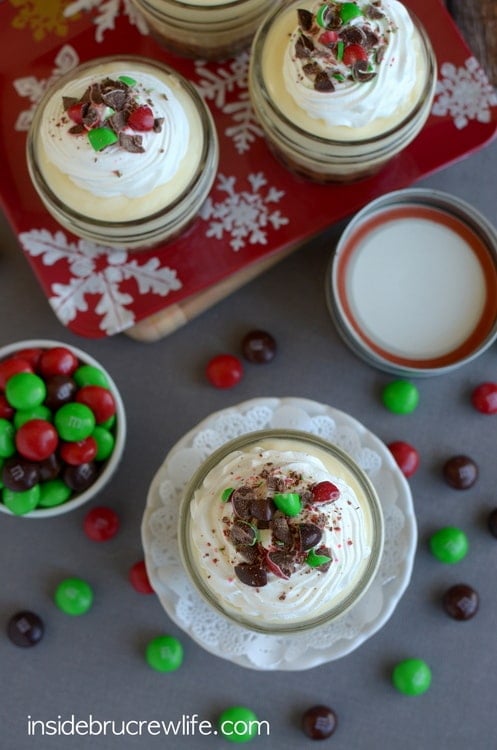 The American Dairy Association has partnered with Feeding America and 12 food bloggers to provide a "Big Holiday Potluck" using as many dairy products as we can.
Here is how you can help provide a healthy meal for someone else this holiday season, AND it doesn't cost you anything!!! ADA will donate $1 to Feeding America for each "like", "share", or "comment" that the ADA Facebook page receives between December 6-13. By liking and sharing the photos from their page, the more money Feeding America will receive.
Feeding America can provide 9 meals for each dollar that is donated. Let's all help make this holiday a happy one for everyone.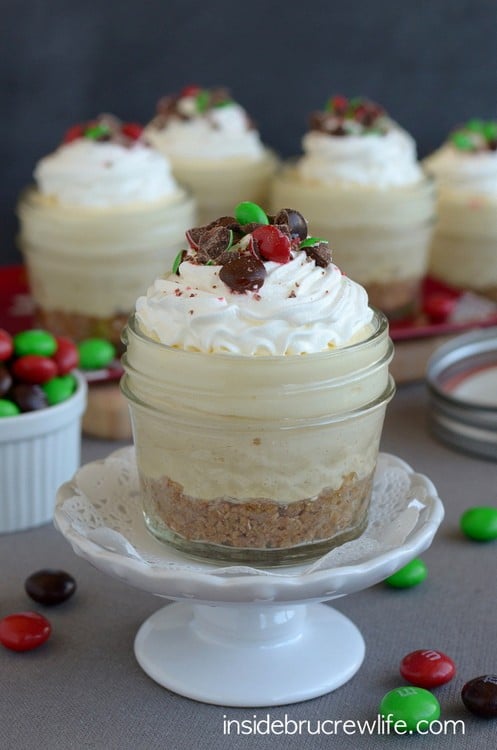 For my recipe, I combined cream cheese with greek yogurt, molasses, and Cool Whip for a no bake gingerbread cheesecake filling. This filling was layered with gingerbread cookie crumbs and topped with a white chocolate pudding. More Cool Whip and some Gingerbread M&M's make these an adorable treat any time of day. I knew buying those Gingerbread M&M's was a great idea!
These little pudding cups travel very well too. Close them up with a lid and a cute cupcake liner or twine. You can add the toppings after you get there. Or bring extra cookies and everyone can have their own dip cup.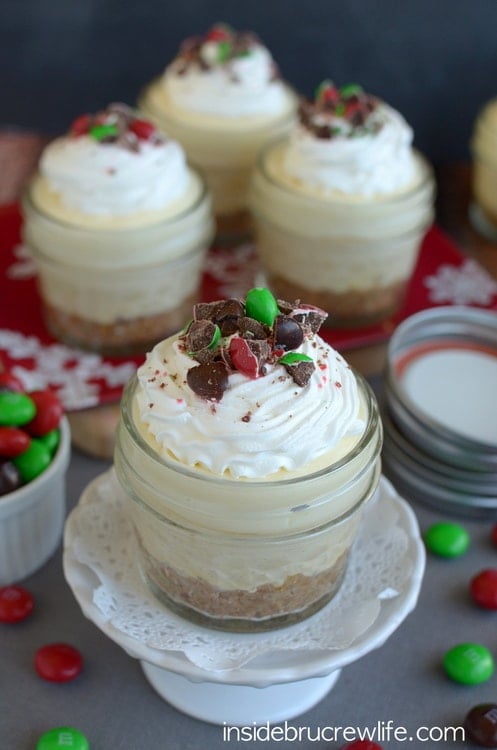 Adding yogurt to a dessert doesn't necessarily make it healthier, but it does add another serving of dairy to your day. These little pudding cups have cream cheese, yogurt, and milk. That's one more serving of protein to check off for the day.
Two checks if you eat more than one white chocolate gingerbread pudding cups in one day!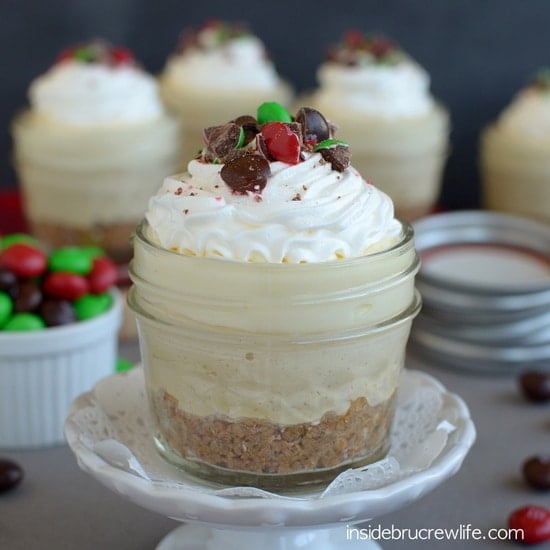 Stay up to date on all the BruCrew baking here:
FACEBOOK | PINTEREST | TWITTER | INSTAGRAM | BLOGLOVIN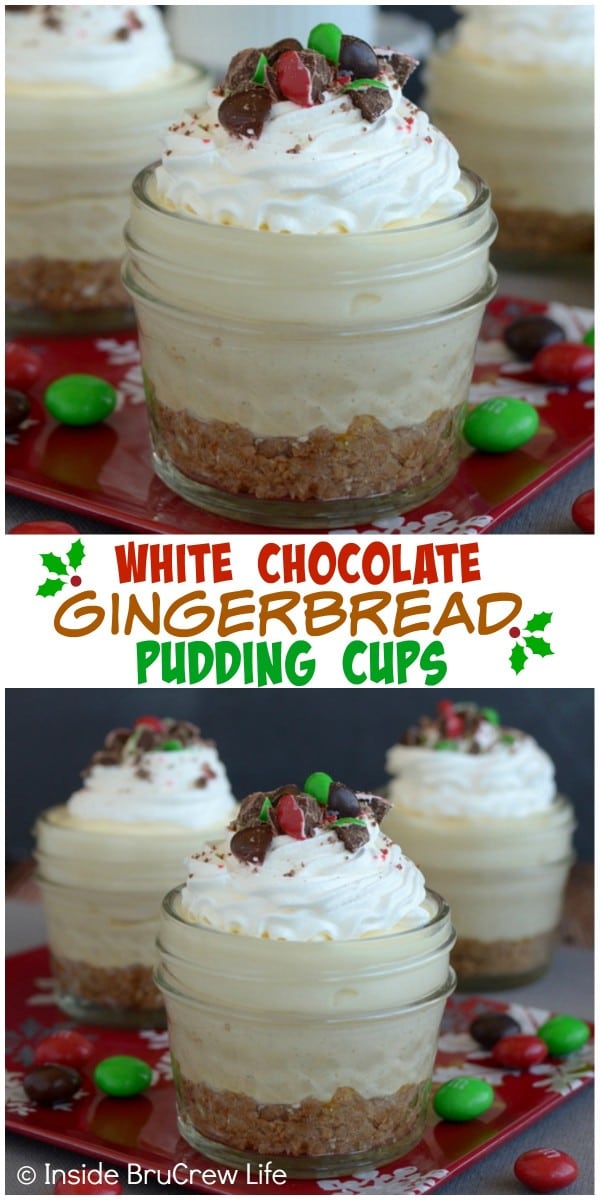 *Inside BruCrew Life was compensated by the ADA Mideast to create a dairy holiday recipe. All opinions are 100% my own.