These White Chocolate Peppermint Mousse Cheesecakes have been brought to you by PHILADELPHIA Cream Cheese.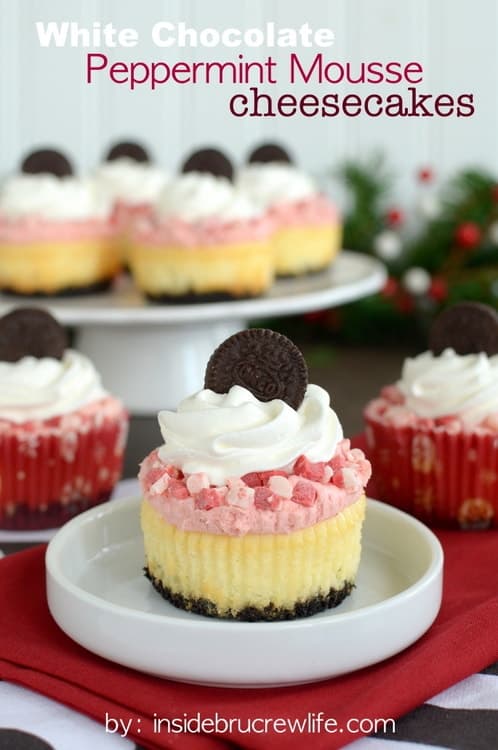 I realized that the holidays are still a little ways off, but I have been busy thinking of new holiday treats to try out for this year.
With my entire being completely enamored with peppermint right now, I have been including it into everything I bake. Cookies, truffles, and now cheesecake. Nothing is safe in my kitchen from this peppermint craze. I sure hope you are all stocked up on peppermint chips and baking ingredients. My list might end up being pretty long. Maybe I should just get those fat pants out now...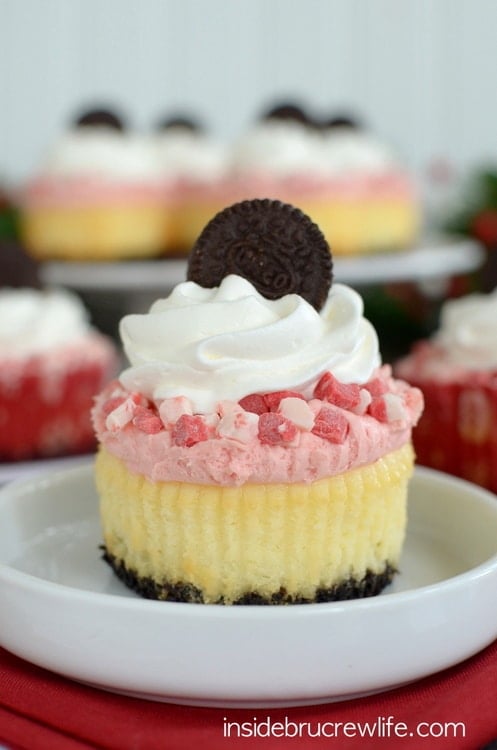 Every year we make a list of cookies and desserts that we want to make to share for all the holiday dinners at friend's and families houses. I say we, but in reality it is just me. My kids and hubby just go along with whatever crazy sugar scheme I come up with. 10 varieties of cookies in one day...ok, let's do this!
Cheesecake always makes our list. Always!
When it comes to cheesecake, I like to bring out the silver. PHILADELPHIA cream cheese has set the standard high for a delicious and quality product. It is creamy and delicious, and my cheesecakes turn out the best using their product. I love that they use milk from local dairy farmers. They combine the milk with fresh cream and have the cream cheese refrigerated in 6 days. Talk about fresh! There are also no preservatives in the original cream cheese making it my number one choice when I go ingredient shopping.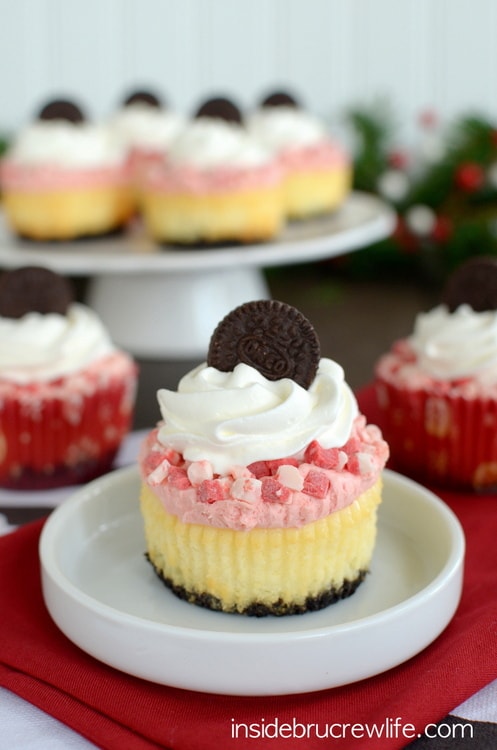 For these cheesecakes, I started with a chocolate cookie crust. Chocolate gets added to just about everything I bake, crust included. Plus, it pairs so well with the white chocolate cheesecake and peppermint on top.
Fill your liners with the crust and press it down. I like to use a small condiment cup that fits perfectly into the bottom of my pan. Then mix up your cheesecake batter. Cheesecake is something that you need to remember to prepare for. I like to set my cream cheese out on my counter for a few hours before I begin mixing things up. Room temperature cream cheese beats up so much nicer than cold or microwaved cream cheese.
Go ahead and divide the batter into 20 cups. It may look small, but remember we have another no-bake layer to add later. Bake for about 25 minutes. Remove from the oven and let the cheesecakes cool in the pan. You can now make your peppermint mousse. This is just more cream cheese, melted peppermint baking chips, and Cool Whip mixed together. Fill the tops of the cupcakes liners and press more peppermint chips on top. Refrigerate for a few hours.
A little bit more Cool Whip and a cute mini cookie completes the look. I will be highlighting this one on my baking list...it's a must make again and again!
These white chocolate peppermint mousse cheesecakes are the perfect treat for any holiday table. Or for anyone who likes to raid the refrigerator at midnight.
What? I don't know anyone that would do such a thing!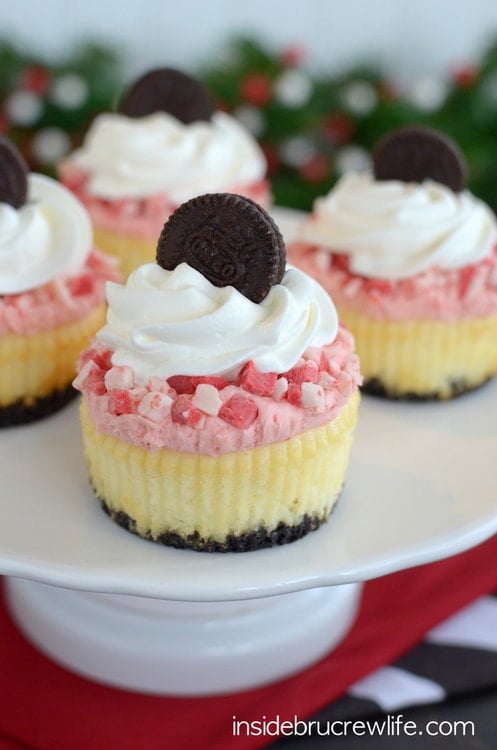 Connect more with PHILADELPHIA:
Website | Facebook | Twitter
PHILADELPHIA is also teaming up with recipe and lifestyle experts to bring you more recipes and holiday entertaining tips. Check out cheesecakecheer.com for those ideas and tips!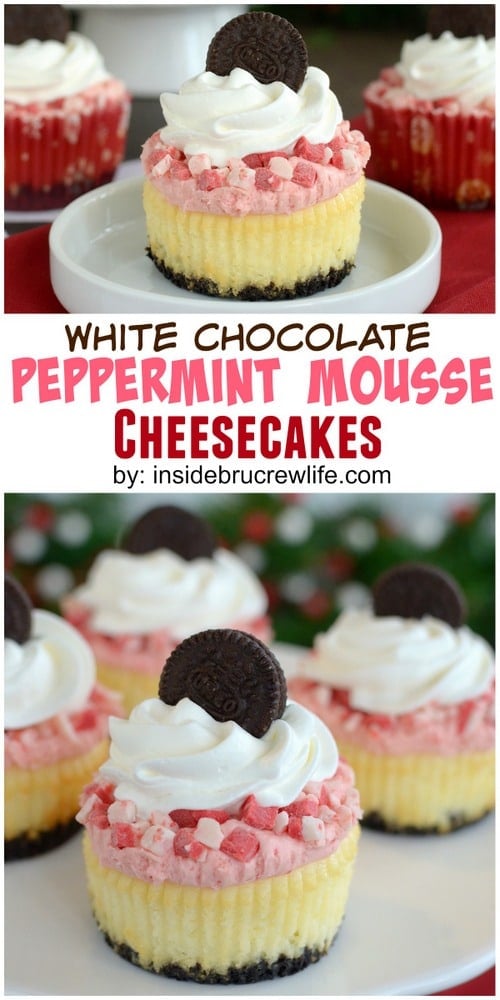 *I have been selected to be a spokesperson for PHILADELPHIA cream cheese. I have been compensated to create a post and recipe, but all opinions are 100% my own.