These White Chocolate Reese's Brownies are topped with a white chocolate mousse, Reese's Peanut Butter Cups and sprinkles. They are a great way to celebrate a special occasion.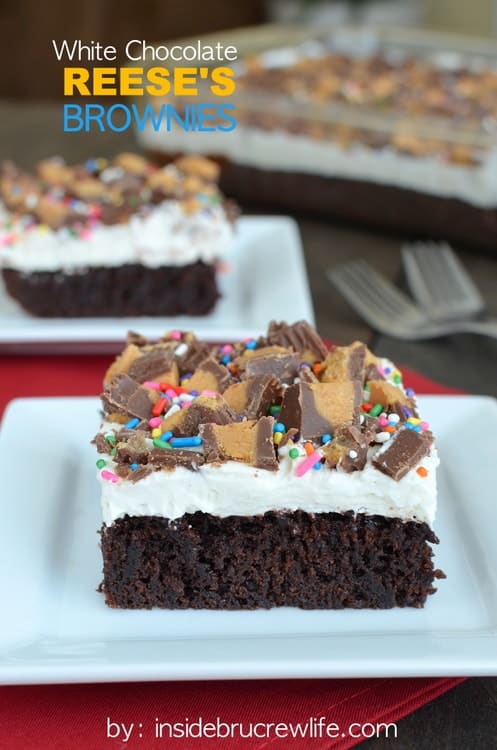 I love a rich decadent brownie. And this brownie definitely falls into the rich and decadent categories. Go ahead and make your favorite brownies...you can use a box mix or go homemade. It's totally up to you. I have been making these Homemade Chocolate Chip Brownies lately, but today I went with a box mix to save on a little time.
After the brownies cooled, I topped them with a white chocolate pudding mousse that is so easy to make. Pudding, milk, and Cool Whip makes such a nice fluffy topping. I almost went to town on the bowl with a spoon, but I resisted. Then comes the hardest to resist. You are going to chop up Reese's Peanut Butter Cups and not eat them. Well, ok, you can sneak a few pieces here and there. There is no judging coming from me. Resist eating them all though because they really are the finishing piece to these fun brownies.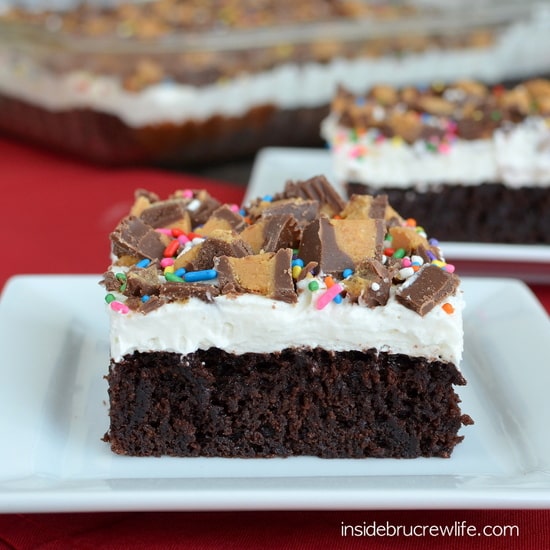 A few sprinkles later and these party brownies are ready to go! Feel free to change up the sprinkles to match any party decor or party theme.