A pan of these Homemade Chocolate Chip Brownies will satisfy any chocolate craving you may encounter. This easy brownie recipe will give any box mix a run for the money.
Use this easy base recipe to make these delicious Coffee Cream Brownies.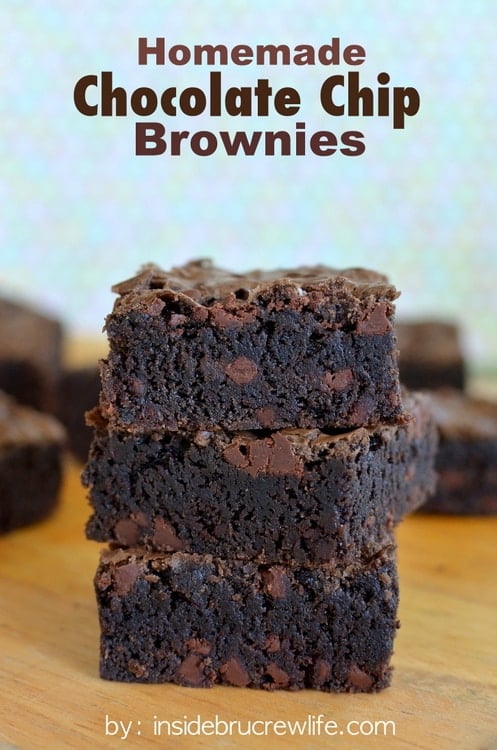 I have a slight problem when I bake. Have you noticed that I don't do plain when it comes to brownie desserts?
I like to embellish my brownies with loads of extra candy and chocolate. I mean have you seen this Peanut Butter Brownie Dessert? Layers of brownie, pudding, candy, and peanuts. It makes my sweet tooth so happy!
Every so often my family asks for "plain" brownies or just chocolate chip cookies.  That is so hard for me to do!  I do want to make them things that they ask for (no matter how boring I think it may be), so I have to hold back from unloading my baking cabinet into those plain treats.
Let me tell you, that's hard!  My mind goes a million miles a minute when it comes to thinking up new and exciting treats to bake up.  Things like these Caramel Marshmallow M&M Brownies just make me so happy!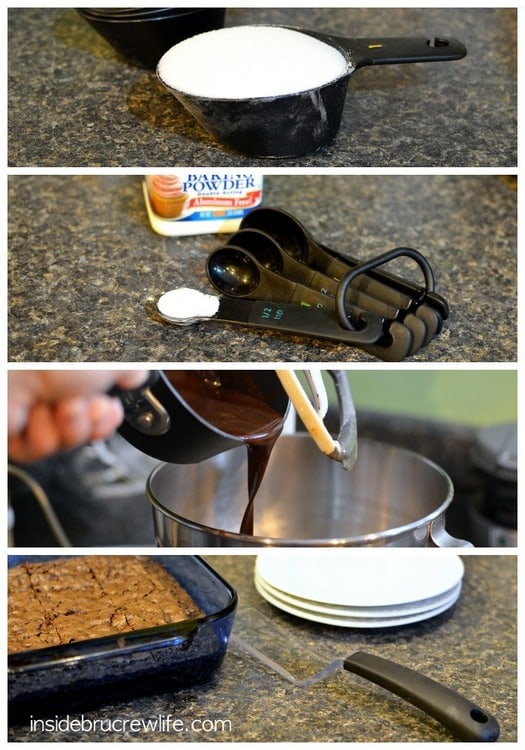 Now most of you also know that I am more of a baking mix kind of a baker.  I enjoy taking pre-packaged mixes and using baking magic to transform them into a semi-homemade dessert with flair.  It's kind of my specialty.
I also love boxed brownie mixes.  There is something about them that I have not tasted in a homemade brownie before. Until now that is.
Recently, I have started buying old church cookbooks from Goodwill.  They are full of great ideas when you get in a baking slump. Not that that happens to me much.   My list of ideas is so long, that I may never bake through it.  But I was flipping through one of the books the other night, and I came across a recipe for homemade brownies.
Our youngest has been asking for plain brownies for a few days, so I decided to throw in the towel and try making brownies from scratch.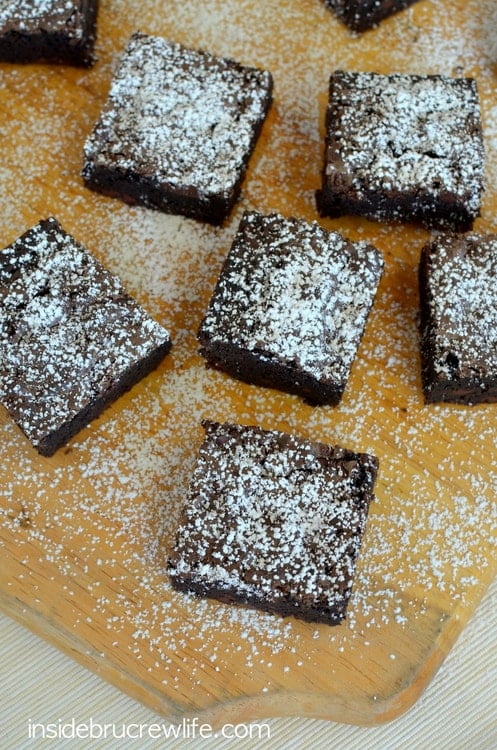 I went ahead and followed the directions exactly because I wanted to see if I liked it, or if the recipe needed tweaked.  They tasted great, but they were not that rich dark chocolate color that I was looking for.
For the second batch I made the brownie recipe with dark cocoa powder in place of the baking chocolate squares, and there it was!  That chewy brownie texture and dark chocolate color that I had in my mind.
How to make the best Homemade Chocolate Chip Brownies:
Line a pan with foil or parchment. This makes it easier to lift the brownies out of the pan later.
Melt the butter and whisk in the cocoa powder. Let it cool slightly.
Beat the eggs, white sugar, and vanilla until light and frothy. What makes the top of brownies flaky? Beating the eggs and white sugar longer results in a flaky crackly brownie top when it comes out of the oven. This increases the top layer which is actually just a meringue.
Pour the cooled chocolate into the egg mixture and beat it again.
Stir together the dry ingredients and slowly mix them into the batter. Stir in any mix-ins that you like now. Nuts, chocolate chips, toffee bits, or candy are all delicious mix-ins for brownies.
Your brownies are done when a toothpick inserted in the center comes out with some sticky crumbs on it.  Let the brownies cool for at least 30 minutes before cutting into them.
How do you cut brownies cleanly? Let them cool. Warm brownies fall apart easily. Use a warm knife and clean it in between cuts. Or chill them in the refrigerator before cutting them.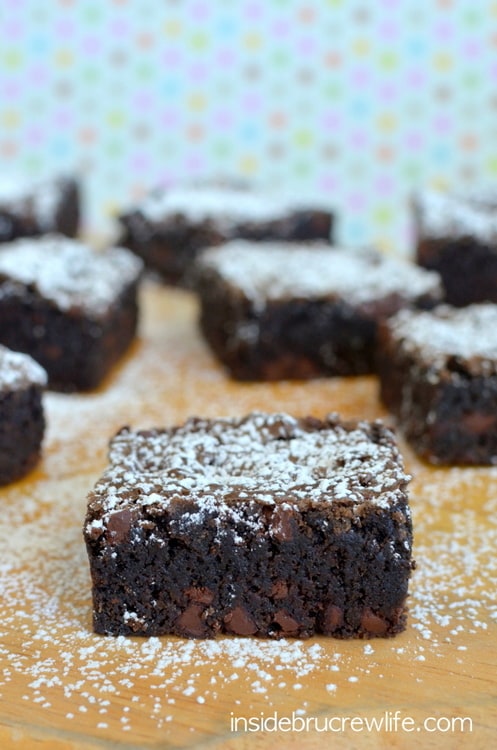 Now I tried my hardest to just make the brownies plain.  I figured what kid doesn't like chocolate chips.  And powdered sugar is surely plain enough.
Oh no, I heard all about it from my kids.  They still want the plain chewy brownies.  I guess chocolate chips and powdered sugar are not plain enough. They did say they were the best brownies ever, but they requested another pan without any mix-ins.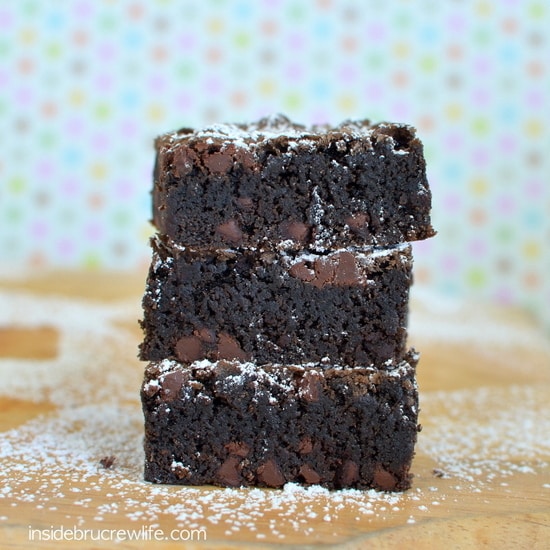 More brownie dessert recipes you might like:
Stay up to date on all the BruCrew baking here:
FACEBOOK | PINTEREST | GOOGLE+ | TWITTER | INSTAGRAM | BLOGLOVIN
Homemade Chocolate Chip Brownies recipe and video:
Yield: 9 brownies
Homemade Chocolate Chip Brownies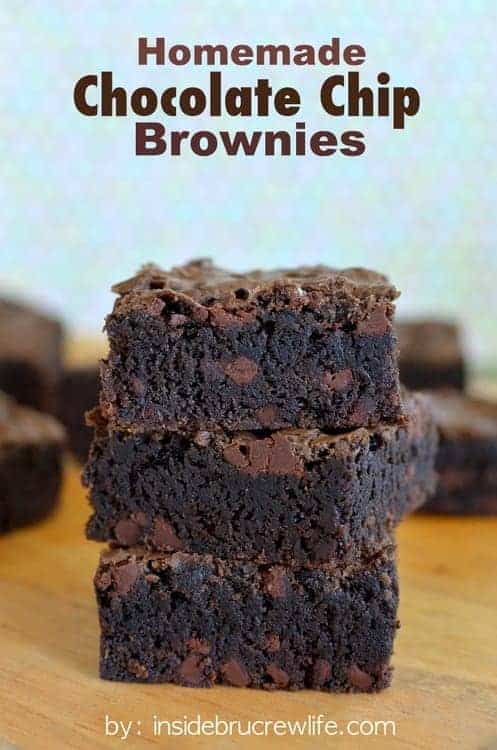 A pan of these Homemade Chocolate Chip Brownies will satisfy any chocolate craving you may encounter. This easy brownie recipe will give any box mix a run for the money.
Ingredients
1/2 cup butter, melted
1/4 cup dark cocoa powder
2 eggs
1 cup sugar
1 teaspoon vanilla
1/2 teaspoon salt
3/4 cup flour
1/4 teaspoon baking powder
1/2 cup mini chocolate chips
powdered sugar, optional
Instructions
Preheat oven to 350 degrees. Line an 8x8 baking pan with foil and then spray with nonstick baking spray.
Whisk together the melted butter and cocoa powder and set aside.
Beat the eggs until light in color. Add the sugar and vanilla and beat again.
Add the chocolate butter mixture into the eggs and beat until mixed in.
Sift together the flour, salt, and baking powder and slowly add to the egg mixture. Do not over beat.
Stir in the mini chocolate chips by hand.
Pour the batter into the prepared pan. Bake for 25-30 minutes. Let cool completely before cutting into 9 squares.
Dust with powdered sugar, if desired.