These Homemade Chocolate Chip Brownies will change your life. Skip the box mix because this chocolate brownie recipe is so fudgy and delicious. My family asks for these easy homemade brownies all the time!!!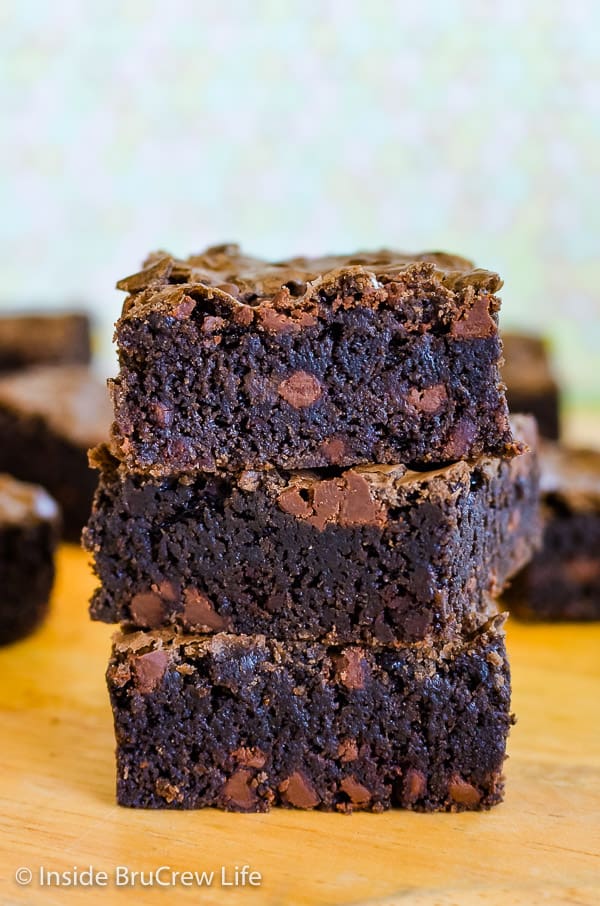 Homemade Brownies with Chocolate Chips
What is your baking style? Do you like plain desserts or jazzed up desserts? I'm team jazz all the way!!!
Why else would I add Dr Pepper to a chocolate cake? Sounds crazy? Maybe. But if you tried this Dr Pepper chocolate cake you would be amazed.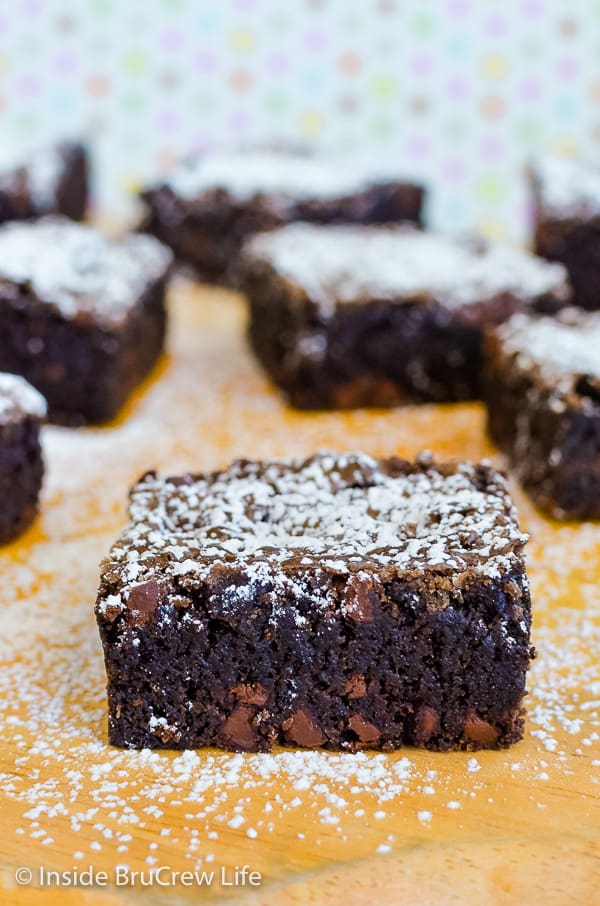 I like to embellish these chocolate chip brownies with extra candy and toppings. But my family asks for "plain" brownies or chocolate chip cookies all the time.
Did you know you can find old church cookbooks at Goodwill? They are full of great ideas when you get in a baking slump.
I was flipping through one of these books the other night, and I came across a recipe for homemade fudgy brownies.
Most of the time I am more of a baking mix kind of a baker. I enjoy taking pre-packaged mixes and using baking magic to transform them into a semi-homemade dessert with flair. But this fudgy brownie recipe had me intrigued.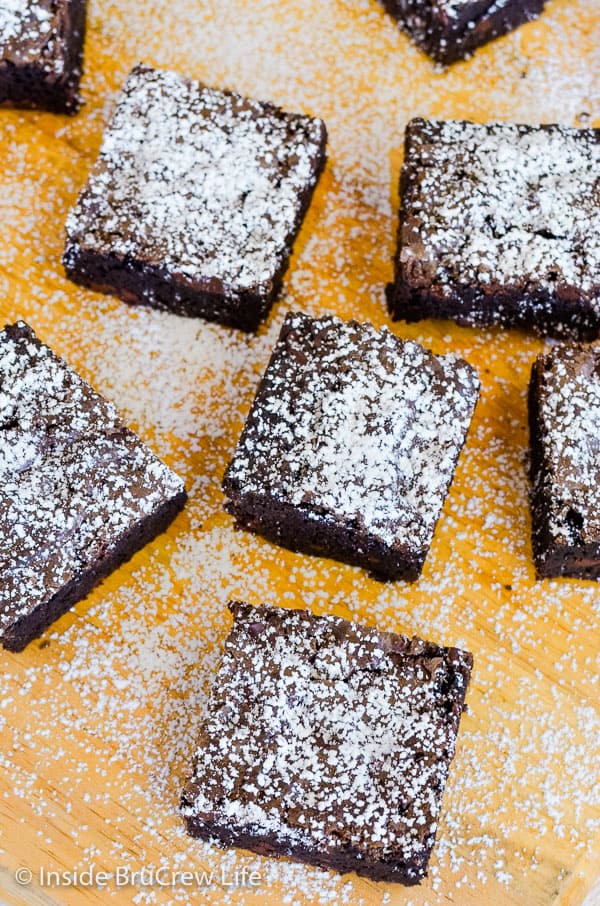 I went ahead and followed the directions exactly for the homemade brownies from scratch because I wanted to see if I liked them, or if the recipe needed some extra love. They tasted great, but they did not have that rich dark chocolate color that I was looking for.
For the second batch I tried the easy chocolate brownie recipe with dark cocoa powder instead of baking chocolate. The end result was a chewy brownie texture and the dark chocolate color that I had in mind. Trust me, you will want to make these ASAP!
Recipe Ingredients
Butter - Gives the moisture and fat needed for brownies. Melting the butter before adding it to the sugar stops air bubbles from forming when you beat them together. This keeps the brownies from rising too much and baking fluffy.
Dark Cocoa Powder - Gives these brownies the rich dark chocolate color.
Eggs - The protein in eggs brings the brownies together as it bakes and adds richness and tenderness.
Sugar - Sweetens the brownies, and also makes the brownies light and tender.
Vanilla Extract and Salt - Adds flavor and balances out the sweetness.
Flour - Adds structure to the brownie recipe. We want the brownies to be dense and fudgy, so you will not use a lot.
Baking Powder - Just a little bit gives the lift you need in these fudgy brownies.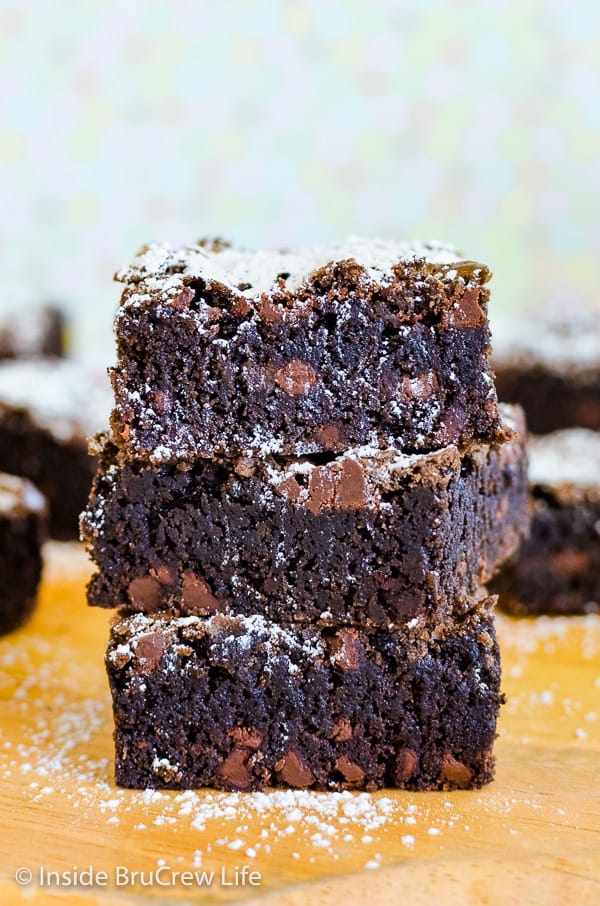 How to make Homemade Chocolate Chip Brownies
We have had this brownie recipe on repeat for years now. All you need are a few basic pantry ingredients and a mixing bowl.
Line a pan with foil or parchment. This makes it easier to lift the brownies out of the pan later.
Melt the butter and whisk in the cocoa powder. Let it cool slightly.
Beat the eggs, granulated sugar, and vanilla until light and frothy.
Pour the cooled butter and cocoa mixture into the eggs and beat it again.
Stir together the dry ingredients and slowly mix them into the batter.
Stir in the chocolate chips or any other mix in you like.
The chocolate chip brownies are done when a toothpick inserted in the center comes out with some sticky crumbs on it. Let the chocolate chip brownies cool for at least 30 minutes before cutting into them.
Other Brownie Mix-ins
Chewy, chocolate brownies are delicious, but try changing them up with some of the extra ingredients.
Chocolate Chips - white, milk, dark
Nuts - walnuts, pecans, macadamia nuts
Toffee Bits
Candy - M&M's, Reese's Pieces, Peanut Butter Cups
Cookies - Oreos, Nutter Butters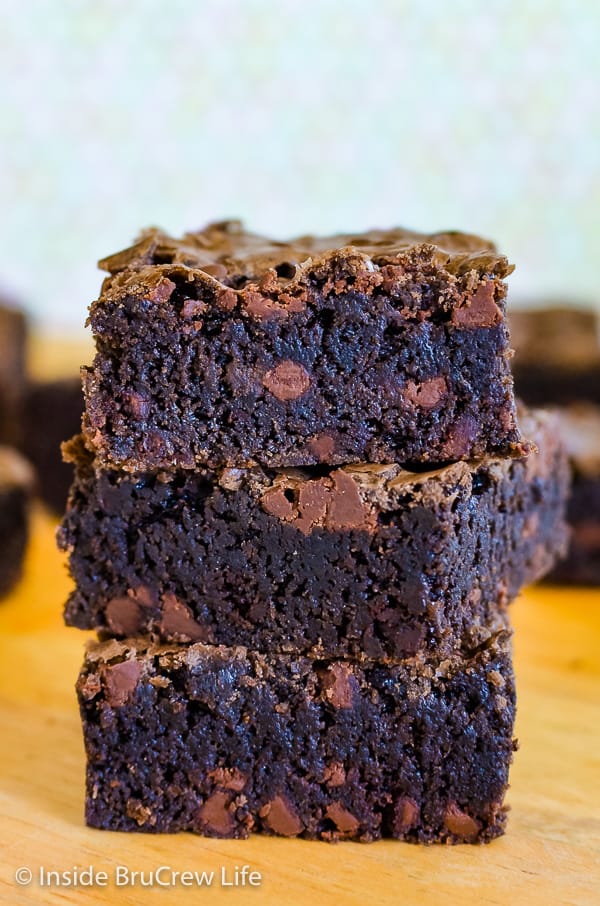 Recipe Questions:
How do you cut brownies cleanly?
Let them cool completely. Warm brownies fall apart easily.
Use a warm knife and clean it in between cuts.
Chill the pan of brownies in the refrigerator before cutting them.
What makes the top of homemade brownies flaky?
Beating the eggs and white sugar longer results in a flaky crackly brownie top when it comes out of the oven. This increases the top layer which is actually just a meringue.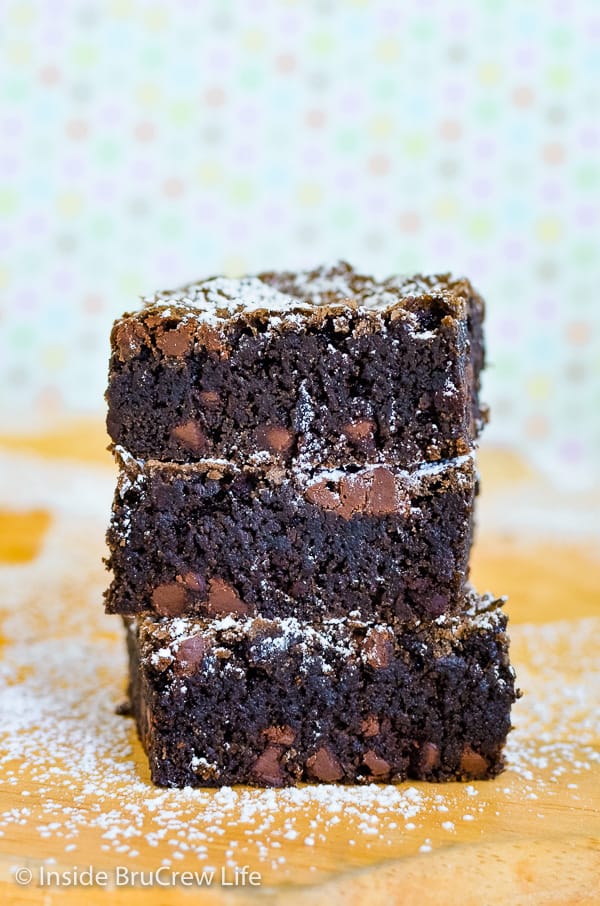 More brownie recipes:
Other easy dessert recipes:
CLICK HERE TO PIN THIS RECIPE FOR LATER!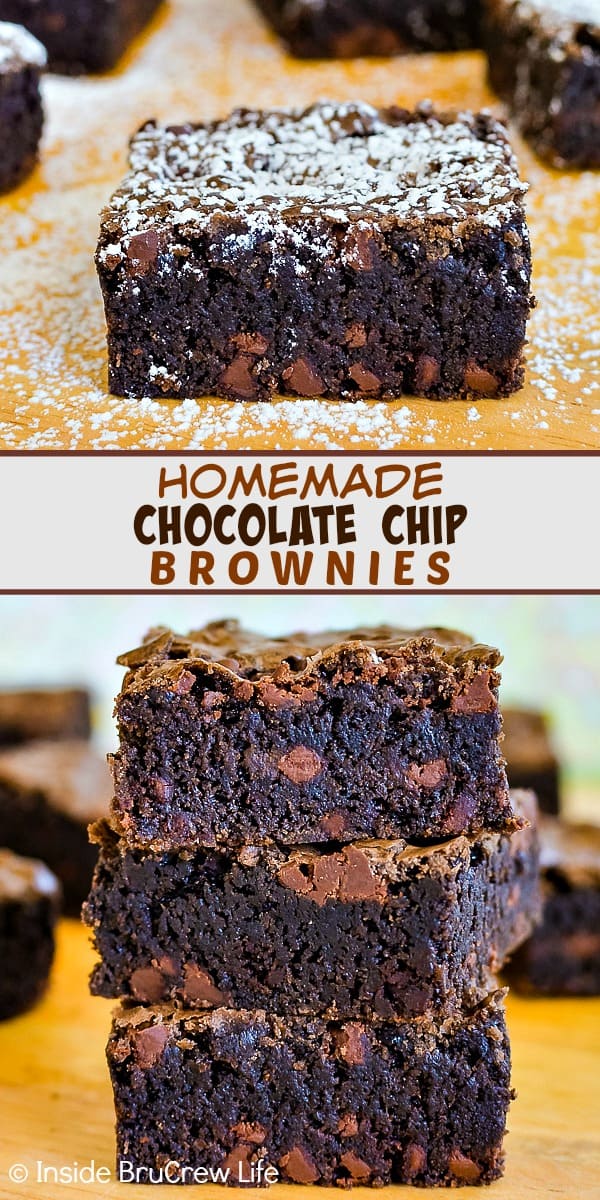 *The post for Homemade Chocolate Chip Brownies was first published on September 29, 2013. The photos were re-edited and republished on March 16, 2021.