Pumpkin Cappuccino Chip Muffins and a large cup of coffee is a great way to enjoy a crisp, cool fall day.
We are on our way back from a week long trip to Disney…
oh the places we went and the fun we had!I think it was unanimous
everyone's favorite place of the week was
The Wizarding World of Harry Potter.
It was totally wicked!!!!
(anyone know that movie quote?)
We honestly felt like we were at Hogwarts!
That place was incredible…
the best part was that it was overcast,
so the snow on the rooftops looked so realistic!!!
Can't wait to print out pics and start scrapbooking!
(I have a cute mini album idea for some of the pics…)
But for now back to some fun baking…
and first up are these Pumpkin Cappuccino Chip Muffins.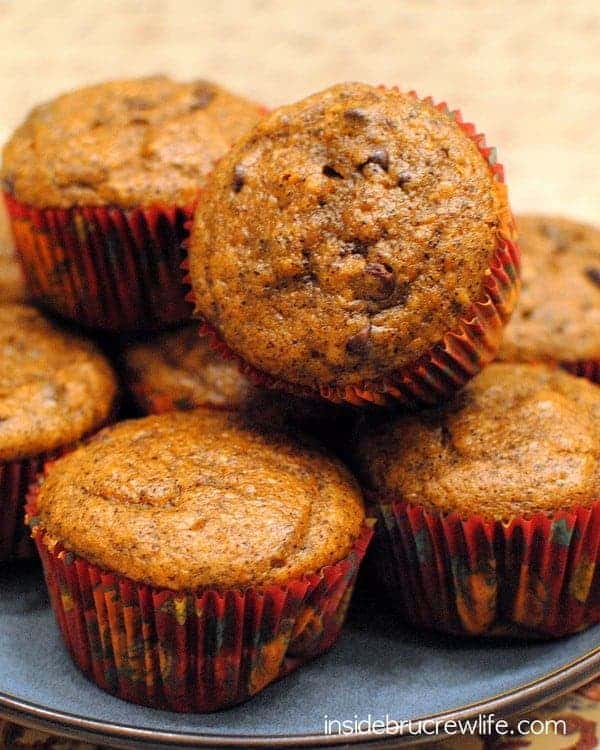 Pumpkin, chocolate, and coffee all in one delicious fall muffin.
Ingredients
1 Tablespoon instant coffee
1 c. milk
1 cup pumpkin
2 eggs
1/2 cup oil
2 Tablespoons sour cream
2 1/4 cups flour
1 c. sugar
1 Tablespoons baking powder
1/2 tsp. salt
1 1/2 teaspoons cinnamon
1 c. mini chocolate chips
Instructions
Stir in the instant coffee into the milk and set aside.
Beat together the pumpkin, eggs, oil, and sour cream until creamy.
Sift together the flour, sugar, baking powder, salt, and cinnamon. Add the flour mixture and milk alternately to the pumpkin mixture. Do not over stir, batter should be lumpy. Stir in the chocolate chips.
Fill muffin liners 2/3 full. Bake at 350 degrees for 22-24 minutes or until muffins spring back when touched. Cool on wire rack. Makes about 24 muffins. Store in a sealed container.
http://insidebrucrewlife.com/2010/11/pumpkin-cappuccino-chip-muffins/
Copyright Inside BruCrew Life