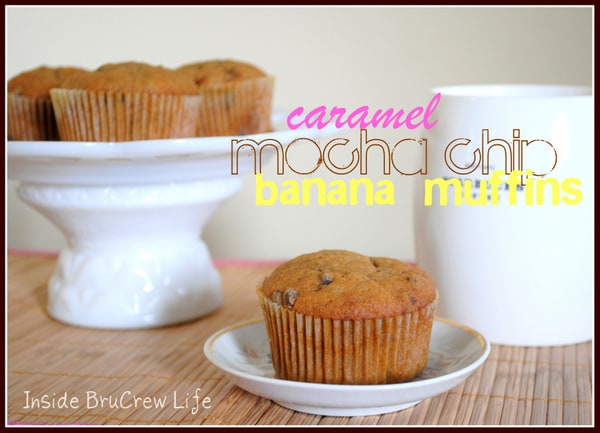 I have a love/hate relationship with bananas.
I love to eat them when they are green.
I hate that they ripen so quickly on my counter.
Good thing I use a lot in smoothies and baked goods
because once they turn yellow
I won't touch them with a ten foot pole.
Plain that is…
I don't mind them mixed up with other things.
Like decadent yummy delicious over the top muffins:-)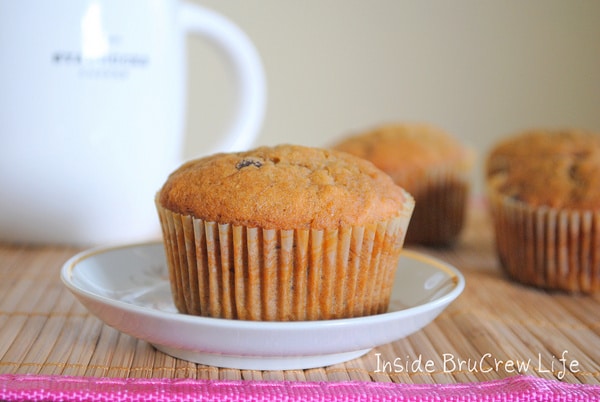 Last week I was peeling the over ripened bananas and putting them in freezer bags for future smoothies when my daughter asked if I could make her some banana bread. What is a mama to do when asked to bake some yumminess? That's right! Stay up a little later than planned and make some treats for the girlie.
Now I did decide to go with muffins just because they bake so much faster than a thick loaf of bread. And who doesn't like a little bit of chocolate chips in their muffins? I might have gone a little overboard creating these bad boys!!! A little bit of coffee, a little bit of chocolate, and a little bit of caramel.
These were by far my favorite banana muffin to date.
I know there are a ton of banana muffin recipes out there, but I hope you get a chance to make yourself some of these because who doesn't want a healthy muffin loaded down with caramel and chocolate!
And they have coffee in them…
the perfect pick-me-up anytime of day:-)
Now because I know how much people revel in others misfortune
and because it is just plain funny…
I am throwing in this picture of my spilled coffee.
If you follow my BruCrew Facebook page…
this is it! The big spill I was talking about:-)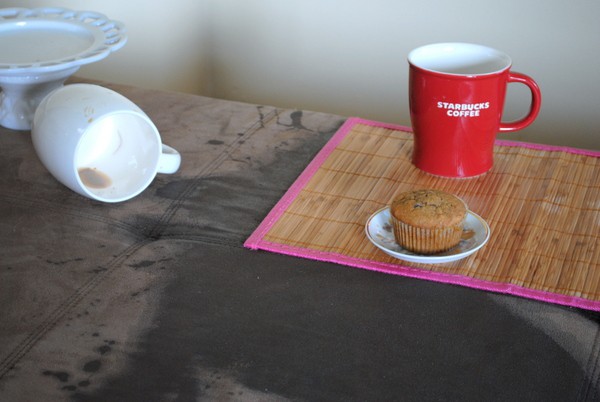 What are you waiting for???
Quit laughing at my mess and
get your butt in the kitchen and start baking!
Cause you definitely need these.
Stat!!!!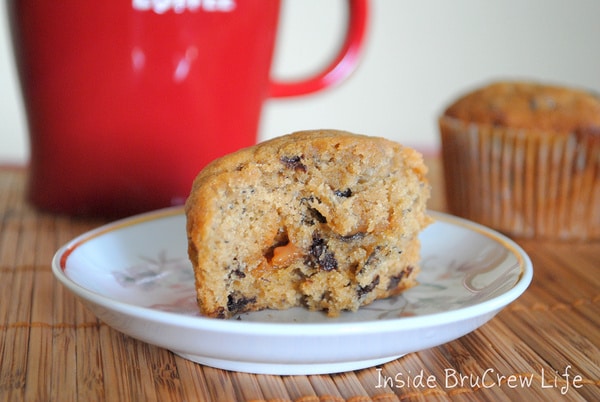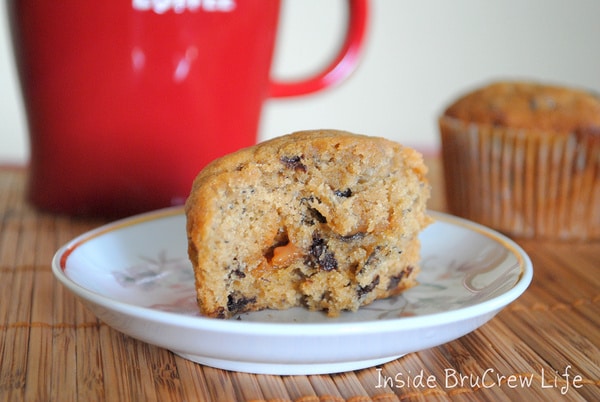 Banana muffins with a coffee and caramel twist. Great for an on the go breakfast.
Ingredients
1 c. butter, room temperature
1 1/4 c. sugar
1 egg
3 ripened bananas, smashed
2 tbsp. instant coffee
1 tbsp. warm water
1 tsp. vanilla
2 1/4 c. flour
1/4 tsp. salt
1 tsp. baking powder
1 tsp. baking soda
1/2 c. mini chocolate chips
3/4 c. caramel bits
Instructions
Preheat oven to 350*. Dissolve the instant coffee in the warm water and set aside.
Cream the butter and sugar. Add the egg, banana, coffee water, and vanilla and mix well. Stir the salt, baking powder and baking soda into the flour. Slowly start incorporating the flour mixture into the wet ingredients.
Stir in the chocolate chips and caramel bits by hand. Fill muffin liners 3/4 full and bake for 25 minutes. Remove from muffin tin right away and cool on wire racks. Store in a sealed container for 3-4 days.
http://insidebrucrewlife.com/2011/08/caramel-mocha-chip-banana-muffins/
Copyright Inside BruCrew Life
Linked to:
Chef in Training, Sew Stylish Boutique, Rook No. 17
33 Shades of Green, Sugar Bee Crafts, Mandy's Recipe BoxThe Kings Court, Two Maids a Milking, This Chick Cooks