These Caramel Mocha Chip Banana Muffins are a delicious breakfast or after school snack. Perfect treat for grabbing on the go.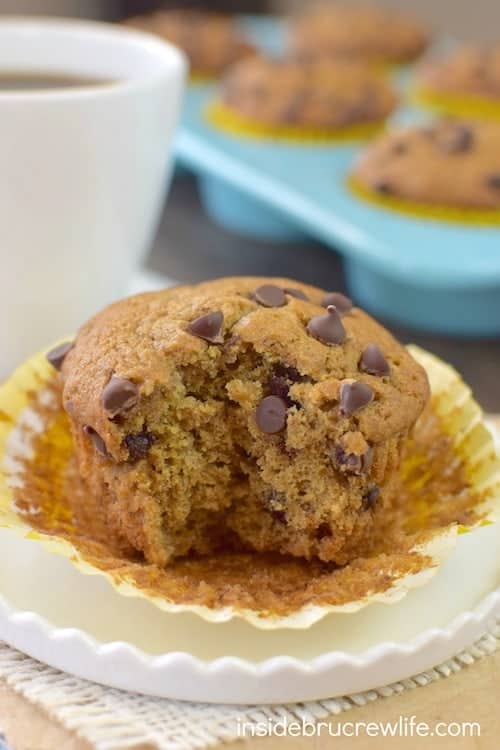 (photos updated April 2015)
I have a love/hate relationship with bananas. I love to eat them when they are green. I hate that they ripen so quickly on my counter.
It's a good thing I use a lot in smoothies and baked goods because once they turn yellow I won't touch them with a ten foot pole. Plain that is…I don't mind them mixed up with other things.
Like decadent yummy delicious over the top muffins!!!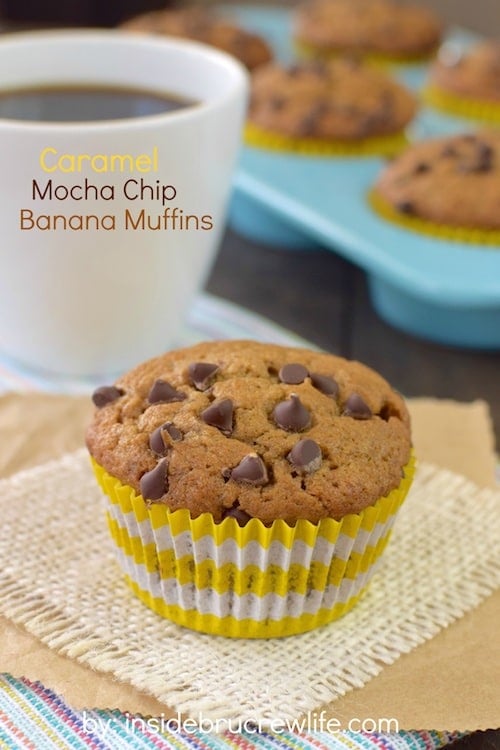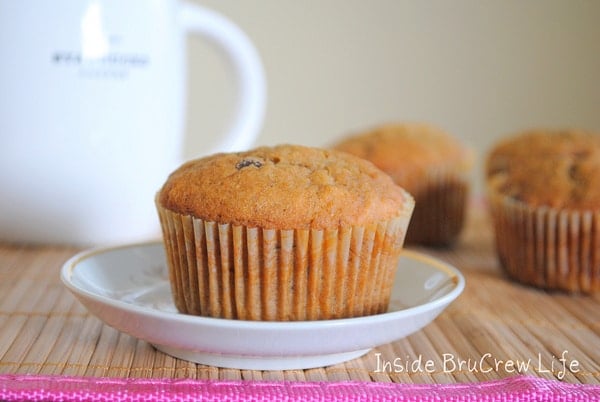 (original picture from 2011)
Caramel Mocha Chip Banana Muffins
Last week I was peeling the over ripened bananas and putting them in freezer bags for future smoothies when my daughter asked if I could make her some banana bread.
What is a mama to do when asked to bake some yumminess? That's right! Stay up a little later than planned and make some treats for the girlie.
Now I did decide to go with muffins just because they bake so much faster than a thick loaf of bread. And who doesn't like a little bit of chocolate chips in their muffins?
I might have gone a little overboard creating these bad boys!!! A little bit of coffee, a little bit of chocolate, and a little bit of caramel. These were by far my favorite banana muffin to date.
I know there are a tons of banana muffin recipes out there, but I hope you get a chance to make yourself some of these because who doesn't want a healthy muffin loaded down with caramel and chocolate!
And they have coffee in them, so they are the perfect pick-me-up for anytime of day!
What are you waiting for? You definitely need these. Stat!!!!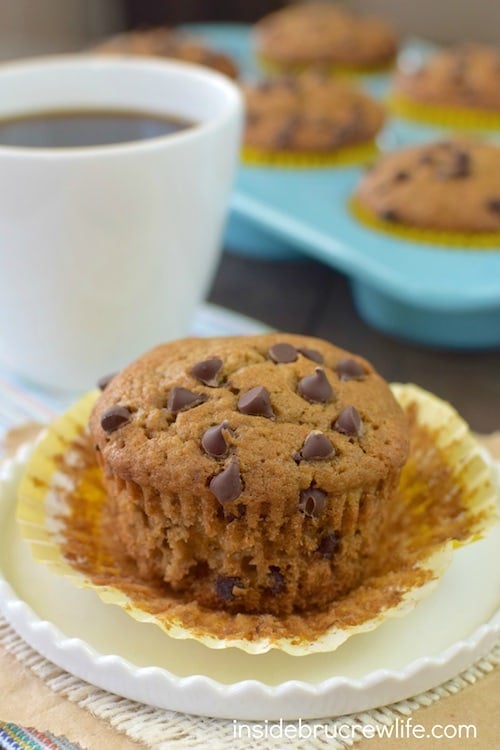 Caramel Mocha Chip Banana Muffins recipe: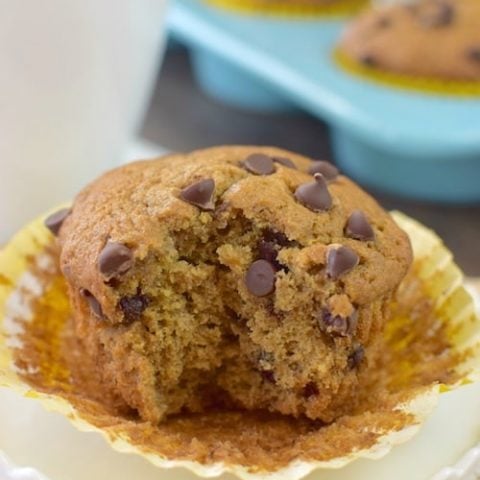 Caramel Mocha Chip Banana Muffins
These banana muffins have a delicious coffee and caramel twist. Great for an on the go breakfast or after school snack.
Ingredients
1 cup butter, room temperature
1/2 cup brown sugar
1/2 cup sugar
1 egg
3 ripened bananas, smashed
2 Tablespoons instant coffee
1 Tablespoon warm water
1 teaspoon vanilla
2 1/4 cup flour
1/4 teaspoon salt
1 teaspoon baking powder
1 teaspoon baking soda
3/4 cup mini chocolate chips, divided
3/4 cup caramel baking bits
Instructions
Preheat the oven to 350 degrees. Place 20 cupcake liners in muffin tins.
Dissolve the instant coffee in the warm water and set aside.
Cream the butter and sugar. Add the egg, banana, coffee water, and vanilla and mix well.
Stir the salt, baking powder and baking soda into the flour.
Slowly start incorporating the flour mixture into the wet ingredients.Stir in 1/2 cup chocolate chips and caramel bits by hand.
Fill the liners with the batter. Sprinkle the tops with the remaining chips.
Bake for 20-22 minutes. Remove from the muffin tins right away and cool on wire racks completely. Store in a sealed container.
Notes
*You can also use toffee bits if you cannot find the caramel baking bits.
**Let the muffins cool completely before trying to remove the paper liners.
Recommended Products
As an Amazon Associate and member of other affiliate programs, I earn from qualifying purchases.
Nutrition Information:
Yield:

20
Serving Size:

1
Amount Per Serving:
Calories:

247
Total Fat:

12g
Saturated Fat:

7g
Trans Fat:

0g
Unsaturated Fat:

4g
Cholesterol:

34mg
Sodium:

235mg
Carbohydrates:

36g
Fiber:

1g
Sugar:

22g
Protein:

2g