Dinner time is an important part of family togetherness. Make a skillet of this easy Bacon Shrimp Alfredo Pasta with your kids and watch everyone smile at the table.
Today I am partnering with SeaPak to bring you a delicious and easy dinner recipe that you can enjoy with your family.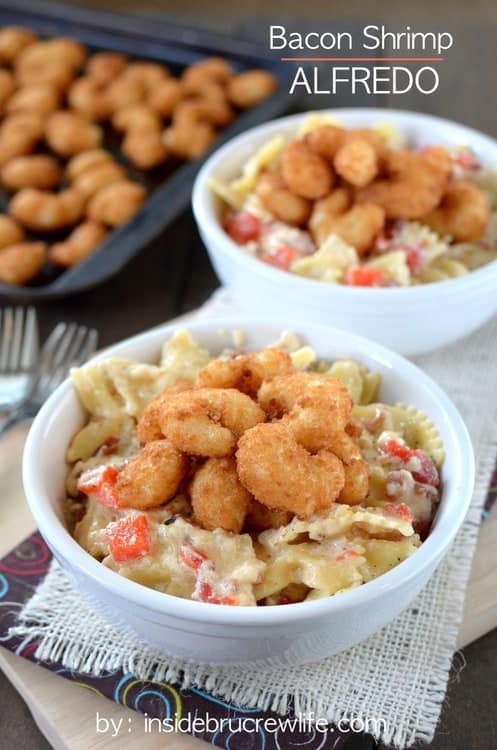 Let's talk about our Alfredo sauce usage for just a minute.
Over the years we have relied on the jars from the grocery store for quick easy meals. I mean they taste fine and can make a meal like this Loaded Chicken Alfredo Gnocchi Bake in minutes, right? But did you know that you can make a homemade sauce in about 10 minutes? You will be amazed at how delicious and easy this sauce is.
Every year my hubby makes me a mean homemade Alfredo dish for my birthday dinner. It tastes so good, so I don't know why we wait to make this once a year! This week I decided it was time to up our dinner game plan and make a homemade Alfredo dish. Hello goodness in a pan!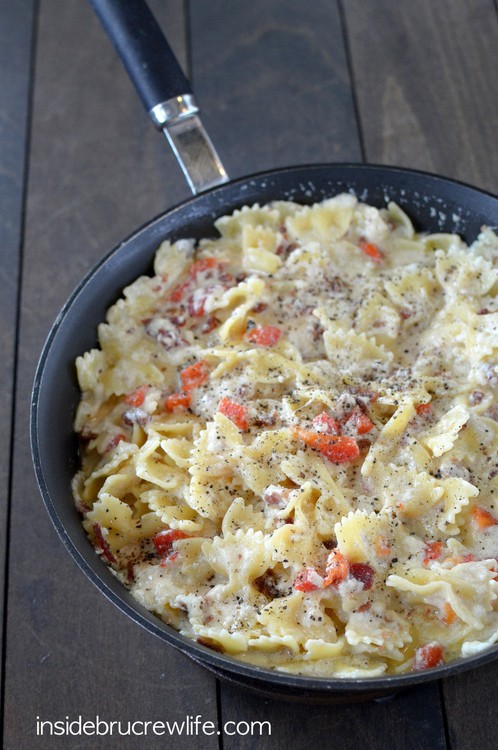 Alfredo sauce is just three ingredients. Butter, Parmesan cheese, and milk melted together makes a pretty mean sauce. Now I do like to add a little mozzarella cheese to mine because we are a cheesy goodness kind of family. Extra cheese is always a good idea!
I also wanted to really amp up this meal, so I added roasted red peppers, bacon, and popcorn shrimp. Our kids are not huge seafood lovers, but give them a delicious breaded version and they are happy as clams.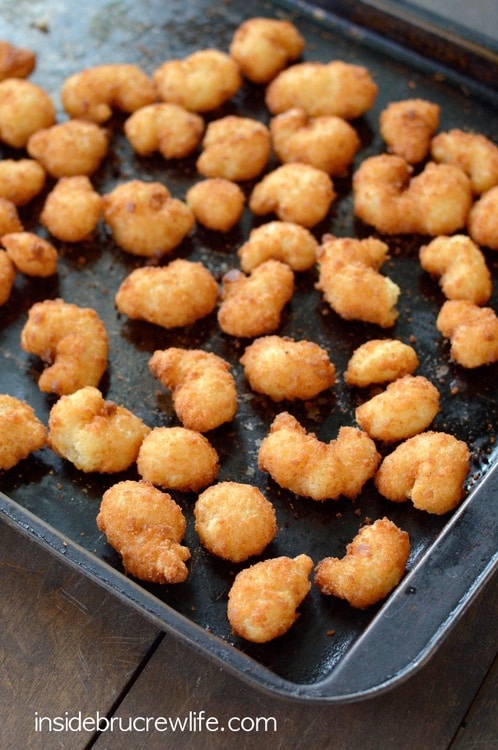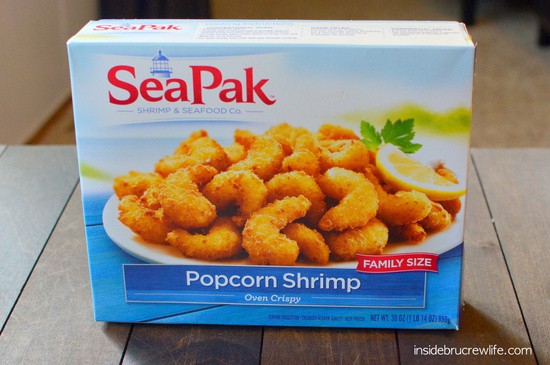 This month is National Seafood Month, and I am partnering with SeaPak. They want families all over the world to have fun eating dinner together. It is these fun times together that will build your children's memories. SeaPak wants to help you with making dinner fun. They are offering a brand new set of dishes. Make sure you scroll down below the recipe to enter the giveaway.
Building family memories can be as easy as making dinner together while you catch up on the day's events. You can also plan a game night and stay at the table after dinner to enjoy a quick round of Uno or Phase 10. Now that it is cooler outside, one of our favorite family activities after dinner is to sit around a bonfire roasting marshmallows and telling spooky stories.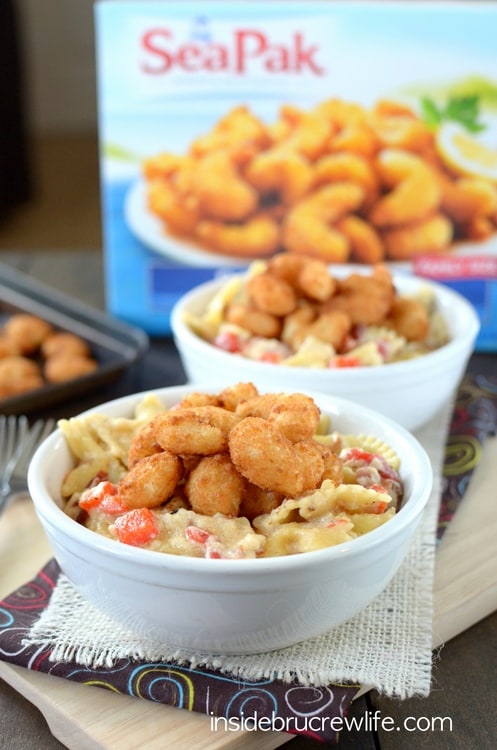 Our kids love to get in the kitchen with us as we prepare dinner.
We love that they are learning life skills to be able to prepare dinners as they get older. There are studies that have proven that kids who spend time in the kitchen helping with meals have better eating habits and also do better in school. Those are definitely things I want to see in our children. All three have developed quite a sweet tooth living with all the sweets that happen in our kitchen. So any time we can talk about healthy eating and right food choices, we do.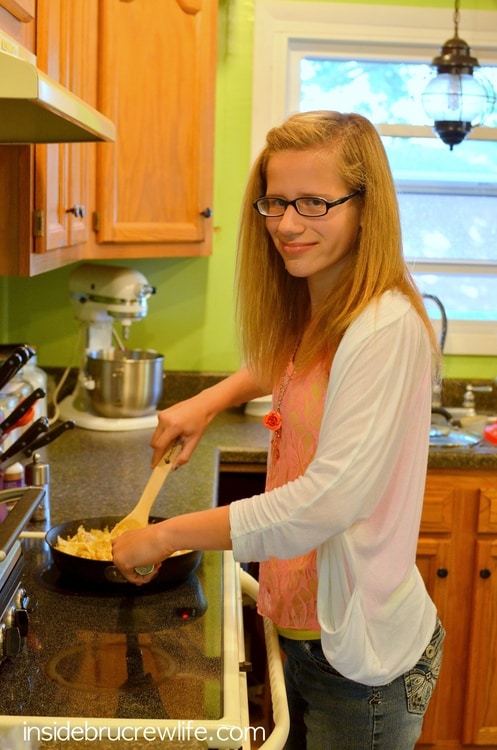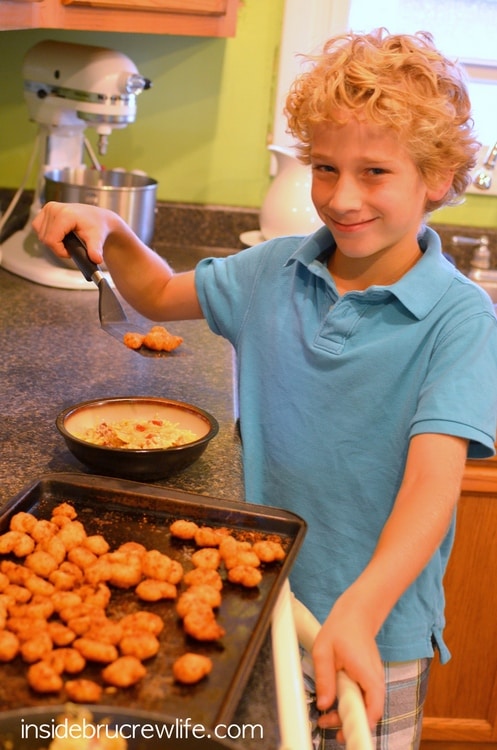 Sports activities here are coming to an end, but we still have those last few games to finish out. I need quick easy meals that come together in minutes to feed my hungry athletes. We can have the noodles boiled, popcorn shrimp baked, and sauce made in 20 minutes. That leaves us more time to talk around the table before heading off to the next event.
Get your water boiling and place your frozen shrimp on the pan. As soon as your noodles go in the boiling water, pop your baking sheet in the hot oven. The noodles and shrimp take about the same time to cook, so you want to make sure to do them at the same time.
While those are cooking, start on the sauce. Melt the butter and stir in the garlic and Parmesan cheese. Then slowly whisk in the half and half. Let it simmer for a few minutes as it gets thicker. A little bit of mozzarella cheese amps up the cheese factor even more. Now you could stop here and the dish would taste delicious, but we like our pasta with lots of mix ins. Today's dish got bacon and roasted red peppers added with the noodles.
Spoon it into bowls and top with the popcorn shrimp. It's an easy "shrimptastic" dinner that everyone will love!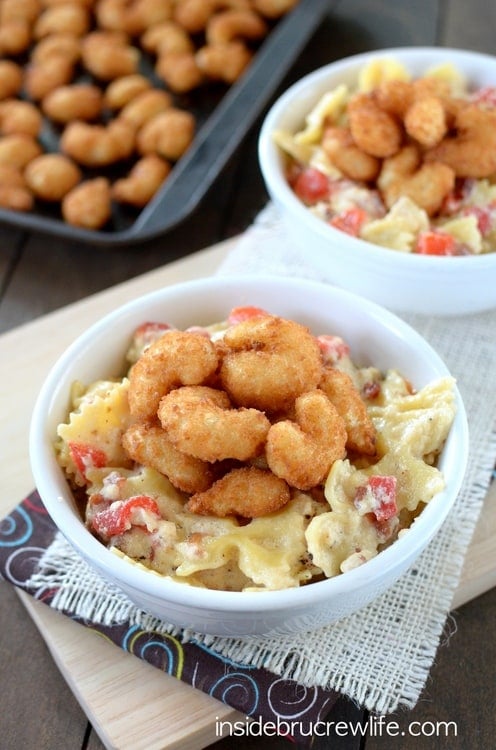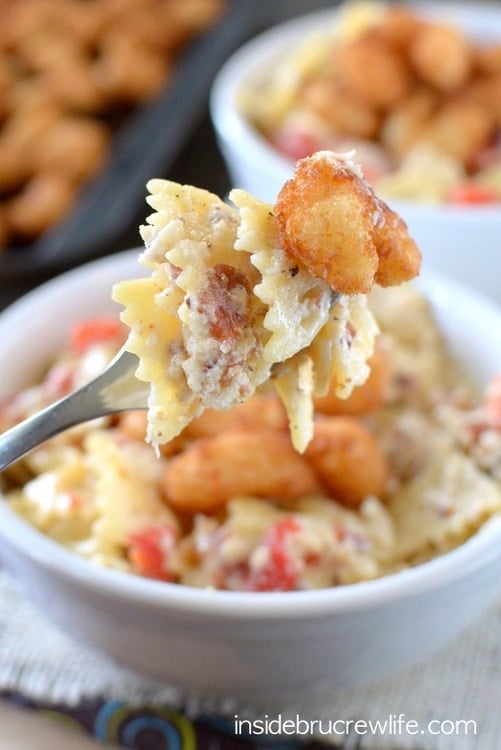 *This post has been compensated by SeaPak. All opinions and thoughts expressed are 100% my own. Thank you for helping me support the brands we enjoy.