Chicken Alfredo meets loaded baked potato in this delicious Loaded Chicken Alfredo Gnocchi Bake.  Full of flavor and easy to have on your table for dinner tonight.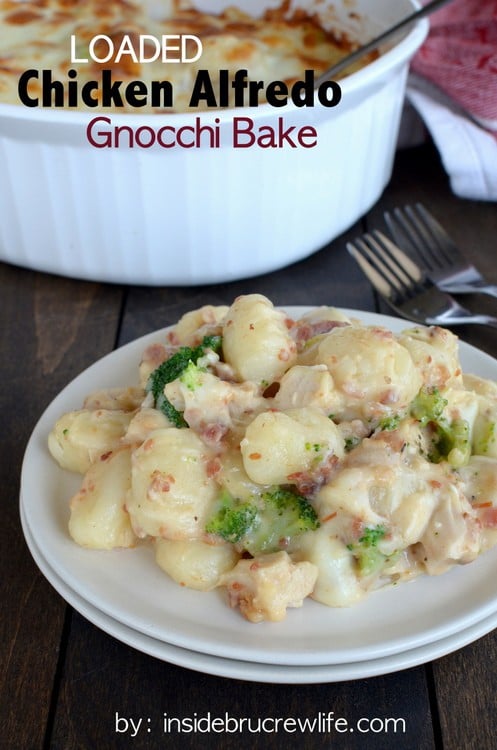 Remember that time I told you how I didn't like to make dinner?
Hhhhmmmm!  Yeah, I might have changed my mind on that.  Lately, I have been filling my food lists with some delicious sounding savory dishes.  Very slowly I am working my way through that list.
I still prefer baking up a storm, but this dinner thing isn't so bad after all.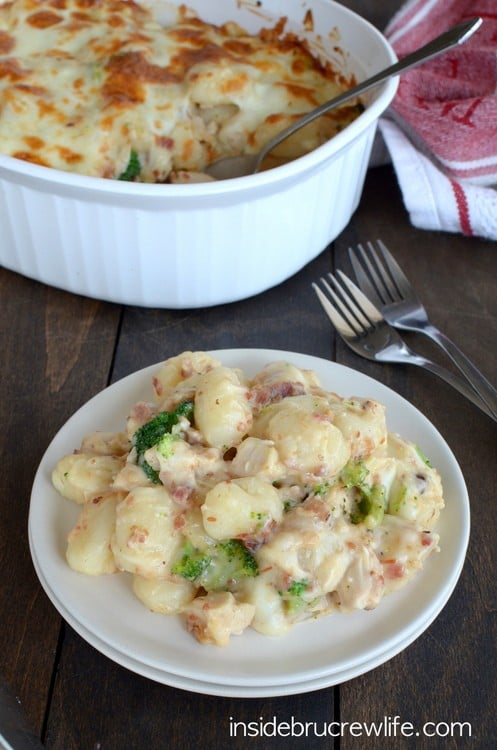 I absolutely love the gnocchi soup at Olive Garden.  No, this dish is nothing like that soup.  They just both have gnocchi. End of similarities.
But because I love the gnocchi so much, I bought a few packages at the store.  Then they just sat in the cupboard forever.  Ok, maybe I'm exaggerating a little there.  But they were in there for a good long while.
Then one day we had extra grilled chicken, a bag of broccoli, and a jar of Alfredo sauce.  Immediately I knew what I was making for dinner.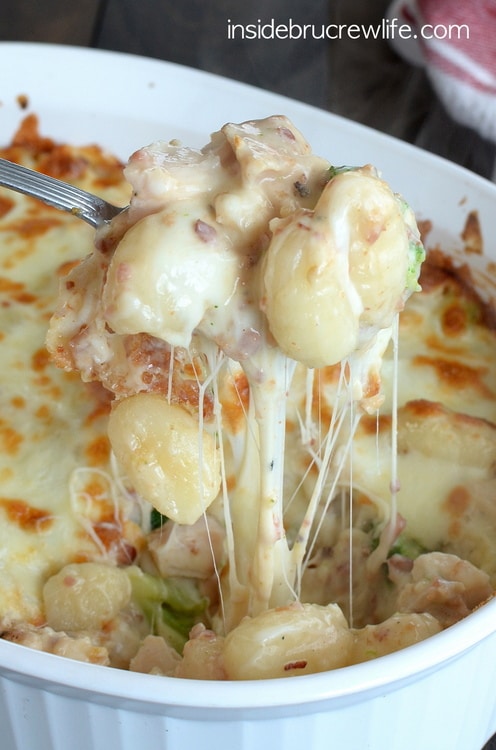 Add in a little bit of bacon and a whole lot of cheese and this loaded chicken Alfredo gnocchi bake becomes one amazing comfort food dinner!
Seriously!  Look at the ooey, gooey cheese!  It's enough to make me want to run to my kitchen and make another pan full of this goodness.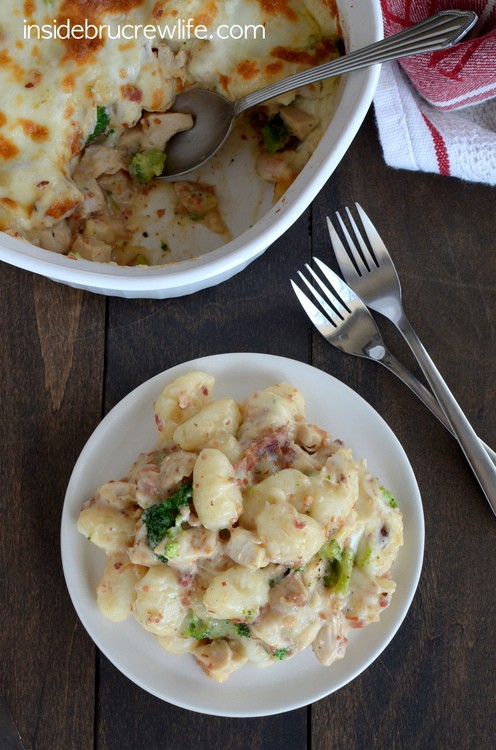 Now if you are a dinner pro, go for it and make homemade Alfredo sauce.  There really is nothing like it.  My hubby spoils me every year on my birthday and makes the real stuff. We love it on this bacon shrimp Alfredo pasta!  It really is down right amazing!
But…I am totally a semi homemade cook/baker.  I love me the convenience of packaged foods.  Someone has to help keep these companies in business, right?  Plus, most times when I use a packaged item I give it enough homemade flair to kick the package butt right out of it.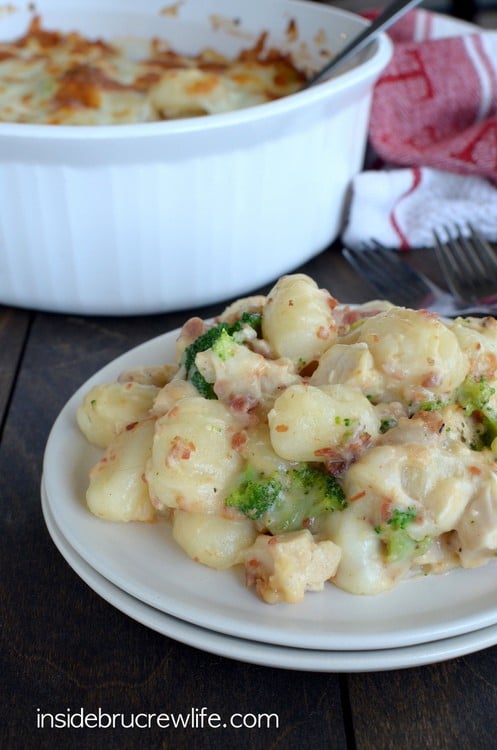 If this is your first time cooking gnocchi, join the club.  This dish was my first time working with it.  Let me tell you something…it is so easy.  Boil the water.  Dump in the gnocchi.  Wait for them to rise to the water surface.  Easiest thing ever.  I see a lot more gnocchi in our future.
Now if you are wondering…what is gnocchi???  Gnocchi is a soft dumpling made from flour and potato.  You can make them at home…or use the store bought ones like I did.
Stir together the cooked chicken, gnocchi, and alfredo sauce.  This would be great on its own, but we are taking it one step further.  Since gnocchi is a potato based pasta, we are going to load it up like a baked potato.  That's where the bacon, broccoli, and cheese come in.  Spoon everything into a casserole dish and load it down with some cheese.
Melty cheese goodness and comfort food is seriously the bomb.com!!!
Still looking for more gnocchi goodness?  I'm drooling over this Garlic Butter Gnocchi and this Truffled Gnocchi Macaroni and Cheese. And of course anything pizza related gets rave reviews in our house, so this Pepperoni Pizza-Baked Gnocchi is a must make!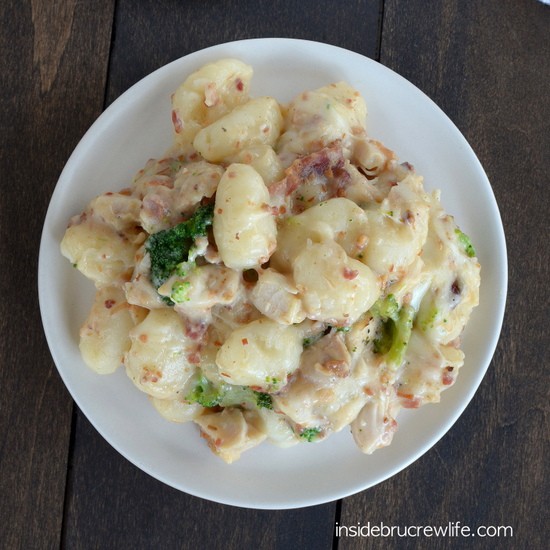 Stay up to date on all the BruCrew baking here:
FACEBOOK | PINTEREST | GOOGLE+ | TWITTER | INSTAGRAM | BLOGLOVIN



Yield: 6-8 servings
Loaded Chicken Alfredo Gnocchi Bake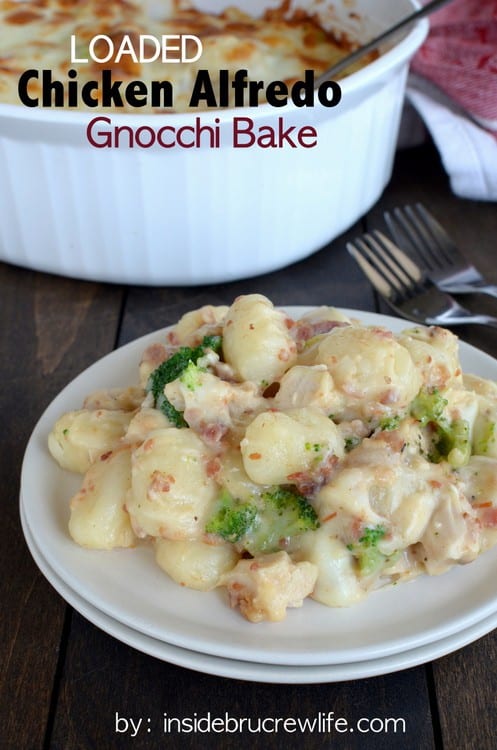 Chicken Alfredo joins forces with a baked potato to create an amazing comfort food dish loaded with plenty of melted cheese.

Prep Time 20 minutes

Cook Time 22 minutes

Total Time 42 minutes
Ingredients
1 package gnocchi
2 cups frozen broccoli
2 cups cubed cooked chicken
1/2 cup crumbled cooked bacon
1 Tablespoon minced garlic
1 - 15 ounce jar Alfredo sauce
1 cup shredded mozzarella cheese
1/2 cup shredded monterey jack cheese
green onions for garnish
Instructions
Preheat the oven to 400 degrees. Spray a casserole dish with non-stick spray.
Cook the gnocchi according to the package directions. Drain.
Stir together the gnocchi, broccoli, chicken, bacon, garlic, and Alfredo sauce. Spoon into the prepared casserole dish.
Top with cheese. Bake for 20 minutes. Turn oven to broil for 2-3 minutes or until the cheese starts to brown. Make sure you keep an eye on it because it will brown quickly. Serve immediately.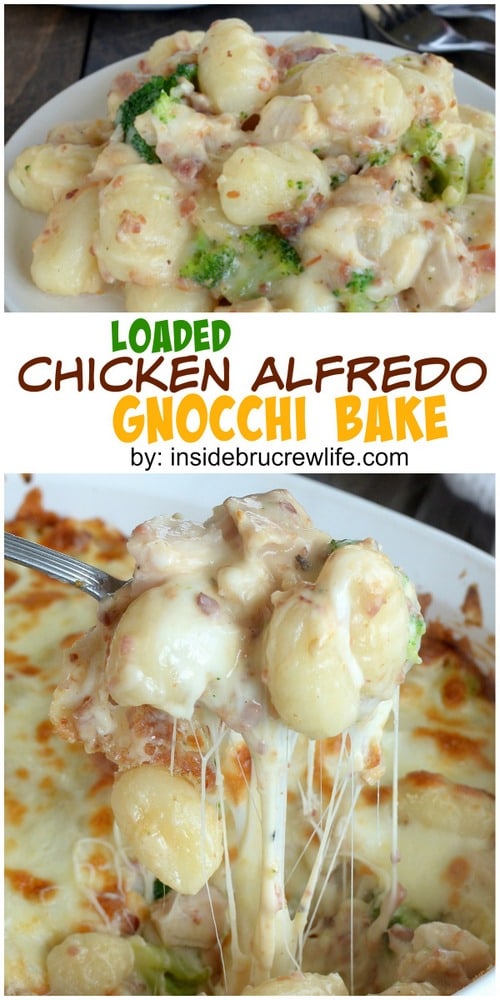 Some more dinner ideas to add to your menu plans: