Frosting and candies make these Baked Biscoff M&M Donuts a fun holiday treat. Start a new Christmas tradition with these easy baked donuts!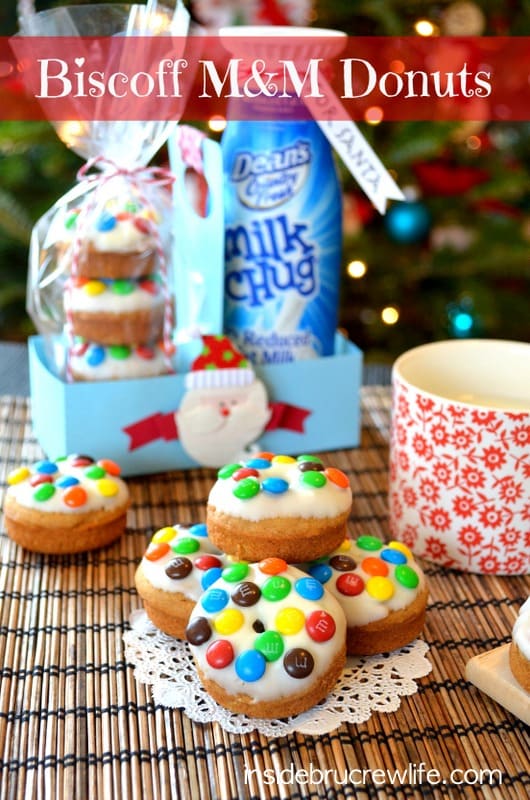 One of the traditions we always did when our kids were little was to leave milk and cookies for Santa on Christmas Eve.
And every year my husband tried to convince the kids that "Santa" would rather have White Castle burgers and Grape Soda.  Our kids never believed him though, and so cookies and milk were always left by the tree.
As the kids got older, they just realized that "Santa" is really just mom and dad.
Although, one year we got them really good.  It was the year they were 2, 4, and 6.  The oldest was trying to convince the younger two that Santa wasn't real.  We were ok with that.  It wasn't something we have every really tried to convince our kids of.  It was just a fun tradition.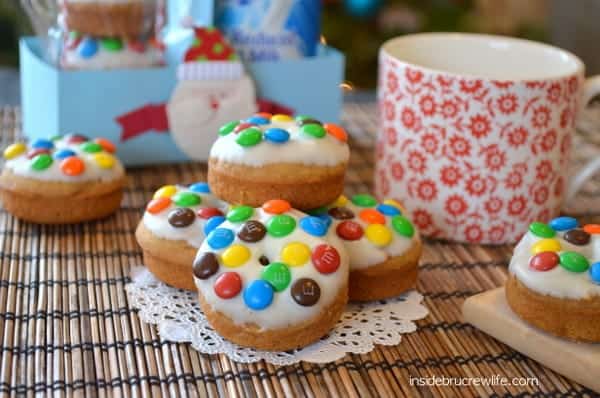 BUT… we thought it would be fun to mess with them a little.
We borrowed a Santa suit from a friend of ours and set up a video camera.  My husband came in the front door in the suit with a big bag of presents.
He started putting them around the tree quietly.  After he was done, he turned around and saw the milk and cookies that were left out.
He acted surprised and then said, "Yum! Milk and Cookies."  Now he tried to say it in a jolly Santa voice, but it totally sounded like him.
The funniest part was showing the kids the next morning after they opened their presents.  They were convinced Santa had come in our home…even our oldest was sure it was Santa,  until we got to the milk and cookies part.
My oldest got this funny look on his face and said, "Dad, that sounds like you."  We played it off pretty good though.  I think they believed in Santa for another year or two after that.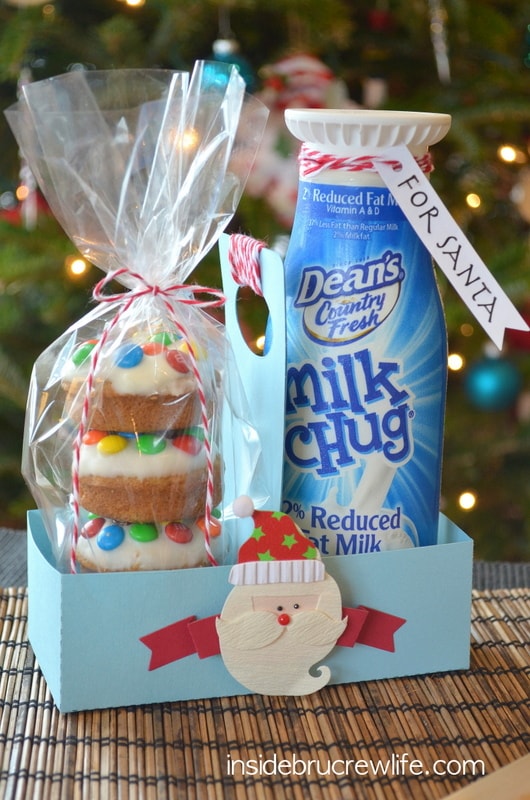 This year I am going to tell my kids that "Santa" wants milk and donuts to go.  Santa might get hungry in mid air and need another snack to hold him over until he gets home.
Sadly this is one of those traditions that they have outgrown.  I wonder if they will leave the cookies and milk if I tell them it's just for me, and that I need the energy to wrap all their gifts?  It's worth a shot!
I am having so much fun with my treat carrier box die cut.  How cute is this little box?
I can even see it with a bottled Starbucks coffee and some chocolate covered coffee beans for a "thanks a latte" gift for teachers anytime throughout the year.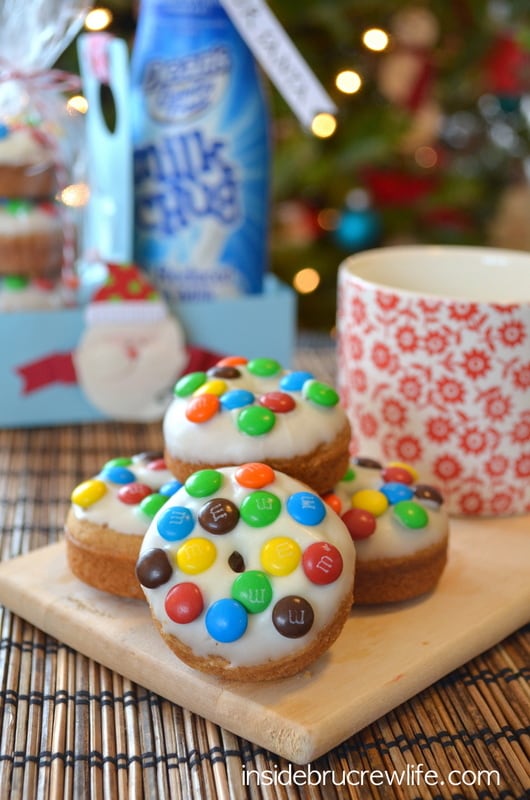 Baked Biscoff M&M Donuts recipe: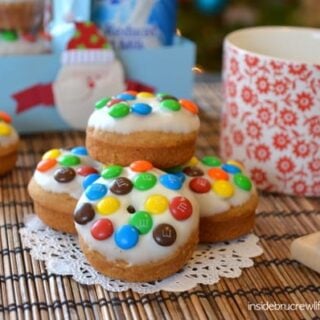 Baked Biscoff M&M Donuts
Yield:
about 4 dozen mini donuts
Baked donuts made from Biscoff cookie butter and topped with white chocolate and M&M's...the best way to start the day.
Ingredients
1/2 c. butter
1 c. Biscoff cookie spread
2/3 c. brown sugar
1 egg
1/4 c. applesauce
1/3 c. sour cream
1 tsp. vanilla
1 1/2 tsp. baking powder
1 1/2 tsp. baking soda
1/2 tsp. cornstarch
1 tsp. cinnamon
1/2 tsp. salt
2 1/2 c. flour
2/3 c. whipping cream
8 oz. Candiquik, melted
1/2 c. miniature M&M's
Instructions
Cream the butter, Biscoff and sugar. Add the egg, sour cream, applesauce, and vanilla and beat again. Sift together the baking powder, baking soda, cornstarch, cinnamon, salt, and flour. Add the flour and whipping cream alternately to the butter mixture until all has been incorporated.
Spoon the batter into a large ziplock bag and cut one corner off. Use the bag to fill the cavities of a mini donut pan. Bake at 425* for 5-6 minutes. Let cool in the pan 4-5 minutes before removing to a wire rack to cool completely.
In a microwave safe bowl, melt the Candiquik slowly. Stir every 30 seconds. Dip the tops of the donuts in the chocolate and place M&M's on top. Store in a covered container.
*This post contains an affiliate link. We may receive a small percentage from sales made through these referral links. As always, these do not cost you any extra. Thank you for letting us share products we use and love this way.