Looking for another fun treat to fill the Easter baskets with this year?  These Nutella Cream Eggs are easy to make and taste out of this world.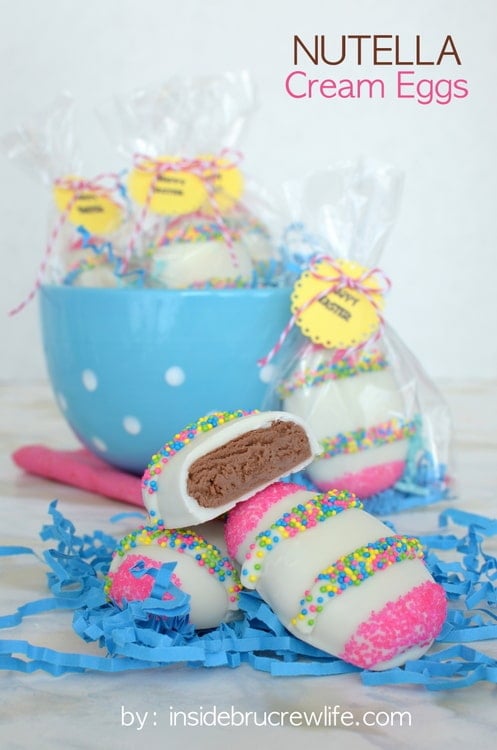 Do you have one thing that you remember getting in your Easter basket every year?  Every year my grandparents would get us these big peanut butter Easter eggs with our names on them.  I looked forward to those eggs! They were amazing!
The other thing I remember is the 2 foot solid chocolate Easter bunny that we would get.  If you are laughing because there is no such thing, go right ahead.  My husband chuckles every time I talk about it.  He says my bunny gets bigger every time I tell it.
But seriously, the thing was huge…at least 2 foot tall!  I swear we were still gnawing on it in July!!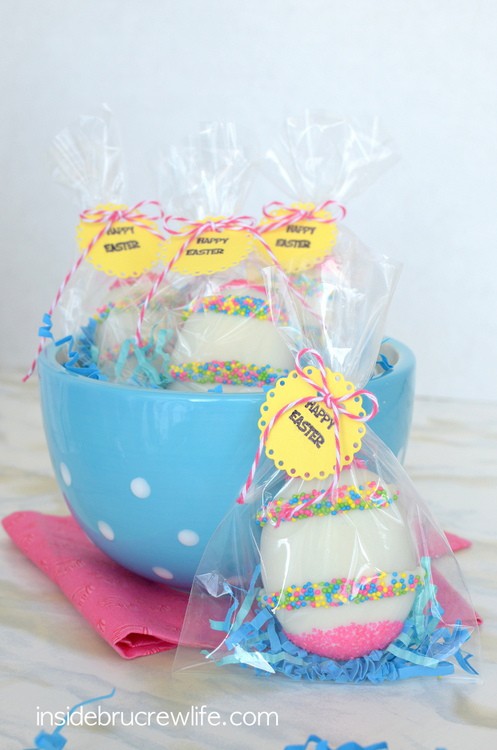 A few years ago I started making my kids a giant homemade peanut butter Easter egg with their names on them or as a giant chick.  I like to think it's their favorite thing I put in their baskets.  It is a fun tradition that I am looking forward to continuing until they are out of college.  And then one day, I'll make them for the grandkids.
Oh, my!  Did I seriously just type that?  Nothing like making yourself feel old.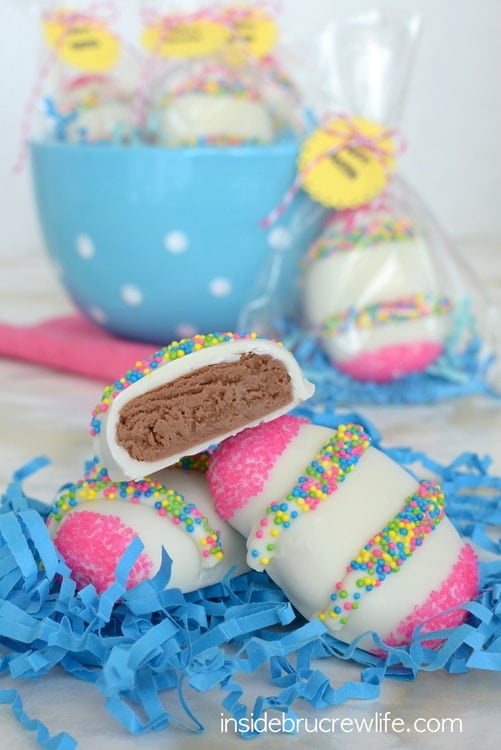 I have been experimenting with different homemade egg flavors each year too. These Biscoff cream eggs were such a hit, that I had to make another version.   This year I pulled out the Nutella.  I had a feeling it was going to be absolutely delicious dipped in white chocolate.
Turns out I was right!  You will want to make a batch of these eggs for this Easter season.
One word of warning though.  Since they taste delicious, do not make them too early.  Otherwise they will not last long enough to make it into the baskets.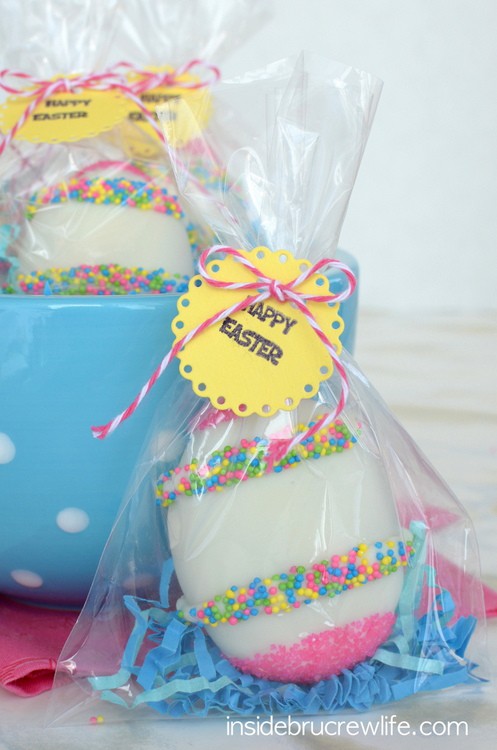 These Nutella Cream Eggs look so cute when they are all bagged and tied up with a cute little ribbon and tag made from this eyelet circle punch.  These die cuts make the perfect little tag for gifting little food items like this.
A little handmade tag and some cellophane bags would be a great way to share this Gourmet Easter Candy Bark, these Pastel Mint Patties, or this Easter Snack Mix with friends and family.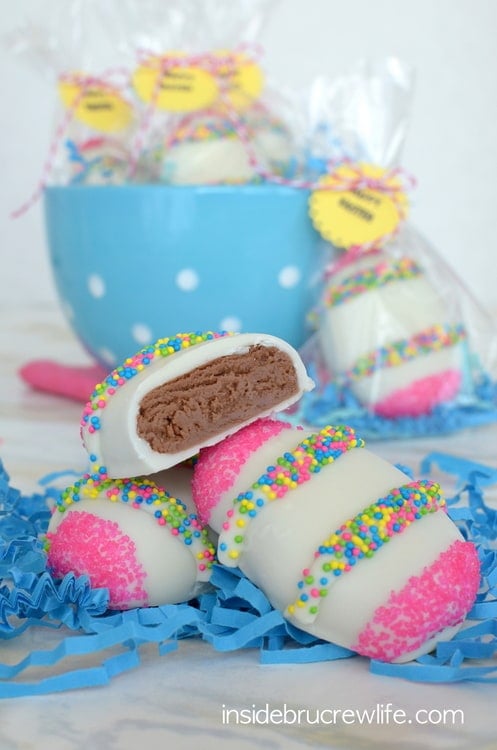 Stay up to date on all the BruCrew baking here:
FACEBOOK | PINTEREST | GOOGLE+ | TWITTER | INSTAGRAM | BLOGLOVIN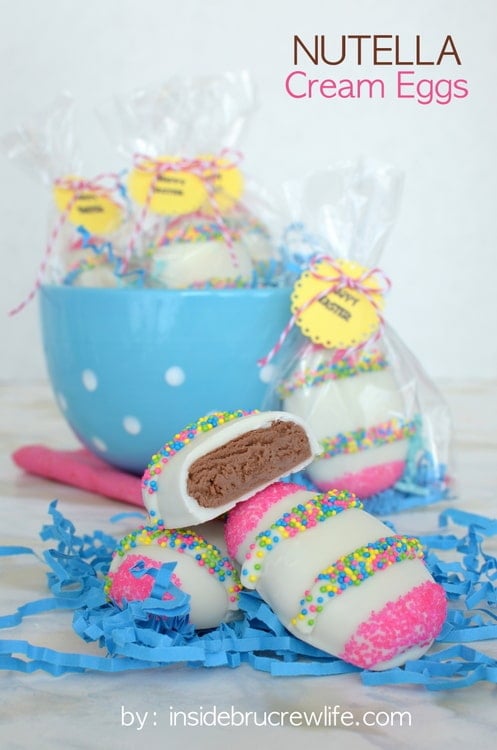 Nutella and marshmallow is a fun combination for a cute homemade Easter egg candy.
Ingredients
6 Tablespoons butter, softened
1/2 cup Nutella
1/4 cup marshmallow cream
1/2 teaspoon vanilla extract
2 cups powdered sugar
10 ounces white melting chocolate
colored sprinkles or nonparils
pink sanding sugar
Instructions
Beat the butter and Nutella until creamy. Add the marshmallow cream and extract and beat again. Slowly add the powdered sugar until a soft dough forms.
Divide into 12 even balls. Shape the balls into an eggs shape. Place on a wax paper lined baking sheet. Freeze for 20-30 minutes.
Melt the chocolate according to the package directions. Use a fork to hold each frozen egg in the chocolate. Spoon the chocolate over the egg. Tap the fork gently on the side of the bowl. Slide onto the wax paper lined tray. Let set.
Dip the ends of each egg in the remaining chocolate. Sprinkle with the sanding sugar over another bowl.
Spoon the rest of the chocolate into a plastic baggie. Heat it up first, if needed. Cut one tip off. Drizzle two lines in the center of the eggs. Top with sprinkles after each egg. Let set. Store in a sealed container on the counter. Makes 12 eggs.
Notes
*If your melting chocolate is too thick to dip, you can also add a little bit of shortening to thin it out.
https://insidebrucrewlife.com/nutella-cream-eggs/
Copyright Inside BruCrew Life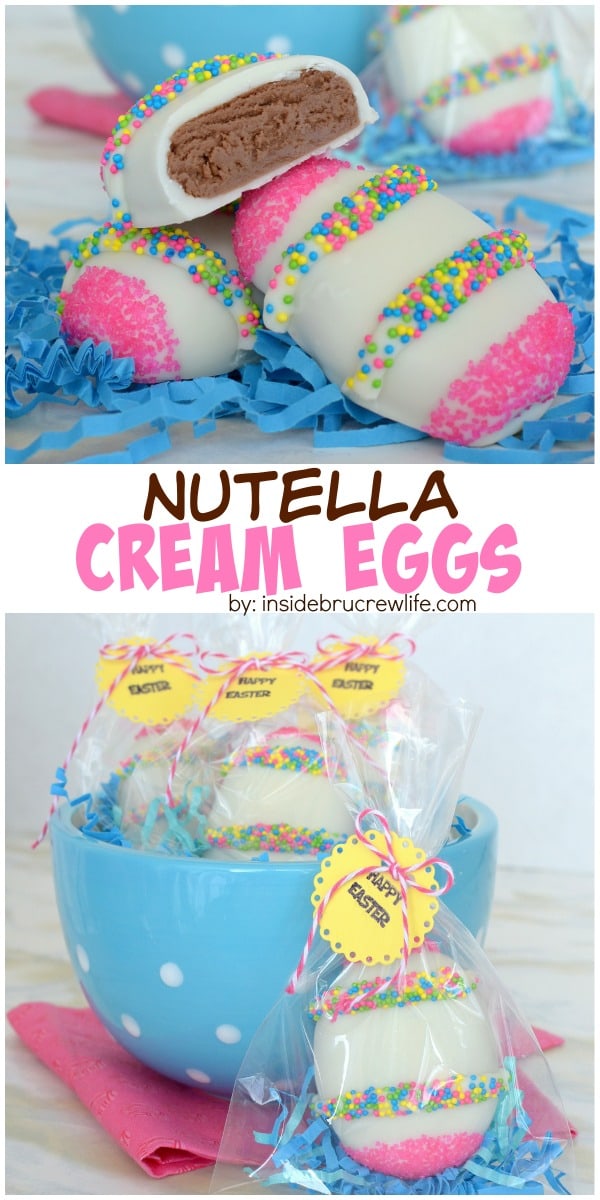 *This post contains affiliate links.  I receive a very small percentage of sales made from these free links if you purchase items.  Thank you for letting me share products I know and love.