These little Reese's Turkeys are the cutest little candies for Thanksgiving. Perfect to put at each place setting.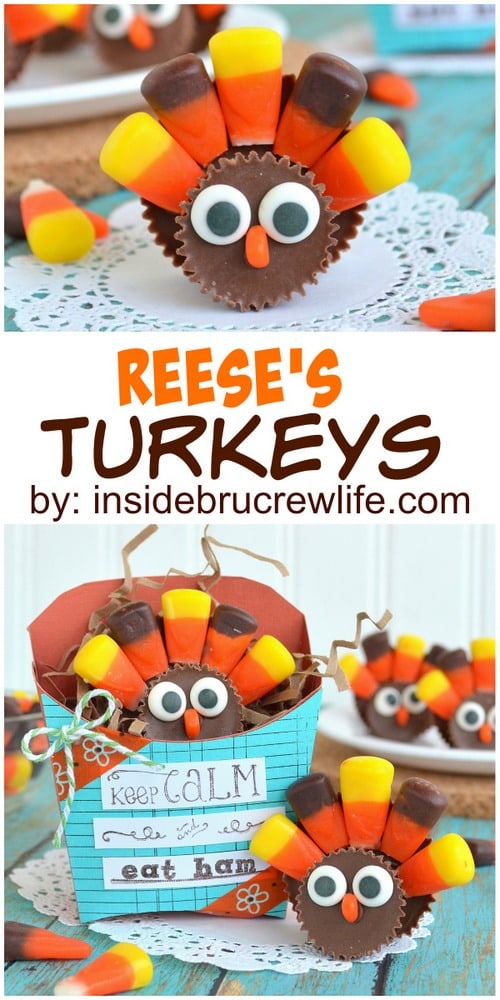 I couldn't wait any longer to show you these cute little peanut butter turkeys.
Well, ok, I had to wait until today because I finally finished putting everything together this afternoon.  But the idea for them has been rolling around in my head all month long.  I sure hope you have a bag of candy corn and some leftover Reese's candy from Halloween.  Who am I kidding?  Leftover Reese's?  That never happens in this house either.
My kids are just as crazy for those candies as I am.  They used to share them with me when they were little…now they hide them, so I can't find them:-)  So,I just bought more for this fun project.  I can't wait to make more for us to devour on Thanksgiving Day.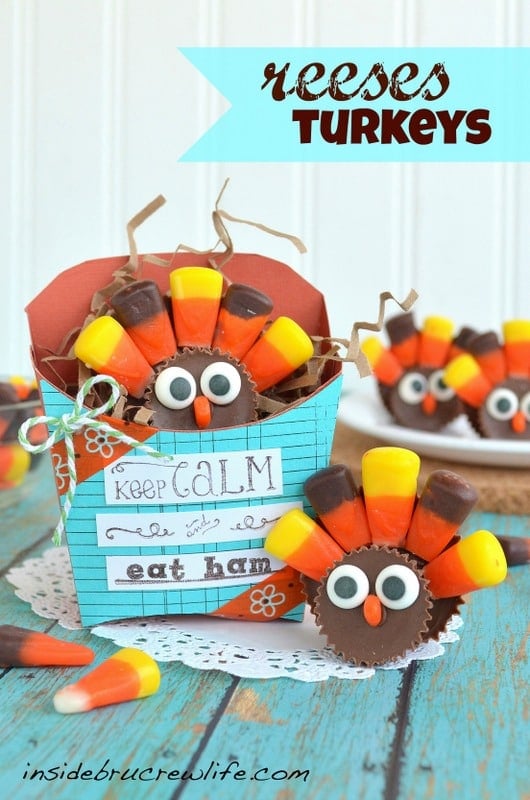 How cute would these little fry boxes be at each kid's place setting this Thanksgiving?  I think this fry box die cut is my favorite one from Lifestyle Crafts right now.   It makes the cutest little boxes for small treats. Plus using a die cut sure beats tracing an old McD's fry box and trying to cut it all out right:-)  I also found the "Keep Calm and ______" stamp at JoAnn's the other day.  I just filled in the "eat ham" part with some small letter stamps I found at Walmart.  How perfect is this saying for these little boxes filled with turkeys?
I also was able to use the color palate from the ColourQ challenge #163 to create my fry box.  The only color I didn't really have was the olive, so I used some green bakers twine for the little bow.  I love that the shredded paper inside the box works for the suede color in the challenge.  Turquoise and orange is such a fun color combo.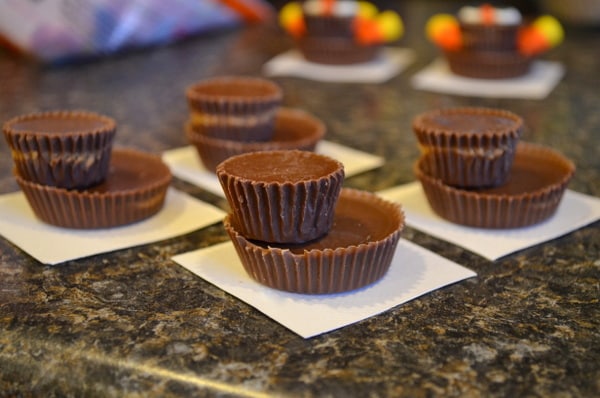 To start making the turkeys, you need to attach the two different sized peanut butter cups just like this using melted chocolate.  You can also use a knife and shave a little bit off the bottoms, so they will sit up straight without rolling over.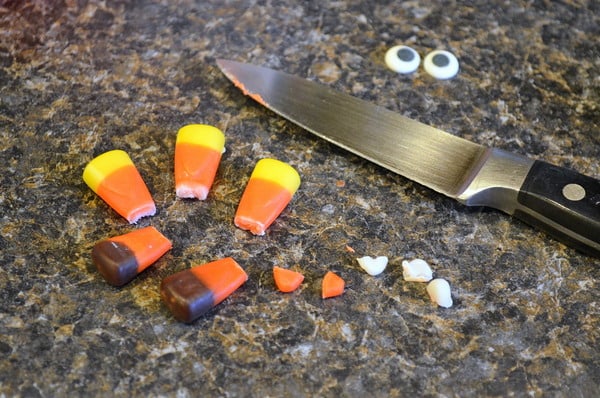 I cut off the tips off my candy corn, but that is up to you if you want to do that.  The extra orange tip was the perfect size for the beak.  You can do whatever you want with the extra white ones…I just ate mine:-)  I had the candy eyeballs leftover from these donuts, but I think you can still buy some at Michaels or Hobby Lobby in the cake decorating aisle.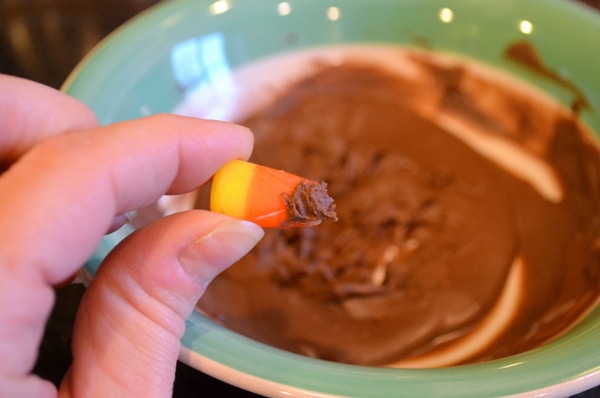 Use a toothpick to spread a little bit of melted chocolate on the back tip of the candy corn.  Yes, I know this chocolate looks thick.  It had started to harden when I took the picture for you.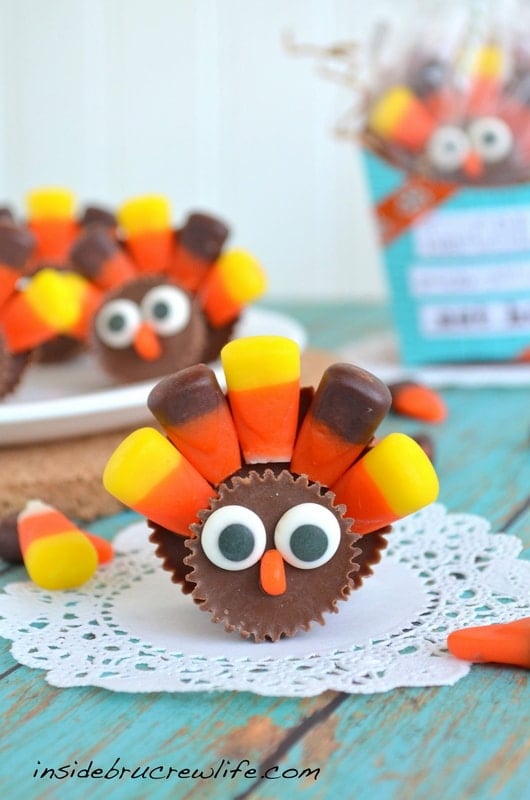 How cute is he?  Almost too cute to eat…
Almost 🙂
Yield: 12 turkeys
Reese's Turkeys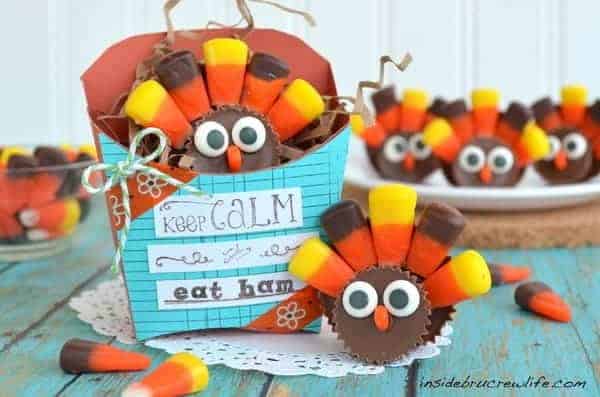 These cute little Reese's Turkeys are made with two different size peanut butter cups and candy corn.
Ingredients
12 full size Reese's peanut butter cups
12 mini Reese's peanut butter cups
1 cup candy corn
24 candy eyeballs
2 Tablespoons chocolate candy melts
Instructions
Use a toothpick to spread a thin layer of chocolate on the back of the small peanut butter cup. Attach to the big peanut butter cup so the edges are together. Use a knife to shave off the bottom so the turkey will stand up.
Cut the tips off the candy corn. Save for later. Spread a little bit of melted chocolate on the back end. Arrange around the top of the small peanut butter cup.
Spread chocolate on the back of the eyes and the orange tips. Attach to the front of the small peanut butter cup. Let set.