Looking for new banana recipes? These
Banana Malt Cupcakes
are a great way to use up those brown bananas on your counter.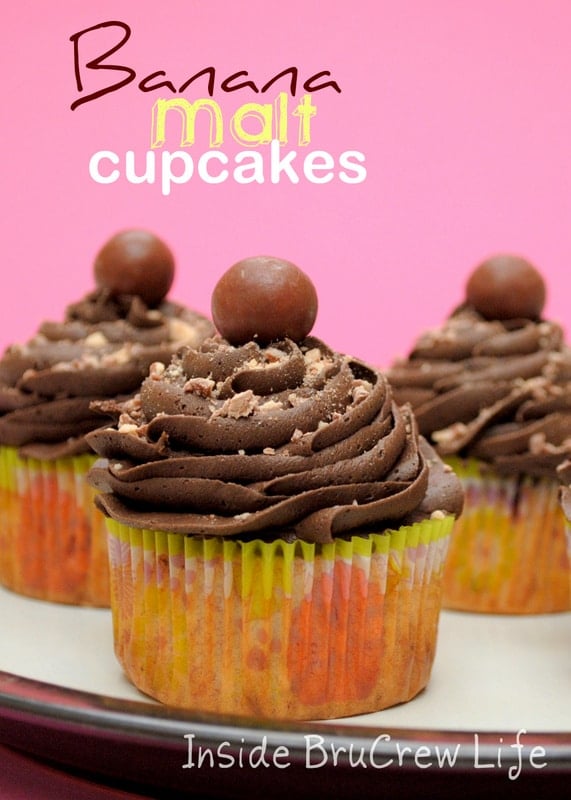 First off I just wanted to say a huge
THANK YOU
to everyone who said a prayer for me on Friday
for my lasik surgery.
I appreciate all of you more than you know:-)
I tried to email those of you that left comments...
if you left a comment and didn't get a reply,
try checking your email status.
Go to your setting tab...
then go to the comments tab under that...
scroll down and make sure you have an email attached to it.
If you have never gotten any feedback from comments
it could be because you show up as a no reply email:-(
I do try to reply even just a short thank you to those that comment.
Hope this helps:-)
Today is the first day that I can even look at my computer
without totally wincing in pain...
LOL I am still wearing sunglasses 🙂
Basically the last 4 days have been a blur...
*sit on the couch
*sleep
*put drops in
*sleep
*wear 2 pairs of sunglasses
*sleep
*cry when someone turned on the lights
*sleep
*take more ibuprofin( sadly I can't take anything stronger)
*sleep
Did I mention that about all I did was sleep?
I feel the need to stay up for 4 days straight
just to make up for all the sleep I have gotten.
And of course I REALLY feel the need to bake something!!!
Now just for the record I DID NOT make these while
my eyes were rubbed raw...I made them 2 weeks ago
for a church dinner.
Super easy to make and even easier to eat.
Banana Malt Cupcakes
Banana cupcakes with malt candy pieces and a malt frosting
Ingredients
For the Cupcakes
1 white cake mix
½ cup smashed bananas (1 ripe)
¼ cup sour cream
1 ½ cups crushed malt balls
For the Malt Frosting
1 cup unsalted butter
4 cups powdered sugar
¼ cup cocoa powder
3 Tablespoons chocolate malted milk powder
4 Tablespoons milk, divided
1 teaspoon vanilla extract
Instructions
Preheat oven to 350 degrees.
Make up the cake mix according to the box. Add the sour cream in with the liquids.
Stir in the bananas and malt balls.
Fill cupcake liners ¾ of the way full and bake for 22-24 minutes. Cool.
Dissolve the malted milk powder in 2 Tablespoons milk.
Beat the butter, malted milk, and vanilla until creamy. Slowly add the powdered sugar.
Add remaining 2 Tablespoons milk and beat until very creamy and light.
Frost cupcakes and top with extra malt balls.
Nutrition Information:
Yield:

24
Serving Size:

1
Amount Per Serving:
Calories:

204
Total Fat:

11g
Saturated Fat:

6g
Trans Fat:

0g
Unsaturated Fat:

4g
Cholesterol:

24mg
Sodium:

21mg
Carbohydrates:

27g
Fiber:

1g
Sugar:

24g
Protein:

1g
Nutrition facts are an estimate and are not guaranteed to be accurate. If you need special diet advice, please see a registered dietician.