Prepare to enjoy a white sand beach, crystal blue waters, and island fun when you spend a Beach Day on Great Stirrup Cay, Bahamas.
Our first stop when we were Cruising with Norwegian Cruise Line this summer was at their private island.
CLICK HERE TO PIN THIS POST FOR LATER!
Norwegian cruise line owns the beautiful island paradise of Great Stirrup Cay in the Bahamas. Guests to the island can stroll down the white sand beaches, snorkel the underground sculpture garden, kayak the crystal blue waters, or relax in a cabana.
There is endless fun waiting for you on this 250 acre island.
The first morning of our cruise we got up early and took a tender boat to the island.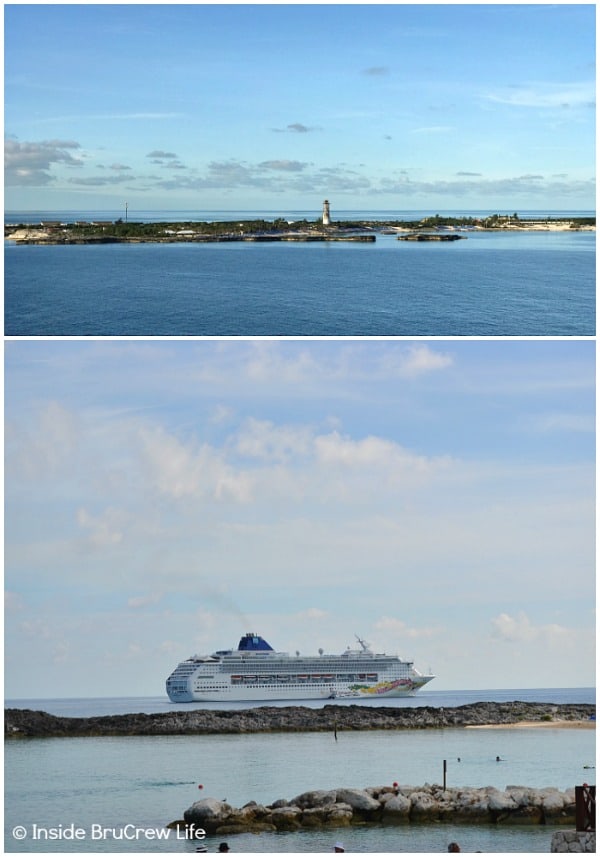 Since we were one of the first boats to get to the island we had time to stop for pictures in front of the entrance stone.
Our kids humored me for photos, even though they just wanted to drop their towels off and get in the water for some snorkeling fun.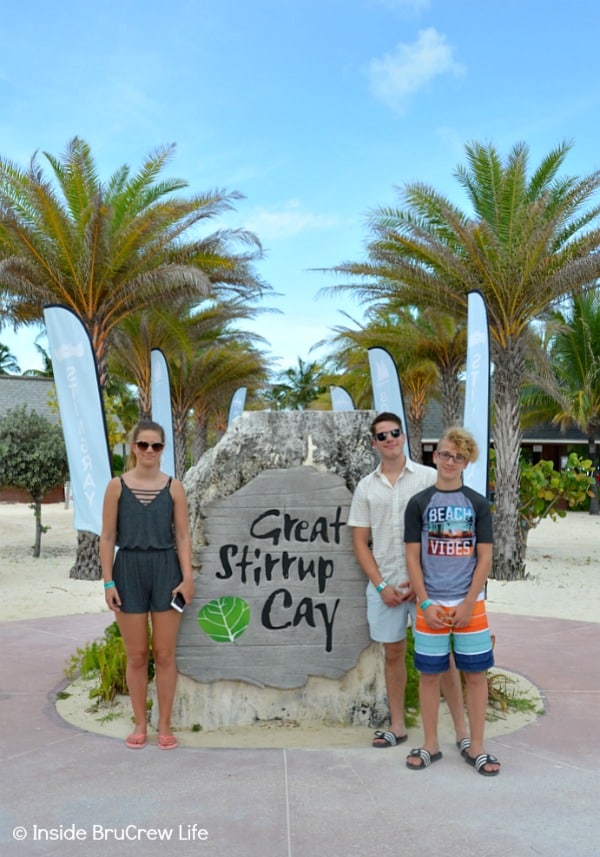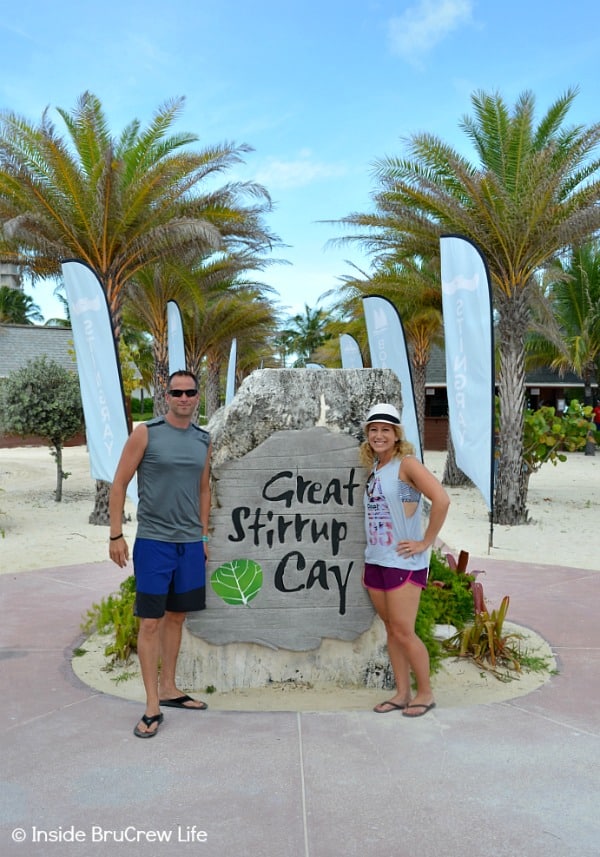 Renting a Cabana for the Day
On the island they have large and small private cabanas that you can rent for the day.
We decided to rent one of the large cabanas, so that we could get out of the sun after snorkeling. Plus, the large cabanas sit on top of the hill, so the views of Bertram's Cove are better.
Drinks, fruit, and chips and salsa, and bottled water in the fridge come with the rental.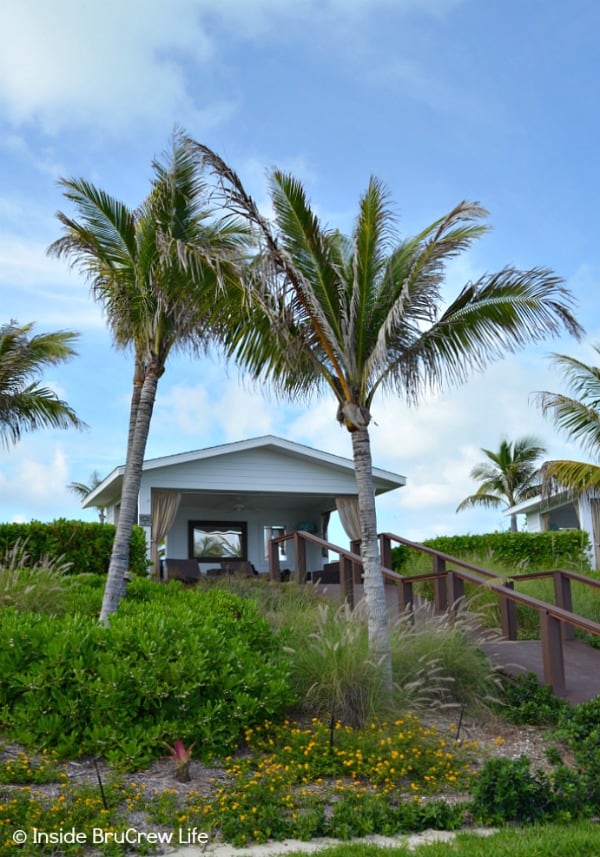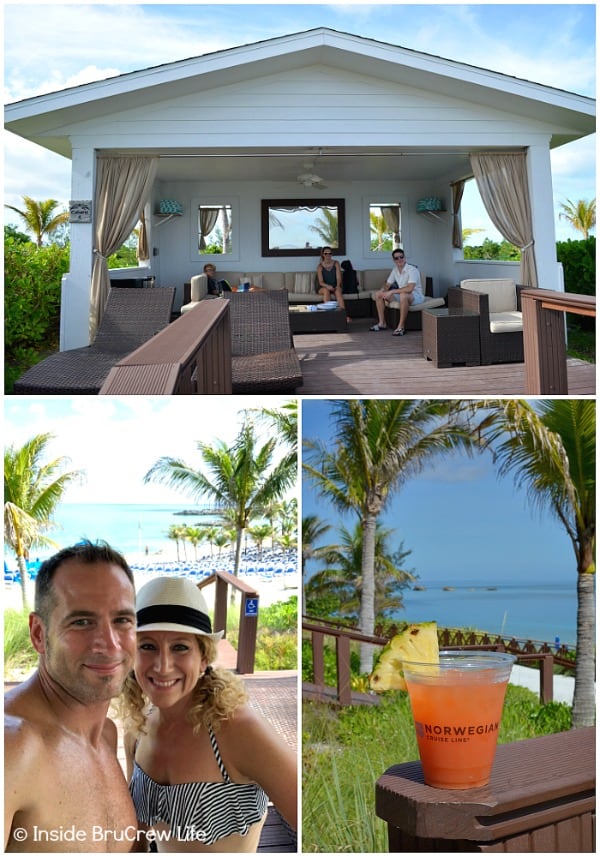 The bright sunshine, beautiful blue skies, and crystal blue waters made the views from our beachfront porch absolutely amazing.
Of course, I was the only one interested in staring at the views. Everyone else grabbed their snorkel gear and headed into the water.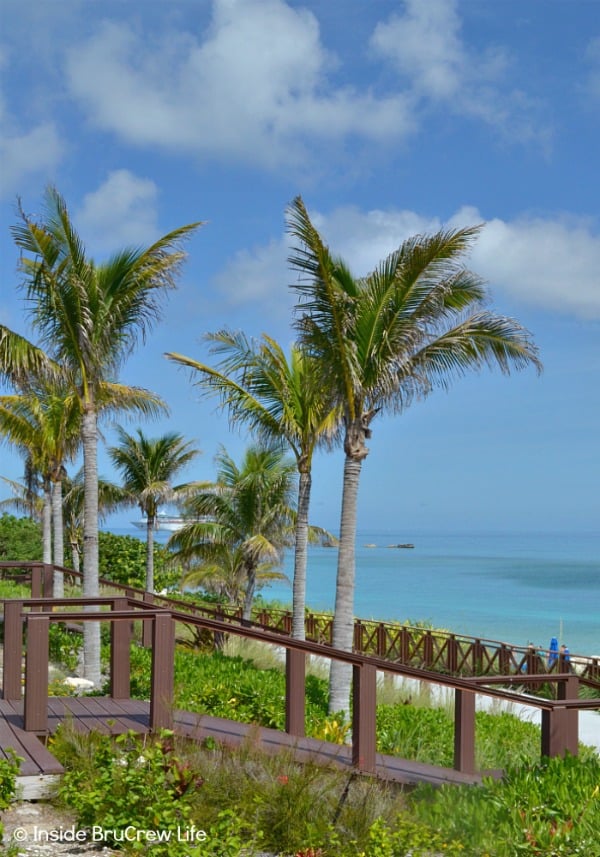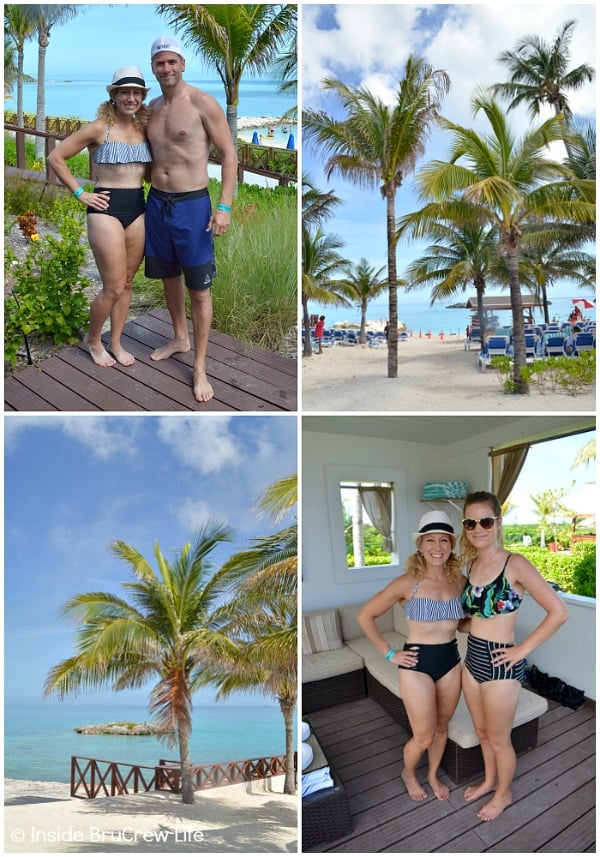 I don't mind snorkeling, but I wanted to explore the island first. So I headed out for a stroll around the island with my camera in hand.
Along Fiesta beach there are plenty of beach chairs for guests to enjoy. Just make sure you get there early for a prime seeing location because it is first come, first serve.
They also have a place where you can rent snorkel gear, paddle boards, or kayaks for the day if you want to spend time in the water.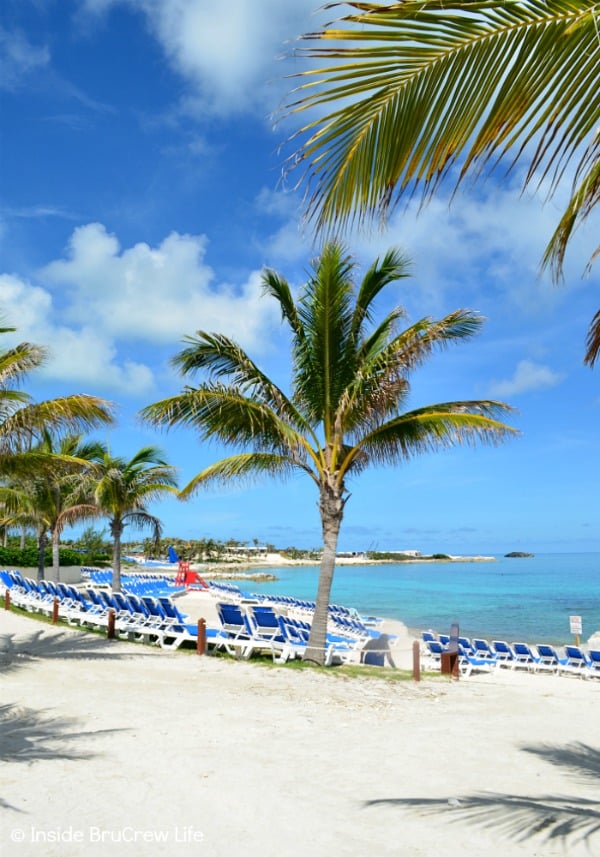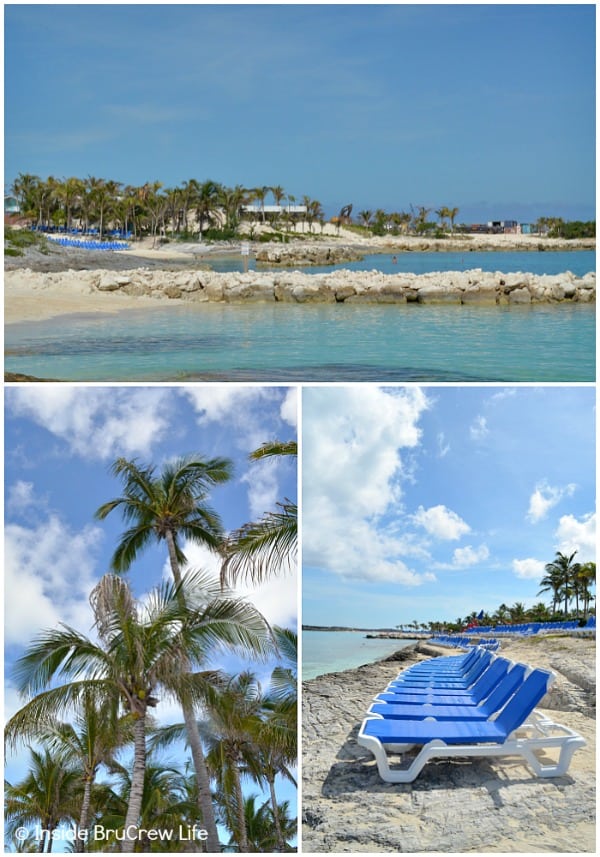 On the island you will find a few different dining options that are complimentary. They offer a beach buffet, a taco bar, or a beach grille where you can enjoy a delicious lunch.
There are also a few different bars where you can get cold drinks.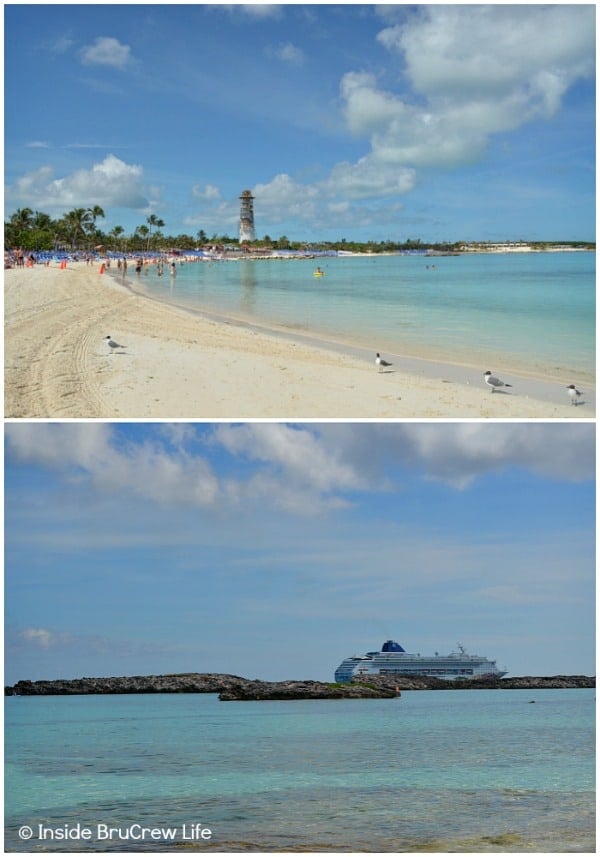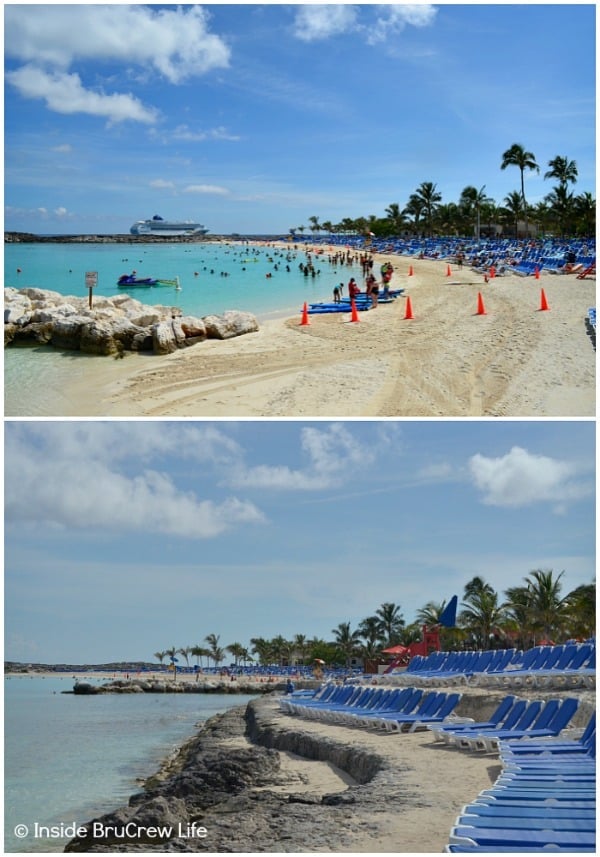 Since everyone else was in the water, I took the camera back to the cabana and headed down to the water for a look at the underwater sculpture garden and the tropical fish.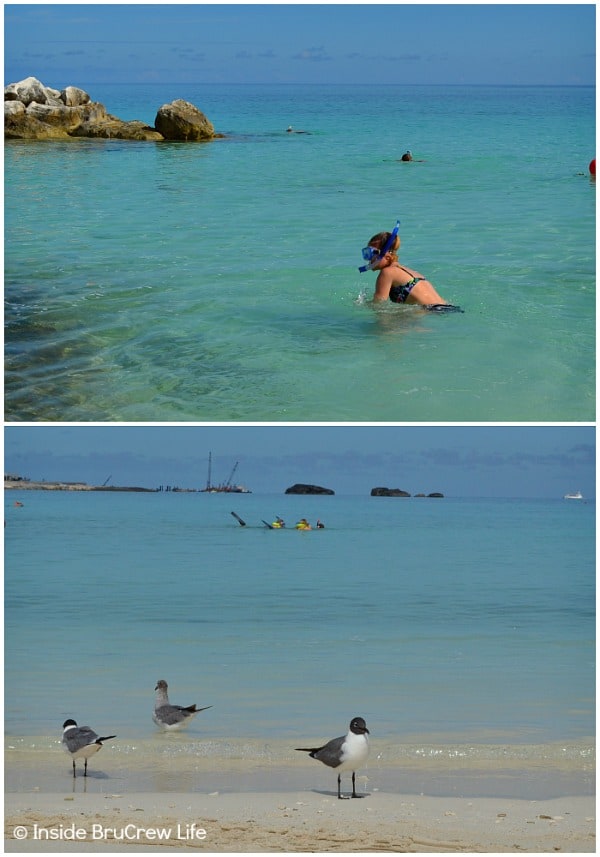 Here is a fun collage video of some of our snorkeling and the fish we saw.
Snorkeling on Great Stirrup Cay
We brought a couple small waterproof cameras with us, so that we could photograph and video the underwater adventures.
I sent one of the cameras with our youngest with instructions to take some pictures and videos of the things he saw.
I love that he turned the camera around and took a picture of himself first.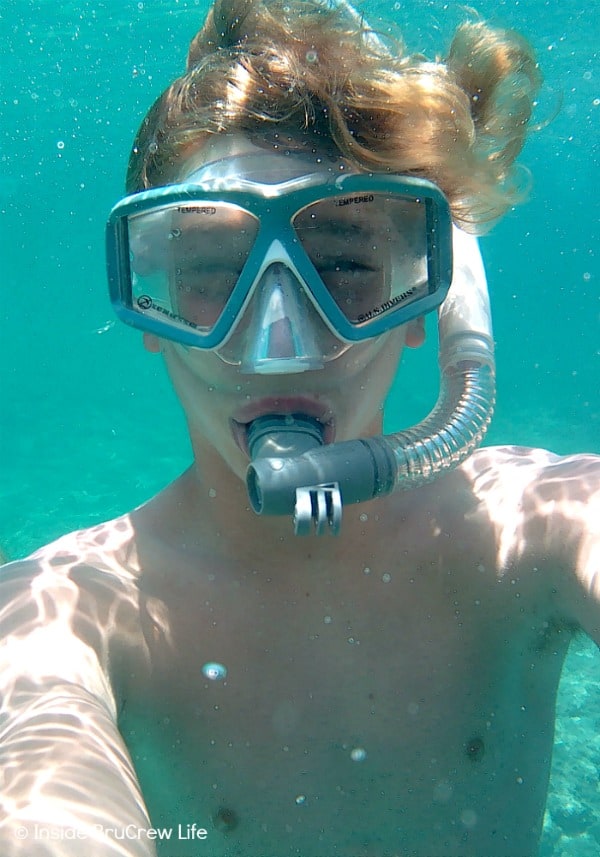 He did an awesome job of capturing some of the snorkeling fun they had while I was walking around the island. I may have found another photographer to help me out with pictures when we travel.
This picture of our oldest swimming away is another one of my favorites that he took.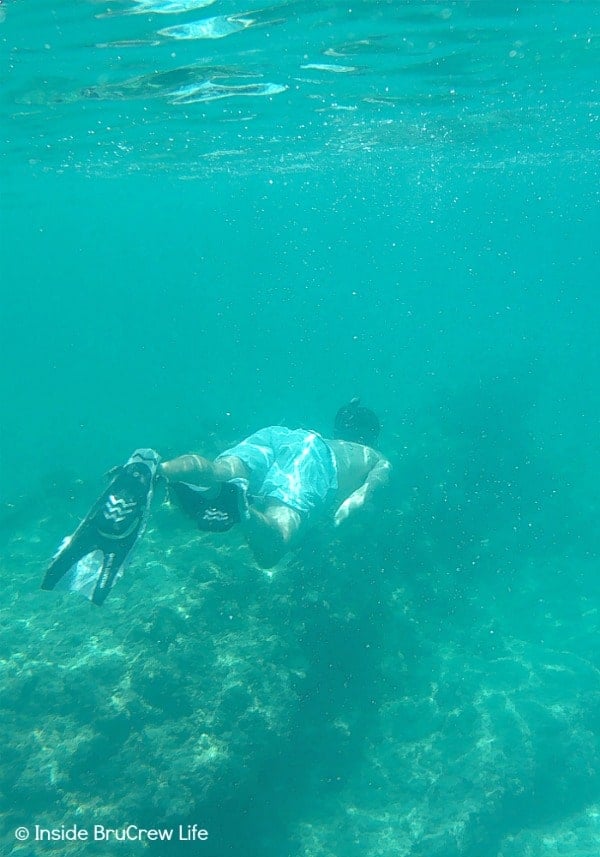 We saw lots of colorful fish as we snorkeled around the cove. The black and yellow striped ones were my favorite. Although, I really liked the bright blue ones too.
It is always so amazing to look through a mask at the beautiful marine life that God created. It also kind of freaks me out to see what I'm actually swimming with.
I kept looking around expecting to see Jaws headed for me, but luckily there were no shark sightings. Thank goodness!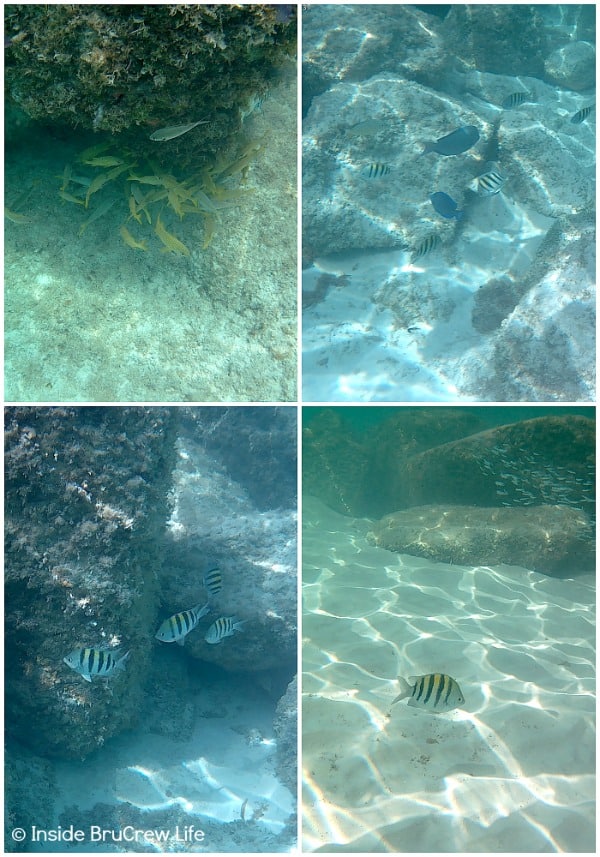 There is one area in the cove where you can find a bunch of different sculptures with fish swimming all around them.
We had such an amazing day enjoying the gorgeous island and crystal waters on Great Stirrup Cay. I'm looking forward to booking another cruise in the future and seeing more of the island.