I'm sorry to do this to you.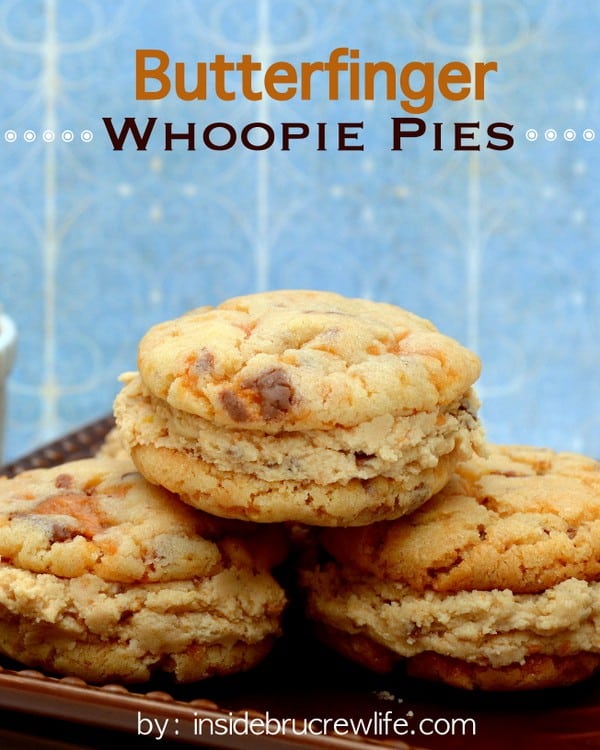 Especially the first week of the New Year
when so many people have resolved to eat better.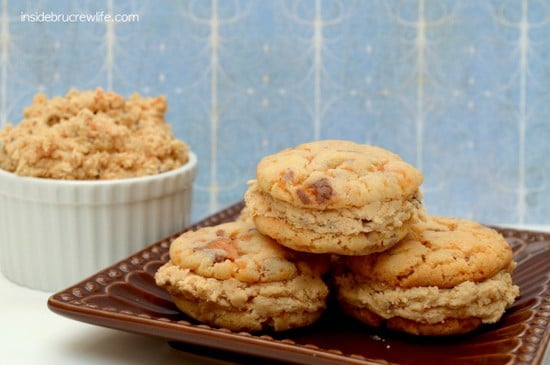 These are going to make you jump right off
any diet bandwagon that you have climbed on.
Believe me! I know…I was there.
This week we have been doing great at our healthy eating,
drinking lots of water, and exercising…
then I went and made these.
And that was even fine because they were going
with my son to his Bible study group.
Only a few got left behind for me to take pictures of.
Then I took a bite out of one
(for testing purposes:-)
and all my good resolve melted away
with that delicious cookie!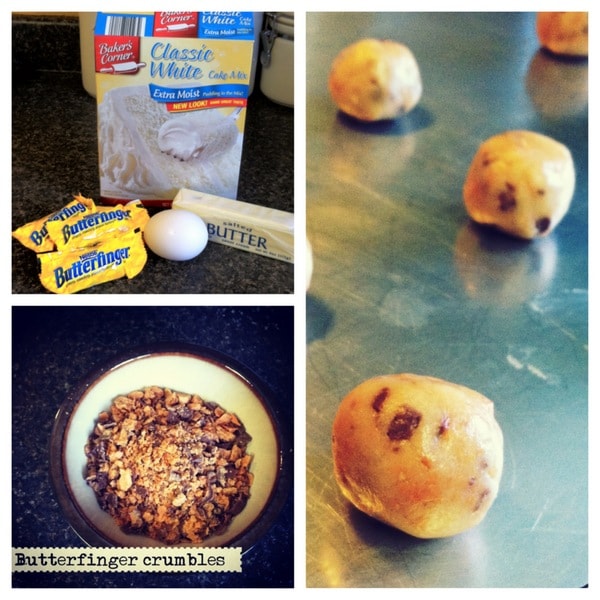 Peanut butter is a weakness of mine.
I should have known this would end badly for me.
I knew I HAD to get the rest out as quickly as possible.
My jeans were counting on me to be strong.
Resist the cookies I must!!!
Good thing we pack lunches each day.
The cookies were safely tucked into lunch bags
and hidden away from the peanut butter crazed lady!
But lucky for me…there was one left to enjoy the next day…
along with a few spoonfuls of yummy frosting.
Don't judge me:-)
You would have done it too if the extra frosting was on your counter.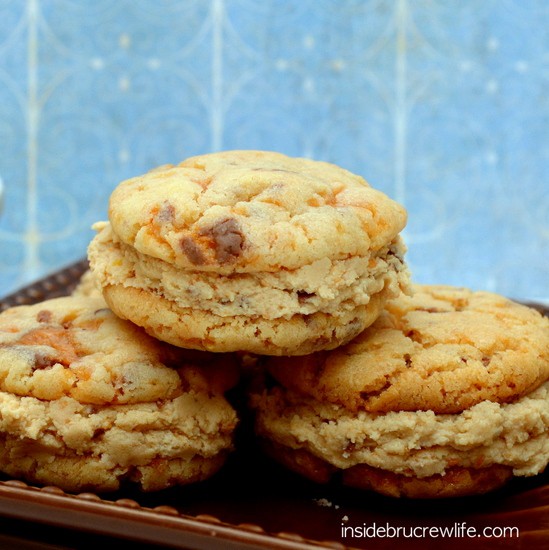 Go ahead and make these.
I double dog dare you:-)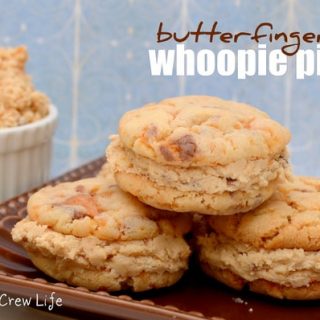 Butterfinger Whoopie Pies
Vanilla cake mix cookies made with Butterfinger candies and filled with a peanut butter Butterfinger butter cream frosting....to die for!!!
Ingredients
For the Cookies
1 white cake mix
8 Tablespoons butter, melted
1 egg
1 cup crushed Butterfingers (10 snack size)
For the Butter Cream
8 Tablespoons butter, room temperature
1/4 cup shortening
1/2 cup peanut butter
1 Tablespoon honey
1/2 teaspoon vanilla
3 Tablespoons water
3 cups powdered sugar
3/4 cup crushed Butterfingers (6 snack size)
Instructions
Preheat the oven to 350 degrees.
Beat the cake mix, butter, egg, and Butterfingers until a dough forms.
Form into 48 - 1 inch balls and place on a nonstick baking sheet. Bake 9 minutes.
Let the cookies cool on baking sheet for 2 minutes then remove to your wax paper lined counter to cool completely.
Beat the butter, shortening, and peanut butter until light and fluffy.
Add in honey, vanilla, and water and beat again.
Slowly add powdered sugar until all is incorporated. Stir in the crushed Butterfingers.
Fill the cookies with the frosting. Store in a sealed container.
Nutrition Information:
Yield:

24
Serving Size:

1
Amount Per Serving:
Calories:

247
Total Fat:

15g
Saturated Fat:

8g
Trans Fat:

0g
Unsaturated Fat:

7g
Cholesterol:

29mg
Sodium:

129mg
Carbohydrates:

27g
Fiber:

1g
Sugar:

21g
Protein:

2g