Chocolate and coffee gives these Cappuccino Chip Granola Bars a delicious mocha flavor. No bake granola bars are a welcome treat any time of day. They are great for on-the-go breakfasts, delicious in lunch boxes, and perfect to munch on after school or work.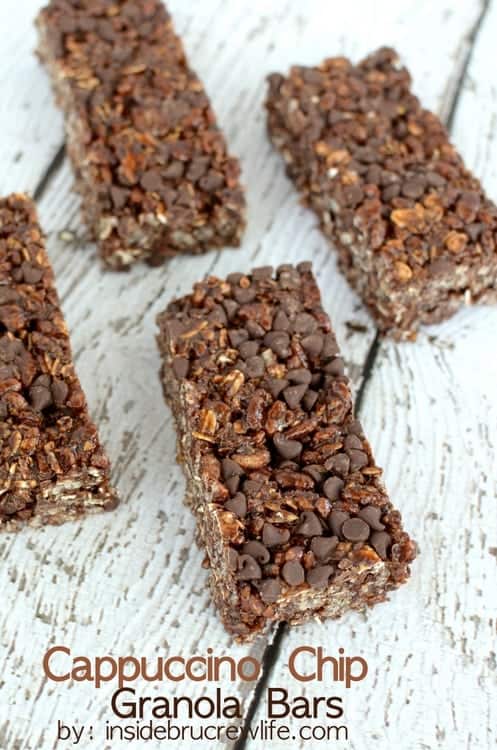 We go through granola bars like crazy around here. I used to buy a couple boxes of the bars each week, until I realized how much cheaper it was to make homemade granola bars each week. Over the years, I have created quite a few versions of baked and no bake bars.
The no bake granola bars are definitely my favorite for obvious reasons. 10-15 minutes tops is all it takes to have a pan of yummy bars waiting to be devoured.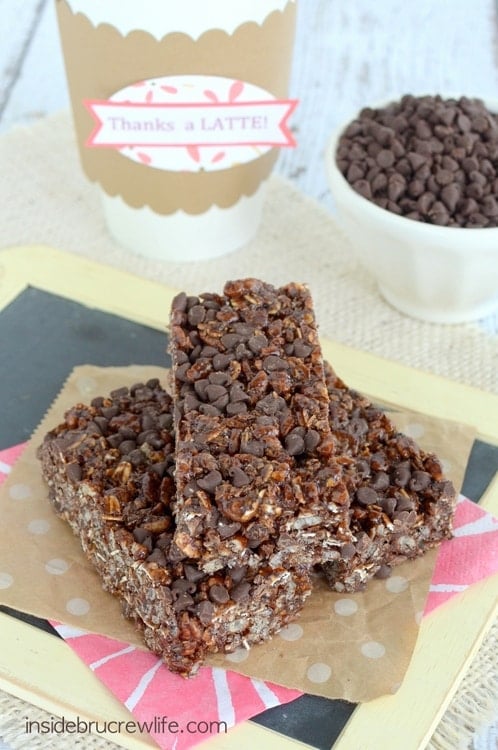 Is anyone else in shock that the end of the year has come up so quickly?
I seriously feel like we just got over winter, and now the kids will be out of school in just 2 days. They are so excited to be done with all things school related.
Bring on the sun and shine and the lazy days at the pool. Hhhhmmm...pool days means I should ramp up those work outs. Or not.
At this point I kind of don't care...I just want to enjoy the sunshine! Of course, ask me that again when I actually have to put a swimsuit on. My answer will probably be slightly different!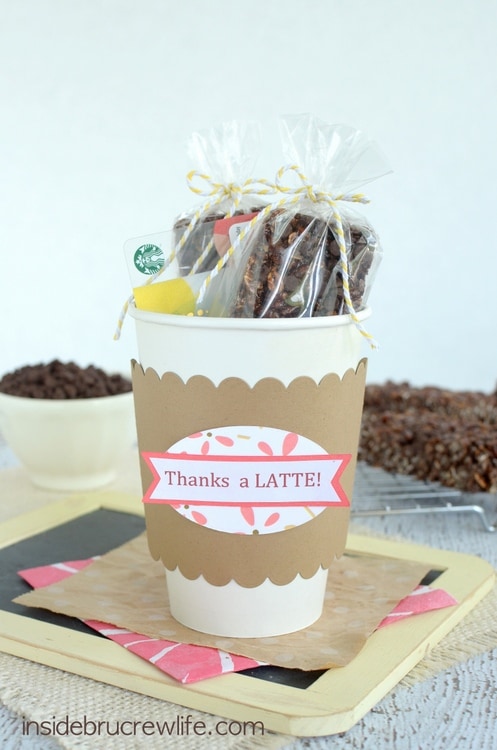 With the end of school year staring me down in the face, I wanted to come up with a cute snack/gift that could be used for a Thank You for our school teachers.
I have had a drink sleeve die cut sitting in my office for a while now. With my current trend of using coffee in all my treats, I knew that this would be the perfect little gift. You can pick up a few clean coffee cups from the coffee shop the next time you stop in.
The die cut package also comes with cute label die cuts for the front of the sleeve. Use your computer to print out the words "thanks a latte" and cut it to fit inside one of the shapes.
Adding coffee and cocoa powder to these no bake granola bars gives them a delicious mocha flavor. Stir the instant coffee and cocoa powder into the melted butter and honey until it dissolves. Then just stir in the oats and cocoa krispies until completely coated with the chocolate goodness.
PRO TIP: Do not stir in the chocolate chips until the mixture has cooled. The little chocolate chips melt very quickly if your oats are warm. Give it at least 5 minutes to cool off before stirring the chocolate in. Then press everything firmly into a buttered pan.
I told you these bars were easy. 15 minutes and you can be out of the kitchen and planning fun things to do during summer vacation. Just make sure you have lots of caffeinated granola bars to keep you going.