Oats, peanut butter, and chocolate candies rolled together creates these easy No Bake Monster Cookie Dough Bites. These little bites will satisfy your sweet tooth without all the extra sugar.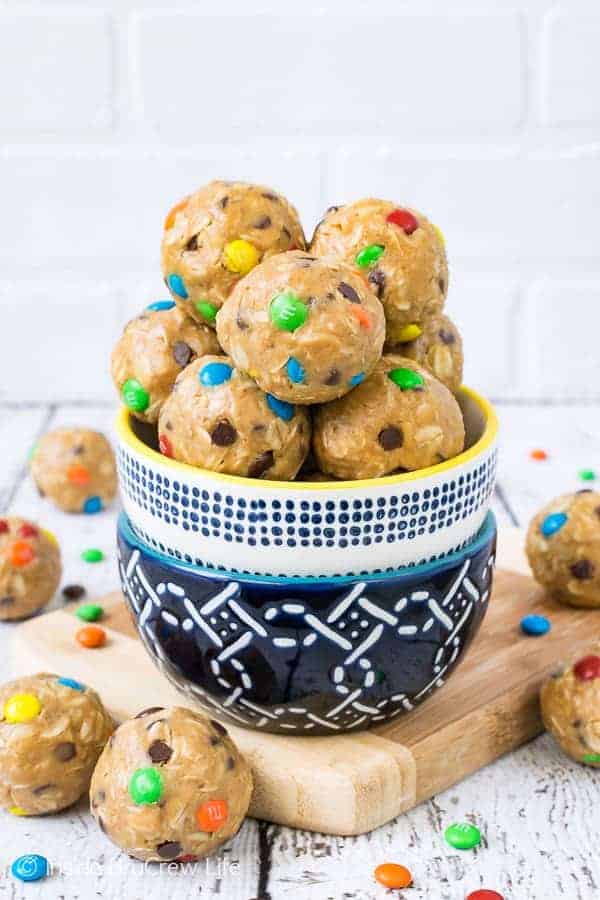 We have successfully finished one full week of school, and it went fairly well. Well, as well as a new school can go for teenagers. This isn't their first year as the new kids, so it wasn't too stressful.
There has only been one major meltdown so far. And no, that wasn't me when our oldest left for college this weekend. It was still hard to see him go again, but this time it seemed easier.
Maybe it was because he left home in his car this year. My brain still thinks he is just at work and will be home for some Cheesy Chicken Pasta soon.
Last year my husband and I both went with him to get him settled for college. All the parenting books I read when he was little did not prepare me for leaving him behind in a strange place. I probably should have read more...
Let's not discuss the fact that my child is gone for the semester because I might be the one in tears very soon.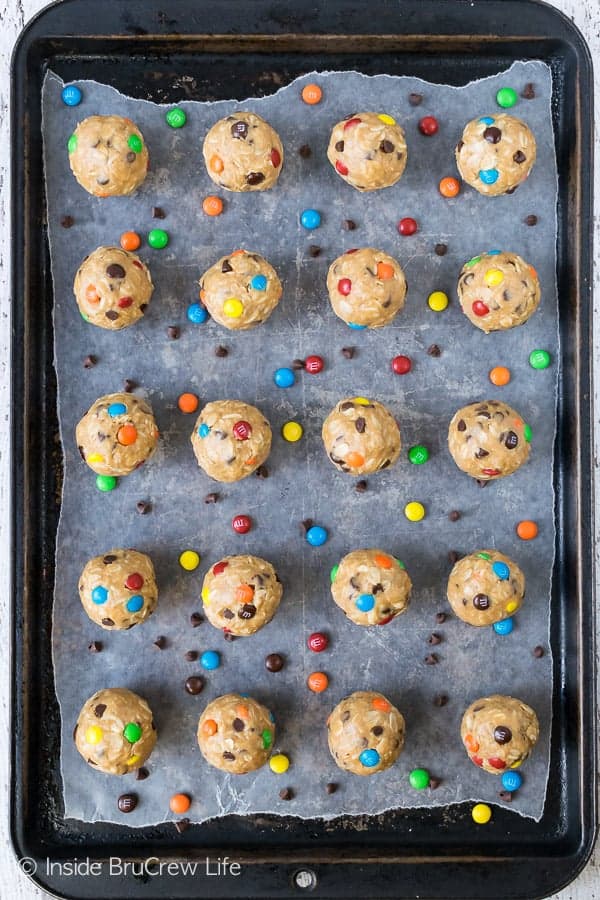 So, on the second day of school our daughter came home upset because so far she had not made any friends. I tried to reason with her and let her know that you can't be best friends with people in just two days.
She emphatically argued with me while sobbing her eyes out. Again I should have read more books on crazy teary-eyed teenagers and how you can't reason with them.
Oh, boy. I have a feeling it's going to be a long year.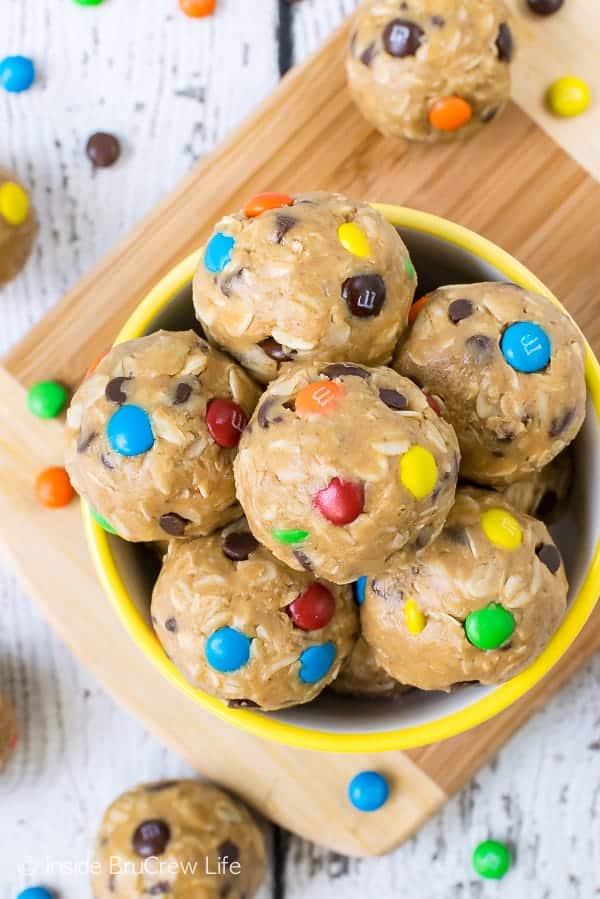 I was prepared on day three.
Our kids love having something to snack on when they get home from school, so I try to have fruit and veggies in the fridge. Or a plate of Fluffernutter Apple Nachos or Almond Joy Energy Bites waiting for them to devour each afternoon.
But I knew this week I needed to make something with peanut butter because our girl loves anything loaded with peanut butter goodness. And since she was having a rough week, I was on a mission to make her smile.
My first thought was a batch of monster cookies, but at the last minute I decided to change up these Skinny Peanut Butter Granola Bites into a monster cookie energy bite.
Easy no bake snacks in less than 30 minutes always trump a baking session when it's hot outside.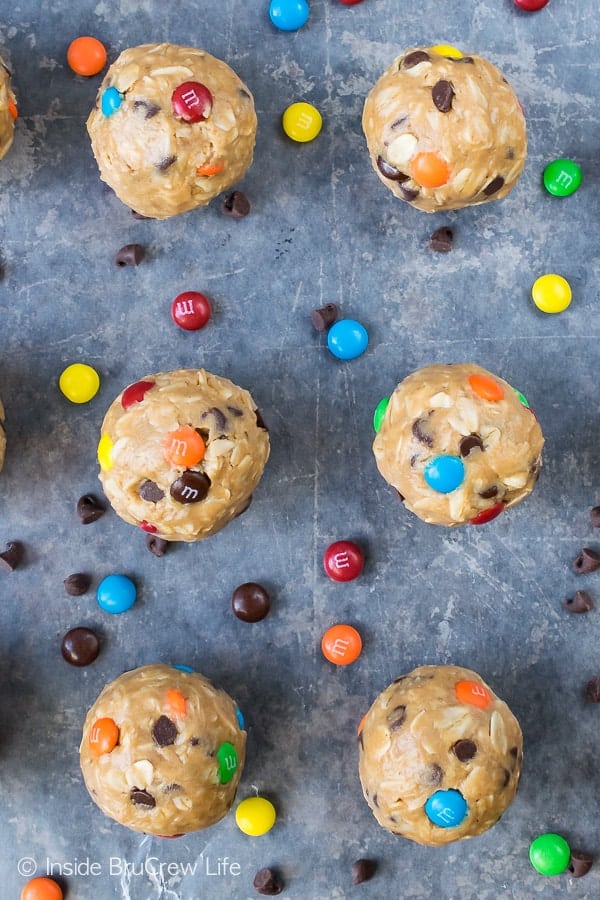 How to make No Bake Monster Cookie Dough Bites:
Stir together the peanut butter, honey, and vanilla in a bowl.
Add the rolled oats and salt and mix until a cookie dough forms.
Stir in the mini chocolate chips and mini M&M's gently.
Use a cookie scoop to make 20 bite sized oatmeal balls. Roll and shape them with your hands.
Press a few extra chocolate chips and candies on the outside, if you like. That's totally optional, but it makes them look prettier.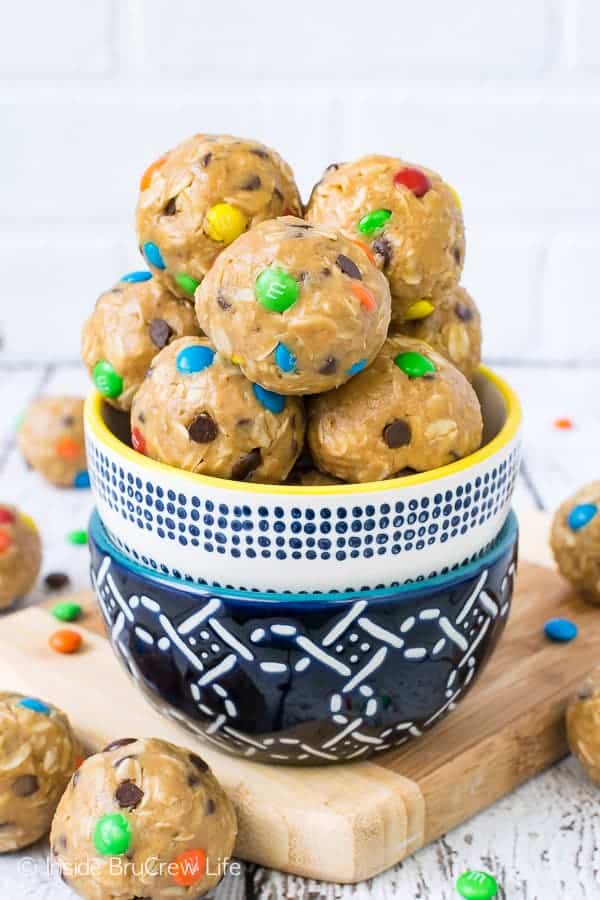 Questions you may have:
Do I have to use rolled oats? No, you can use quick oats as well. We just usually keep rolled oats in our pantry, and we like the bigger texture. If you use quick oats, you may want to use a little less.
What if we have a peanut allergy? Feel free to use any other nut butter or cookie butter in place of the peanut butter.
Can I add different mix-ins? Go for it. You feel free to use whatever candy, dried fruit, or nuts that you have on hand.
Do these bites need to be refrigerated? No, they hold their shape if you keep them in a container on the counter. They are really delicious cold from the fridge though.
How long will these cookie dough bites keep? These No Bake Monster Cookie Dough Bites will keep for at least a week in the fridge and can be frozen for up to 2 months. If they last that long...

More after school snacks you may enjoy:
No Bake Monster Cookie Dough Bites recipe: