These Almond Joy Energy Bars are a little bit healthier way to have dessert while watching the calories you eat. Chewy homemade granola bars loaded with almond butter and coconut is the perfect treat when you want something sweet without the guilt.
Happy 2015!!! I hope you had a great time ending out the past year and starting the new year off. Every January everyone (me included) gets this huge desire to start the year off eating right and exercising more. I totally get it because I am right there with you.
The past month I slacked on my workouts and totally ate whatever was in front of me (I'm looking at you Hot Chocolate Fudge) and now I'm paying for it. Those jeans that used to feel good or even feel slightly loose have become snug again.
Those pushups and box jumps that used to feel easy were definitely not so easy this past week. My muscles were crying after just going to the gym 2 days,so I had to have some chocolate. Don't judge though. It was this Healthy Chocolate Lava Cake, so I was still good.
My goal is to really watch what I am eating this year. No, not just watch it go from my plate to my mouth, but really be more mindful of what I am feeding my body.
Now I still like to eat something sweet even when I'm working out. These little Almond Joy Energy Bites were the perfect little bar to give me my sweet in a healthier way. I melted together some almond butter and honey and then mixed in some oats, coconut, cocoa powder, and protein powder.
Can I just say these were "Aaaammmmaaaazzziiinnnggg!!!" Yes, I totally just said that in a sing songy voice!!!
We are ready for everything that 2015 has for us starting with getting back on the workout wagon and watching what we eat. Bring on that chicken and veggies! I can do it knowing I have a healthy little snack waiting for me to indulge in. And by indulge I really mean just nibble on one a day. It's really all about moderation,right?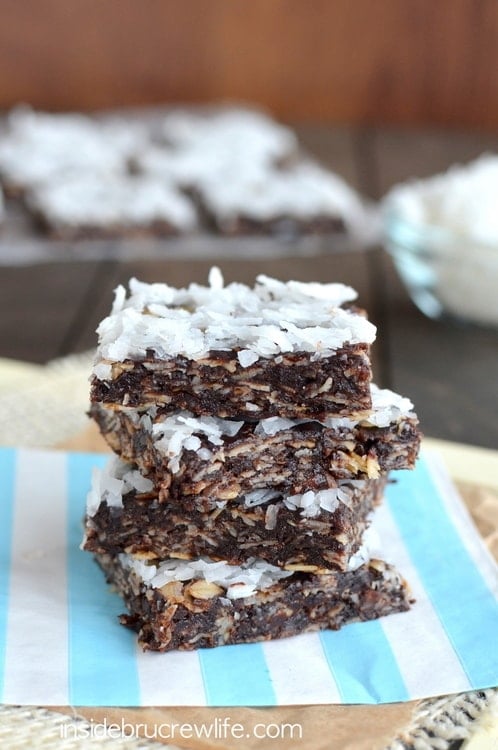 Other healthy treats you may like