These Thin Mint Granola Bars are easy to make and perfect for breakfast or lunch boxes. Adding crushed chocolate cookies add another dimension of flavor to these sweet homemade granola bars.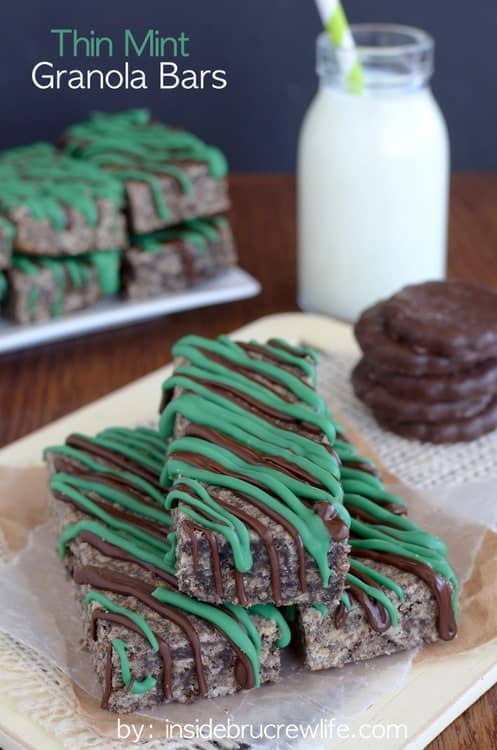 I have a habit of buying cookies and hiding them under the cupboard. My family is pretty used to my sugar buying, so they know that most of the "extra" food is for the crazy baking that happens in our house.
So a package of store brand Thin Mints is definitely not just for eating. They know me a little too well for that. The first thing my daughter asked when she saw those cookies was, "what are you putting those in?".
She was right. They were definitely not for eating...at least not the traditional way.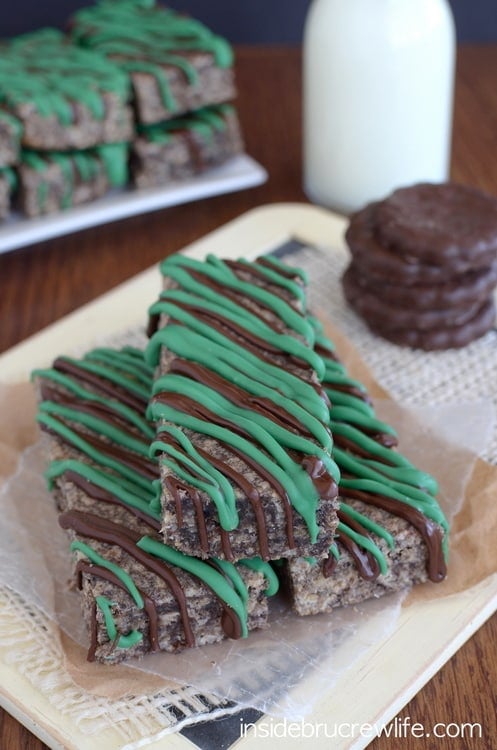 Girl Scout cookies and treats tend to be all the rage in March. Now I have admitted before that I actually don't buy real GS cookies that often. (Don't hold me to that...because we do get them every once in a while.)
This year we happened to make it through the season without spending $5 for 3 cookies. I picked up some Keebler Grasshoppers because my mind was thinking through fun combos.
You see, I had this crazy thought. A few weeks ago I made Cookies and Cream Chocolate Chip Cookies that were super popular. It had me thinking up new creations with that flavor combo. Why not do mint cookies and cream this month?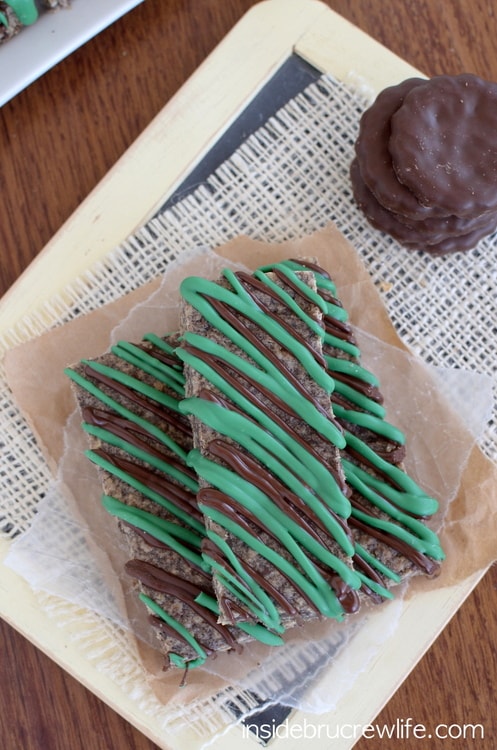 I always use the base from these Caramel Oatmeal Bars when I make homemade baked granola bars. My kids go through granola bars like crazy, so we are always creating fun new flavors to share.
These bars come together so quickly and only take about 20 minutes to bake. Feel free to let them cool and eat them as is. They taste just as good that way too.
But this is me, and I have this crazy need to add more chocolate whenever I can. So, these bars got a healthy dose of chocolate and green drizzle. Hahaha!
Like how I said healthy and chocolate in the same sentence? Sorry. That made me giggle this morning...it's the little things.
Now my mind is running with about 10 other "cookie" granola bars, so I guess it's time to bake another batch.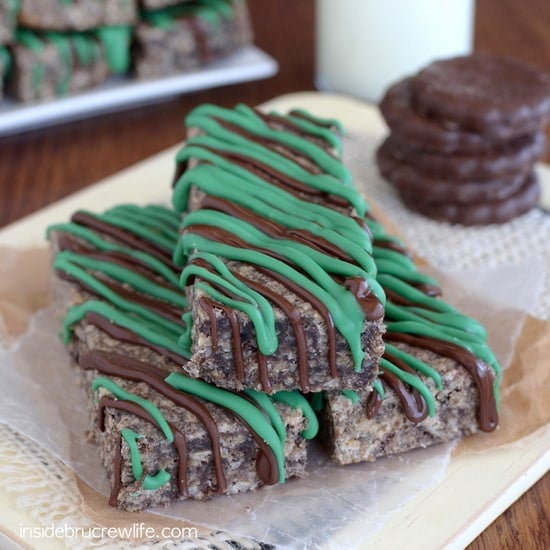 More recipes using Thin Mints or Grasshopper cookies:
Stay up to date on all the BruCrew baking here:
FACEBOOK | PINTEREST | TWITTER | INSTAGRAM | BLOGLOVIN