These easy Caramel Frappuccino Pudding Pops are a fun cold treat for a hot summer day. The coffee and caramel blend in these popsicles will give you the boost you need.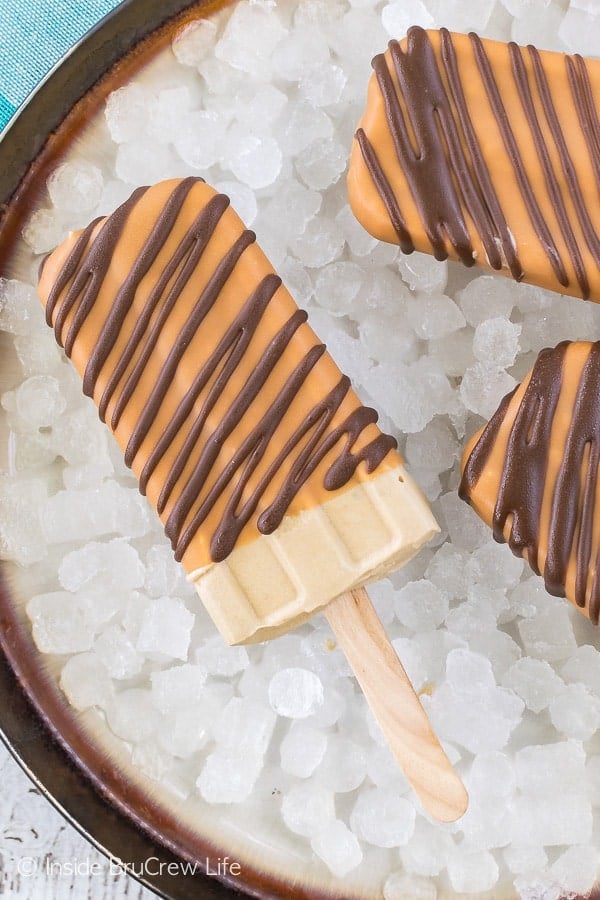 Last week we spent the entire week boxing up our entire household and cleaning rooms in preparation for our big cross-country move. In fact, I will probably still be driving (ok, riding) in the car as you read this. 1500 miles is a long way to travel all loaded down with everything you own.
Of course, it would be one of the hottest weeks of the summer as we were packing. I kept some of the packed boxes in the house up until the last minute because I didn't want food or candles to melt while sitting in the big metal truck.
Finally, my hubby had to take them into the truck because he was creating a wall of cardboard boxes at the front. Fingers crossed all the sprinkles aren't in one big clump when we unpack.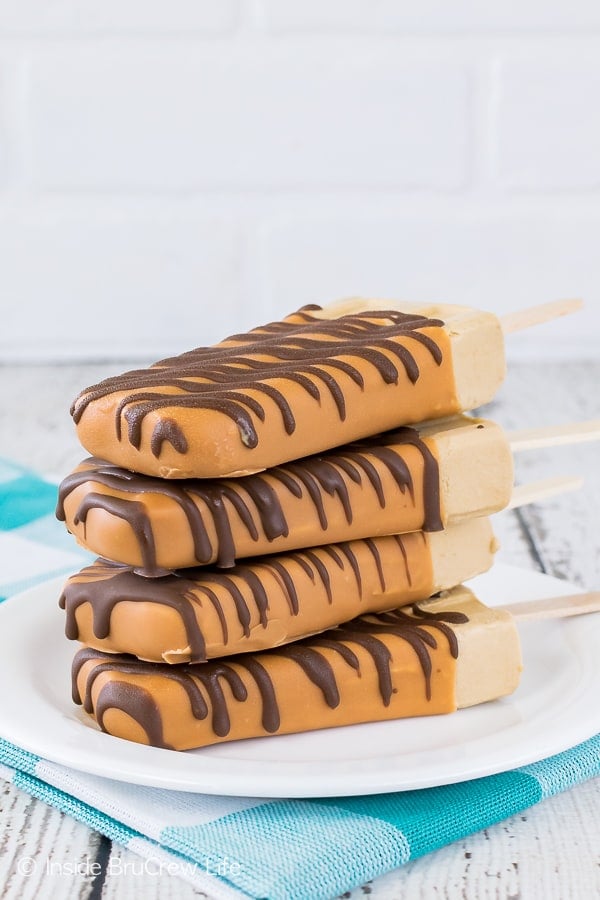 As I cleaned out the pantry, I found some baking supplies that I didn't need anymore. That box of supplies is going to my little baking friend. He will be so excited to get a box of supplies to create messes in his kitchen. His mom might not be as thrilled.
This Snickers cheesecake brownie cake was the creation that he helped me create, so I know he will put those supplies to good use.
Of course, I had a big box of other chocolates that I wasn't about to give up. After all, I already spent the money on it. That chocolate and some milk that I need for a project went into a cooler with a big bag of ice. Fingers crossed that keeps everything chilled across the miles!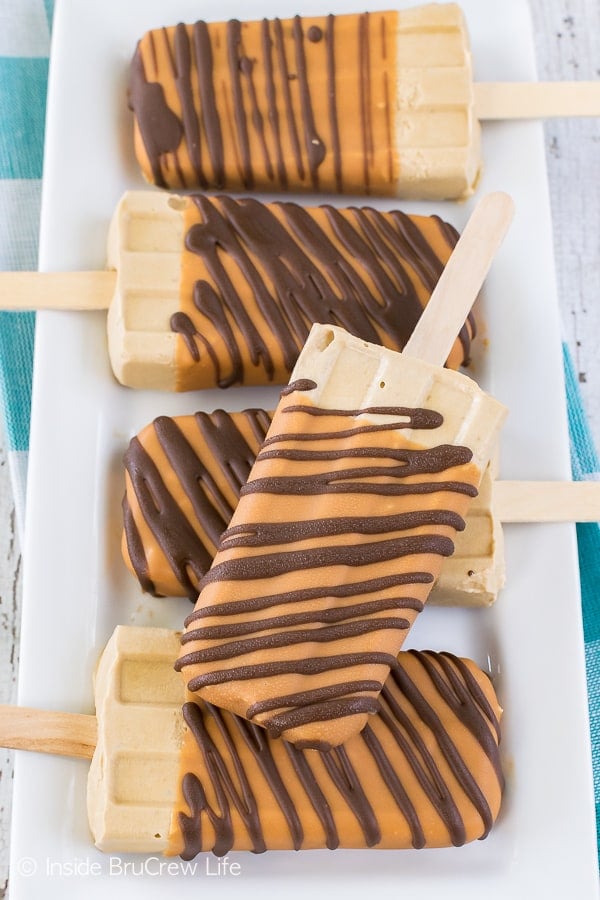 In the middle of all this crazy town mess, I decided we needed some popsicles to motivate and cool us off. Last year I made these peanut butter banana popsicles and our kids devoured them. When you are hot and sweaty from packing boxes, a cool popsicle is a dreamy snack. Making another popsicle was a good idea this week.
I wanted to give these easy popsicles a hit of caffeine to help us get going while packing and cleaning. Instant coffee dissolved in milk and then mixed with a box of pudding was the perfect answer.
I also stirred in some Cool Whip to give it a fluffier texture. Yes, I just said Cool Whip. I'm a huge fan of the creamy white stuff even though some people are opposed to this ingredient. Just means more spoonfuls for me I guess. LOL!
I spooned the pudding mixture into a popsicle mold and froze it overnight. The next day, I dipped each coffee popsicle into a caramel magic shell.
Pour the entire container of magic shell in a cup or jar that is skinny and deep. It makes it easier to dip these caramel frappuccino pudding pops this way. After another quick trip to the freezer, I drizzled some chocolate magic shell over each one too.
They turned out so pretty and tasted even better than I imagined. Gotta love when a dessert comes together like that! Our whole family enjoyed these little chilly treats over the next few days.
More popsicles and frozen treats are in our near future since we are headed to the hot sunshine state.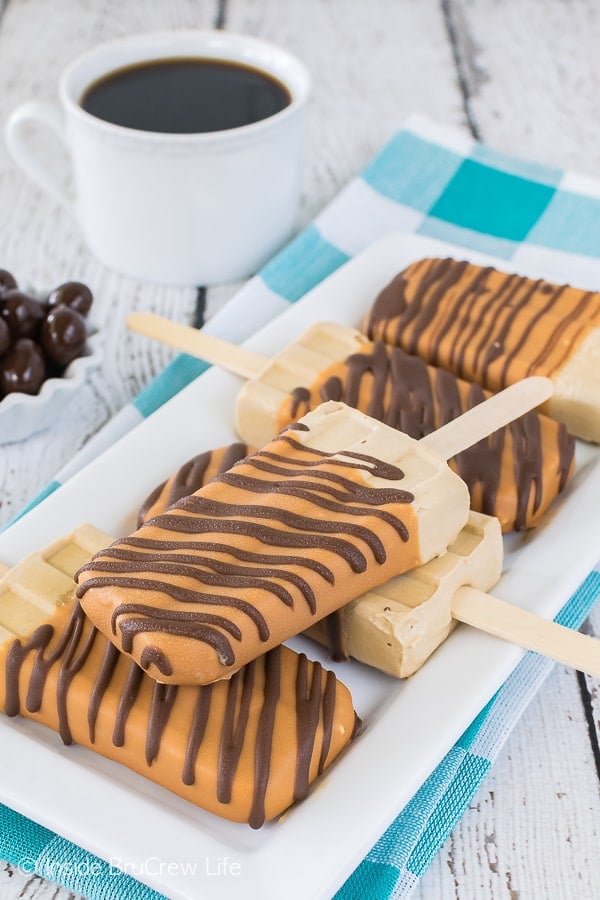 More fun popsicle flavors to make this summer.

*This post contains an affiliate link. Inside BruCrew Life may receive a small percentage from sales made through these free links. As always, these do not cost you any extra. Thank you for supporting us this way when we share products we use and love.