An easy no bake cheesecake loaded with candy bar chunks makes this Snickers Cheesecake Brownie Cake an impressive dessert to end dinner with.
Keep in touch with us. Subscribe to the free BruCrew email to have these recipes sent to your inbox.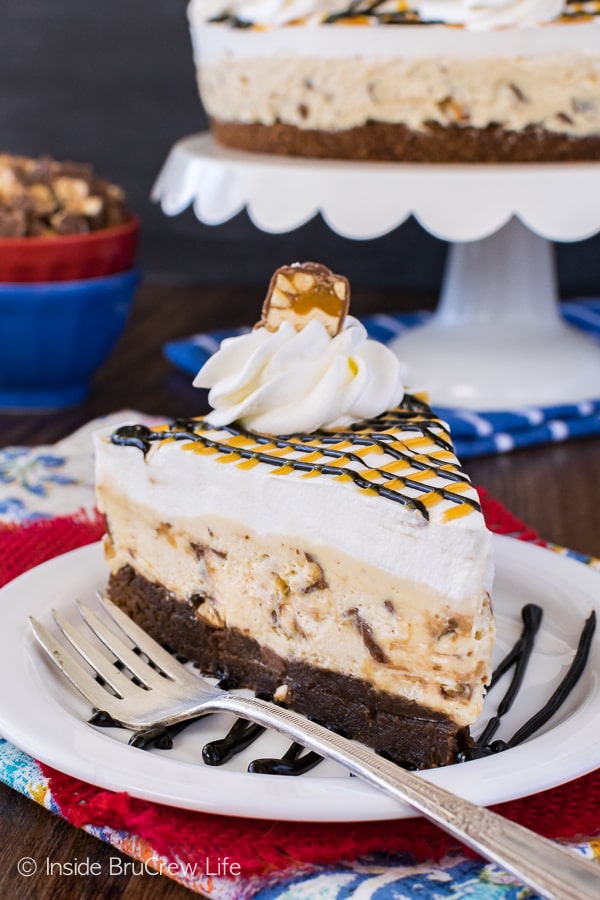 CLICK HERE TO PIN THIS RECIPE FOR LATER!
It's no surprise that I bake a lot. If you have been reading this blog for very long, you know that you are more likely to find a dessert in our fridge instead of real food.  Now that doesn't mean we don't eat real food. Exercising and eating right are actually pretty important in our life.  I just tend to enjoy baking over cooking.
Plus, a stack of M&M blonde brownies is so much easier to photograph than a plate of three cheese macaroni and cheese. Desserts just seem to be more photogenic than a plate of gooey cheese.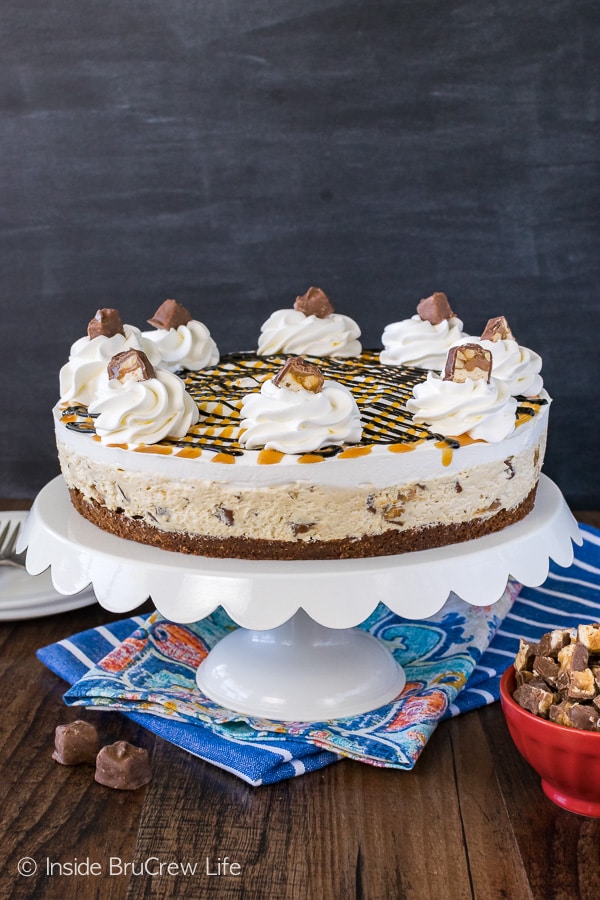 Most of our friends and our kids' friends know how crazy for baking I am. So I wasn't too surprised when one of our friends asked if I could do some baking with her son.  He is 9 years old and totally crazy for baking.  My kind of kid for sure. One of these days I totally see him doing a food blog!
The weekend we planned to do some baking was the same weekend as his dad's birthday.  So he wanted to bake something that he could serve his family for dinner that night. Since his dad also loves Snicker's candy bars I came up with this easy but fun brownie cake using this thin mint cheesecake brownie cake as my inspiration.
We went over basic baking tips such as how to measure flour using a spoon instead of scooping and how important it is to grease your pan before pouring the batter in. I also showed him the proper way to hold a sharp knife and how to chop candy bars.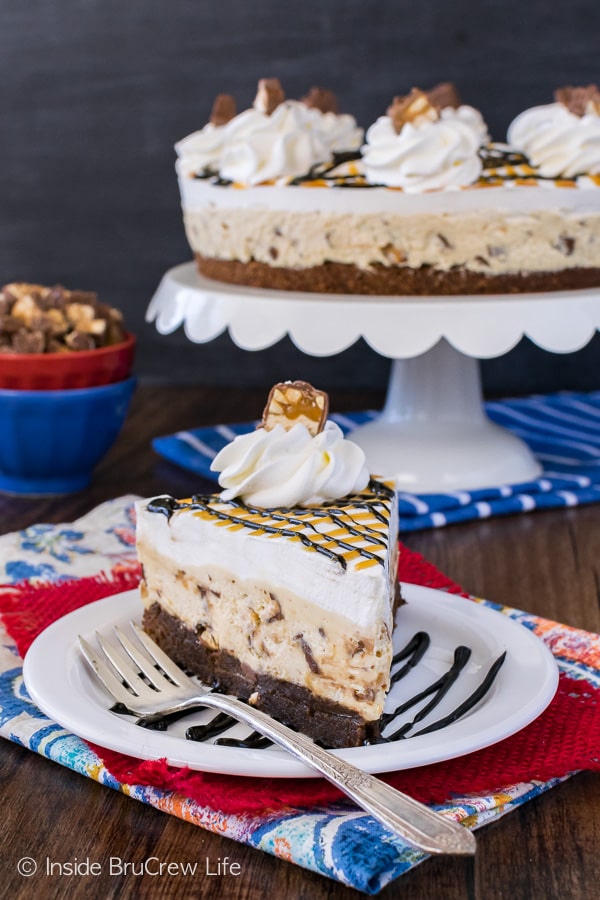 It has been a while since our kids have baked with me, so I forgot how much longer it takes to bake with kids.  But it was fun to be able to share all the fun little baking tips that I have accumulated over the years. I let him do every single step of the recipe because it is easier to learn that way.
He had an absolute blast!  Now he wants to bake for every picnic or event that his family goes to.  His mom says it is hilarious to listen to him talk about drizzling things and spreading with an offset spatula.
I wasn't sure how many of the tips he would actually remember, but apparently he remembered all of them.  He has been telling a few other people about his fun baking day and what he learned, and now I have another young teen who wants to come over and bake cheesecake.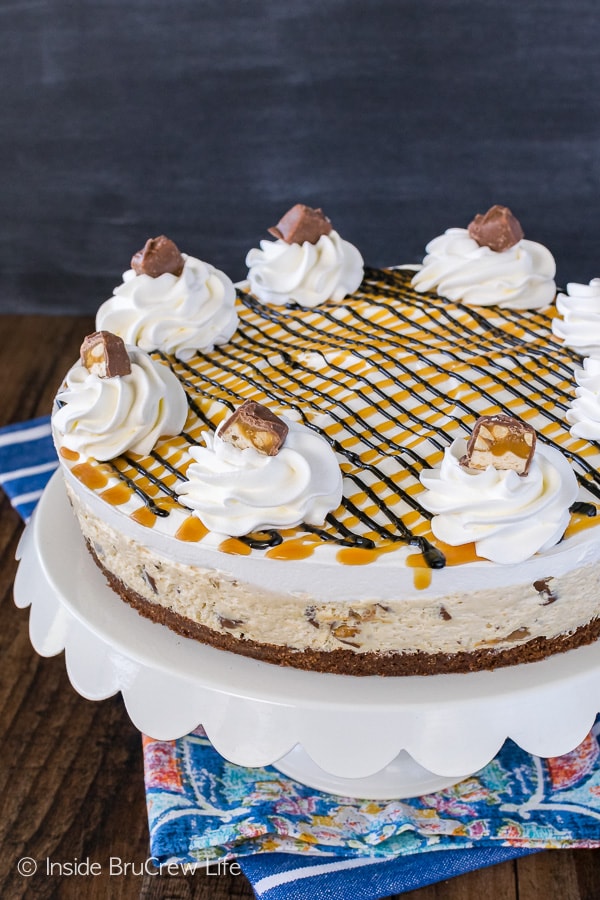 Would you like to learn how to make your own Snickers cheesecake brownie cake?  Here are some easy tips for making one.
Preheat your oven first. You want the oven to be ready to bake as soon as you get your homemade brownie batter ready.
Spray your springform pan with nonstick spray because you do not want the brownie to stick to it later. You can also line it with parchment paper if you like.
Do not over bake the brownie. You want the brownie to stay nice and chewy to compliment the creamy cheesecake. Let it cool completely before adding the cheesecake.
Make sure your cream cheese is softened before starting on the cheesecake layer. I like to set my cream cheese out at least an hour before I start baking.  You can also unwrap it and microwave it for 20-30 seconds to warm it up if you forget.
Beat the cream cheese and caramel very well before adding anything else. This helps to get all the lumps out before you add anything else.
Add the Cool Whip and beat it gently. You can also use a spatula and stir it in, but I like to use my mixer for this step before stirring in the candy bars.
Spread the cheesecake on the cooled brownie and top it with more Cool Whip for a pretty layered effect.
Swirl on more Cool Whip, add candy bars, and drizzle some chocolate and caramel on top to make it look like it came from a bakery.
Grab a fork and dive in!!!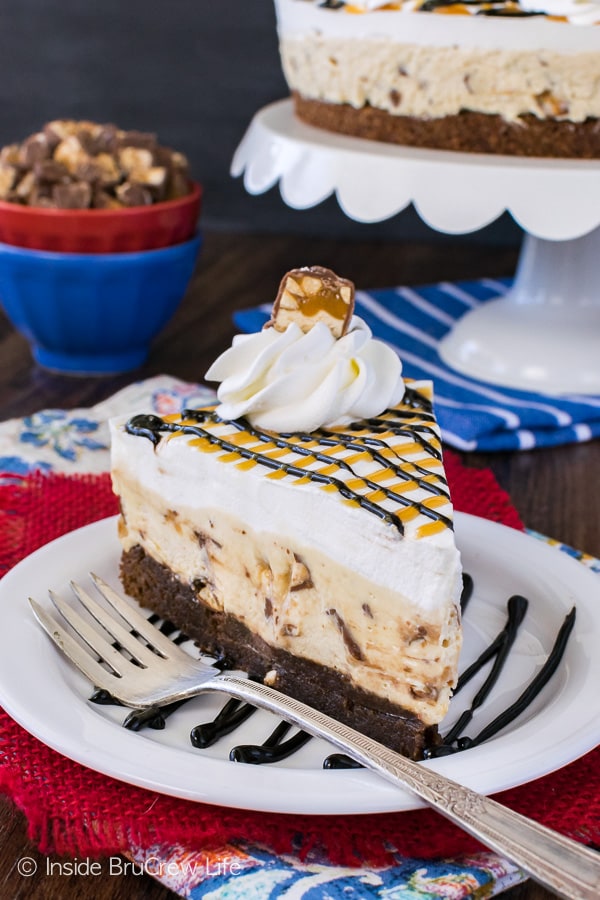 Stay up to date on all the BruCrew baking here:
FACEBOOK | PINTEREST | TWITTER | INSTAGRAM | BLOGLOVIN
 Sign up to receive an email in your inbox for each new recipe:
EMAIL SUBSCRIPTION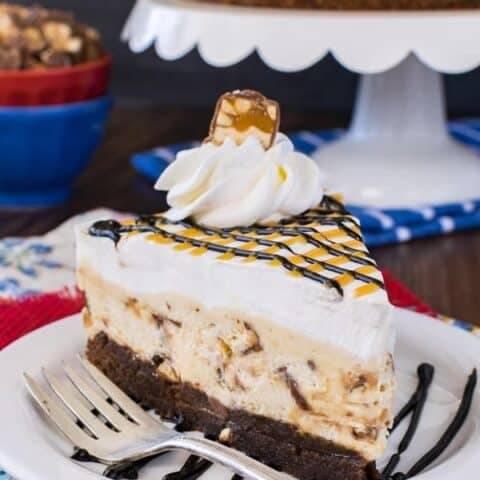 Snickers Cheesecake Brownie Cake
An easy no bake cheesecake loaded with candy bar chunks makes this Snickers Cheesecake Brownie Cake an impressive dessert to end dinner with.
Ingredients
For the Brownie
1/2 cup melted butter
1/4 cup dark cocoa powder
2 eggs
1 cup sugar
1 teaspoon vanilla
1/2 teaspoon salt
1/4 teaspoon baking powder
3/4 cup flour
For the Cheesecake
1 - 8 ounce cream cheese, softened
1/2 cup caramel topping
1 - 16 ounce container Cool Whip, thawed & divided
1 1/4 cup chopped Snickers bars (10 ounce bag of bites)
caramel & hot fudge, for topping
Instructions
Preheat the oven to 350 degrees. Spray a 9 inch springform pan with nonstick spray.
Whisk together the melted butter and cocoa powder. Beat the eggs, sugar and vanilla.
Add the chocolate butter mixture and beat again.
Stir together the salt, baking powder, and flour and add to the batter slowly.
Pour into the prepared pan and bake for 25 minutes. Remove and cool completely.
Beat the cream cheese and caramel topping until smooth. Fold in 2 cups of Cool Whip.
Set aside a few pieces of candy bars for the topping. Stir in the rest of the candy bars gently. Spoon on top of the cooled brownie.
Spread another 2 cups of Cool Whip over the top of the cheesecake. Refrigerate for 3-4 hours or until completely chilled.
Swirl the remaining Cool Whip on top and add the reserved candy. Drizzle with chocolate and caramel before serving.
Recommended Products
As an Amazon Associate and member of other affiliate programs, I earn from qualifying purchases.
Nutrition Information:
Yield:

14
Serving Size:

1
Amount Per Serving:
Calories:

455
Total Fat:

26g
Saturated Fat:

17g
Trans Fat:

0g
Unsaturated Fat:

7g
Cholesterol:

63mg
Sodium:

314mg
Carbohydrates:

51g
Fiber:

1g
Sugar:

42g
Protein:

5g
Here are more fun and easy brownie recipes from friends: