This Snickers Cheesecake has a layer of no bake cheesecake loaded with candy bars and a chewy fudge brownie bottom. Caramel and chocolate drizzles makes this easy cheesecake dessert look like you brought it home from the bakery. No one will guess you baked it in your own kitchen!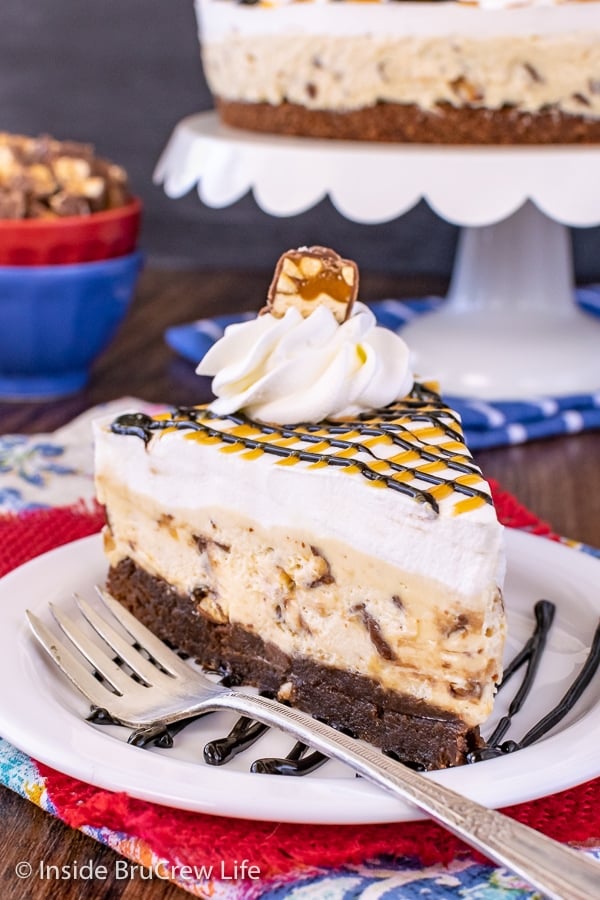 Snickers Cheesecake with a Brownie Bottom
This easy brownie bottom cheesecake is a delicious and gooey way to end any dinner. Ever since I made these Mint Chocolate Chip Cheesecake Brownies I have been obsessed with making cheesecake desserts in the shape of a brownie cake.
Yes, I realize that you would just call them a brownie bottom cheesecake. Just humor me and let me call them cake, ok? For this "cake", I baked a batch of our homemade brownies in a springform pan and let it chill. Then I added a layer of no bake caramel cheesecake filled with Snickers bars and lots of Cool Whip.
Drizzling hot fudge and caramel sauce on top made this Snickers cheesecake an impressive dessert that looked like it came from a bakery. Get ready for rave reviews from everyone.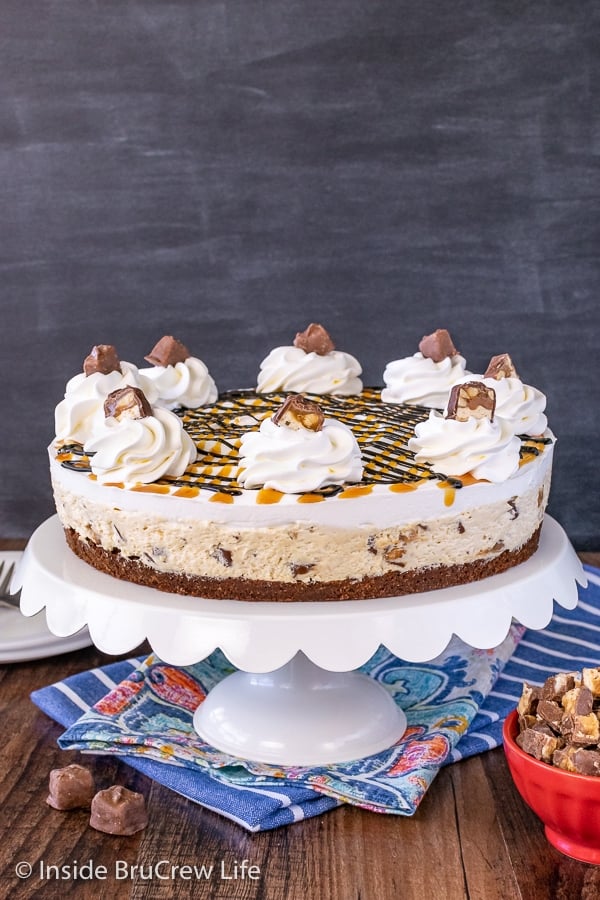 What You'll Need
This easy Snicker brownie cheesecake comes together in minutes with just a few ingredients from the store.
Homemade Brownies - if you want to use a box mix, buy one for an 8x8 pan.
Cream Cheese - set out ahead of time to soften
Caramel Ice Cream Topping - regular or salted
Cool Whip - feel free to make this Whipped Cream recipe to use in place if you like
Snickers Bars - cut into bite sized pieces
Toppings - hot fudge and caramel sauce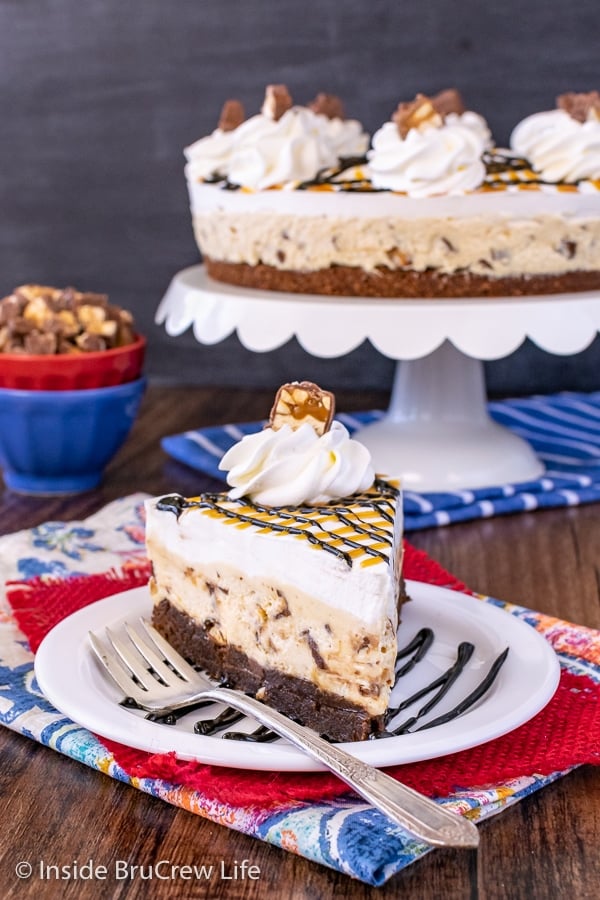 How to make Snickers Cheesecake
This Snickers cheesecake recipe is very easy to put together once the brownie is baked. Make sure to bake the brownie bottom ahead of time, so it has time to cool.
If you or someone you know loves caramel candy bars, this easy Snickers brownie cake definitely needs to be made.
Step One: Brownie Crust
Preheat oven. Line a springform pan with parchment paper.
Mix together brownie batter and spread in pan.
Bake and cool the brownie.
Step Two: No Bake Snickers Cheesecake
Beat the cream cheese and caramel until creamy.
Add the Cool Whip and mix it gently.
Stir in chopped Snickers candy bars.
Spread the mixture evenly on top of the cooled brownie.
Step Three: Decorate
Spread more Cool Whip over the top.
Drizzle with hot fudge and caramel.
Add Cool Whip swirls and candy bars to the outside edge.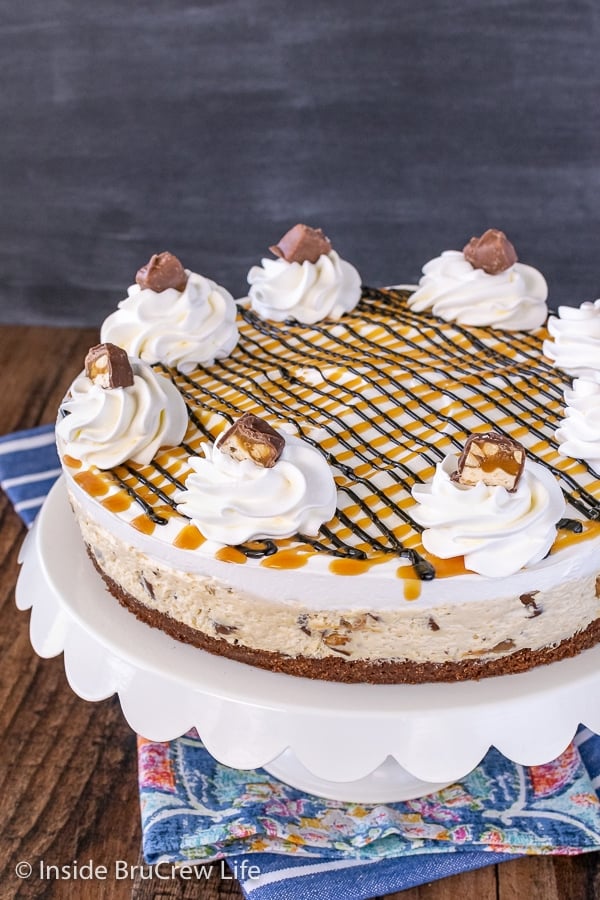 Recipe Tips
Set the cream cheese out ahead of time, so it is softened when time to make the cheesecake layer.
If you forget to set the cream cheese out, you can also unwrap it and microwave it for 20-30 seconds to warm it up.
Do not over bake the brownie bottom. A chewy brownie base will compliment the creamy no bake cheesecake.
Let the brownie cool completely before adding the no bake cheesecake layer.
Refrigerate the candy bars to make them easier to cut into pieces.
Warm the hot fudge in the microwave for a few seconds. Spoon the hot fudge and caramel into plastic baggies and cut one small corner off, then drizzle over the top.
Frequently Asked Questions
Can you use a different pan?
Yes, you can bake the brownies in an 8x8 or 9x9 pan as well. Then add the no bake cheesecake as directed to make
How do you store Snickers cheesecake?
Keep the brownie Snickers cheesecake in a covered container in the refrigerator for 3-4 days.
Can this cheesecake be frozen?
Yes, you can freeze the caramel cheesecake once you have all the layers put together. Freeze it uncovered for 30 minutes to set everything, then place it in a tightly sealed container and freeze for 1-2 months.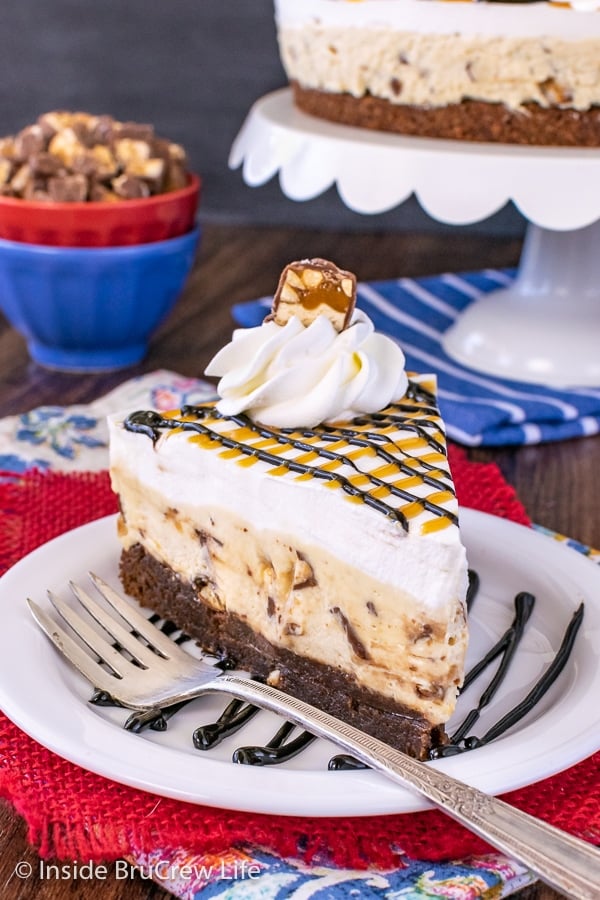 More Cheesecake Desserts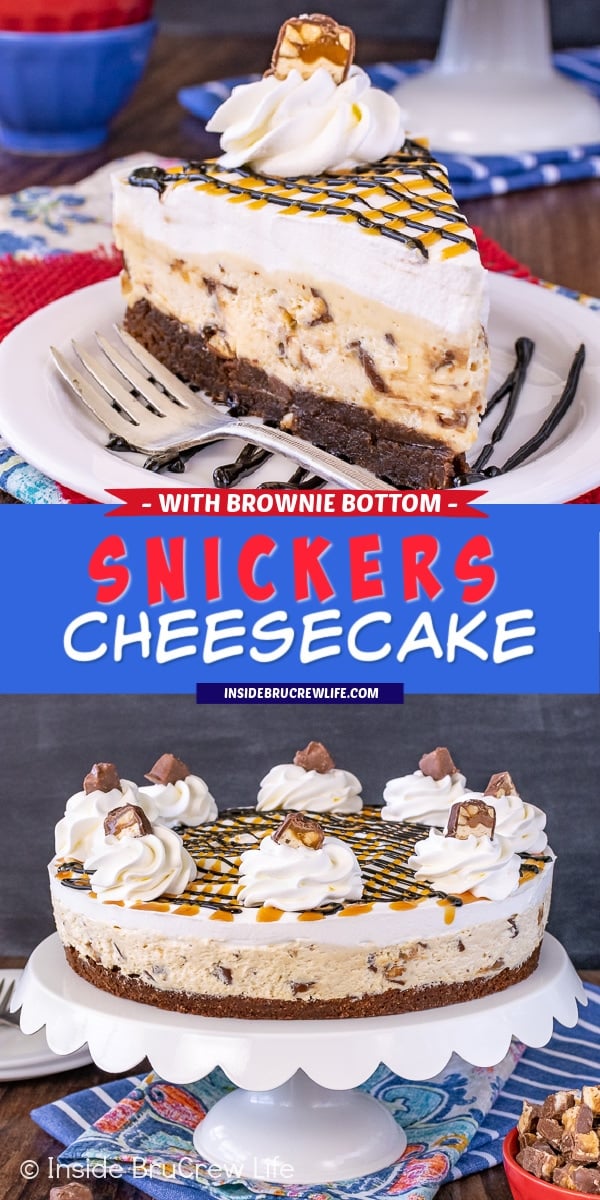 *The post for Snickers Cheesecake Brownie Cake was first published July 3, 2017. The post and photos were updated and republished June 1, 2021.