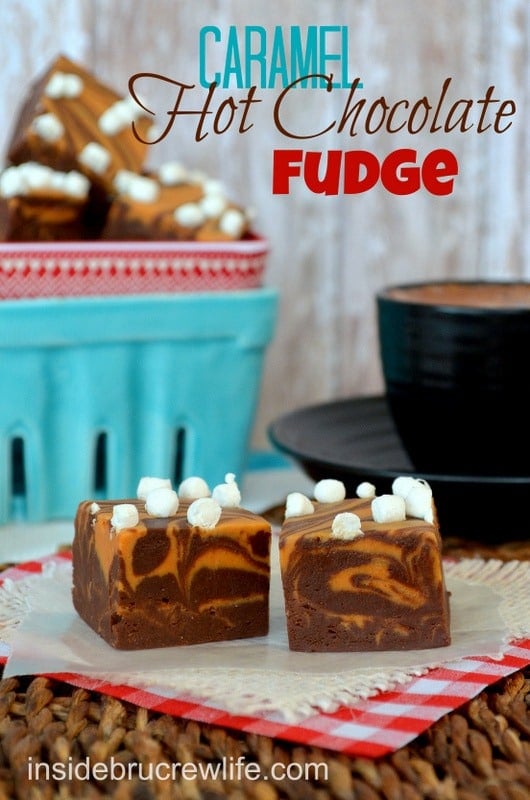 Procrastination is something that I have become very good at.
Last month Aimee (from Shugary Sweets) and I decided to share a caramel hot chocolate treat with you on the same day in late January. So, I have actually had this caramel hot chocolate fudge made and sitting on my computer since the beginning of December. You would think that with that much time I would have the pictures edited and in a draft just waiting to post. Of course not! That would be too much planning ahead for me. Last night I sat down and edited the pictures, and that's where I stopped. I mean I had all Sunday afternoon to finish it 😉
So this morning I got up and went to uploaded the pictures into my draft before church, and it wasn't working. The internet was down! I tried again after church and still nothing. So here I am at Starbucks with my handy little laptop that my husband got me for Christmas and a USB drive. Thank goodness for free wifi, so I can still post on time.
I would like to think this will teach me to plan ahead a little better....but I know myself, and I know that I will probably still wait until the last possible minute again.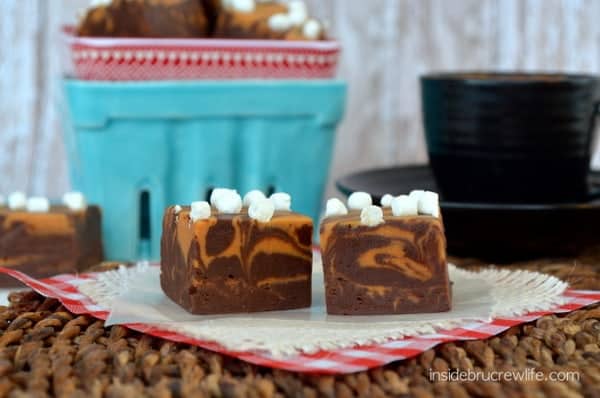 One thing that I love about the winter is all the hot chocolate. Of course we drink iced hot chocolate during the summer, so it isn't much of a change. We buy a big container of hot chocolate mix because our kids go through it way too fast to buy those little boxes with 10 packets in them. Although the big container encourages them to use big scoops of the mix, so I don't know if we are really saving anything.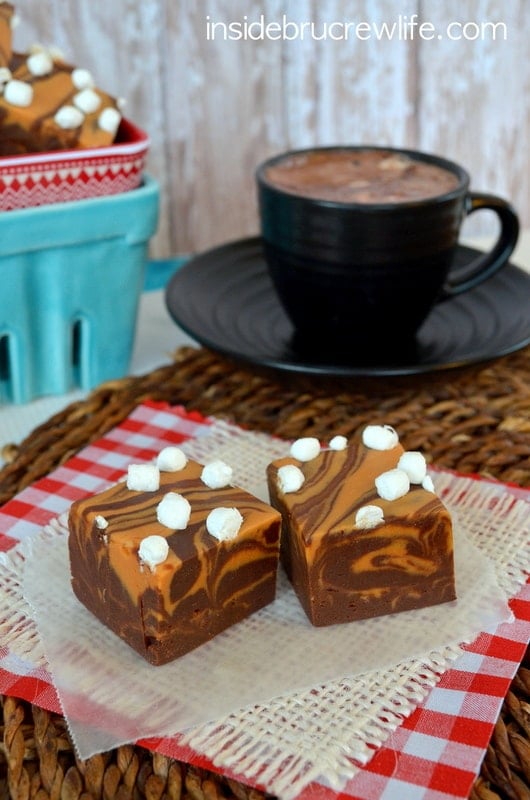 So, when I saw the big container sitting in the cupboard, I knew that I wanted to make a whole bunch of yummy hot chocolate flavored treats for you. I hope you are prepared for lots of hot chocolate goodness. Haha! That sounds like I have so many things to share...in reality it is just 4 recipes. I was going to share them all in one week, but I haven't decided if I'm going to do that. Maybe I will space them out. I guess you will just have to come back every day to see what I decide to do. I actually have 2 real food items I want to share too...decisions, decisions. #lifeofablogger
This fudge looks really complicated with all the swirls but it is so easy to make. The easiest thing to do is start with the hot chocolate layer. Once that is all melted and creamy, you turn the heat on low so it doesn't set up in the pan. Get another pan out and get the caramel layer started. After you have both layers all ready, you can start swirling. I like to line my pan with parchment paper. The paper lifts right out of the pan and peels off so easily. I tried wax paper one time. Not a good idea to pour hot fudge onto a wax paper! I had to get creative and use a blow dryer to melt the bottom of the fudge just enough to peel off the wax paper. Just an FYI for you to remember.
Start by pouring half of the hot chocolate fudge into the pan. Drop half of the caramel fudge by spoonfuls onto the top of the hot chocolate layer. Take a knife and gently swirl the caramel fudge through. Don't swirl too much or you will start to loose your colors. I think the contrast of this fudge makes it so pretty!!! Repeat the layers and swirling with the rest of the fudge.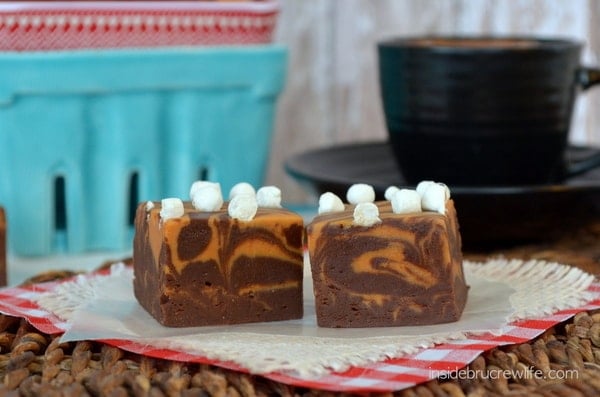 Now this is where you have to have patience. Place the dish in the refrigerator and wait a few hours. I know...this is tough. I like to make the fudge up late at night, so it can set up overnight. Then when I get up the next morning I can pull the pan out of the refrigerator first thing. This gives it time to come to room temperature while I am getting ready for the day. This fudge is easier to cut if you let it come to room temperature. I run the knife under very hot water and it cuts right through it like butter. You will also want to clean the knife off between cuts. That isn't necessary but it will keep your fudge clean looking. This is also a soft fudge, but don't worry it will hold it's shape very well. Just keep it in a sealed container on your counter.
My youngest absolutely loved this fudge. He came in the office last night when I was editing these pictures and he got really excited. He said, "Mom, that was the best fudge you ever made." If that doesn't convince you to make it, I don't know what will.
I still have half a container of hot chocolate mix left, I think I need to surprise my little guy with another batch of this caramel hot chocolate fudge. I can't wait to see his smile when he sees it in the kitchen again!!!