These Peanut Butter Pumpkins look impressive, but they are really so easy to make. You can make them into any shape or color, making them the perfect treat for every holiday.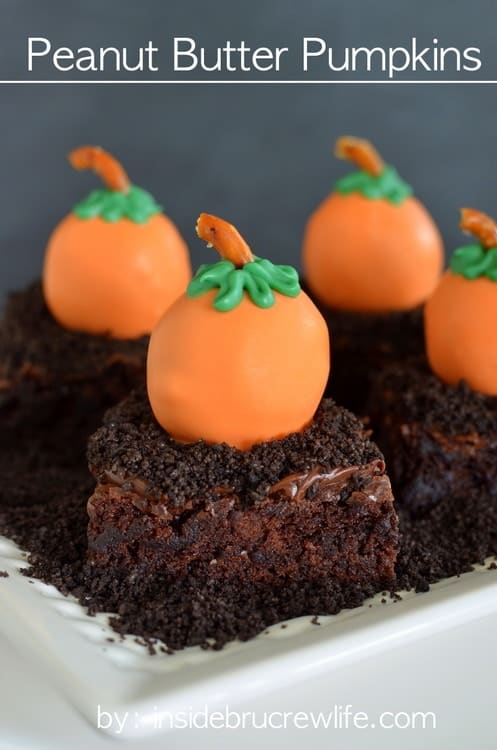 This weekend I realized that I am getting old. My youngest turned 10. Seriously! How did that happen?
I feel like I just came home from the hospital with that 5 pound little boy. My husband and I were laughing that when he was 5 pounds, he was just skin and bones, and here 10 years later he is still just skin and bones. At 10 years old, he still only weighs like 60 pounds. That is probably embellishing it some too.
He is my little love bug and I am enjoying every single snuggle and kiss before he becomes that aloof teenager who thinks his mom isn't cool anymore. Yup, I've got one of those too.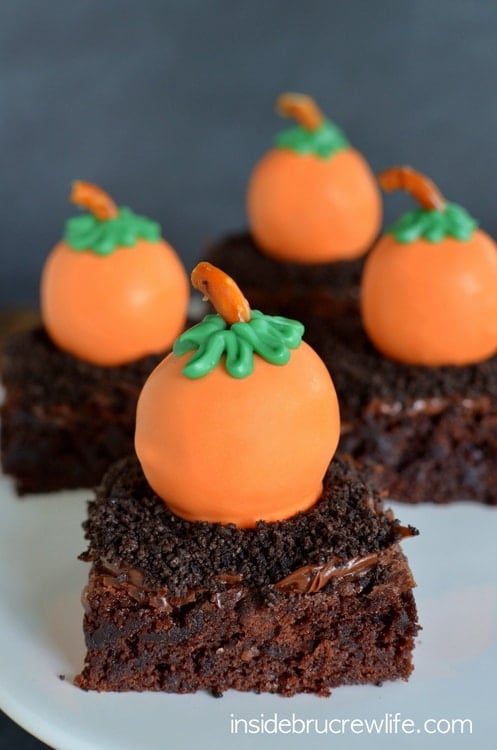 Every year I make the kids a themed birthday cake or treat that they have picked out. This year all I heard for weeks was plain brownies from my little guy. I tried these Homemade Chocolate Chip Brownies, thinking chocolate chips and powdered sugar was still plain, but that didn't work either. He said they were not plain enough for him.
The night before his birthday, he decided that he wanted a peanut butter Easter egg instead. An Easter egg in October? For your birthday? We almost always have the ingredients needed for these, so this was an easy treat to make for him.
Obviously I couldn't go with an egg shape for his birthday in October. As I was mixing up my peanut butter mixture, my husband asked how hard it would be to shape it into the number 10.
See? I told you all the good ideas come from him.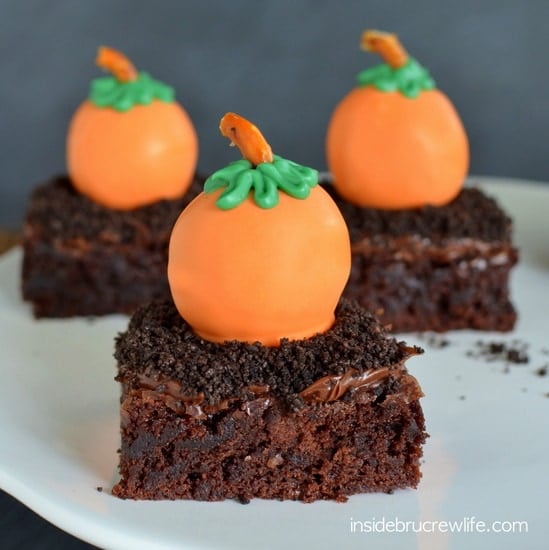 This peanut butter mixture is so easy to make up. It has peanut butter, butter, powdered sugar, and a little bit of marshmallow cream. The marshmallow cream is what sets this recipe apart from any other I have tried.
You can shape this into any size ball or shape that you want. (This is the same recipe I use to make these Peanut Butter Easter Chicks.)
I used about a quarter of the mixture to shape into a zero. Then I cut the center of that out and used it for the one. That left me with quite a bit of peanut butter mixture to shape into something else.
Yes, I could have made the 10 bigger, but I had these little pumpkins in my head because I had just gotten a bag of Wilton orange candy melts. I thought a pan of brownies with the big 10 and a bunch of little pumpkins was the perfect birthday "cake" for my little guy. He is my little October pumpkin after all.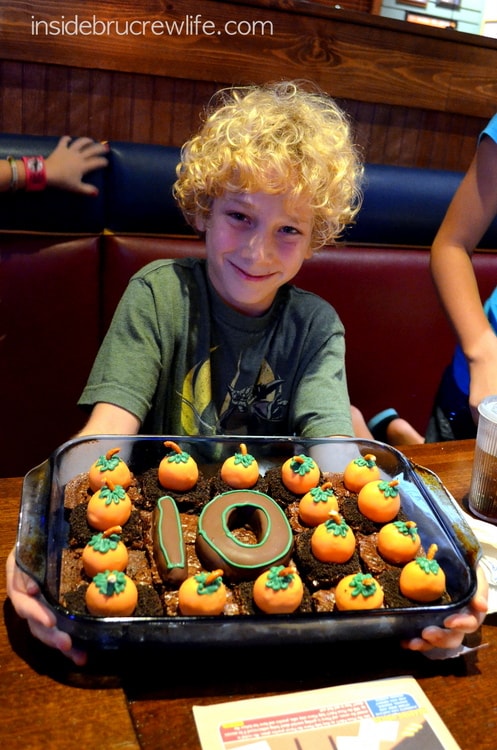 You can shape the mixture into any size ball and just flatten the bottom slightly. I like to refrigerate these for about 30 minutes before dipping into the melted chocolate.
Use a toothpick to dip these into the chocolate and then place a piece of pretzel into the hole. I also drizzled a little bit of green candy melts around the "stem".
Now my brain is going crazy with what I can make for every holiday!!!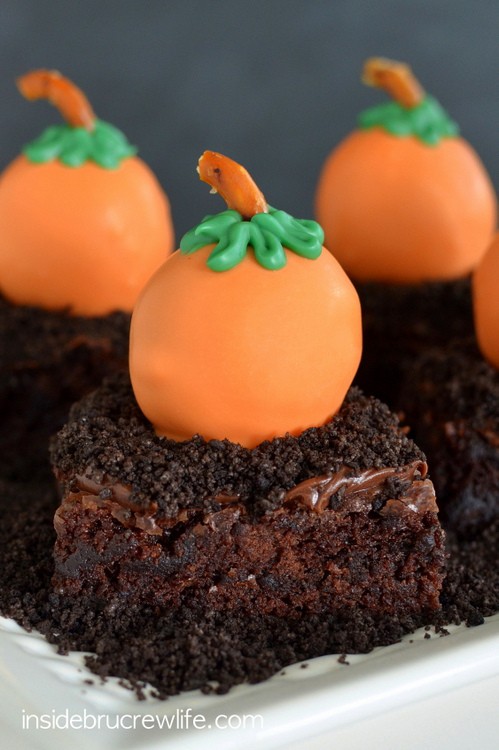 Stay up to date on all the BruCrew baking here:
FACEBOOK | PINTEREST | GOOGLE+ | TWITTER | INSTAGRAM | BLOGLOVIN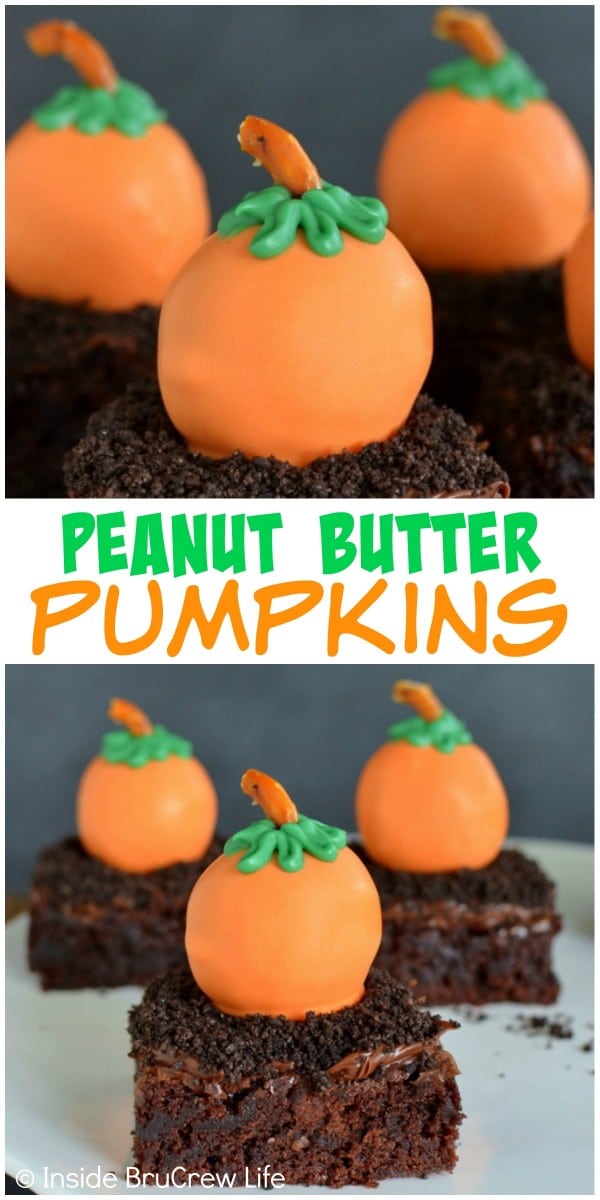 Other truffle favorites: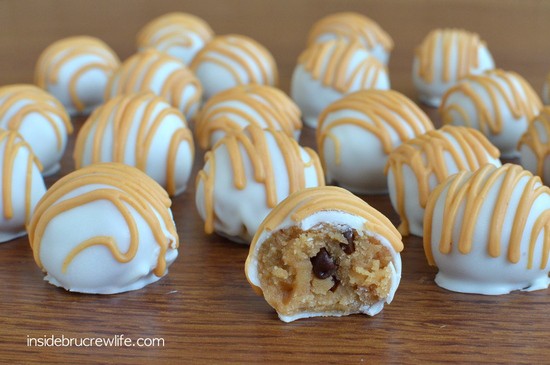 Peanut Butter Cookie Dough Truffles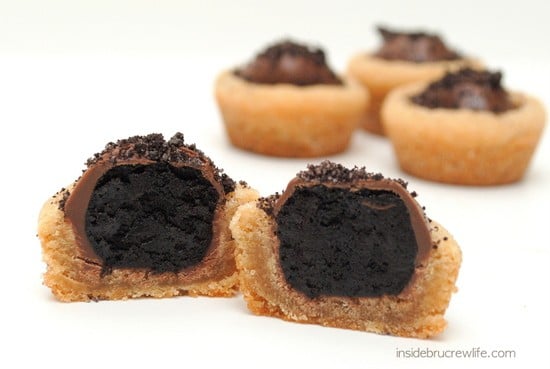 Peanut Butter Oreo Truffle Cups