Looking for a last minute treat to add to your Easter dinner table? This Robin Egg Fudge has a great vanilla malt flavor and is packed full of Easter candy.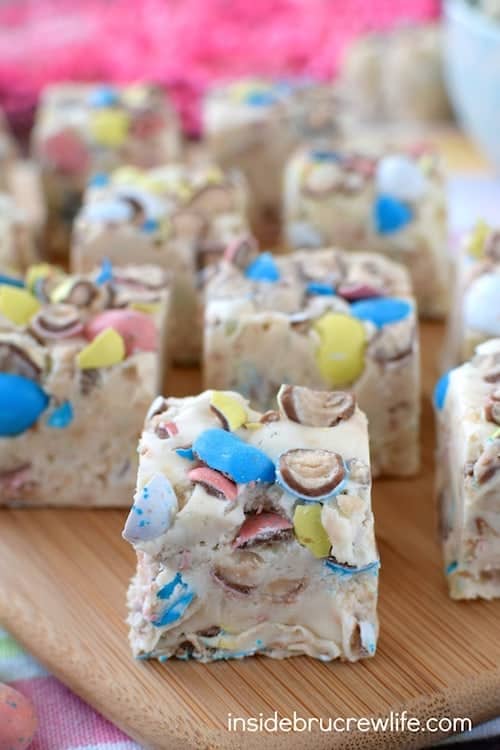 One of my favorite candies are Whoppers. I can remember my parents buying boxes of them for my brother, sisters, and I to share on a Friday night. Anyone else love the chewy chocolate duds that you would sometimes find in the bottom of the box? No? Maybe that's just me. I also loving buying an extra box of candy to make these Whoppers snack bars for lunch boxes
So of course this time of year, I go crazy for those pastel colored robin eggs. So far 2 bags have come and gone from our home...and it isn't even Easter yet. No, I didn't eat them. Well, I didn't eat them directly that is...
I took those fun colored eggs and created a delicious Easter fudge. My husband took one bite and declare it amazing! That is huge stuff, people!!! My guy is not a sweets eater. (I know...how does that man survive living with me?) So, if he declares this an amazing recipe, you need to run to the store immediately to buy the ingredients and make it.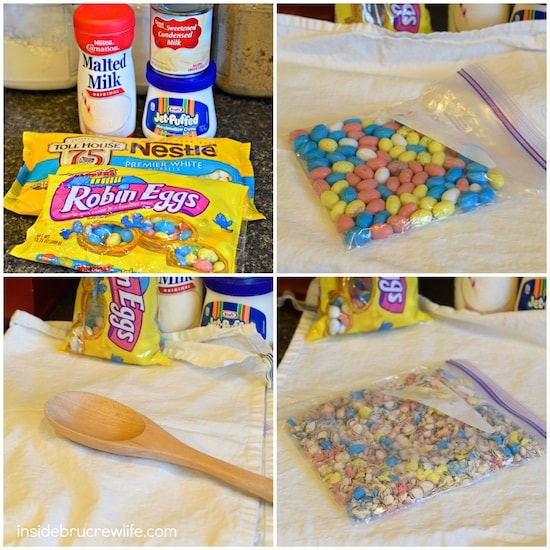 Plus, beating the Easter candy with a wooden spoon is really fun. Both times I made this fudge, my kids helped me crush the eggs. They thought it was the coolest thing!
Of course, I had to monitor the kiddos because they were really going to town on that poor bag. You want chunks of eggs, not dust. So make sure you aren't having a bad day when you start crushing them.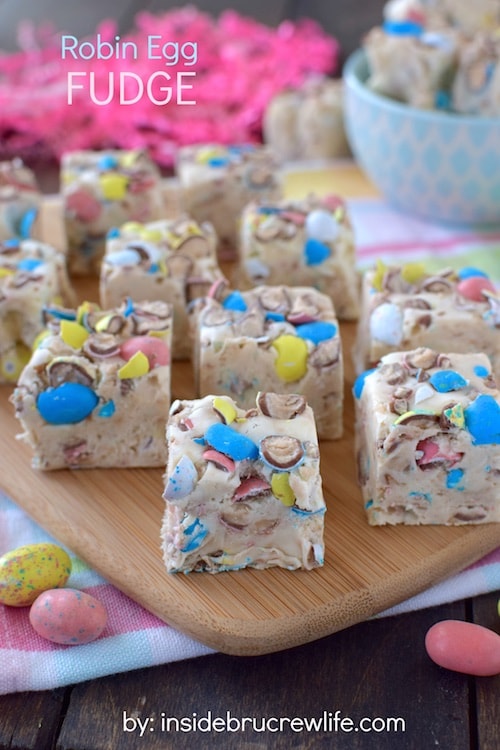 Start by stirring the malt powder into the sweetened condensed milk. Then heat the milk, white chips, and butter until melted and creamy. Next you are going to stir in some marshmallow cream. Make sure you spray your measuring cup with a little bit of non-stick spray, and that marshmallow cream will come right out.
I usually let the fudge mixture cool for a few minutes before stirring in most of the crushed candy. If it is too hot, the colored candy coating will start to melt off. Work quickly to stir the candy in without over stirring, then pour it into a foil lined pan. To make the top of the fudge prettier, I sprinkled the remaining crushed eggs on top and pressed them in gently. Let the fudge cool and set before trying to cut into squares. You can refrigerate it if you like, but I usually just let mine sit on the counter for a few hours (+4) or overnight.
You can run a sharp knife under hot water and dry it off because the heat on the knife will help the fudge cut nice and smooth. Although, there are chunks of candy inside the fudge, so some of the pieces will be a little bit chunkier and misshapen.
My prediction is that this robin egg fudge will disappear in a hurry from your Easter table. We have made it twice now, and both times it was gone in a hurry. Well, to be honest the second batch did get mailed out to family in their Easter baskets, but I'm sure that will disappear fast too!
Still have leftover candy? Use it to make this Creme Egg Fudge, this Jelly Bean Fudge, and this Raspberry Easter Fudge for your family and friends.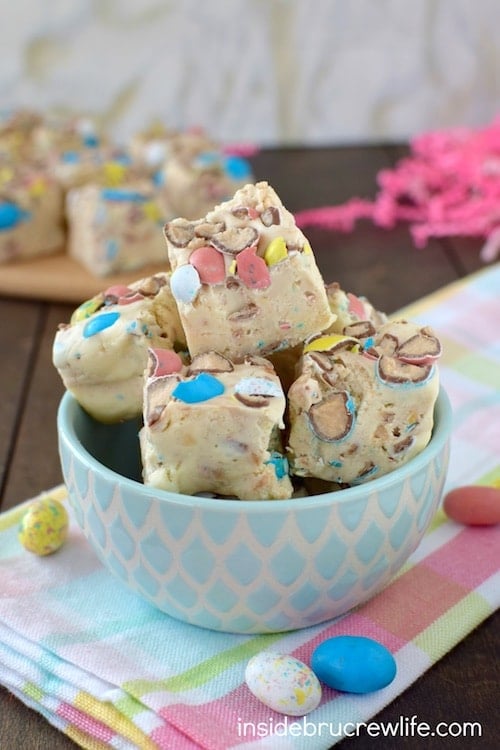 Do you love a recipe you tried from Inside BruCrew Life?
Please leave a 5-star ⭐️ rating and a review in the comments section below.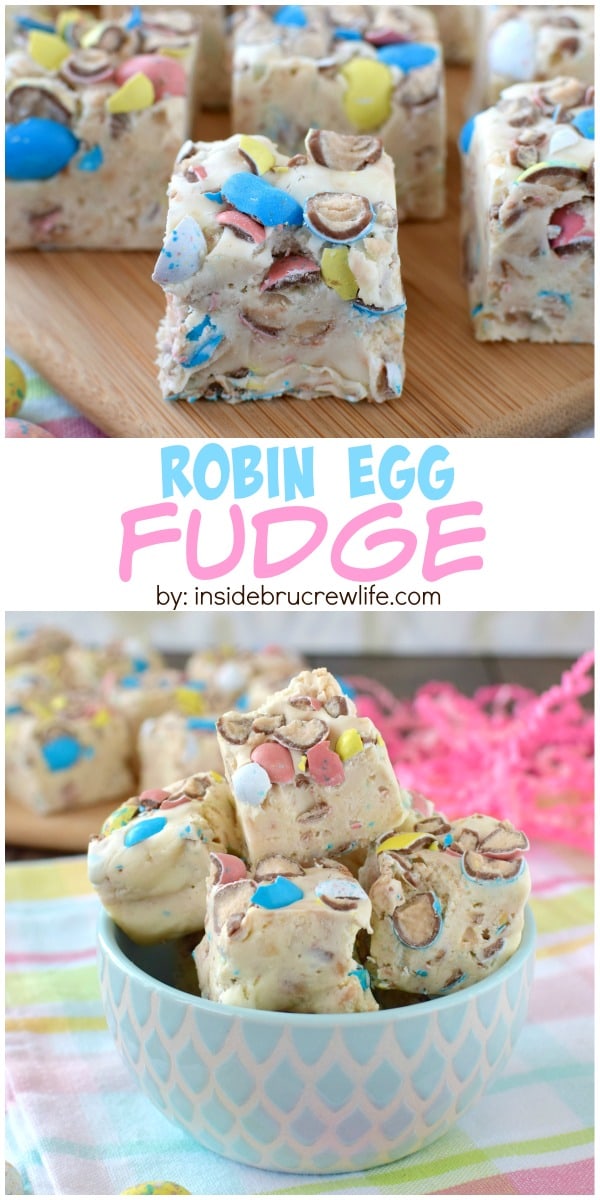 More fun recipes to use up that Easter candy