A sprinkle of nuts and a fresh raspberry make these Chocolate Almond Cookie Cups a pretty little cookie to share with friends.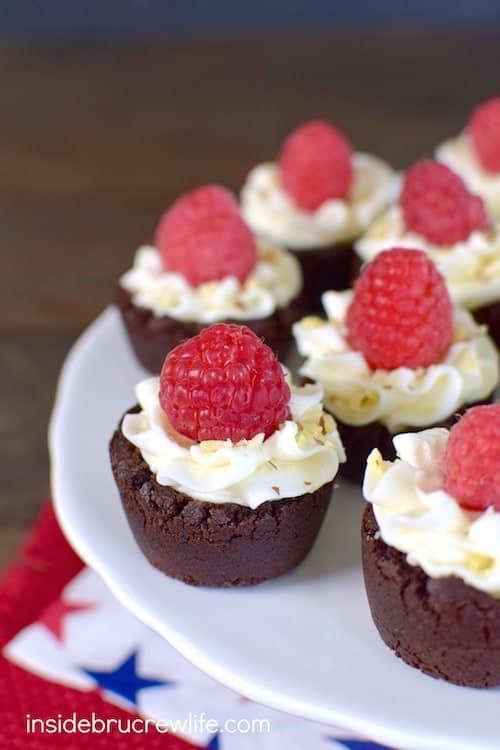 Our kids are getting good at this whole blog thing.
Meaning they are really good about making sure I do not need food for a project before they devour it. We have had a box of Cookie Crisp and a box of mini Oreos sitting on the counter for at least 2 weeks now. Who knows when I'm going to get around to actually using those. Although, I have a feeling that cereal may have disappeared while I'm away for a work trip.
I love that the kids are getting to be so thoughtful about the sweet food in our house, but they also have been known to ask if they can drink milk, eat cereal, and if the pop tarts were for anything. For the record, I have never made anything from a pop tart. I guess there could be a first time for everything, right?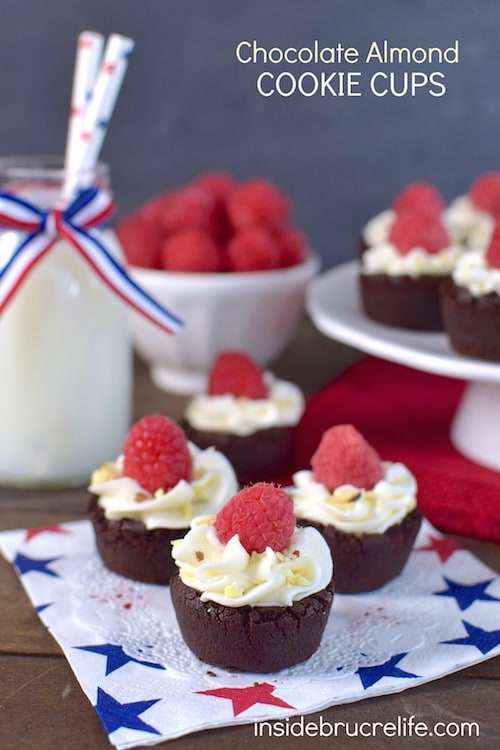 Last week raspberries were on sale, so I bought 4 boxes of them with every intention of using all 4 boxes for something. I really did not know what I was going to do with them. But when raspberries are .99 a box, you buy multiple boxes and hope inspiration strikes soon. Like before the berries get moldy soon!
Our daughter happens to absolutely love raspberries. She will gobble down a box in no time at all, so for 2 days it was pure torture for her every time she opened the fridge. I know what you are thinking. Get your lazy butt back to the store for 4 more boxes because they are only .99!! Ok, maybe that's just what I kept hearing in my head.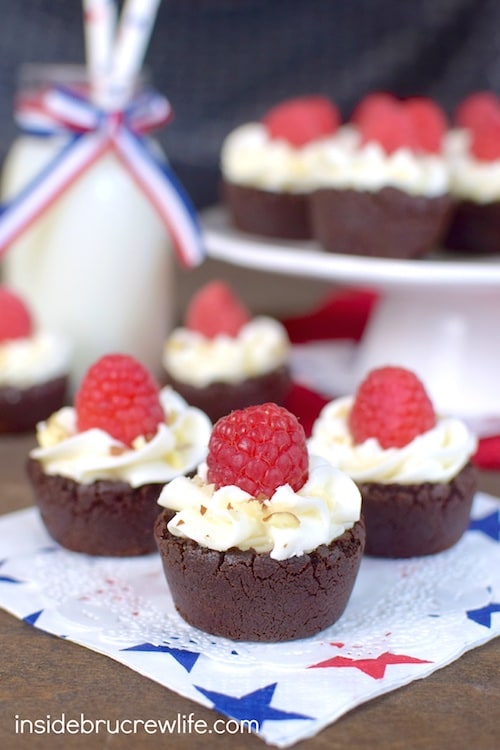 Well, after day 2 I was starting to think raspberry inspiration wasn't going to happen. But then I saw a picture of these Mocha Coconut Cookies and remembered how much I absolutely loved those chocolate cookies, and I knew those were the starting point to a whole new cookie.
I opened one of my baking cupboards and saw the almond extract and a bag of sliced almonds just waiting to be used and my brain started to go crazy. I love when that happens.
Instead of doing thumbprints this time, I baked the cookie dough in mini muffin tins. Then when they came out of the oven I used a tart shaper to press the cookie down and into a little cookie cup. You do not need to press them too hard. Just a little press to make a hole for that delicious almond frosting!
A fresh raspberry on top of the frosting was the perfect finishing touch! And because 40 cookie cups do not need 4 boxes of raspberries, guess who was thrilled to finish off the rest of the berries? Yup, my girl had those extra raspberries gone in no time at all.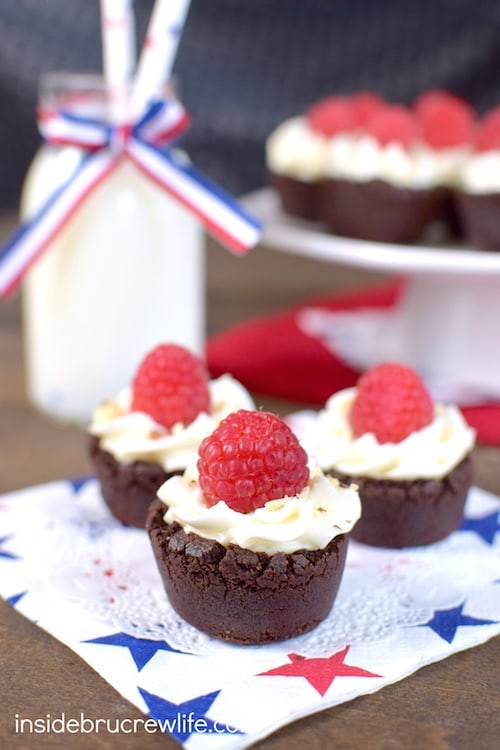 Stay up to date on all the BruCrew baking here:
FACEBOOK | PINTEREST | TWITTER | INSTAGRAM | BLOGLOVIN
Sign up to receive an email in your inbox for each new recipe:
EMAIL SUBSCRIPTION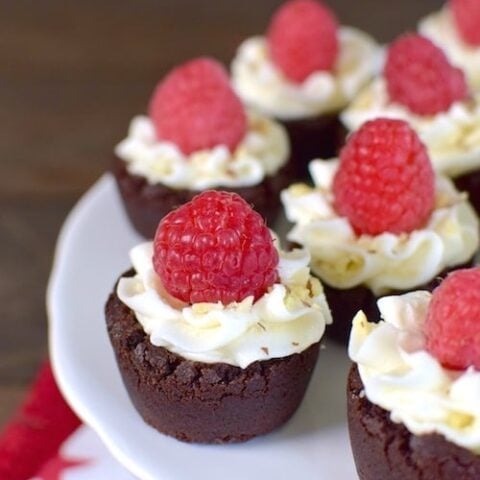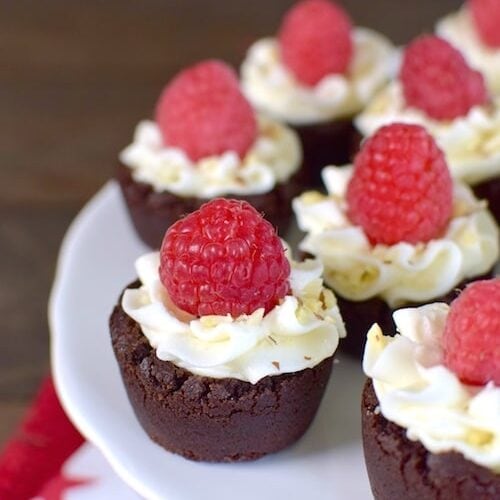 Chocolate Almond Cookie Cups
These chocolate almond cookie cups are topped with frosting and fresh raspberries. They are a fun little treat to share.
Ingredients
For the Cookies
¼ cup unsalted butter, softened
½ cup shortening
1 cup packed brown sugar
1 large egg
1 teaspoon almond extract
½ teaspoon baking powder
¼ teaspoon salt
1 ½ cups all purpose flour
¾ cup cocoa powder
For the Almond Frosting
¾ cup unsalted butter
1 ½ teaspoons almond extract
½ teaspoon salt
1 ½ Tablespoons chocolate almond coffee creamer or heavy whipping cream
3 cups powdered sugar
2 Tablespoons finely chopped almond slices
fresh raspberries
Instructions
Preheat oven to 350 degrees. Spray 2 mini muffin tins with nonstick baking spray.
Beat the butter, shortening, and sugar until creamy. Add the egg and extract and beat again.
Stir together the baking powder, salt, flour, and cocoa powder. Slowly add to the butter mixture until everything has been mixed together. Roll into 40 even balls.
Bake in greased mini muffin tins for 10 minutes. Remove from the oven and let cool 1-2 minutes, then press down the tops of the cookies with a tart shaper. Just press hard enough to make the cookie into the shape of the muffin tin more.
Let cool 2-4 minutes in the pan, then gently remove the cookies to a wire rack to cool more.
Beat the butter, extract, and salt until creamy. Add powdered sugar slowly along with the creamer.
When everything has been mixed in, beat for a few minutes at a higher speed.
Fill the cooled cookie cups with the frosting. Sprinkle with chopped almonds and press a fresh raspberry on the top of each cookie. Store in a sealed container in the refrigerator for a few days. Let come to room temperature before serving.
Nutrition Information:
Yield:

40
Serving Size:

1
Amount Per Serving:
Calories:

147
Total Fat:

8g
Saturated Fat:

4g
Trans Fat:

0g
Unsaturated Fat:

3g
Cholesterol:

19mg
Sodium:

52mg
Carbohydrates:

18g
Fiber:

1g
Sugar:

13g
Protein:

1g
Nutrition facts are an estimate and are not guaranteed to be accurate. If you need special diet advice, please see a registered dietician.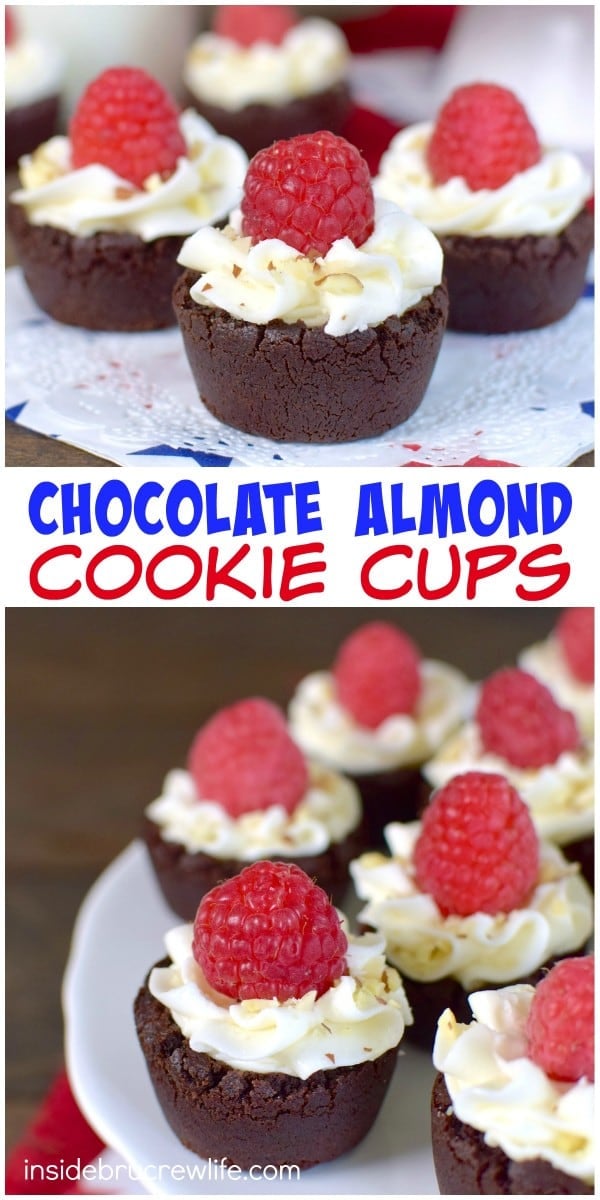 *This post does contain an affiliate link. We may receive a small percentage from sales made through these referral links. As always these do not cost you any extra. Thank you for letting us share products this way.