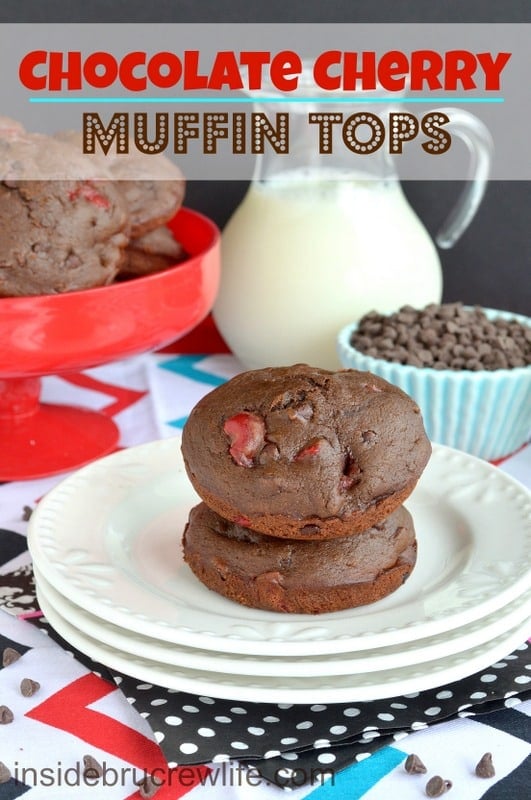 So I have decided that it is time to start posting some Valentine's recipes here. You're down with that right??? I promise not to go completely overboard, but this is a low fat chocolate cherry muffin top. Who wouldn't want this kind of recipe early?
You could wait until February to make these muffins, but I seriously don't recommend it. They were delicious!!! The yogurt in these muffins give them a soft, tender inside. I really like using yogurt instead of sour cream for muffins. It helps cut down on the fat content, which is something that I have started to watch a little more. My kids aren't big cereal eaters, but they will eat muffins if I keep them on hand. By making them with yogurt I feel better about them eating chocolate for breakfast. Of course, we ate them at all times of the day. They are a perfect afternoon snack when you are craving just a little bit of chocolate. (that makes me laugh because when I crave chocolate, I don't want to eat a little) These chocolate cherry muffins are also a great before bed snack...or a midnight snack! Whenever you decide to eat them, they will satisfy your chocolate crave!!!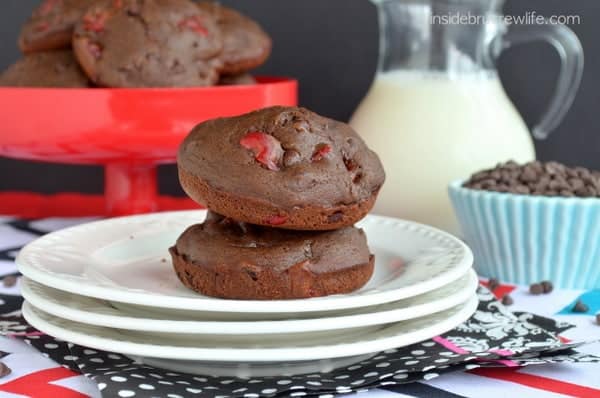 The great thing about this muffin is that it is easy to make it in a muffin top pan or a whoopie pie pan, or if you don't have either, just bake it in a regular muffin tin. I have included both baking times in the recipe for you. Let's talk about the cherries for a minute. If you like fresh cherries, by all means, use the fresh cherries in your batter. I just happen to love maraschino cherries. There is usually a jar in my fridge at all times for sundaes or drinks. And I keep a backup jar in my baking cupboard...does that surprise you that I have more than one jar? Something about the taste of these jarred cherries makes me happy. They also keep their bright red color when you bake with them. I love pretty food!!! Pretty food just looks so much more appetizing!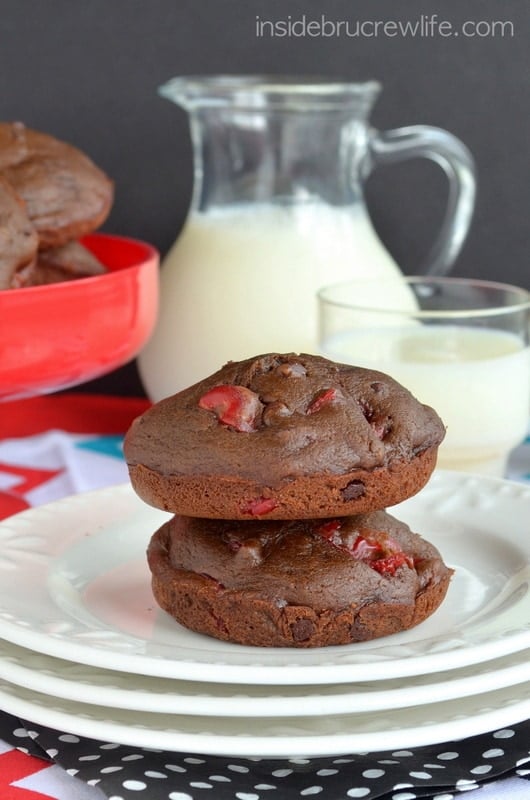 See how puffy those chocolate cherry muffin tops turned out? I know you want a bite 🙂
Make sure you don't miss any of the crazy baking by following the BruCrew here:
FACEBOOK | PINTEREST | GOOGLE+ | TWITTER | INSTAGRAM
Looking for more chocolate muffins? Try one of these...