Chocolate for breakfast? Now you can with these amazing Chocolate Avocado Muffins. Two different kinds of chocolate plus avocado make these fudgy chocolate muffins a delicious breakfast choice.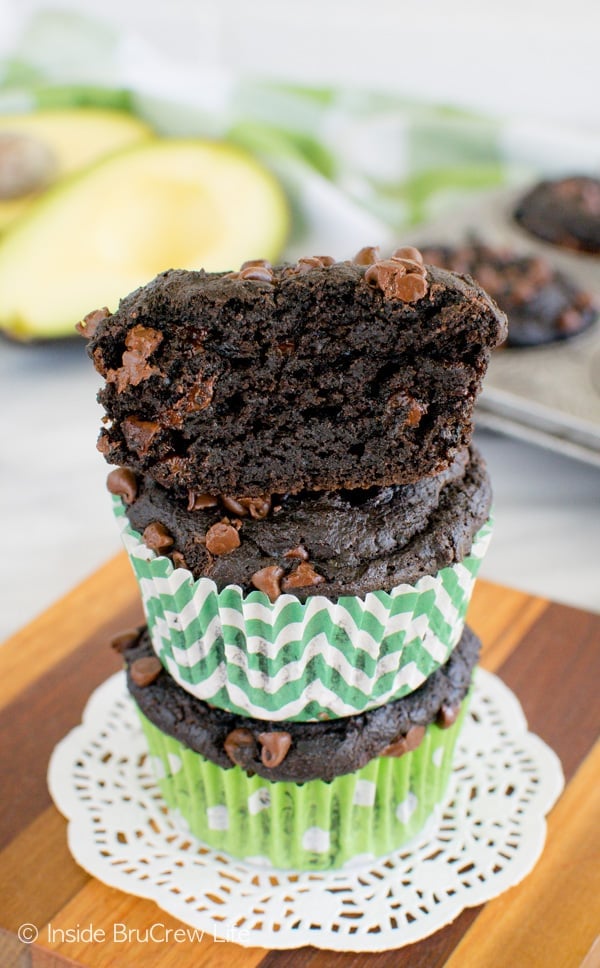 Chocolate Avocado Muffins:
Recently, we had some ripe avocados sitting on the counter, so I decided to use them in place of eggs in these healthy chocolate muffins.
Of course, I had to work chocolate into these avocado muffins because there is no way our kids would have eaten them if they saw green muffins on our counter.
The first batch of avocado muffins had some baking issues and were undone when I pulled them out. So, I went ahead and worked on round two with a few variations.
And, boy, am I glad that I did because these are now a family favorite. Using avocados, applesauce, yogurt, and coconut oil made these chocolate muffins a little bit healthier, and oh, so decadent!
Baking with Avocado:
Avocados are awesome to bake with. They can replace eggs, oil, or butter in recipes. The healthy fats create a fudgy, moist texture in baked goods without adding additional calories.
To bake with avocados, slice them in half, remove the pit, and scoop them into a bowl. Mash the avocado with a fork until creamy. Use a measuring cup to measure out the mashed avocado for recipes. Most medium sized avocados will yield about ½ cup.
Replace butter with mashed avocado using a 1:1 ratio in recipes. Use ¼ cup of avocado as a substitute for 1 egg.
Adding cocoa powder is a great way to hide the green color. There may be a few flecks of green, but for the most part no one will even know you added a healthy vegetable.
BRUCREW TIP: Add a swirl of frosting and these chocolate muffins can be transformed into a chocolate avocado cupcake.
Ingredient List:
Please give these chocolate muffins with avocados a chance! Don't let the thought of green in your breakfast scare you away! Seriously, all you taste is fudgy chocolate!
Coconut Oil - use the solid in place of butter
Sugars - a mixture of granulated and brown sugar adds a little bit of sweetness
Applesauce - adds moisture and sweetness and replaces the egg
Greek Yogurt and Milk - adds moisture to the muffin batter
Baking Soda and Baking Powder - using both gives these muffins a little bit of lift as they bake
Cinnamon, Salt, Vanilla - used for flavor
Dark Cocoa Powder - gives these muffins a dark chocolate color. Regular cocoa powder will work too.
Flour - provides the structure for the batter
Mini Chocolate Chips - adds pockets of chocolate to each muffin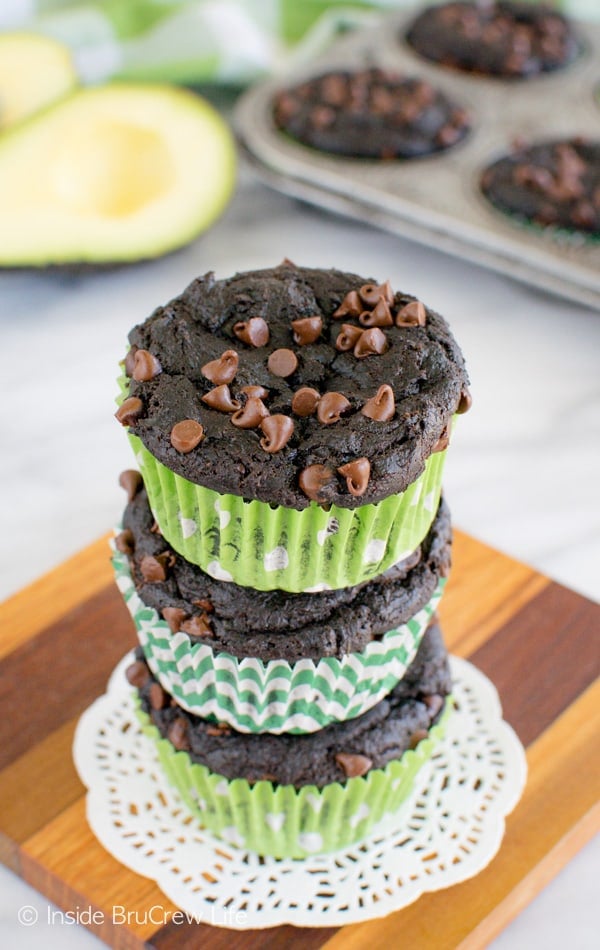 How to make Chocolate Avocado Muffins:
Our family thinks these taste just like those amazing store bought muffins that are so rich and decadent. They are absolutely delicious warm out of the oven, but they are also great eaten cold.
Preheat the oven and place 16 liners in your muffin tins.
Beat the coconut oil and sugars until creamy.
Add the applesauce, avocado, vanilla, and yogurt and mix again.
Stir together the dry ingredients and slowly add it to the batter until a dough forms.
Add some mini chocolate chips and stir gently.
Spoon the batter into the liners and sprinkle the tops with the extra mini chocolate chips. Bake for 20 minutes.
Remove from the oven and cool in the pan for 2 minutes, then remove gently and place on a wire rack to finish cooling.
BRUCREW TIP: Heat the cooled muffins in the microwave for 7-8 seconds to give the chocolate muffins that fresh from the oven texture.
How to Store Fudgy Chocolate Muffins:
Counter - Once the avocado muffins are cooled, place them in a sealed container and keep on the counter for 2-3 days.
Freezer - Place the chocolate avocado muffins on a tray and freeze for 3o minutes, then place them in a large freezer safe bag or container and freeze for 1-2 months. Thaw on the counter before serving.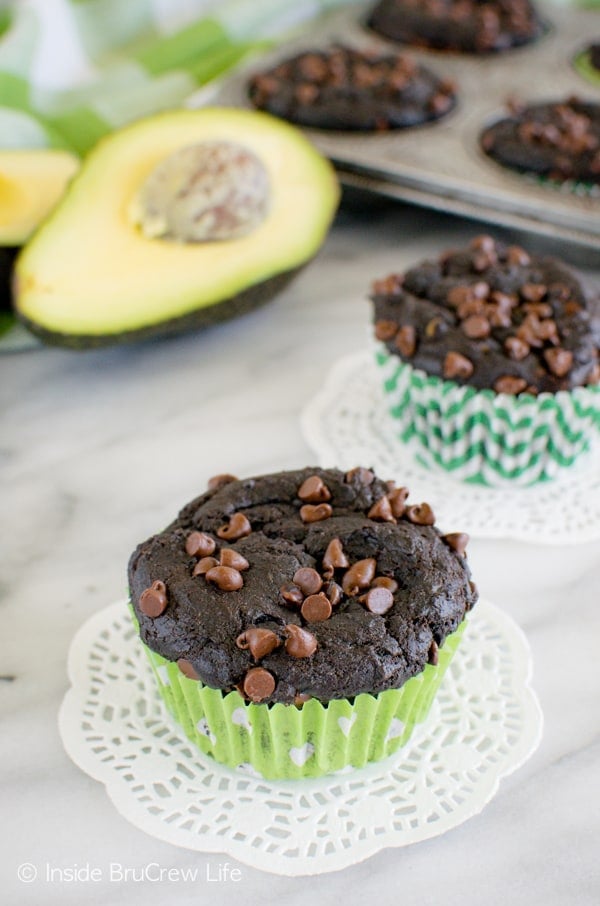 Other ways to use avocado:
More chocolate for breakfast: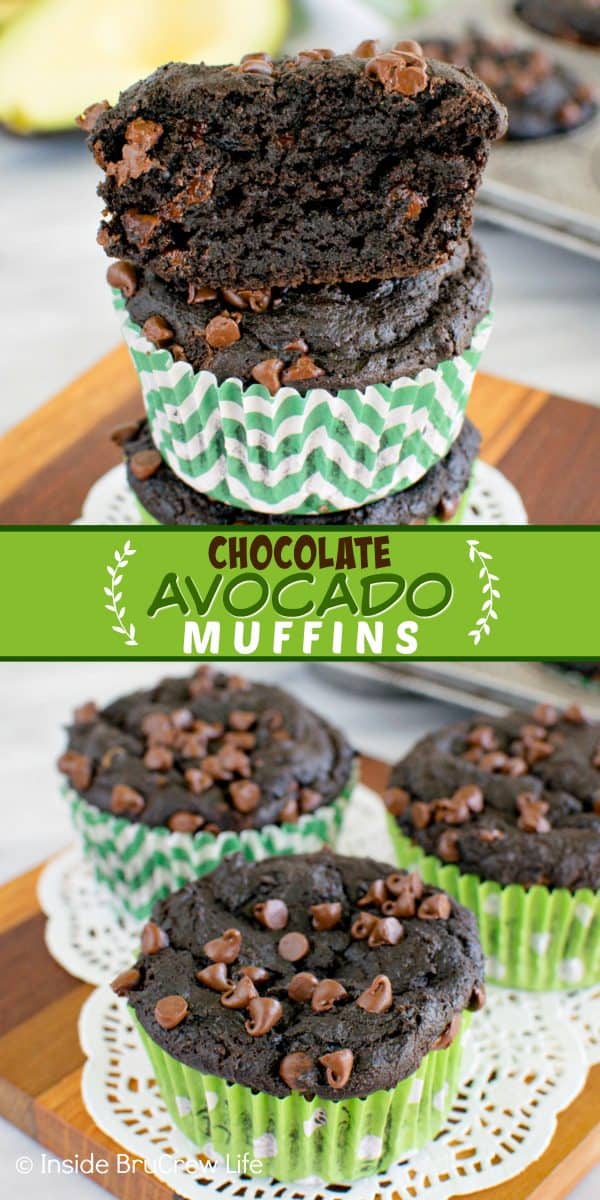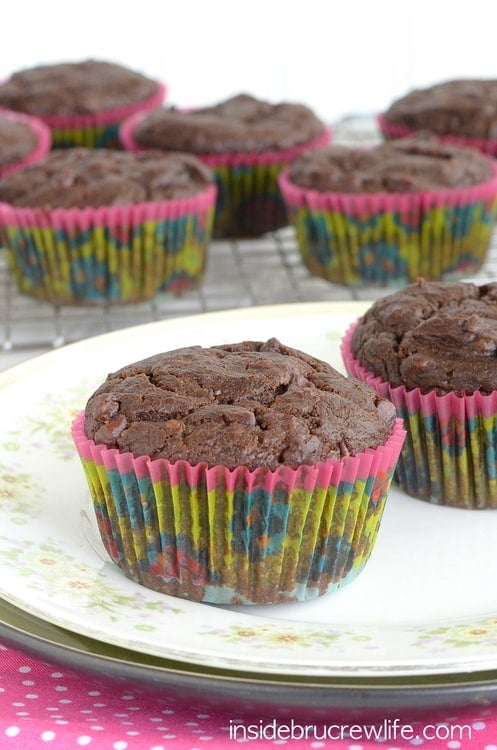 (original photo from April 2012)
*The post for these Chocolate Avocado Muffins was first published on April 16, 2012. The photos were updated May 2016, and it was republished on April 21, 2021.