Start off the day with an easy baked donut. These Chocolate Covered Strawberry Donuts will have everyone smiling in no time.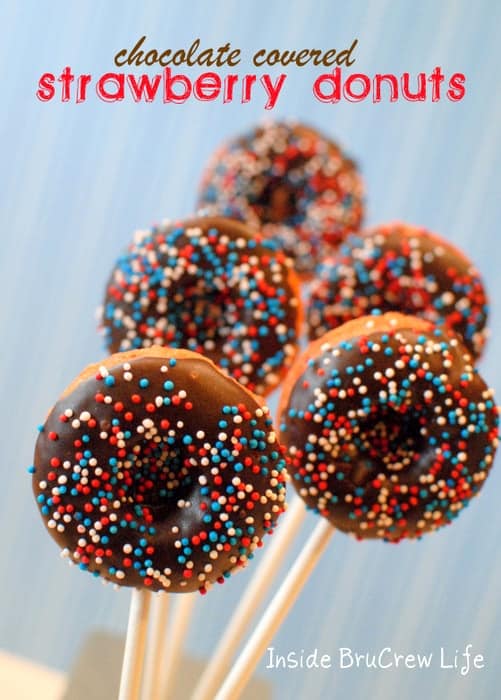 I don't know about you, but Monday is my least favorite day of the week. Probably because I have to get back into a weekday routine.
I am a sleeper inner, so I struggle with the whole getting up early in the morning thing, but not this Monday!
It's a Holiday Monday!!!
All about the sleeping in, the cookouts, the food, the campfires. Did I mention sleeping in?
(yes, I know I am pathetic)
I hope you all are enjoying your Memorial Day!
It is a great time to remember what our service men have done for us! We are so thankful for each and every person that has spent time to give us our freedom!!!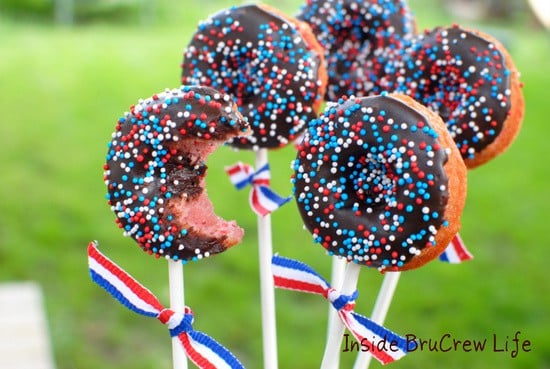 What else can make Monday better?
Chocolate Covered Strawberry Donuts and lots of sprinkles! You have to have sprinkles! It just makes it all seems better!!!!
And putting them on a stick just ups the cute factor because we all know food on sticks = way fun!!!!
Chocolate Covered Strawberry Donuts recipe:
Have a FABULOUS Memorial Day!