This easy Pizza Pasta Salad is loaded with all your favorite pizza toppings. It is the perfect salad for a busy day dinner or to bring for summer picnics.
Most days I let my husband come up with our dinner menu. He usually makes said dinner too because he likes to cook. This Homemade Pizza Dough that we love for weekend pizza nights is his specialty!
He definitely completes me! Dinner is all him, and dessert is definitely all me. He is more of a salty snack kind of a guy. Not good for me because he doesn't eat very much of the sugar that comes from a busy day of baking.
He also has a steel will when it comes to snacking. I must admit that I am kind of jealous of that will power because things like these Nutella No Bake Cookies just have to smile and wink at me, and I am all over it.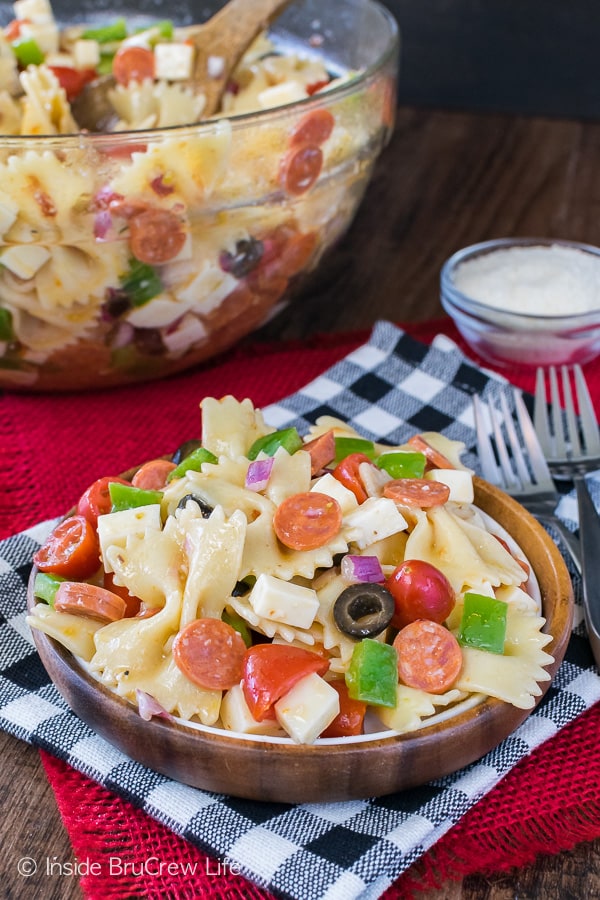 This week I decided to surprise my kids and husband and make some of this Pizza Pasta Salad for dinner. They were definitely surprised that mom had dinner done.
In fact, I made it the night before so I really felt on top of the dinner game. Gotta love getting home from school and practices and having dinner ready to go.
Back to the pizza salad. This pasta salad recipe is actually really easy, and it is also totally customizable. I put everything that our kids like on pizza in with the pasta, but you can adjust that based on your tastes.
Now only two people in our family actually like black olives, but I really liked the little bit of extra color it added to the salad. There wasn't any complaining about it either, so I think they were ok with it.
But it is a good thing I didn't add mushrooms because that would have been the end of the world.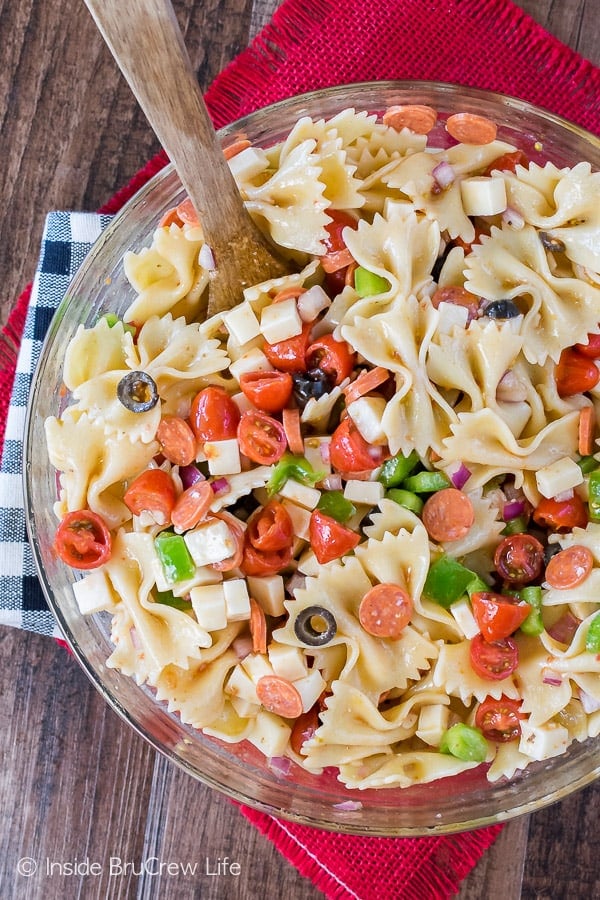 How to make Pizza Pasta Salad:
Boil and cool your noodles according to your package directions. We prefer to use the bow tie noodles, but you can use whatever you like or have on hand.
While the noodles are cooking and cooling, cut the cherry tomatoes in half and dice the peppers and onions.
Cut the block of mozzarella cheese into small bite sized cubes. You can also use shredded mozzarella cheese, but the cubes really do make it taste so much better.
Stir together the noodles, veggies, cheese cubes, mini pepperonis, and salad dressing. Season to taste with salt and pepper.
Serve with grated Parmesan cheese, if you like.
Pro Tip: If you make this the night before, you may need to add a little bit more dressing because the noodles will soak up it up as it sits overnight.
What to serve with pasta salad:
We usually eat this easy salad with hot dogs, hamburgers, or grilled chicken during the summer months.
It's also delicious with these Homemade Cajun Shrimp Burgers, this Easy Slow Cooker Pulled Pork, or these Spicy Parmesan Ranch Chicken Tenders.
I will usually adjust the pizza toppings ingredients based on what meal I'm serving it with.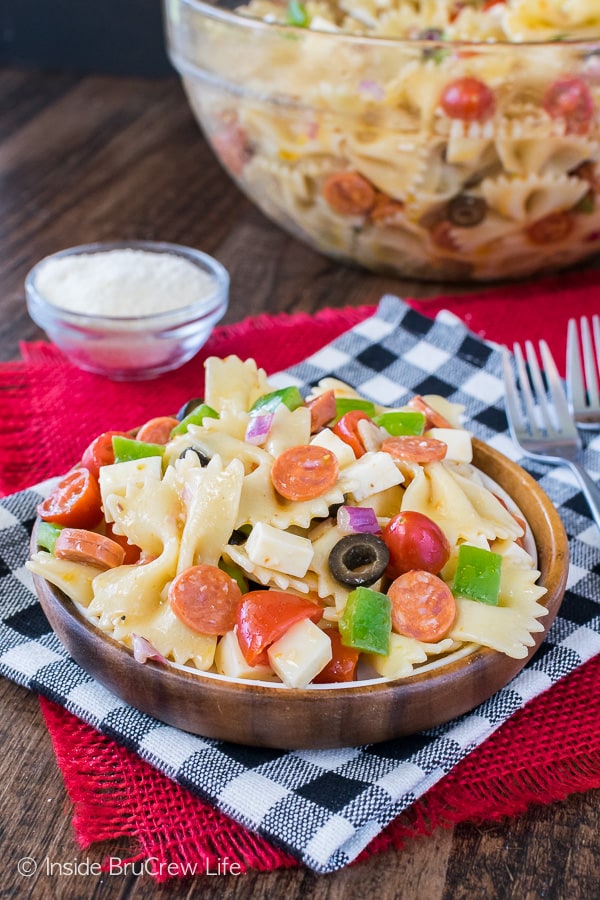 More pasta salad recipes you may like:
Ranch dressing, peas, and tomatoes make this Easy Macaroni Salad a favorite dish for any summer picnic or barbecue.
Lots of different fresh veggies and an oil & vinegar dressing makes this Veggie Pasta Salad a delicious side dish for any dinner.
The creamy homemade dressing, meats, and veggies in this Bacon Broccoli Tortellini Salad make it a hit with everyone.
Fresh veggies, chicken, and a creamy dressing make this Southwest Avocado Ranch Pasta Salad a favorite summer meal in our house.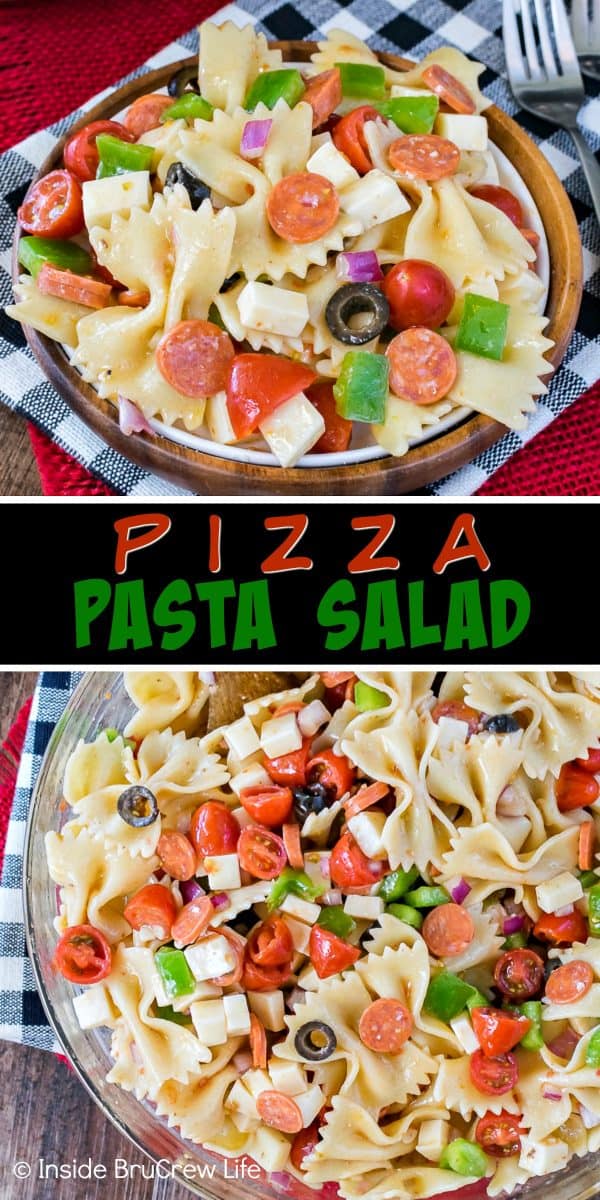 *The post for Pizza Pasta Salad was first published on August 25, 2013. The photos have been updated, and it was republished on May 1, 2019.