Do you like eating s'mores, but do not like the mess of a sticky campfire? These S'mores Cookie Cups are the perfect solution. Plus, this way you can enjoy them year round.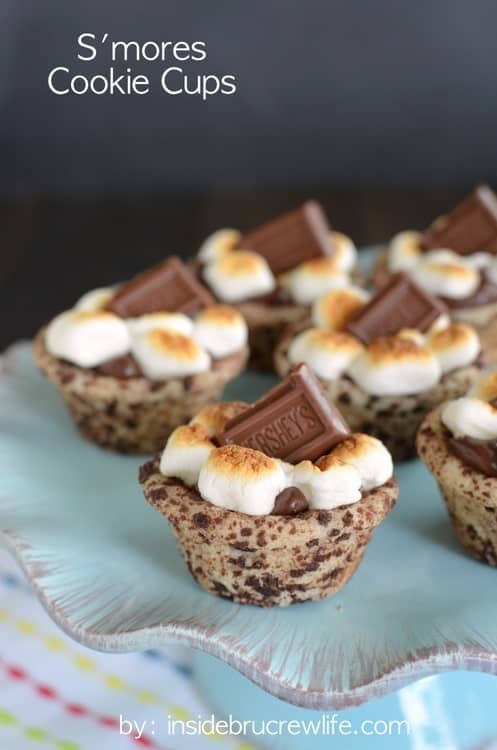 I adore a delicious, sticky, roasted marshmallow pressed between chocolate bars and graham crackers.
But when my kids were younger I had a heart attack almost every time we did a campfire and made s'mores. Little kids, long pointy sticks, and fire do not make a good mix. Oh, and the sticky marshmallow guts that ended up just about every where. Yeah…that was awesome too!
Now that my kids are older, it has gotten better. Well, slightly. They still wave the sticks around in faces and get too close to the fire. I just don't worry as much about it now.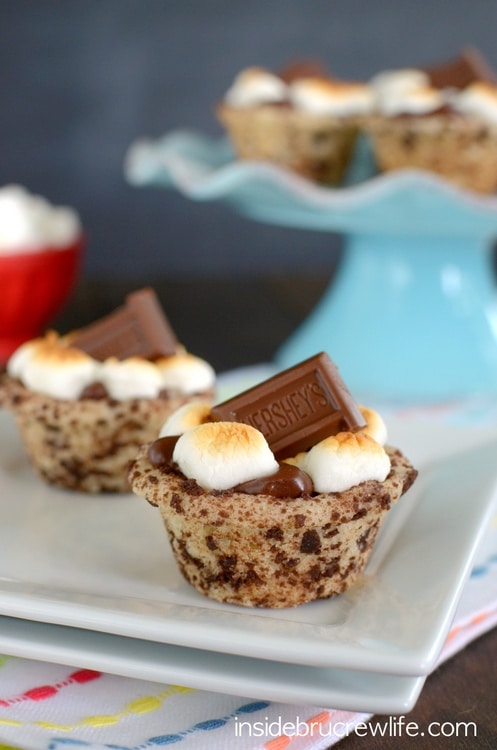 I still don't like the sticky marshmallow that ends up everywhere, so I found a fun and cute way to enjoy s'mores. There is no worry and only minimal mess with these cookies.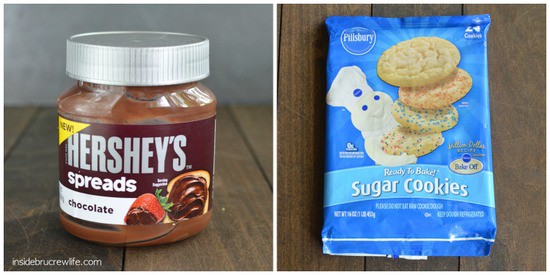 Roll sugar cookie dough in chocolate graham crackers and baked them in mini muffin tins. After they cooled, you will fill them with some chocolate spread. Try to resist licking the spoon while you do this! Top with some mini marshmallow and place under the broiler for a few seconds. Watch the marshmallows carefully here! You do not want to burn your cookie cups. Well, unless you were one of those kids that always caught their marshmallows on fire. Then have at it…just be warned that your house will probably smell like that burnt sugar for hours.
Have you tried this Hershey's Spread yet? Oh, my word! Seriously amazing stuff. I may or may not have finished off the jar with a spoon.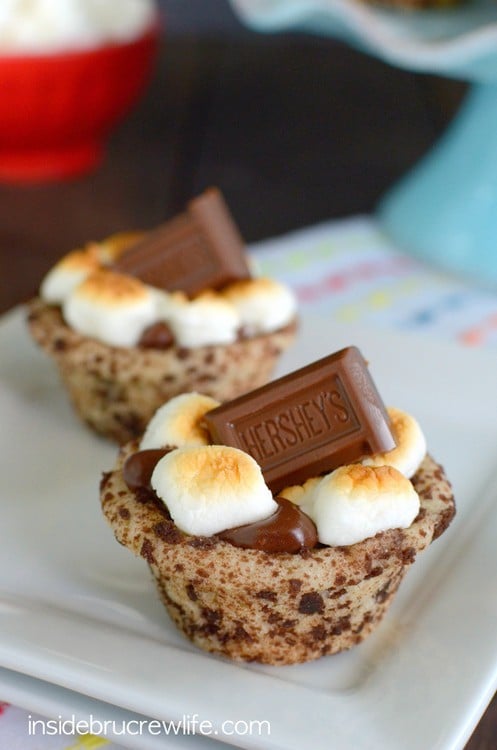 These little S'mores Cookie Cups are adorable and totally pop-able. Good luck trying to resist popping like 5 in your mouth.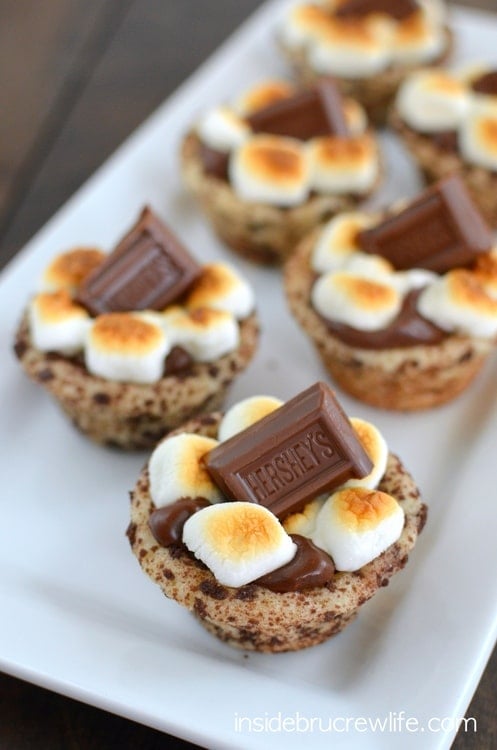 Now that we can have cute s'mores all year long in a cookie cup, I may give up campfires completely.
Naaaahhh! That's just silly talk. There is something so relaxing about sitting around a fire late at night. Of course, in order for it to be relaxing, I suggest putting the kids to bed first. Then enjoy your s'mores without pointy sticks being poked in your face and sticky guts wiped on your chair.
Or just make these S'mores Cookie Cups and hide them in a container on the counter. No one has to know they are there, right?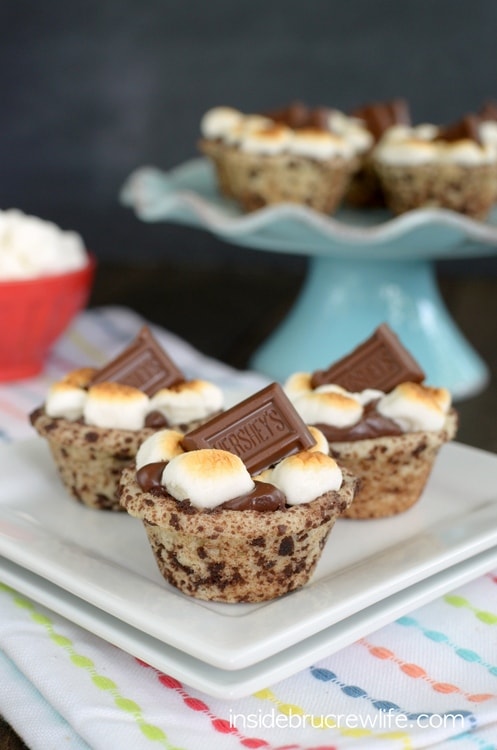 Stay up to date on all the BruCrew baking here:
FACEBOOK | PINTEREST | GOOGLE+ | TWITTER | INSTAGRAM | BLOGLOVIN
Sign up to receive an email in your inbox each time a new recipe is shared:
EMAIL SUBSCRIPTION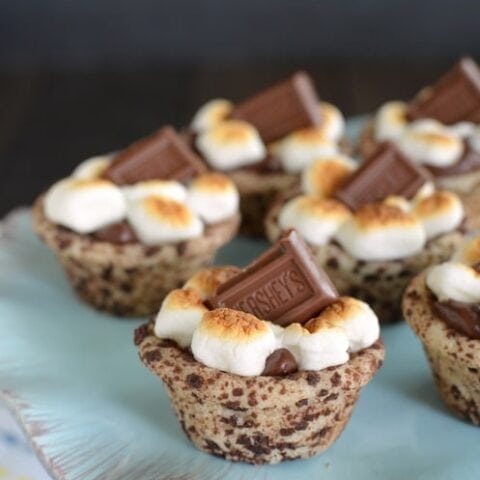 S'mores Cookie Cups
Sugar cookie cups rolled in graham crackers and filled with chocolate and toasted marshmallows are an easy way to enjoy a delicious campfire treat without all the mess.
Ingredients
1 package Pillsbury sugar cookies (24 cookies)
1/4 cup chocolate graham cracker crumbs
1/2 cup Hershey's chocolate spread
1 cup mini marshmallows
Hershey's chocolate bars
Instructions
Roll each cookie dough square into a ball. Roll each one into the graham cracker crumbs. Place in a greased mini muffin tin. Bake at 350 degrees for 14-16 minutes.
As soon as the cookies come out of the oven, press in the centers gently. Let the cookies cool in the pan for 3-4 minutes. Use a knife to gently lift them out of the tin. Cool completely on a wire rack.
Fill the centers with the chocolate spread. Top each cookie cup with marshmallows. Broil on High for 30-45 seconds. Be careful they do not burn. Remove from the oven and top with a chocolate square. Makes 24 cookie cups. Store in a sealed container on the counter.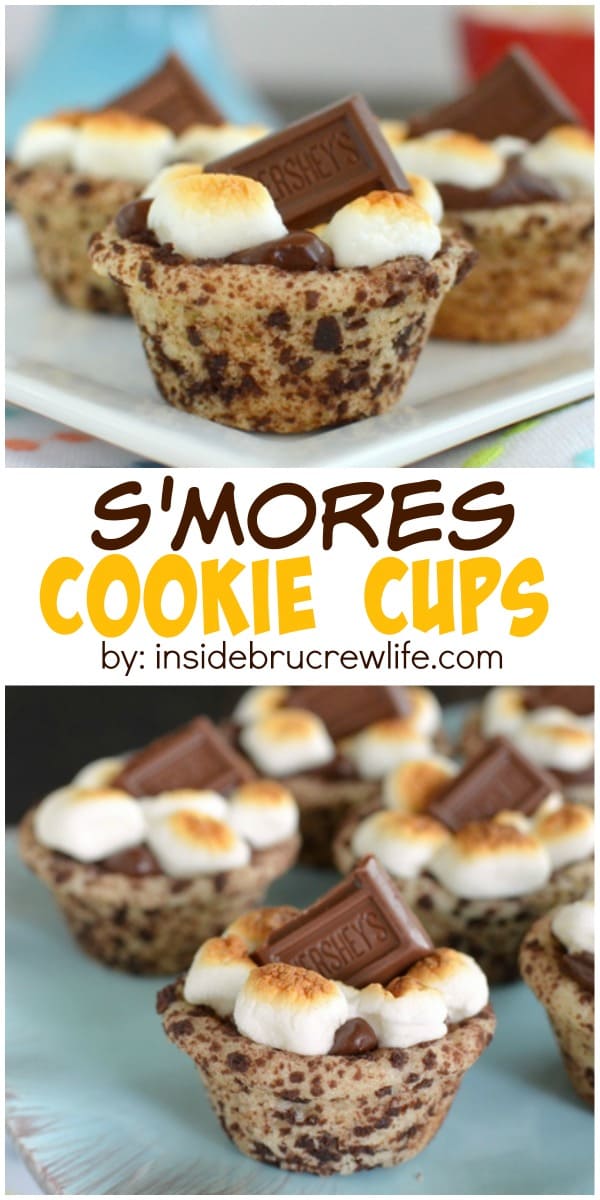 More ways to enjoy S'mores without the campfire mess: