Different candies transform these little chocolate fudge bites into Chocolate Fudge Turkeys. These are such a cute and easy treat for the Thanksgiving Day food table. They would even make adorable place card settings.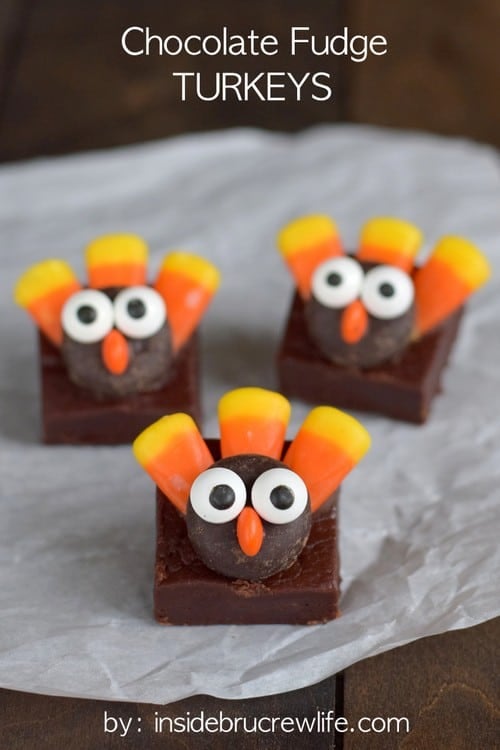 Does it seem like Thanksgiving seems to get shoved by in our attempt to get to all things peppermint and eggnog each holiday season? Oh, I admit I am right there too.
This week I bought Peppermint Oreos, Peppermint M&M's, Peppermint Crunch chips, and a few other holiday things. I'm already plotting what decadent treats these candies and cookies will become...that is if they last that long. I also just had a great idea for eggnog, so guess what I'll be buying tomorrow? Yup, eggnog is coming home with me.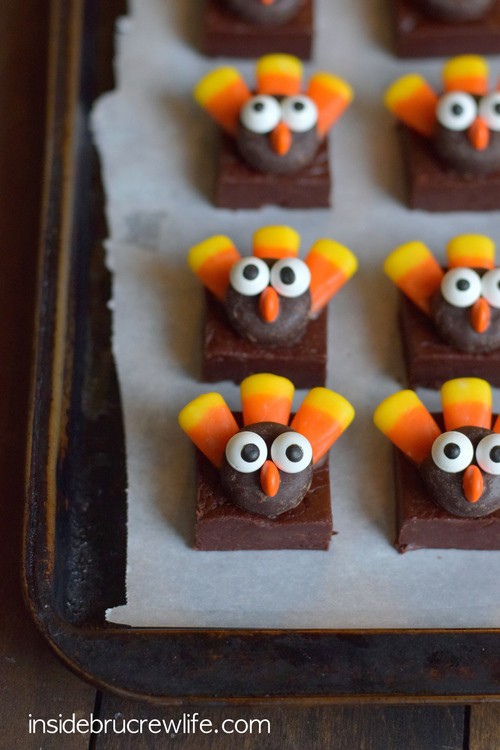 But before any of that minty goodness can happen, I had to make a Thanksgiving Day treat. I realize everyone else is all like stuffing, potatoes, veggies, pumpkin pie, turkey...well, I'm thinking turkey, just not the same kind.
Of course googly eyes were a must when I started thinking up a chocolate turkey treat. And yes, this is like the third time making turkey treats that I have forgotten the wattle on my turkeys. Maybe when I make these again for the big day I will remember...I'm not holding my breath though.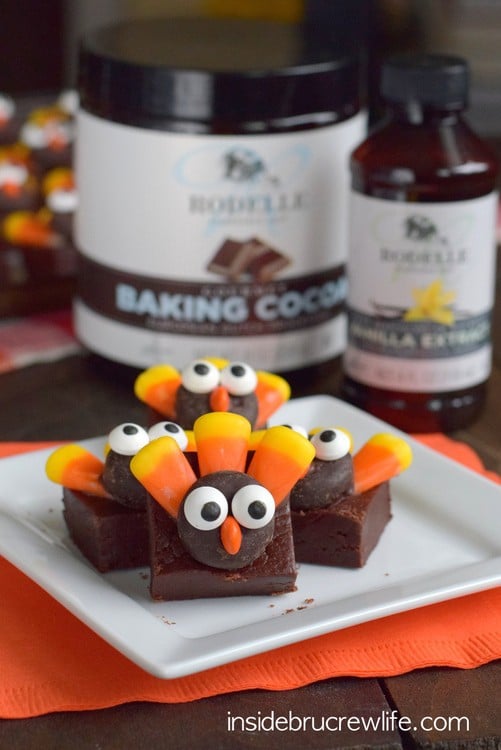 I loving finding products that I can share with you guys. How many of you have heard of Rodelle? They sell cocoa powder, vanilla extract, vanilla beans, and a variety of other extracts. I have been using their cocoa powder for a while now and love the taste and look of my baked goods when I do.
They recently sent me a box of baking goodies, and I couldn't wait to get in the kitchen to make something fun!
Enter the Chocolate Fudge Turkeys!!! Da da da da!!!! (imagine that said like trumpet fanfare)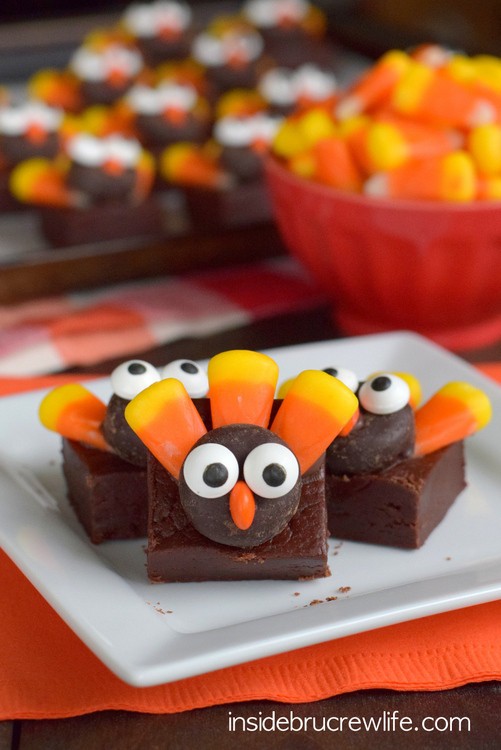 First you are going to make the chocolate fudge base. Believe me this is so easy!
Melt a stick of butter and then whisk in some cocoa powder and vanilla. Let it cool slightly before pouring into a mixing bowl. Add some milk and powdered sugar until a soft dough comes together. Press it into a pan and let it set. See I told you it was easy. These are actually more like frosting bites in fudge form! Just thought you would like that tidbit of info 🙂
Now get your turkey ingredients together. For my turkeys this year I used mini Peppermint Patties, mini orange M&M's (make sure you get the mini's, or your turkey will have a honkin' beak...I just realized I didn't add mini to my pic below), candy corn, and some fun edible eyes. Googly eye treats totally make me sooo happy!
Oh, and you will need some melting chocolate to put the turkey all together. Yet another thing I forgot in my pic. Sheesh, I'm seriously slacking y'all.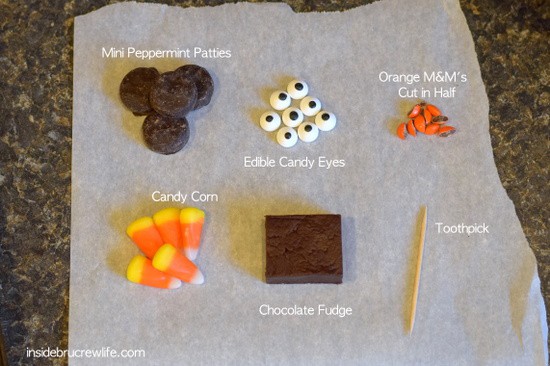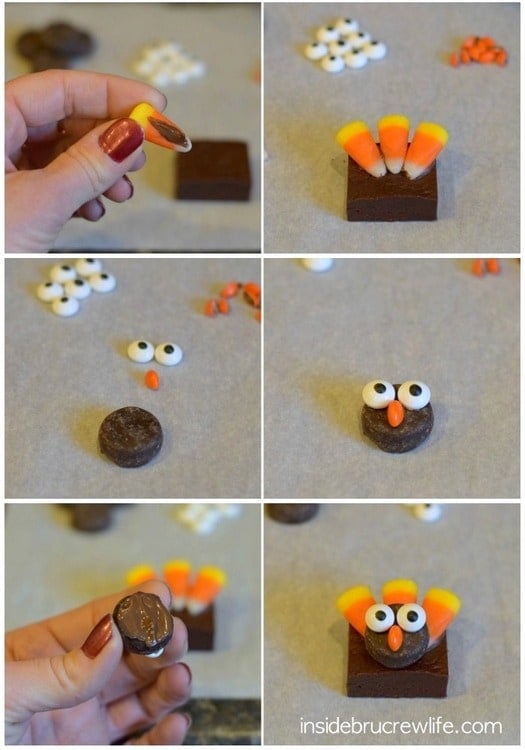 Now for the turkey making how to...
1. Melt your melting chocolate according to the package directions. Then use the toothpick to add a little bit to the back of one candy corn at a time. Go ahead and let the candy corn hang off the back of the fudge square a little bit. Use a total of 3 for tail feathers.
2. For the turkey body, you will attach half a mini M&M and 2 edible eyes using the toothpick and melted chocolate.
3. Let those bodies set up for a minute, then flip them over and spread some chocolate all over the back of your mini Peppermint Pattie. Press it on to the fudge square and candy corn. Let set while you admire your nails and the fact that they weren't chipped for the photo shoot! Winning!
Voila! Your adorable turkeys are now ready for a party! Or for you to just devour one by one. Totally your call.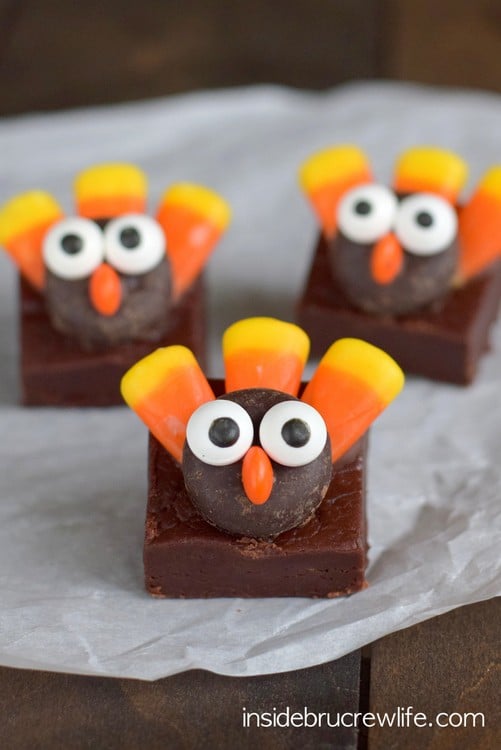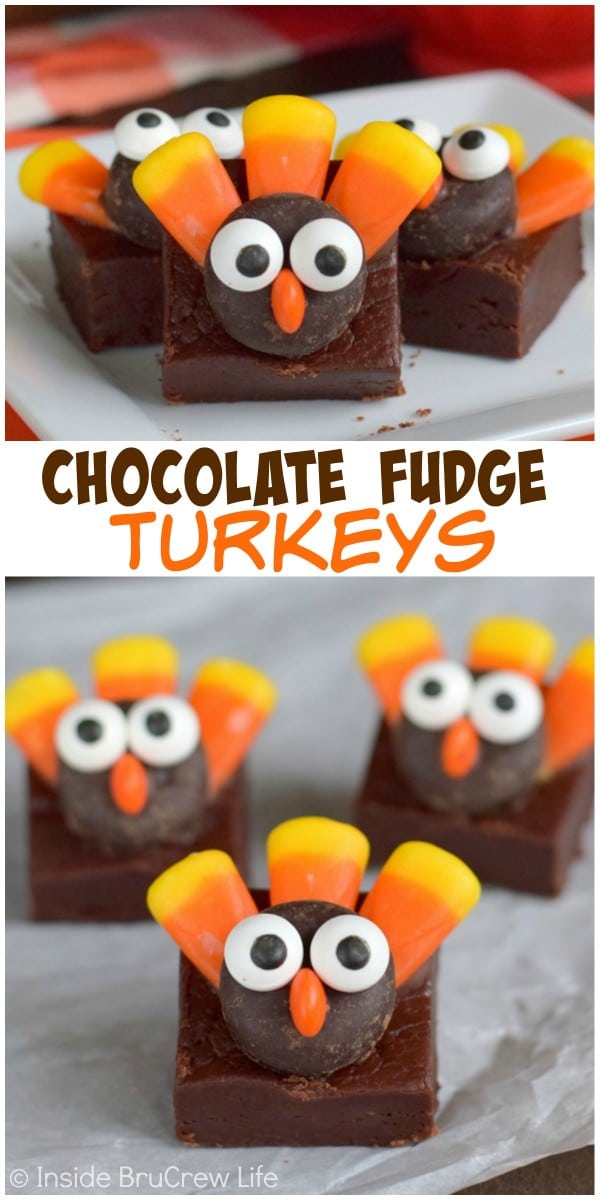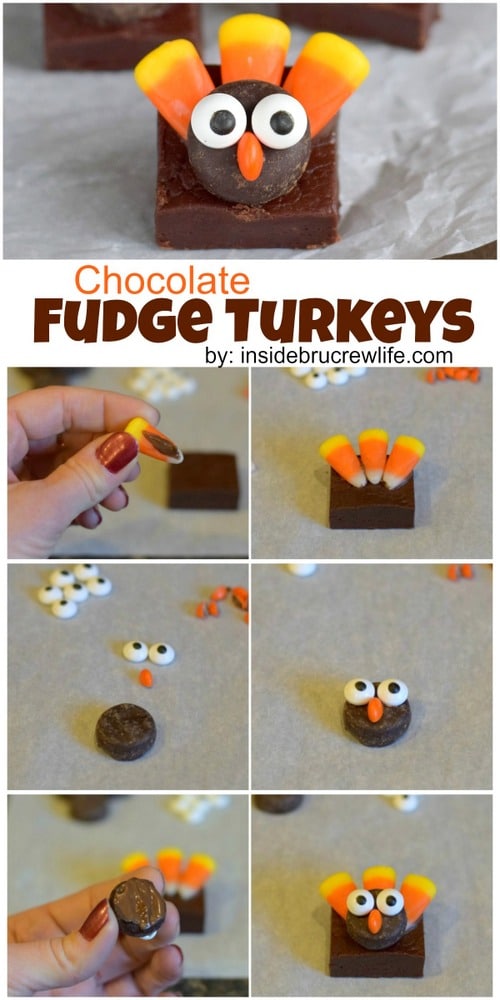 A few more fun turkey treats we like to make and share: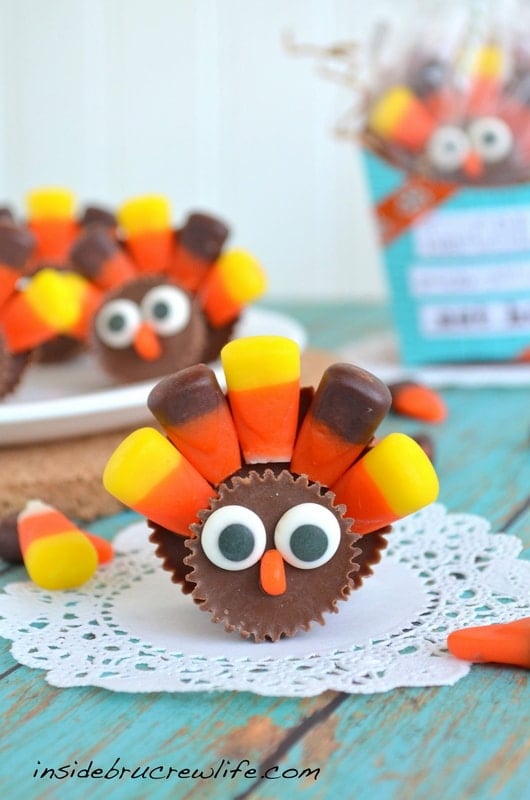 Reese's Turkeys: 2 different sizes of Reese's, some candy corn, eyes, and a beak makes the cutest and sweetest turkey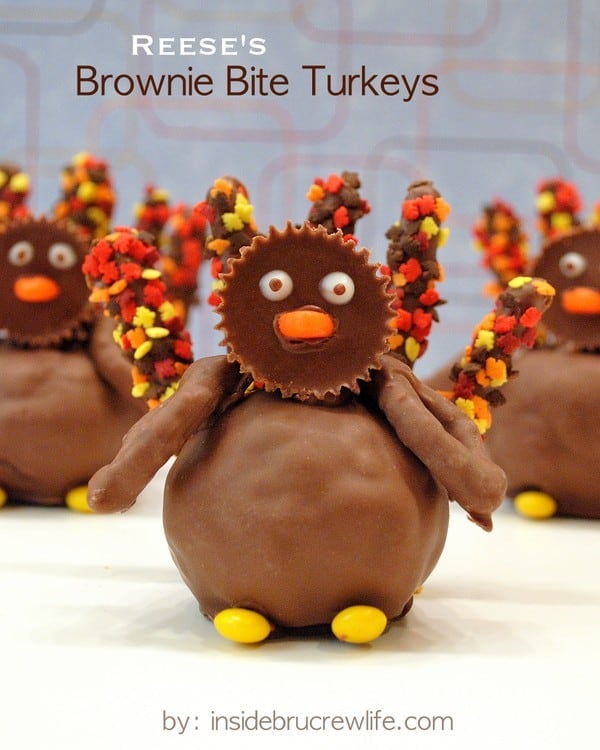 Reese's Brownie Bite Turkeys: brownie squares wrapped around a peanut butter cup then dipped in chocolate forms this sweet turkey body. Another peanut butter cup becomes a head and chocolate covered pretzels make feathers.
*I was sent product from Rodelle to create fun recipes in my kitchen. No compensation was given for this recipe or post. All opinions are 100% my own.