These easy no bake Chocolate Mojo Bars are loaded with pretzels, nuts, and chocolate. Great snack or breakfast treat to enjoy.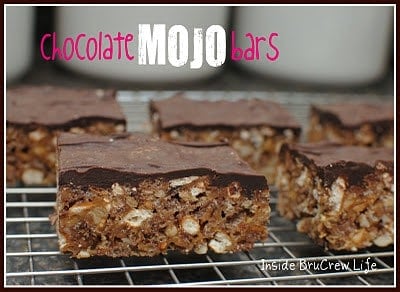 Do you get inspired by things you are eating?
A couple weeks ago I was on my way to pick up
our kids from school, so I grabbed a Cliff Mojo bar
I was just driving along minding my own business
There are quite a few red lights on the way
and as I sat at one of them
This Mojo Bar resembles a rice krispie treat!!!
What a fun way to change up an easy no bake item.
So on the next shopping trip I stocked up on items
There is a difference though...the Mojo bar is a healthy snack
and I would love to tell you mine is healthy too...
but something about adding butter and marshmallows
to healthy items... it kinda ramps up the fat factor.
But that's ok because with all the extra shopping
you are doing this month, you need a little more
healthy fats in your diet.
Just think of these as power bars to help you
make it through all those shopping trips!
So go ahead and make these and then
put them in your purse for when the cravings hit
and you are stuck in line at the store or post office.