The holidays call for lots of chocolate and peppermint, especially when it looks like this Chocolate Peppermint Layer Cake. Homemade cake with a marshmallow frosting and candies give this sweet treat a holiday flair.
*I am partnering with the Cake Boss Baking site this month to bring you new recipes showcasing their products.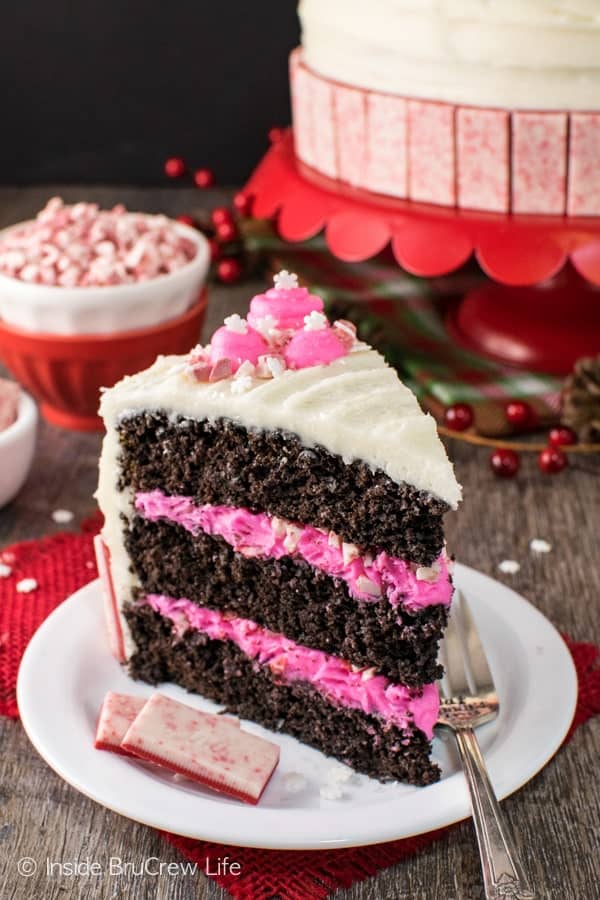 CLICK HERE TO PIN THIS RECIPE FOR LATER!
I will never understand people in parking lots. The other day we were out shopping. The parking lots and stores were busy because everyone else was doing last minute Christmas shopping too.
We pulled into one aisle behind another vehicle, when suddenly she stopped to wait for someone putting bags in their car. They had just started to unload the cart, so it was going to be a while. This is the moment when you decide to keep looking for a spot. Or I don't know, maybe park in an open spot farther away.
Since she was still waiting, we went around her and found a spot at the end of another aisle. As we were walking into the store, we looked back. Sure enough, that vehicle was still sitting there waiting.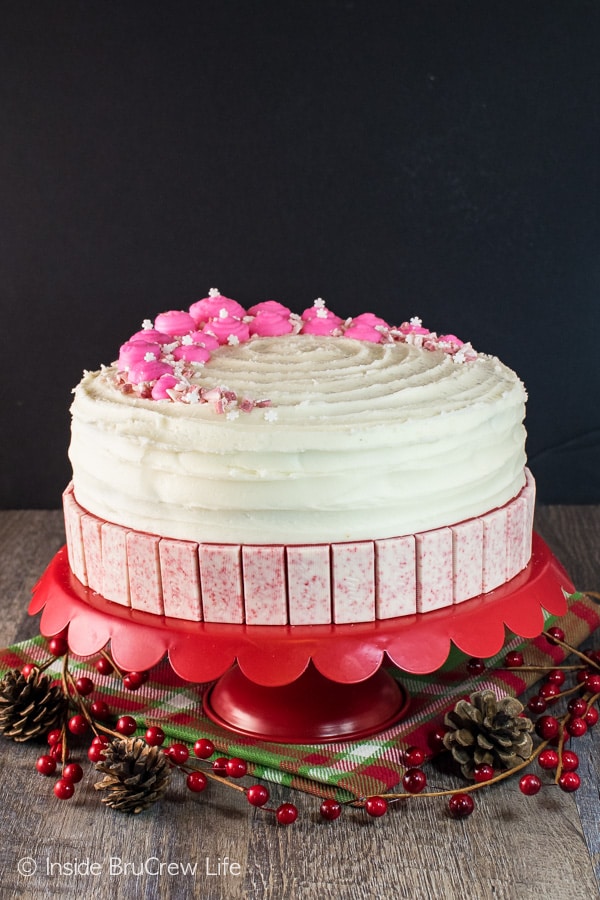 I don't get it. You are getting out of your car to do some walking in the store. Why not just park a few spots away and get a little bit more exercise?
It is the season for all the cookies and fudge. I know I'm guilty of snagging a few extra pieces here and there, so I'm all for a little extra walking. The way I look at it is that if I park farther away, I have permission to eat another slice of cake later. Winning.
Speaking of cake, let's chat about this pretty chocolate peppermint layer cake because I know you are drooling over it. This month I am working with Cake Boss Baking to bring you recipes using some of their products. For this recipe, I chose this cake pan and cake lifter because I was feeling like cake.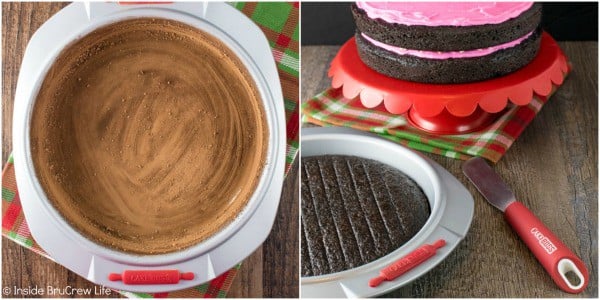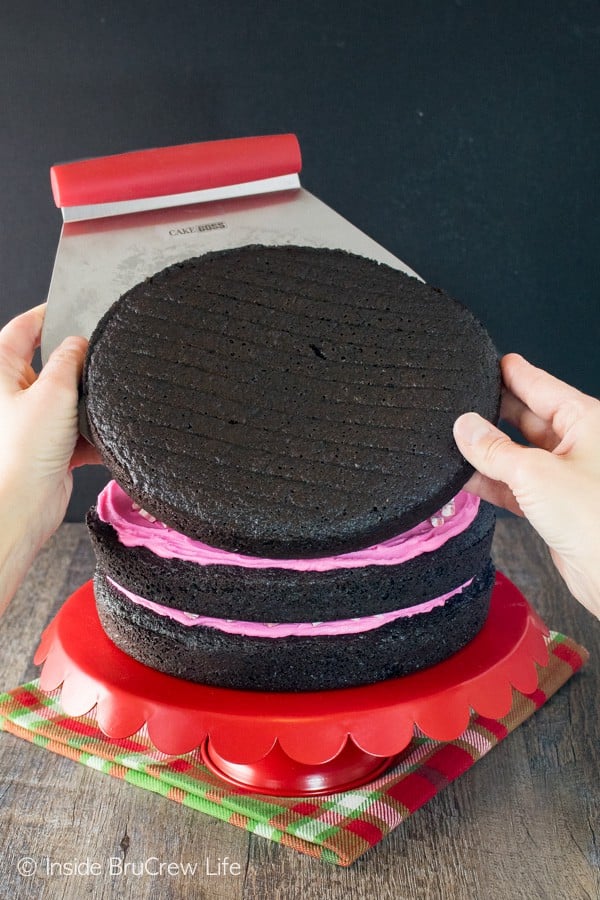 Over the years, I have made my fair share of cakes. There have been plenty of times that I have held my breath as I picked up a cake to place it on top. Thank goodness for layers of frosting that hide cracks, right?
The cake lifter from Cake Boss is the perfect tool to use when sliding cake layers in place. The rubberized handle gives you control as you slide the base under cake layers or pies.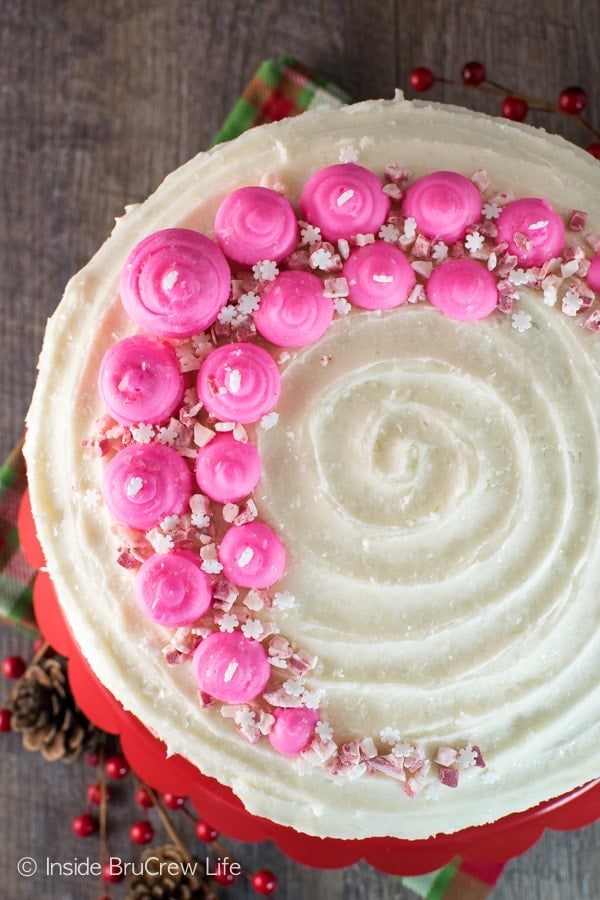 Here are some easy tips for making this homemade cake:
Grease your cake pans, then dust them with cocoa powder because flour will leave a white layer on your finished cake.
Make sure you beat your softened butter and sugar until it is light and fluffy. This will add air to your mixture, so that your cake layers will rise better.
Divide your cake batter evenly into 3 bowls. Each cake layer uses 2 cups of batter.
Cool the cakes in the pan for 10 minutes before flipping them out onto a cooling rack.
Add pink gel color to 2 cups of frosting. Adjust the color to your liking by adding more or less. Set aside a little bit, so that you can decorate the top later.
Layer the cake, pink frosting, and peppermint baking chips. Cover the entire cake with the remaining white frosting.
Use the remaining pink frosting, candies, and sprinkles to add a fun holiday flair to the top of the cake.
Make sure to head over to the Cake Boss Baking Site to print the full chocolate peppermint layer cake recipe.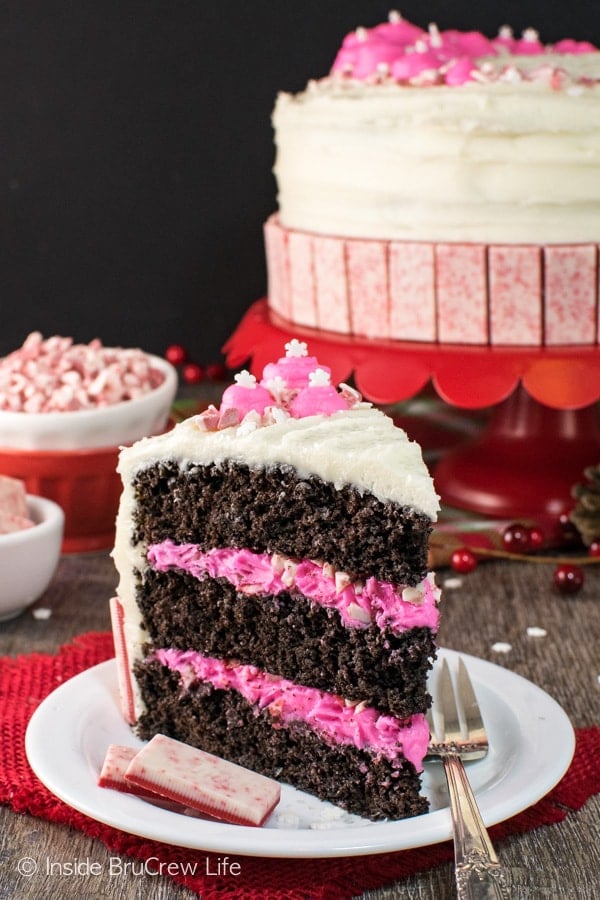 Connect more with Cake Boss Baking:
Facebook | Twitter | Pinterest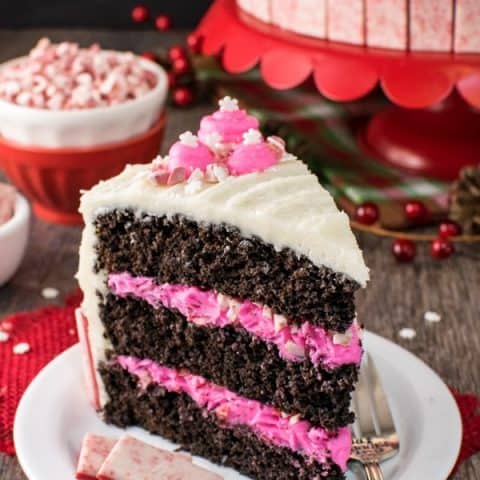 Chocolate Peppermint Layer Cake
Yield:
1 - 9 inch layer cake/14 slices
The holidays call for lots of chocolate and peppermint, especially when it looks like this Chocolate Peppermint Layer Cake. Homemade cake with a marshmallow frosting and candies give this sweet treat a holiday flair.
Ingredients
For the Cake
3/4 cup butter softened
2 cups sugar
3 eggs
2 teaspoons vanilla
1 teaspoon baking soda
3/4 teaspoon baking powder
2 cups flour
3/4 cup dark cocoa powder
1 teaspoon salt
3/4 cup buttermilk
3/4 cup water
!For the Frosting
1 cup butter softened
1 cup marshmallow cream
1 teaspoon salt
2 teaspoons vanilla
1 1/2 teaspoons peppermint extract
8 cups powdered sugar
3/4 cup heavy whipping cream
1/2 cup peppermint crunch baking chips
pink gel icing color
snowflake sprinkles
clear edible glitter
Instructions
Preheat the oven to 350 degrees. Grease 3 - 9 inch cake pans with shortening and dust with cocoa powder.
Beat the butter and sugar until light and fluffy. Add the eggs and vanilla and beat again.
Sift together the flour, cocoa powder, baking soda, baking powder, and salt. Alternately add the flour mixture with the buttermilk and water to the bowl. Beat until mixed together.
Spoon 2 cups of the batter into each prepared pan. Bake for 22-24 minutes, or until a toothpick inserted in the center comes out mostly clean.
Cool 10 minutes in the pan and then flip the cakes out onto a wire rack to cool completely.
Beat the butter and marshmallow cream until creamy. Add the salt, vanilla, and peppermint and beat again.
Alternately add the powdered sugar and heavy whipping cream to the butter mixture until everything is mixed in. Beat on high for 2 minutes or until light and fluffy.
Remove 2 cups of frosting and tint pink with the gel coloring. Set aside 1/4 cup to use as decorations.
Place one cake layer on a cake plate. Spread half the pink frosting on top of the cake layer. Top with 1/4 cup peppermint baking chips.
Add another cake layer and repeat the pink frosting and peppermint chips. Place the last cake layer on top.
Use the white frosting to cover the entire cake. Use the tip of a decorating spatula to create slight lines in the sides and top of the cake as you spin it on a cake turntable.
Spoon the reserved pink frosting into a piping bag fitted with tip #12. Use this to decorate the top of the cake with pink dots.
Sprinkle the cake with clear glitter, peppermint baking bits, and snowflake sprinkles. Store in a covered container.
Nutrition Information:
Yield:

14
Serving Size:

1
Amount Per Serving:
Calories:

768
Total Fat:

31g
Saturated Fat:

18g
Trans Fat:

1g
Unsaturated Fat:

10g
Cholesterol:

116mg
Sodium:

674mg
Carbohydrates:

120g
Fiber:

2g
Sugar:

99g
Protein:

5g

*Inside BruCrew Life was sent product to review and was compensated to create a recipe for the Cake Boss Baking site. As always, all opinions are 100% my own. Thank you for letting us share products and brands that we use and love.