These no bake Chocolate Peppermint Wafers are an easy treat to make and share with friends at all your holiday parties.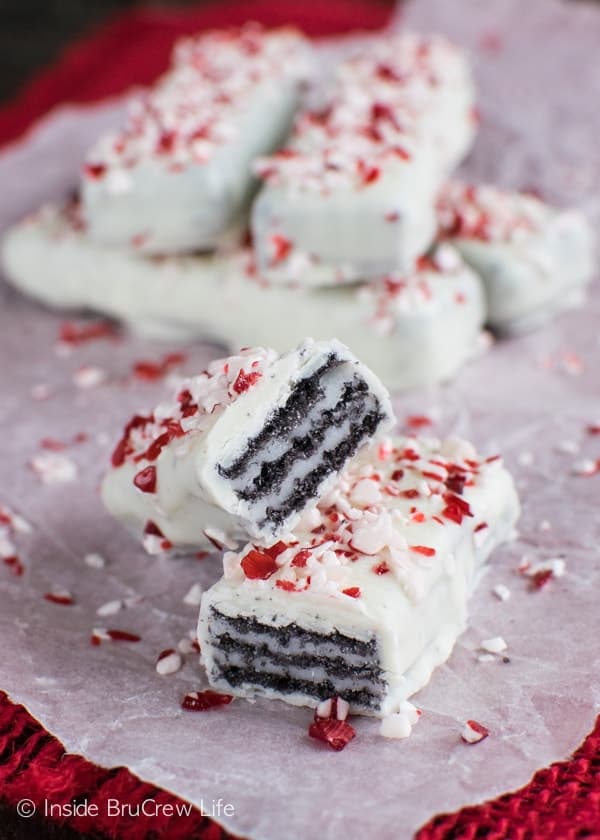 Hi, my name is Jocelyn, and I cannot stop with the peppermint. Seriously, nothing is safe in our kitchen! I have been dipping and peppermint-ing all the things! My family is starting to look at me like I'm a crazy woman. Ok, that might be true...
Adding peppermint is just how I am celebrating the holidays this year. This month we are packing up to make a major move, so we are not decorating anything because everything is in boxes. It doesn't feel like much of a holiday month right now. Maybe a few more mugs of peppermint mocha hot chocolate will help!
My way of making our house feel holiday ready is to keep the peppermint goodness flowing out of the kitchen. I may have started in the middle of November and haven't stopped yet.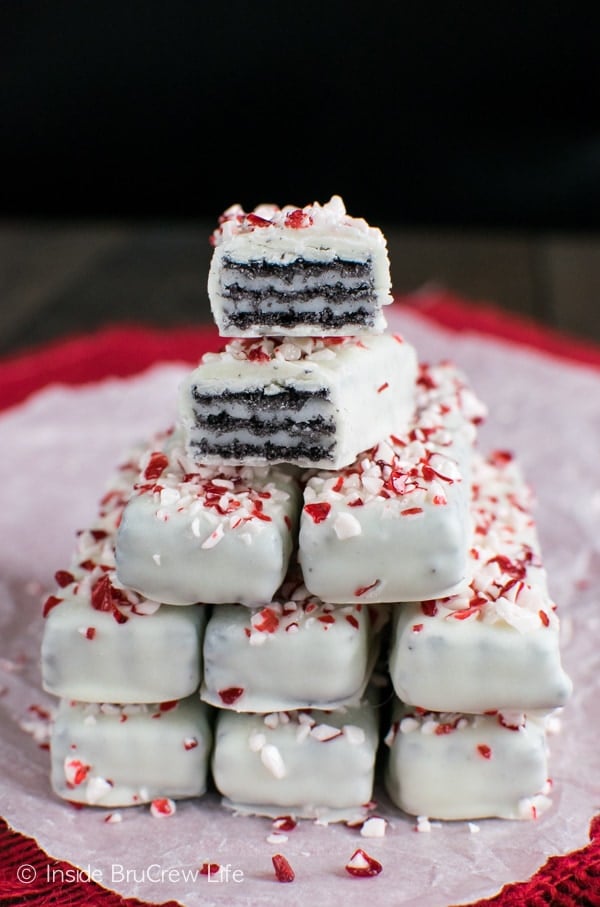 A few weeks ago I was making a baking supplies run to Walmart when I saw these cookies'n creme wafers and had to buy some! My family saw them on the counter and thought snack time.
They should have known better!
My plan was to dip them in white chocolate and add my beloved peppermint bits! Oh, yeah! You saw that coming, right?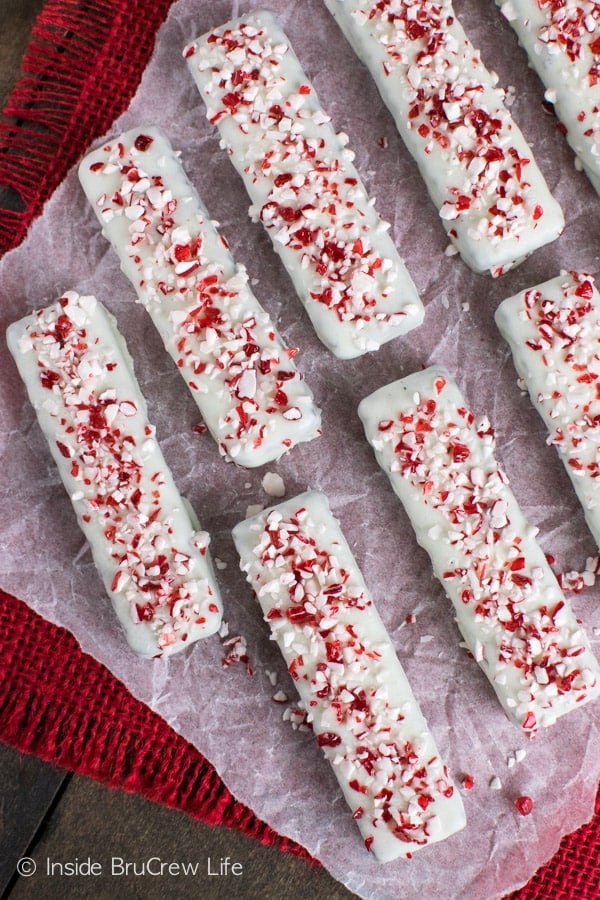 I'm almost embarrassed to call this a recipe. But hey, cookies, chocolate, peppermint...it's a recipe, right?
We will call this a treat win for the non-bakers out there. This "recipe" is perfect for those of you who do not bake, but want an easy and awesome looking treat to take to parties.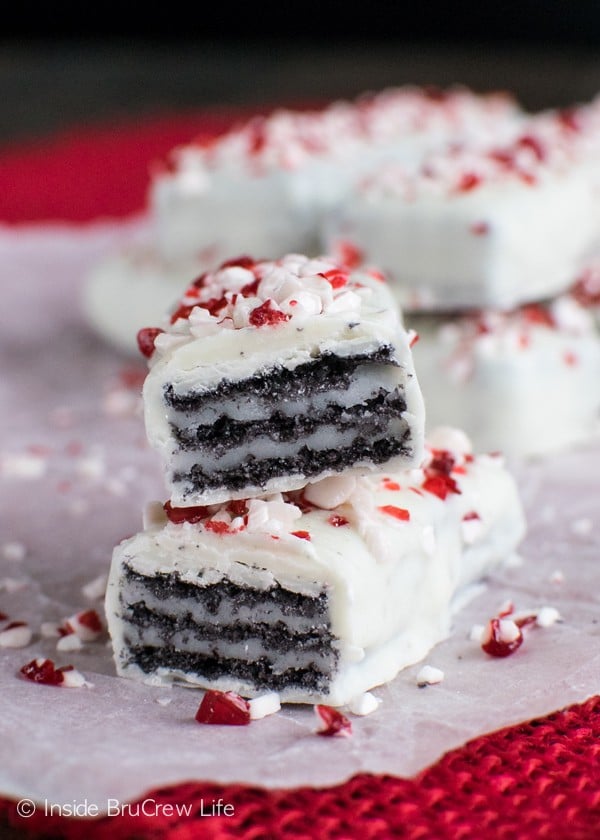 How to Dip Cookies in Chocolate
Use a good melting chocolate to dip the cookies in. I like Ghirardelli white chocolate melts.
Place the candy melts in a microwave safe bowl and heat 1-2 minutes, stirring occasionally.
Open the package of cookies and brush off the excess crumbs on the sides.
Drop one cookie at a time in the melted chocolate & use a spoon to cover them.
Use a fork to lift the cookie out of the chocolate. Tap the fork on the side of the bowl to help the extra chocolate drip off. Be careful not to tap too hard or the cookie will fall off.
Place on a piece of wax paper & sprinkle with peppermint bits and let set.
See I told you these were a super easy treat to make. In 30 minutes you can have a fun festive treat that everyone will love.
These have been sitting on my counter, and I can't stop eating them. Someone please come take the plate of chocolate peppermint wafers away from me. My jeans are starting to hate me!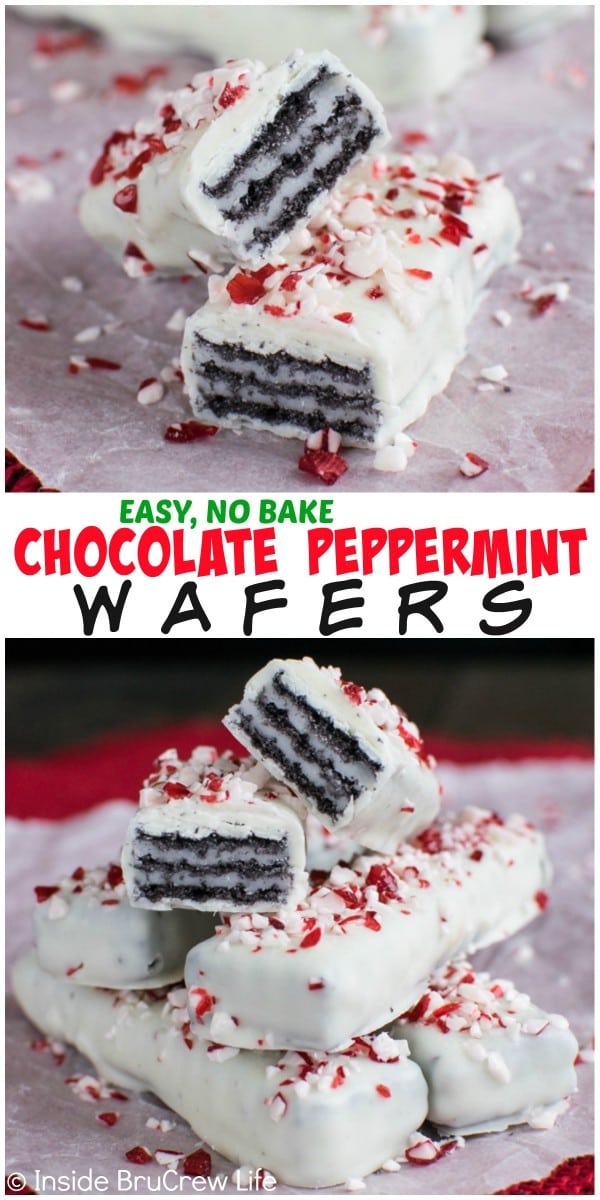 *This post contains affiliate links. Inside BruCrew Life does make a very small percentage of sales made through these links. Thank you for letting us share brands and products that we love.