Every so often I like to change up our meals around here.  So when I was asked to try out the Van De Kamp's/Mrs. Paul's Fish Tenders and the Bird's Eye Vegetables, I knew right away I wanted to have some citrus fish tacos for our dinner this week.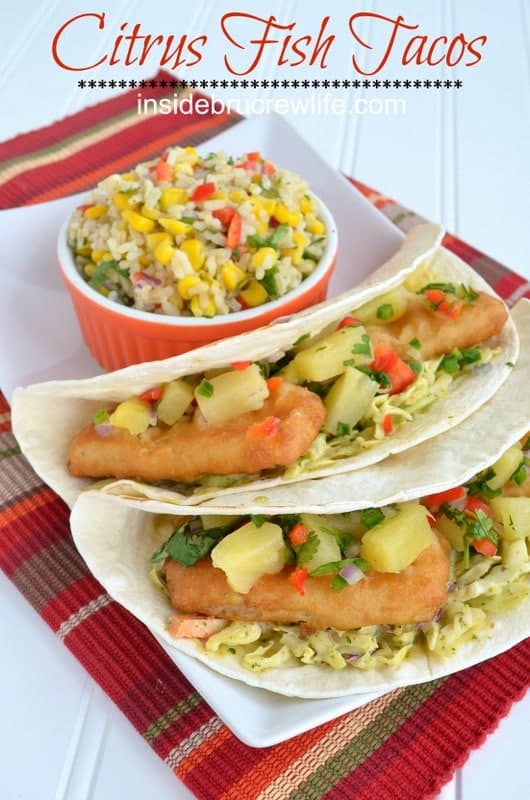 We usually eat chicken or beef in our tacos, so I was excited to try the fish tacos.  It was actually our first time having them.  We don't usually have fish very often for our meals.  Maybe with new recipes like this, we will start incorporating it in our dinner menu more often.
I decided on our side dish and taco toppings and then headed out to Walmart for all my ingredients.  You can see my whole shop over on my Google+ page.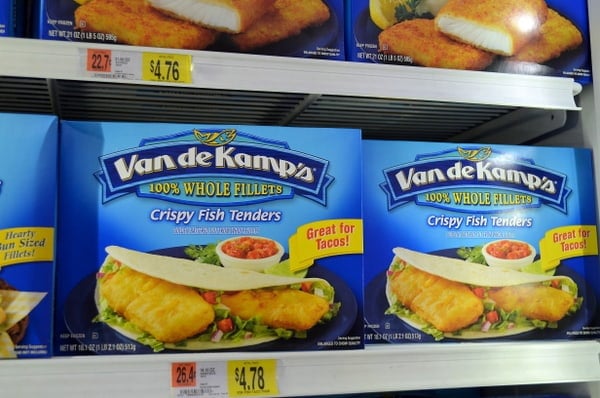 Now depending on what part of the country you live in will determine if you can find Van de Kamp's or Mrs. Paul's fish tenders.   My local store happens to carry the Van de Kamp's fish tenders.   I love that both companies use 100% whole fillets for their fish tenders.  These are great quality products to keep in your freezer for quick and easy dinners.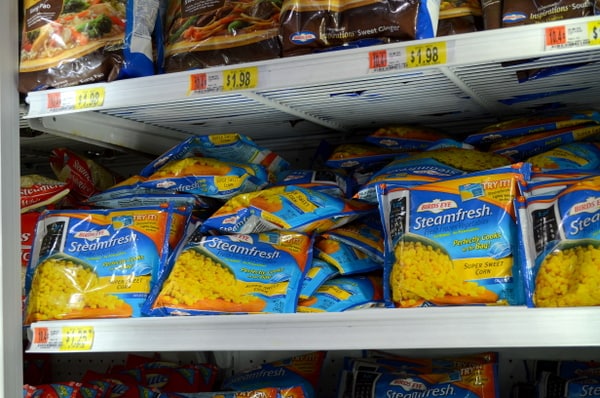 Bird's Eye vegetables are also a high quality, healthy option.  The company flash freezes the product to protect the color, flavor, and texture. I love the packages that you can just cook in the bag.  That saves me time washing dishes later.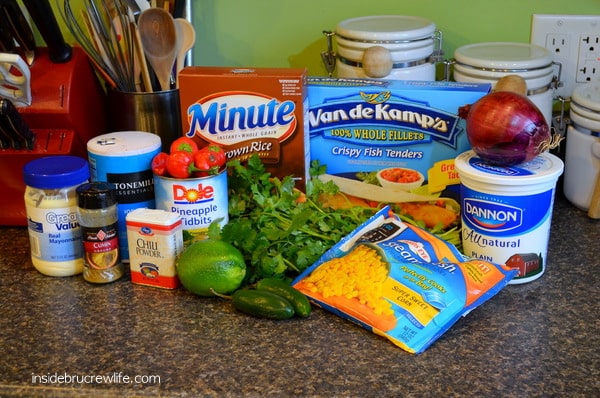 The first thing I did when I got the ingredients home, was to create the fruit salsa.   You want to give those flavors time to blend and mix while you prepare the rest of the meal.  I chopped up all the veggies at once, setting aside some for the rice I was making a little bit later.  Give the salsa ingredients a little stir and put the bowl in the refrigerator until later.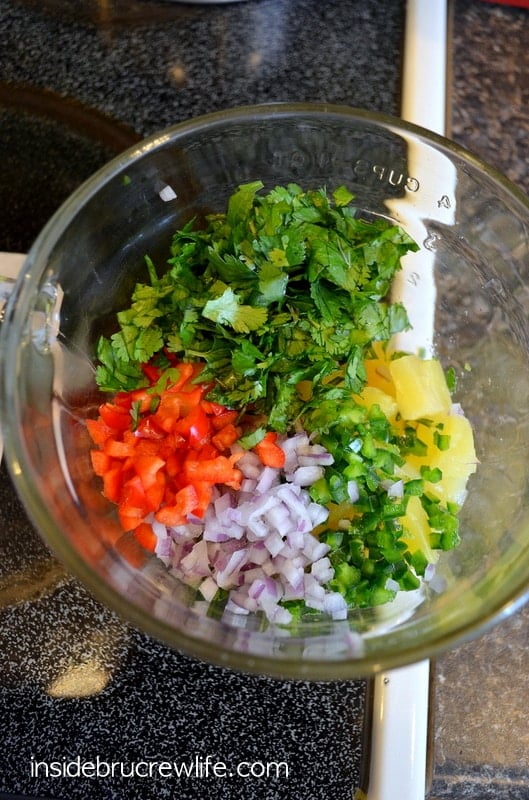 The next thing I make up is the cole slaw sauce.  I like to throw all the ingredients into my food processor.  In two minutes, you have a fresh sauce with great flavor.  Toss in the bagged cole slaw and into the refrigerator it goes.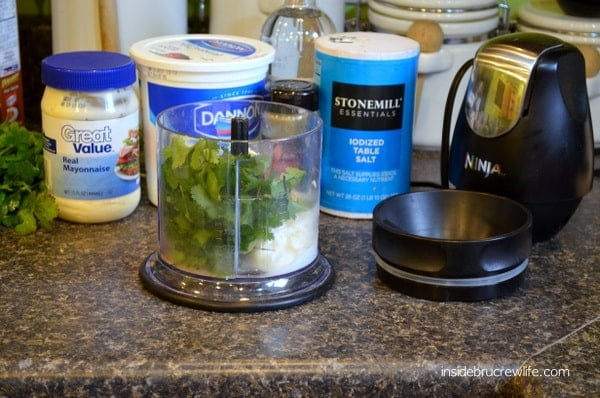 Now the fish goes into the oven, and I can concentrate on making some rice.  By choosing the 10 minute rice, I can have the rice put together and finished while the fish is cooking.
All that is left to do is to set the table and to plate the tacos.    The fruit salsa was the perfect addition to our citrus fish tacos.  We loved how all the citrus flavors went so well with the fish and the veggie rice.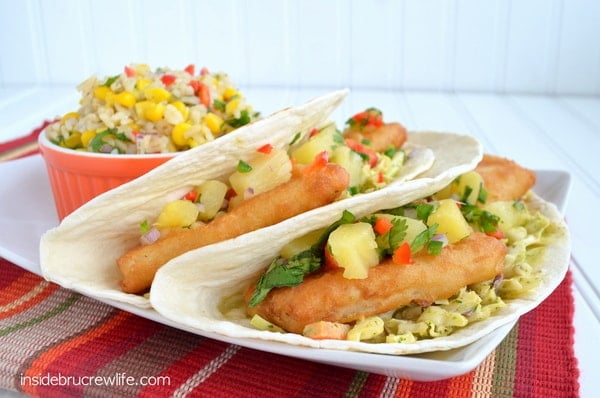 It is nice to have a dinner recipe on hand that can be made in a short amount of time.   I love a meal that is quick to prepare and gives you restaurant flavor.
Be sure to enter the Win Dinner with the Neelys Giveaway!  One lucky grand prize winner gets a trip for two to NYC and dinner with the Neelys.  There is also $1 off coupon you can print for Van de Kamp's fish products!!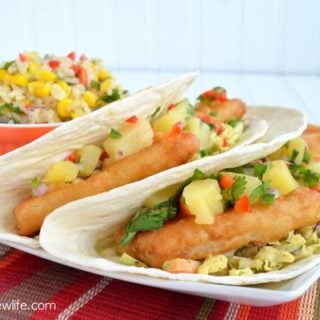 Citrus Fish Tacos
Citrus fish tacos with a side of Rice and Corn.
Ingredients
Pineapple Lime Salsa!
1 (20 oz.) can of pineapple tidbits
1 finely diced jalapeno (about 2 Tbsp.)
2 Tbsp. finely diced red onion
2 Tbsp. finely diced red pepper
1 Tbsp. lime juice
Cilantro Lime Cole Slaw!
1/2 cup mayonnaise
1/2 cup plain yogurt
1 teaspoon chili powder
1/4 teaspoon cumin
1/4 teaspoon salt
1 cup loose cilantro leaves
2 Tablespoon lime juice
2 Tablespoon white vinegar
5 cups coleslaw mix
Rice and Corn!
2 cups uncooked instant brown rice
2 Tablespoons finely diced red onion
2 Tablespoons finely diced red pepper
1 finely diced jalapeno pepper (2 Tbsp.)
1 bag (12 oz.) corn
salt and pepper
1 Tablespoon lime juice
Fish Tacos!
1 box of fish tenders (18.1 oz.)
flour tortillas
Instructions
Combine all the salsa ingredients in a bowl and stir together. Place in the refrigerator for later.
Place the mayonnaise, yogurt, chili powder, cumin, salt, cilantro, lime, and vinegar in a food processor. Puree until smooth. Toss with the coleslaw mix. Place in the refrigerator for later.
Place fish on a baking sheet and cook according to box directions.
Boil water and cook rice according to package directions. When the rice is done cooking, stir in the onion, red pepper, jalapeno pepper, and corn. Season to taste with the salt and pepper and lime juice. Keep warm.
Serve the fish on tortillas with coleslaw and salsa on top and the rice on the side.
I am a member of the Collective Bias®  Social Fabric® Community.  This shop has been compensated as part of a social shopper insights study for Collective Bias®  and Pinnacle Foods Group #cbias #SocialFabric #FishnVeggies