This Coconut Butterscotch Banana Bread is a fun way to change up your traditional banana bread. It is a delicious way to start any day.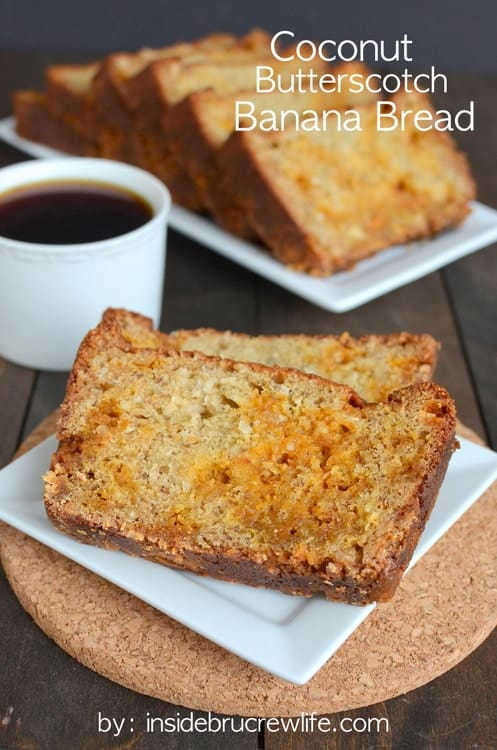 This week I learned to never leave my keys in the van, even if you are coming right back out.
My daughter and I were out shopping earlier this week, and we got home just in time to head back out for a meeting. I had about 5 minutes to run inside and freshen up, so I thought I would just leave the keys in the middle console. Bad idea because apparently when I dropped the keys down and jumped out, I failed to hear the van lock itself.
And the keys in the van were the only set we have. The spare has taken up residence somewhere in the house, and no one knows where.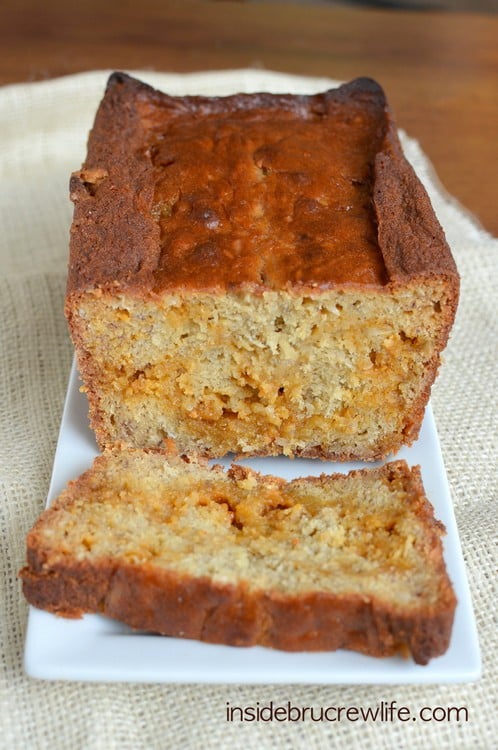 So, there I am touching up make up in the bathroom, and my husband is trying to load the dinner we are in charge of into the van. He is calling for the keys, and I keep telling him they are in the van. It's never a good idea to be rushed and looking for keys. We both were getting a little bit edgy.
Finally, we realize that the keys are in the van, the van is locked, it is starting to rain, and we needed to leave like 5 minutes ago. Time to step back and improvise.
Our church has a van that doesn't get used on Sunday nights, so my hubby ran over and picked it up. We arrived at dinner only 10 minutes late. It is times like this that you can either get angry about a situation or just deal with it.
Thankfully, we both realized it wasn't a big deal, and we didn't need to get upset with each other over something silly. In fact, we laughed about it while driving to dinner. You see my husband leaves the keys in the van ALL THE TIME, and it has never locked itself.
Later that night we pried open the edge of the door and used a piece of wood and a wire to get it open. 20 minutes and only a few minor scratches later, we got in. Lesson learned. Never just drop the keys in the middle...even if you are coming right back out.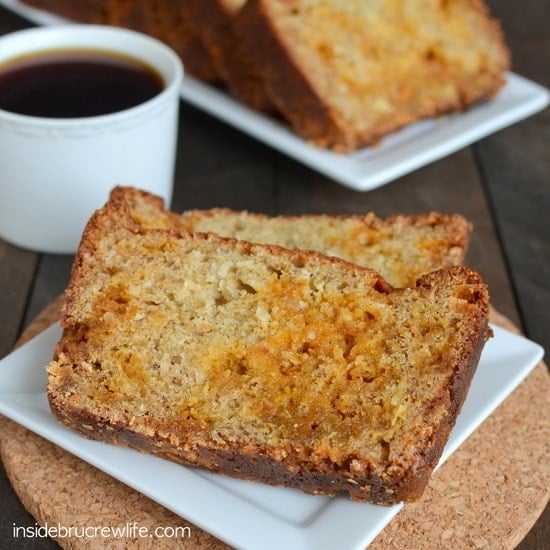 Something else I learned this week.
It is a good idea to go through old picture files every so often. This banana bread has been sitting waiting for me to share it with you for a year! A whole year I have been holding out on you!!! Of course with all the crazy baking I do, I'm surprised I don't forget to share things more often.
This sour cream banana bread gets a fun twist from the coconut and butterscotch chips. I absolutely love butterscotch, but for some reason I never use it that often. That's got to change. After a year of waiting to share, I made another loaf of this bread. It was as delicious as I remembered it being.
I like to bake this bread in one big loaf. It is thick and takes over an hour to bake. If your edges start to get too dark, you can cover them with foil towards the end of baking.
Also if you are not a fun of coconut, feel free to leave it out. You can also use vanilla extract in place of the rum extract. This is such an easy bread to customize. Feel free to go crazy and just use chocolate chips, or peanut butter chips, or even vanilla chips. Or maybe try all three!!!
I am now feeling the urge to go make more banana bread. This time I promise to not wait a year to share it with you. Unless I have locked myself out again...then you will find me in the closet eating the bread!