Mornings that start with homemade cinnamon rolls are the best. These no yeast Chocolate Cinnamon Rolls with cream cheese frosting are even better than the best. Start the coffee and get rolling because these are perfect for celebrating any morning with.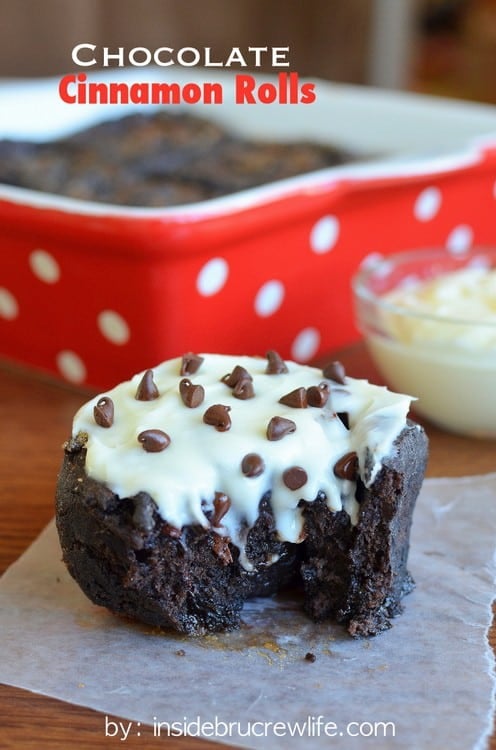 These chocolate cinnamon rolls are crazy. Crazy good that is!
I love to make fun breakfasts for my kids. We do muffins quite often, and usually every time I bake, I make a different kind. My daughter always asks if they have chocolate chips in them. She likes all of them we try, but put chocolate chips in them and it totally makes her day. And really any day that starts with chocolate makes me smile too.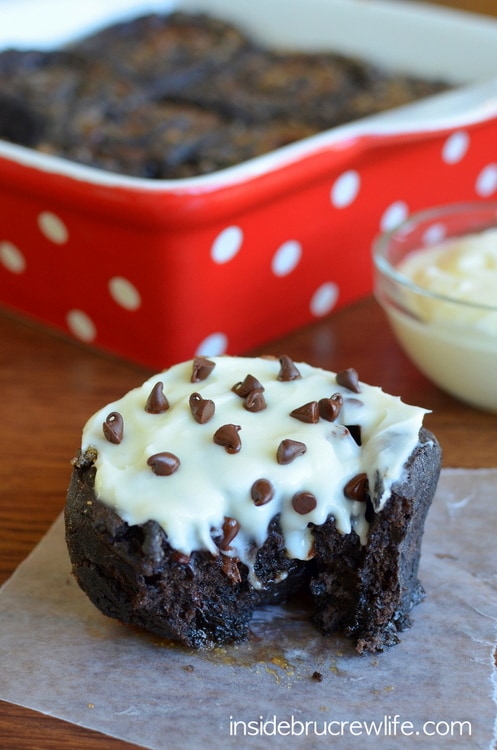 A few years ago, I started making no yeast cinnamon rolls for my family. Gotta love a cinnamon roll that can be made and eaten in about 45 minutes.
The dough in these rolls is a little bit different than yeast dough, but it still tastes absolutely delicious. I knew I wanted to revise my recipe to include some chocolate somehow. At first I was going to add more chocolate to the filling, but the more I thought about it, I decided to add cocoa powder to the dough. Best.decision.ever!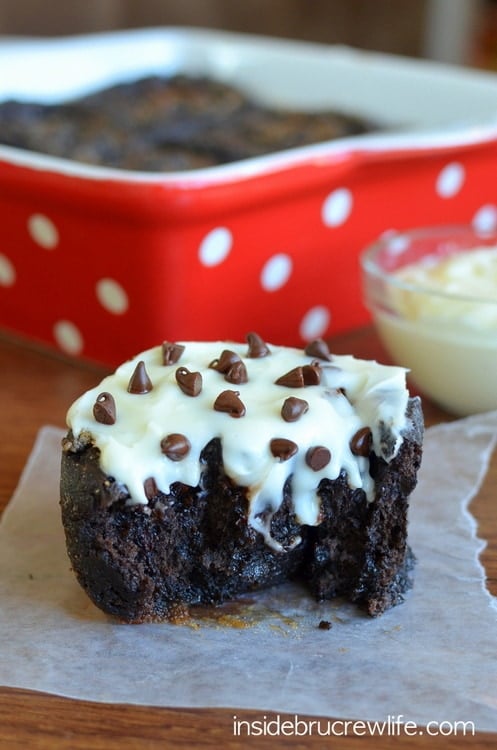 These were so chocolatey and gooey when they came out of the oven. Chocolate dough filled with butter and lots of melty sugar. What's not to love about that?
I have a feeling that this is one breakfast that will get repeated a few more times. And since I don't usually repeat things…that's a tell tale sign that we fell in love with these.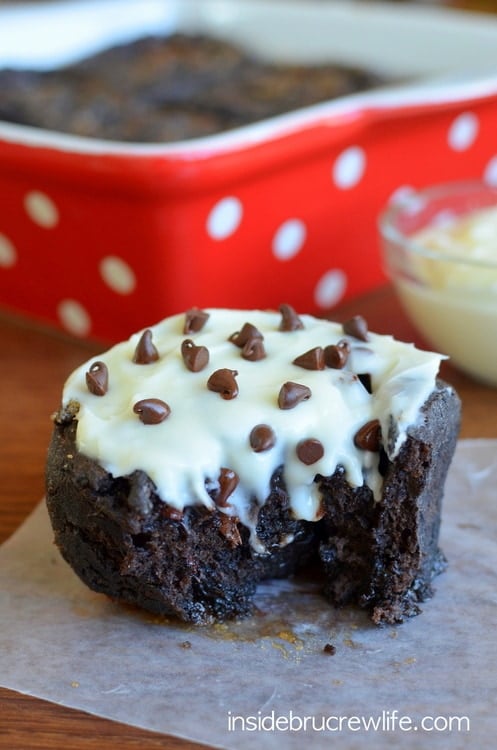 Stay up to date on all the BruCrew recipes here:
FACEBOOK | PINTEREST | GOOGLE+ | TWITTER | INSTAGRAM | BLOGLOVIN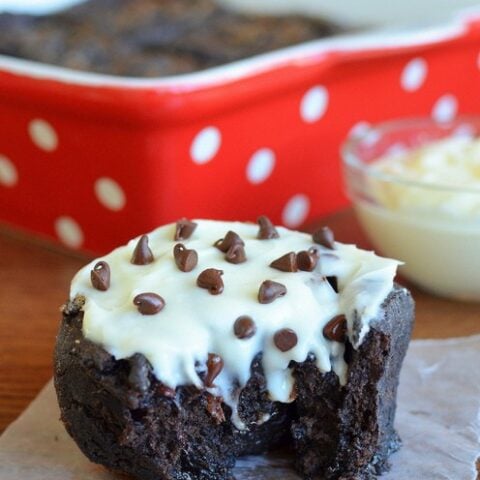 Chocolate Cinnamon Rolls
These easy NO YEAST cinnamon rolls are full of chocolate and are topped with cream cheese frosting. Chocolate is always a great way to start the day.
Ingredients
For the chocolate dough
2 1/2 cups all-purpose flour
1/2 cup cocoa powder (I used Hershey's Dark)
2 tablespoons granulated sugar
1 1/2 teaspoons baking powder
1/2 teaspoon baking soda
1/2 teaspoon salt
1 cup buttermilk
1/4 cup sour cream
7 tablespoons unsalted butter, melted and divided
For the Cinnamon Filling
3/4 cup packed brown sugar
1/4 cup granulated sugar
2 teaspoons cinnamon
1 tablespoon unsalted butter, melted
1/4 cup mini chocolate chips
For the Cream Cheese Frosting
4 ounces cream cheese, softened
1/2 cup powdered sugar
1 teaspoon milk, if needed
2 Tablespoons mini chocolate chips
Instructions
Preheat oven to 400 degrees
Sift together the flour, cocoa powder, sugar, baking powder, baking soda, and salt.
Beat in the buttermilk, sour cream, and 2 tablespoons melted butter until a soft dough forms. Do not over mix.
Place the dough ball on a well floured surface. Knead the dough 4-5 times to get a little flour into it. The dough will be a little sticky. Try not to add too much extra flour. Very carefully press the dough evenly into a 10x14 rectangle. Use a little bit of flour to keep it from sticking. Spread 2 tablespoons melted butter on top of the rectangle.
In a small bowl stir together the filling ingredients. Spoon the filling mixture over the butter. Leave about a 1/2 inch around the edge.
Carefully roll the dough into a log from the shortest side up. If the dough sticks, use a knife or spatula to gently loosen as you roll it up. Cut the log into 9 even pieces. You can also cut a small piece off either end to even it out.
Grease an 8x8 baking dish with 1 tablespoon melted butter. Place the 9 rolls in the pan. Drizzle with the last 2 Tablespoons melted butter. Bake at 400 degrees for 18 minutes. Remove and let cool slightly.
Whisk together the cream cheese and powdered sugar with a fork. If it is too thick, you can thin it out with a little milk.
Spread over the tops of the warm cinnamon rolls and sprinkle with a few mini chocolate chips.
Makes 9 rolls. Store covered in the refrigerator.
Nutrition Information:
Yield:

9
Serving Size:

1
Amount Per Serving:
Calories:

454
Total Fat:

19g
Saturated Fat:

11g
Trans Fat:

0g
Unsaturated Fat:

6g
Cholesterol:

45mg
Sodium:

370mg
Carbohydrates:

66g
Fiber:

3g
Sugar:

35g
Protein:

7g
Nutrition facts are an estimate and are not guaranteed to be accurate. If you need special diet advice, please see a registered dietician.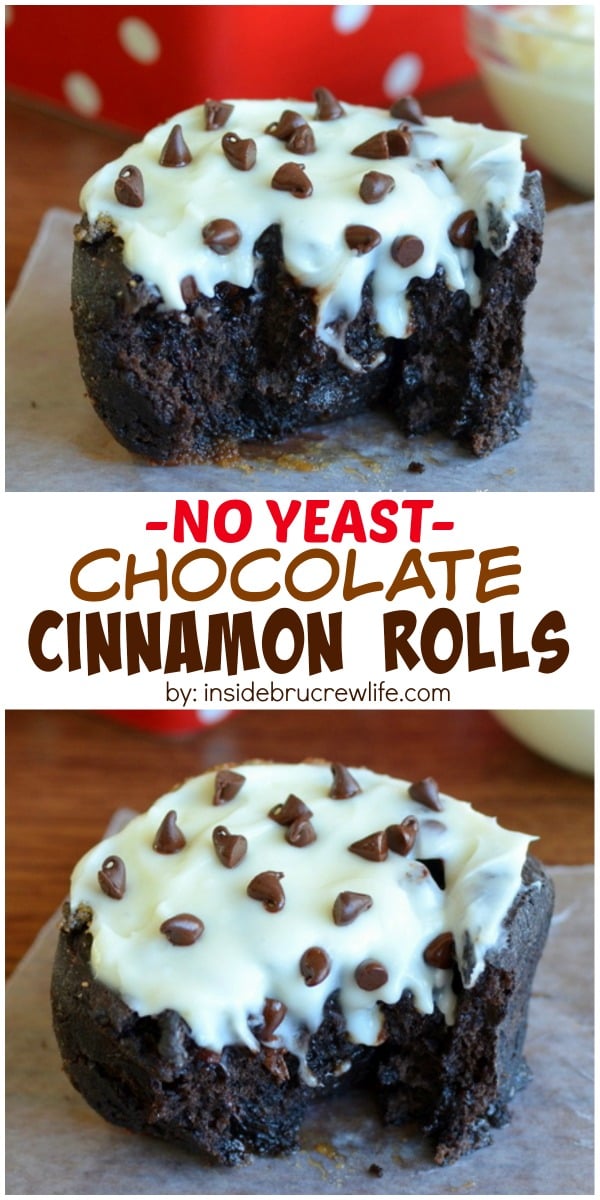 More ways we like to incorporate chocolate into our breakfast: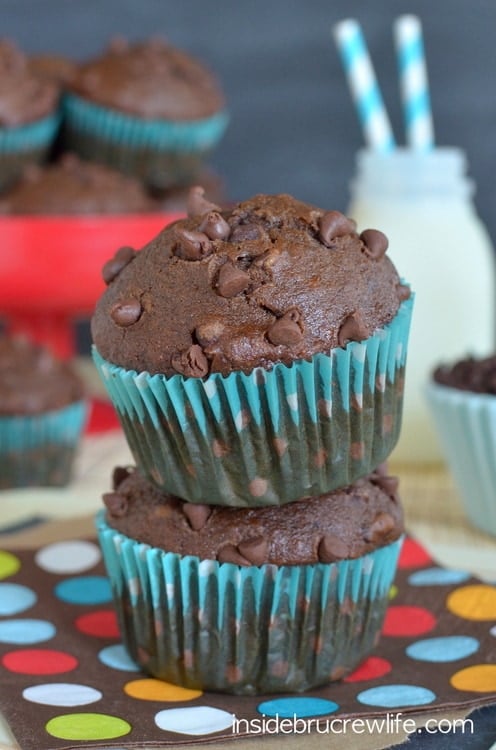 Double Chocolate Banana Muffins