Looking for the best moist banana bread recipe like grandma used to make? Look no further. Here is the recipe for the Sour Cream Banana Bread that we have been making for years.
Sour cream adds a delicious, moist texture to this easy sweet bread, so every bite will literally melt in your mouth.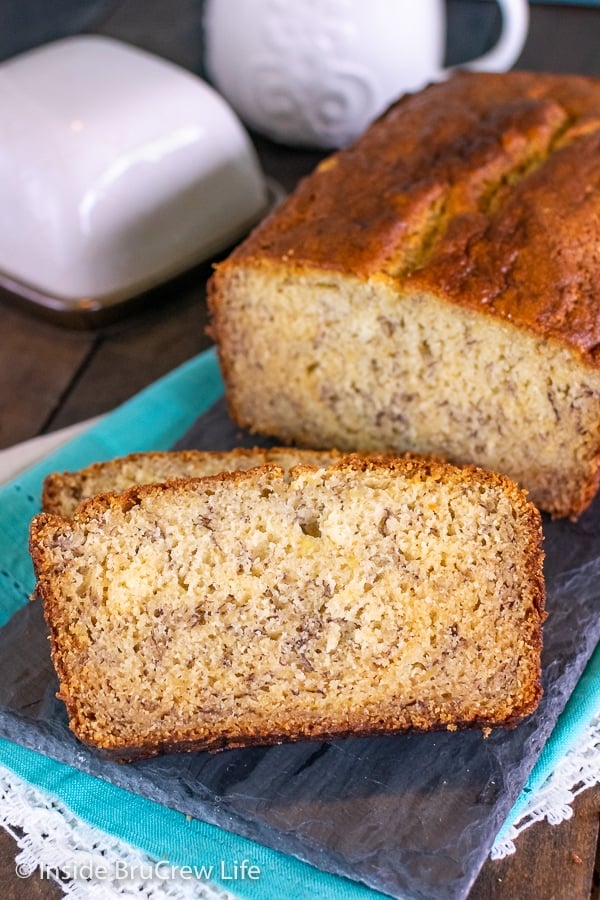 Moist Banana Bread:
The number one thing we buy every week are bananas. Some weeks our son eats them as fast as we can buy them, then other weeks they sit there getting brown and spotty.
This week we had a few extra ripe bananas sitting on the counter. You may think it's just time to throw those brown bananas away, but stop that thinking. The riper the bananas are, the better they are for a loaf of moist banana bread.
I always get a little excited when I see the bananas on the counter sitting a little longer because I love to experiment with extra ingredients. It's true. I'm like to add all the things to sour cream banana bread and make it over the top.
Have you seen this Coffee Banana Bread or this Cookies and Cream Banana Bread? Outrageous, right? But totally delicious!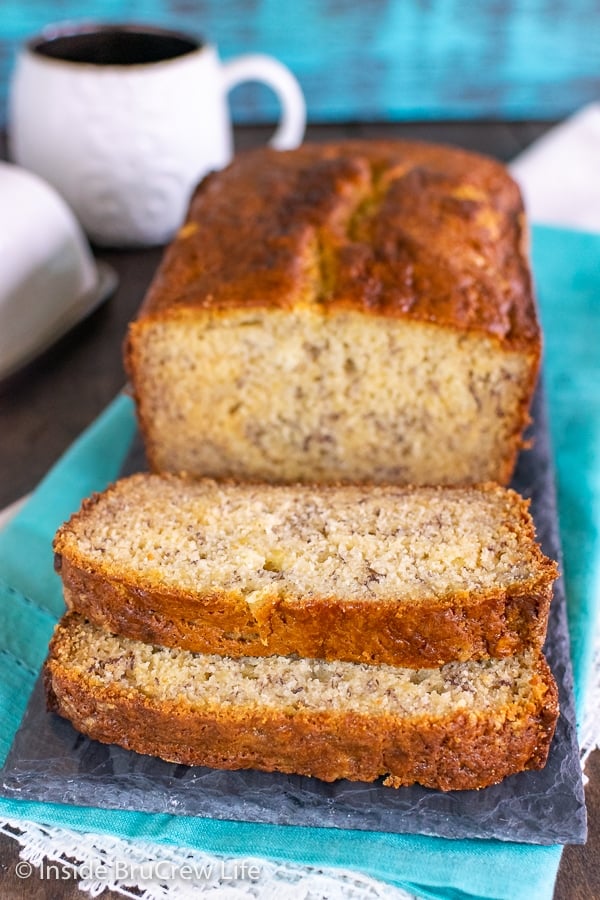 Banana Bread with Sour Cream:
I realized recently that I have never shared my absolute favorite moist banana bread recipe with you. This is the one that I use as the base for all my wild and crazy versions. What I love most about this banana bread is how easy it is to change up the mix ins.
But my family does not share my excitement in creating fun banana bread flavors, so I make this banana bread with sour cream and these Chocolate Banana Muffins just for them.
They usually hover around the kitchen when I'm making this simple banana bread, so they can dive in as soon as I flip it out of the pan. My husband says that warm banana bread with butter is the best.
BRUCREW TIP: Spray your bread pan with nonstick spray and sprinkle it with Cinnamon Sugar before adding the banana bread batter. Trust me! It adds such a delicious crunch to the sides of the banana bread that everyone will be fighting for the end pieces.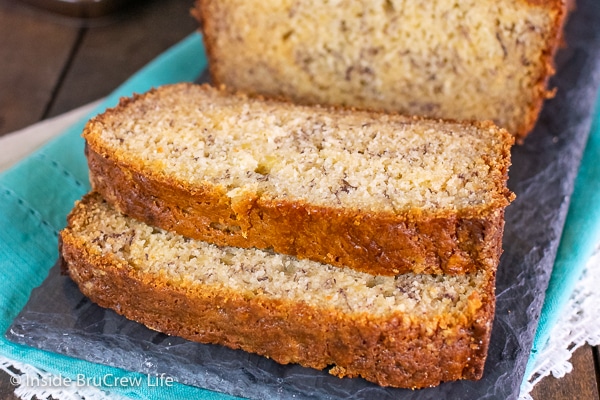 Most of the time I buy green bananas because our youngest son and I actually prefer the taste of a "green" banana over one that is very yellow and ripe. Crazy, I know?
The problem with buying green bananas is that I have to wait a long time for them to be brown and spotty, so I can make banana bread.
Sometimes I like to speed the process up with a few of these tricks, so I can enjoy a loaf of Chocolate Banana Bread quicker.
How to Quickly Ripen Bananas:
4-5 Days - Make sure you place the unripe bananas in the warmest place in your kitchen. Near a vent or a sunny window are the best choices. The top of the refrigerator is another good spot because it is warm.
1-2 Days - If you need them to ripen even faster, place the bananas in a brown paper bag along with an apple or a few ripe bananas. A plastic bag is not recommended because air cannot get in and out.
Immediately - Ripen bananas right now by putting the bananas IN PEELS on a baking sheet. Bake at 300 degrees for about 15-20 minutes, or until the peels turn dark. Let them cool, peel and scoop out the ripe banana pulp.
Soften - Place slightly ripe bananas in the microwave. Poke the peels with a fork and place them on a plate. Microwave 30-60 seconds or until soft enough. FYI: This will not increase the sweetness.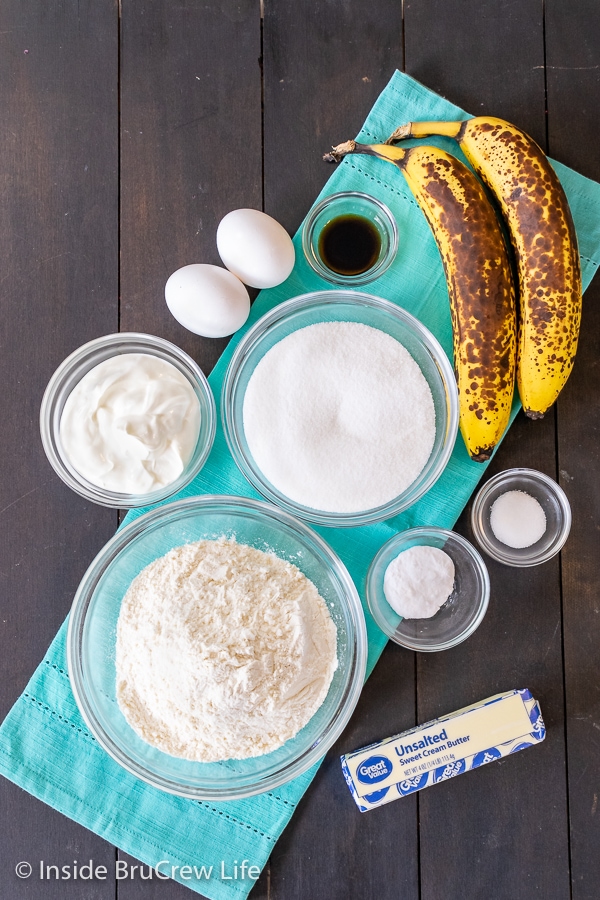 Recipe Ingredients:
You will only need a few simple ingredients, plus some extra ripe bananas to make the ultimate moist banana bread.
Granulated Sugar - You can also use a mixture of granulated and brown if you like.
Butter - Let the butter sit out until softened. You should be able to cream the butter and sugar easily.
Vanilla Extract - Adds a good flavor to the recipe.
Eggs - The "liquid" in this recipe.
Sour Cream - Adds moisture to the batter making the bread bake up so good.
Ripe Bananas - the riper the better!
Flour, Salt, Baking Soda - Provides the structure and lift needed in the sweet bread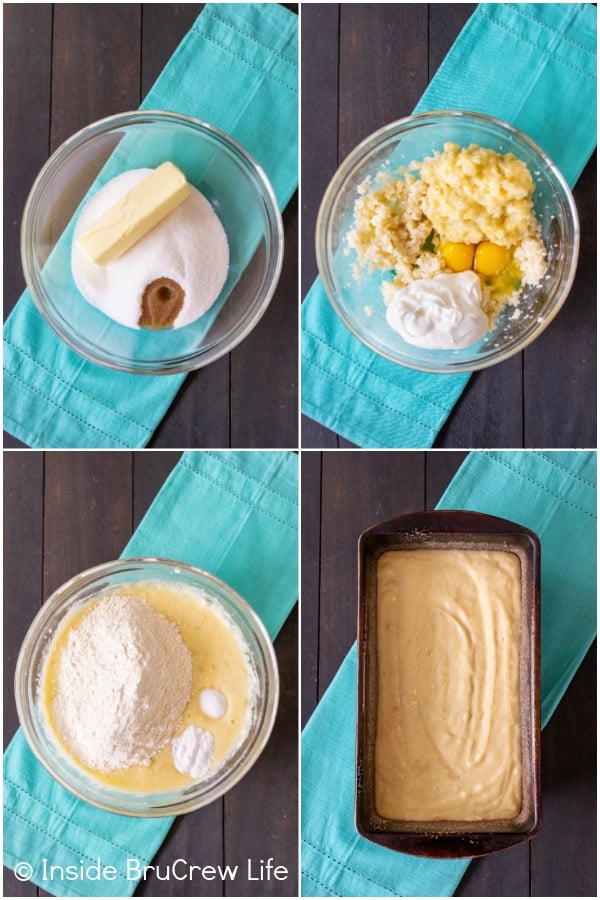 How to make Sour Cream Banana Bread:
Beat the sugar, softened butter, and vanilla until light and creamy.
Add eggs, mashed bananas, and sour cream and mix again.
Slowly beat in the dry ingredients until the banana bread batter forms.
Spread in a greased pan and bake until a toothpick inserted in the center comes out
BRUCREW TIP: Cover the top of the sour cream banana bread with foil during the last 10-15 minutes if the top is getting too dark.
Banana Bread
Variations:
We love to add different ingredients to this ultra moist banana bread to create new flavors. Try one or more of some of these ingredients. It's so fun to try new versions.
Although, beware that banana bread variations can bring out the voice in people. Are you team nut or team plain?
Chocolate Chips - any flavor will work
Dried Fruits or Veggies - cranberries, zucchini, pineapple, carrots
Nuts - walnuts, pecans, macadamia nuts
Candy - toffee bits, candy bars, sprinkles
Cookies - chop up your favorite cookies and stir them into the batter
CLICK HERE TO PIN THIS RECIPE FOR LATER!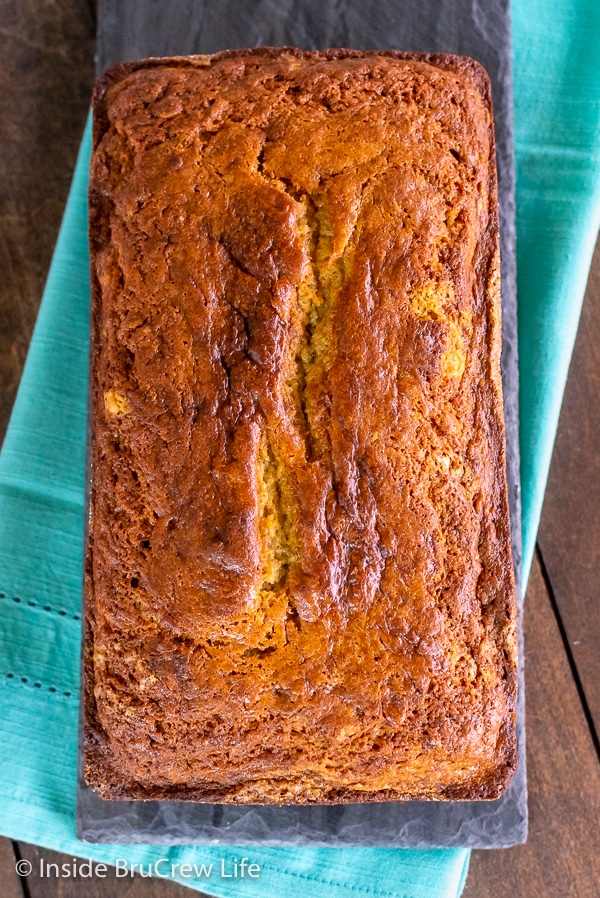 Frequently Asked Questions:
Can you use this banana bread recipe to make muffins?
Yes you can. Divide the batter into 24 cupcake liners and bake at 350 degrees for 22-24 minutes.
What can I use instead of sour cream?
Greek yogurt and mayo are great substitutes for the sour cream. You can also use buttermilk.
Does sour cream banana bread freeze well?
It sure does! Wrap a full loaf or individual slices in plastic wrap and foil, (the layers prevent freezer burn) then place in a freezer safe bag or container for 2-3 months.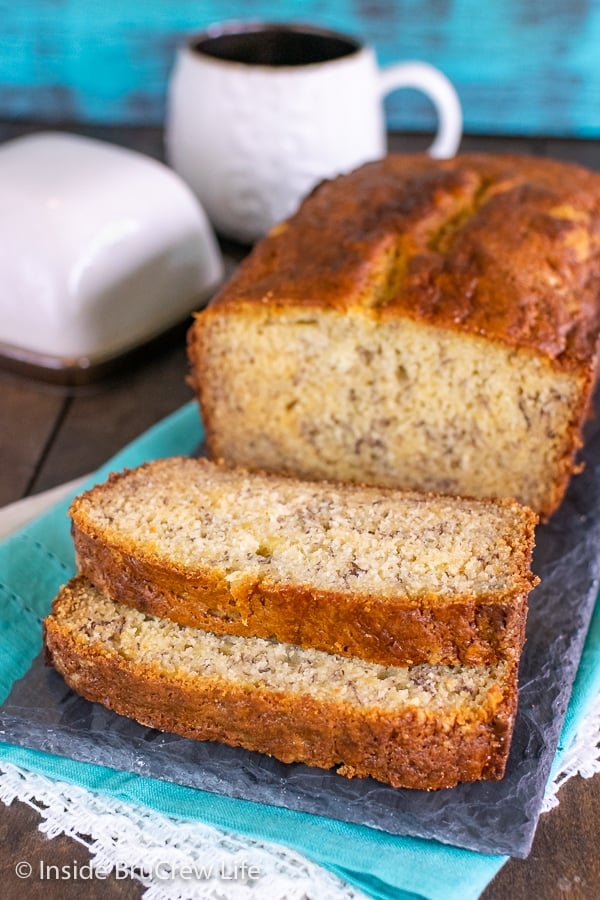 Other banana baking recipes: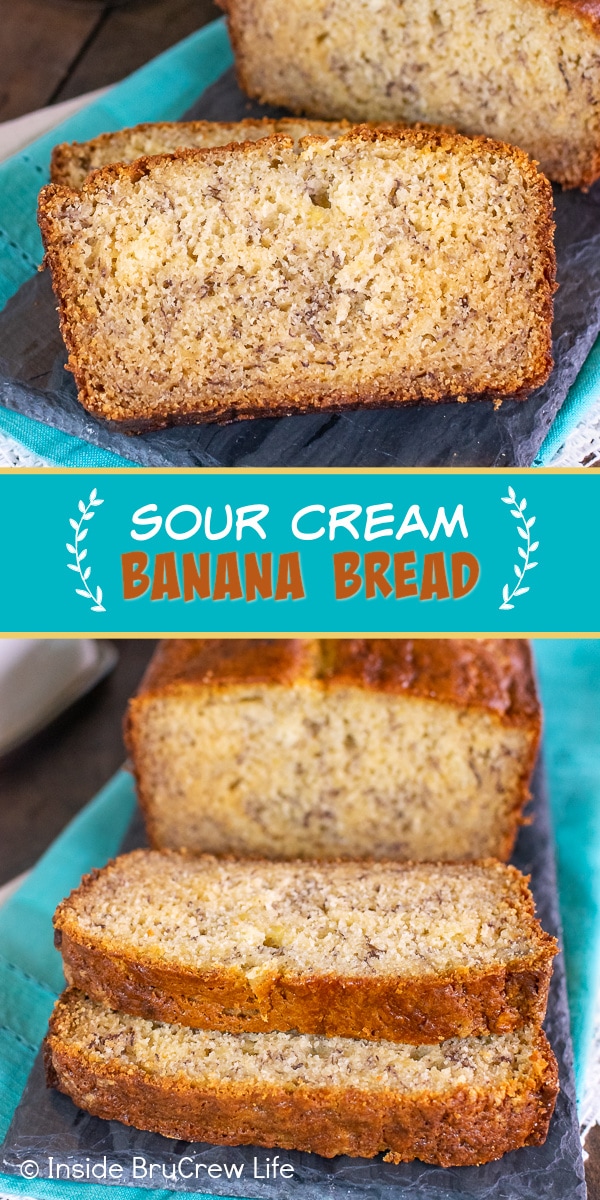 *The post for Sour Cream Banana Bread was first published April 14, 2016. The post and photos were updated and republished February 26, 2021.