Our family has been making this Sour Cream Banana Bread for years, and it has become one of our favorites. Thanks to the addition of sour cream, this sweet bread is moist and melts in your mouth. Rest assured, our version is as delicious as grandma's recipe.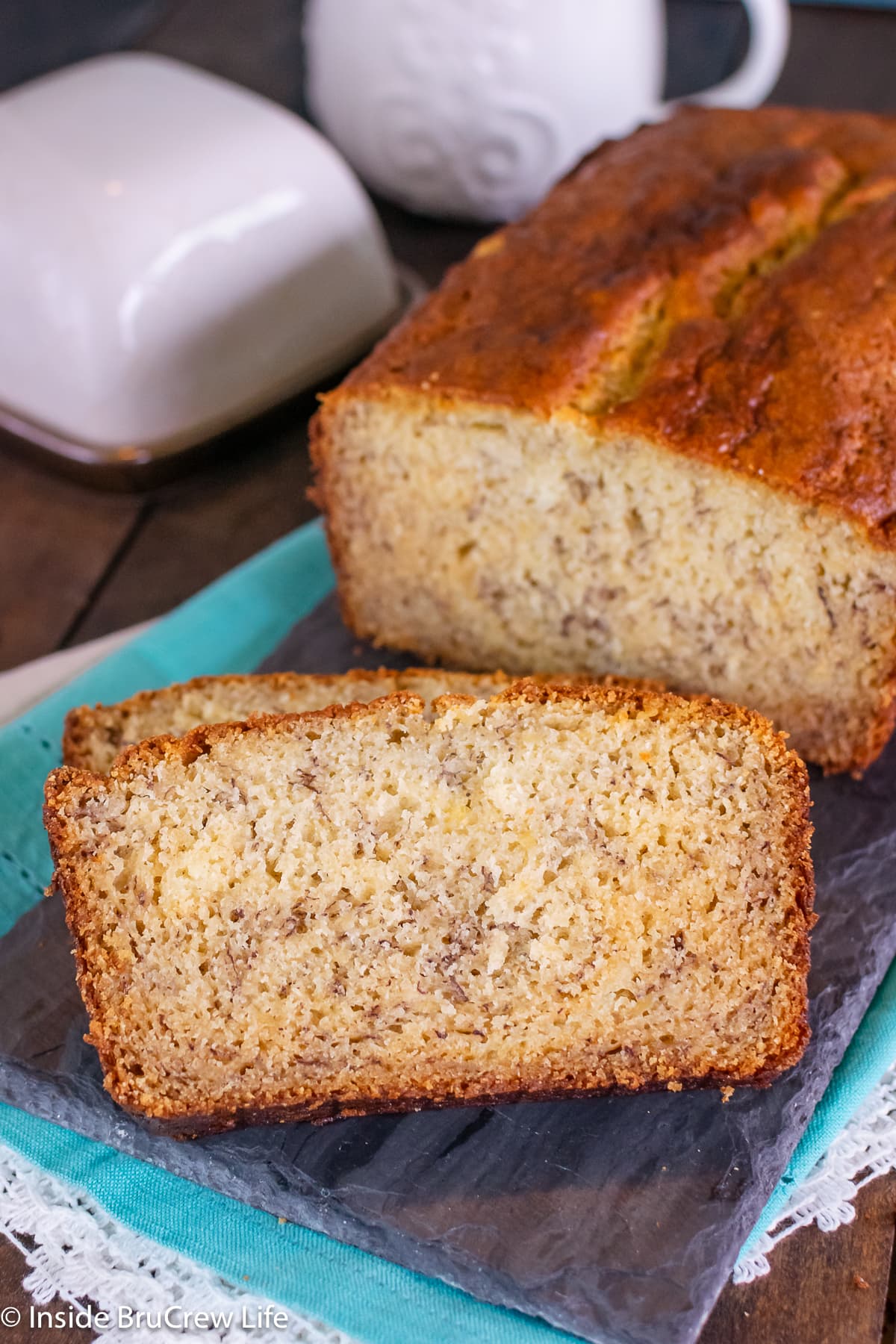 Make classic banana bread with this simple recipe if you always have overripe bananas! This recipe is the base for all my variations.
It's perfect, but you can add different toppings and mix-ins to create other banana bread recipes. A few of our favorites are peanut butter cup banana bread, cherry banana bread, and cinnamon banana bread.
Jump to:
What is Sour Cream Banana Bread?
For the best banana flavor, this recipe calls for overripe bananas. However, adding sour cream takes the bread to the next level. It makes the quick bread incredibly moist and tender, and the tangy flavor complements the sweet bananas perfectly.
This banana bread recipe is the best I've ever tried. Once you try it, you won't want any other recipe!
Why You Will Love This Recipe
This sour cream banana bread recipe is loved for its simplicity. It's easy to make and always turns out great!
Easy to make. Banana bread with sour cream is a quick 4-step recipe that will transport you to grandma's kitchen.
Great flavor and texture. This recipe will surely win your heart with its sweet taste and tender texture. It is so moist and delicious that it will melt in your mouth. The sour cream adds a unique flavor that takes it to the next level.
Serve any time of day. It's the perfect sweet bread for breakfast, brunch, or snacks. Your family and friends will love it!
Easy to customize. This banana bread recipe provides a versatile base for your preferred mix-ins. Have fun and get creative with the ingredients in your pantry!
Key Ingredients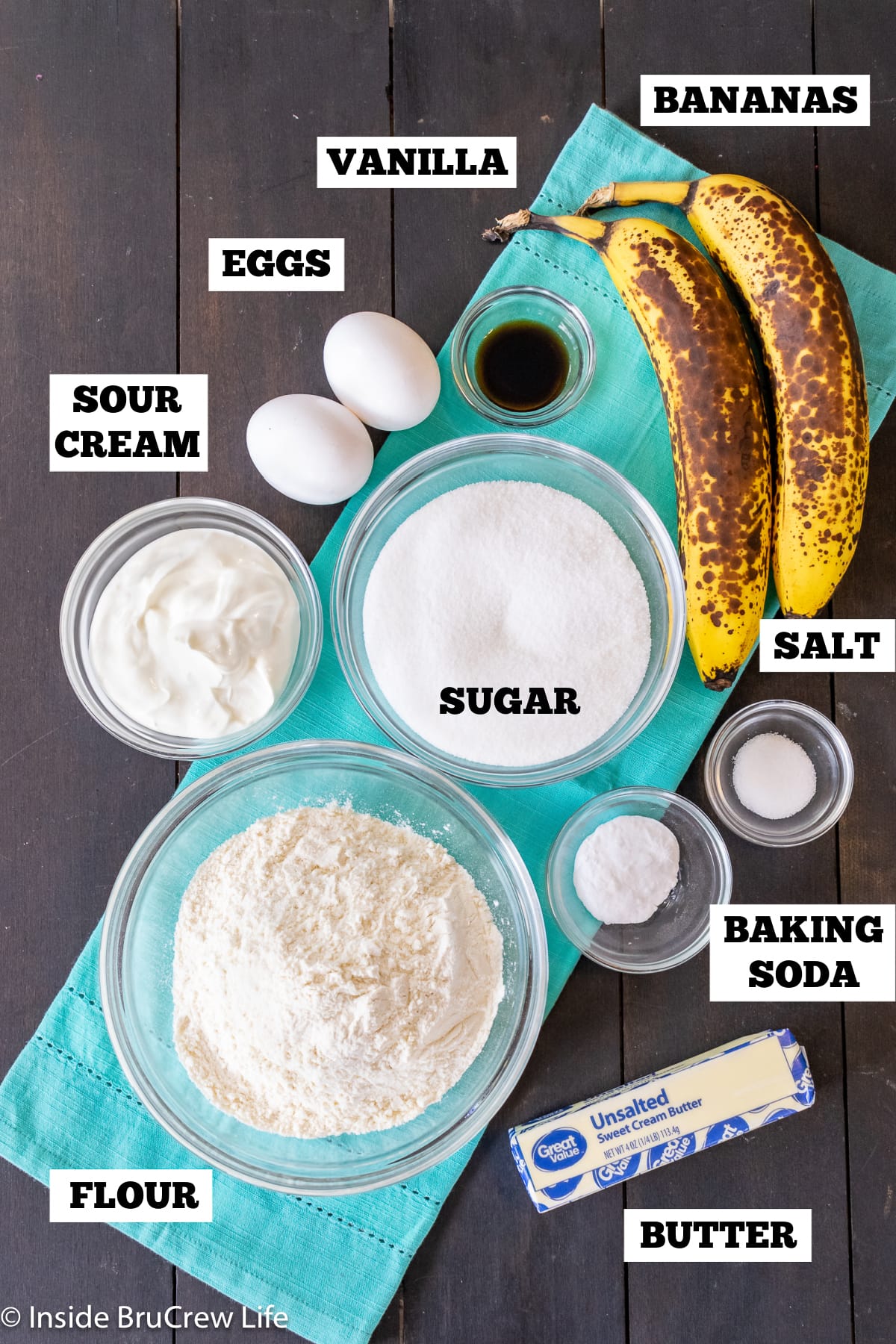 The ultimate moist banana bread recipe only needs simple ingredients and a few extra ripe bananas.
Granulated Sugar - You can also use brown and white sugar.
Unsalted Butter - Let the butter sit out until softened. You should be able to cream the butter and sugar easily.
Vanilla Extract - Adds an excellent flavor to the recipe.
Eggs - The "liquid" in this recipe.
Sour Cream - The addition of sour cream adds moisture to the batter and gives the bread a soft, moist texture. Use full-fat sour cream, or use plain Greek yogurt in a pinch.
Ripe Bananas - The riper the bunch of bananas are, the better they are for sweet bread. See our tips on how to ripen green bananas for baking if yours are not ready yet.
Baking Soda - Provides the lift in the sweet bread as it bakes, so NO baking powder is needed.
All Purpose Flour - Gives the quick bread structure. See how to measure flour correctly so your bread turns out every time.
BruCrew Tip: Spray your bread pan with nonstick spray and sprinkle it with cinnamon sugar before pouring the batter into it. This easy step creates a delightful crunch outside, resulting in high demand for the end pieces.
How to Make Sour Cream Banana Bread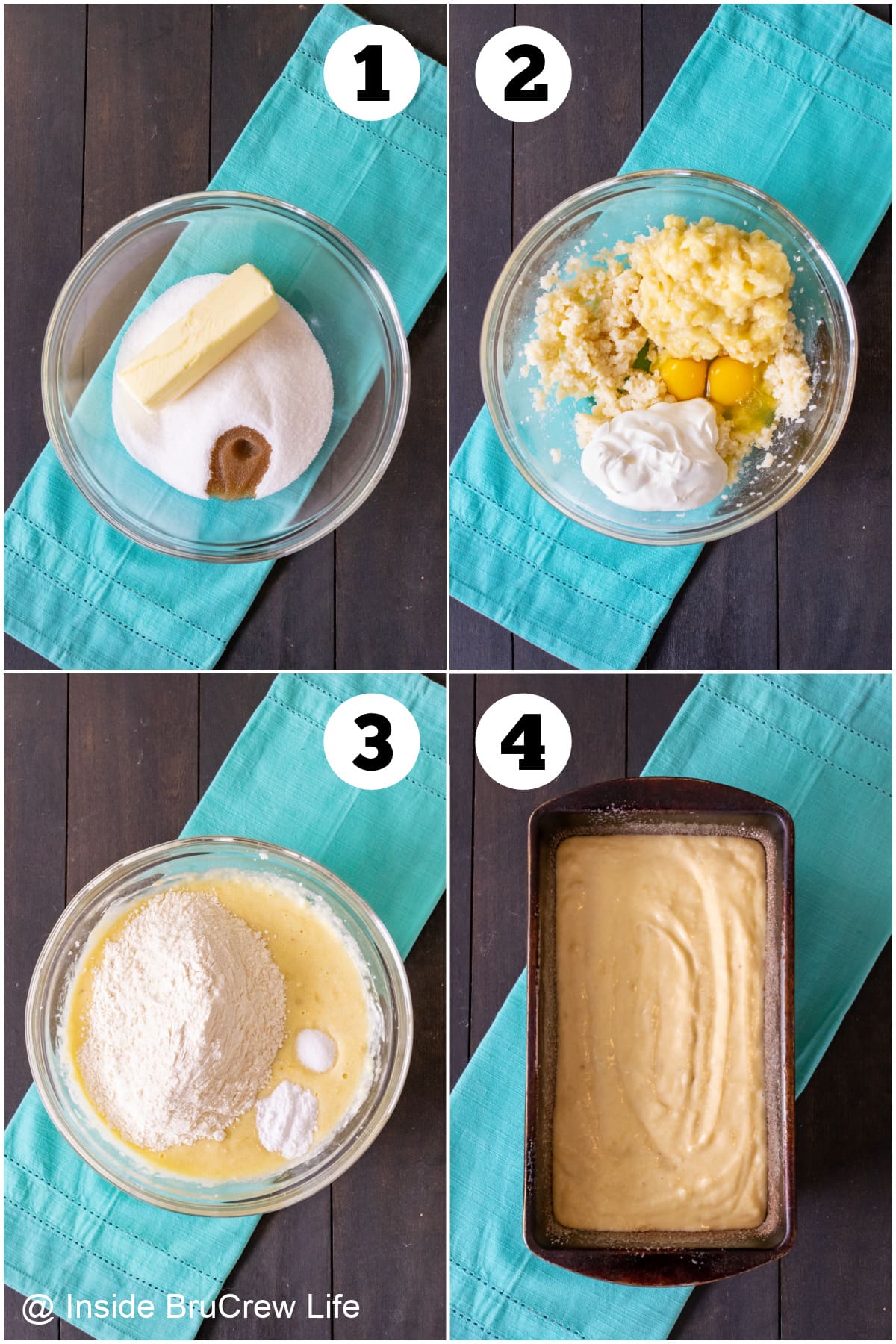 This super moist banana bread recipe requires just 5 minutes of prep work and common kitchen ingredients. Our simple and delicious bread has a rich flavor and will soon become your favorite recipe.
Beat the sugar, softened butter, and vanilla in a large mixing bowl until light and creamy.
Add eggs, mashed bananas, and sour cream and mix again.
Slowly beat the dry ingredients into the wet ingredients until the banana bread batter forms.
Pour batter into a prepared loaf pan and bake. Check the bread during the last 5 minutes of baking time. A toothpick inserted in the center should have a few moist crumbs.
BruCrew Tip: Is the top of your quick bread browning too quickly? Cover it with aluminum foil for the last 10-15 minutes of baking.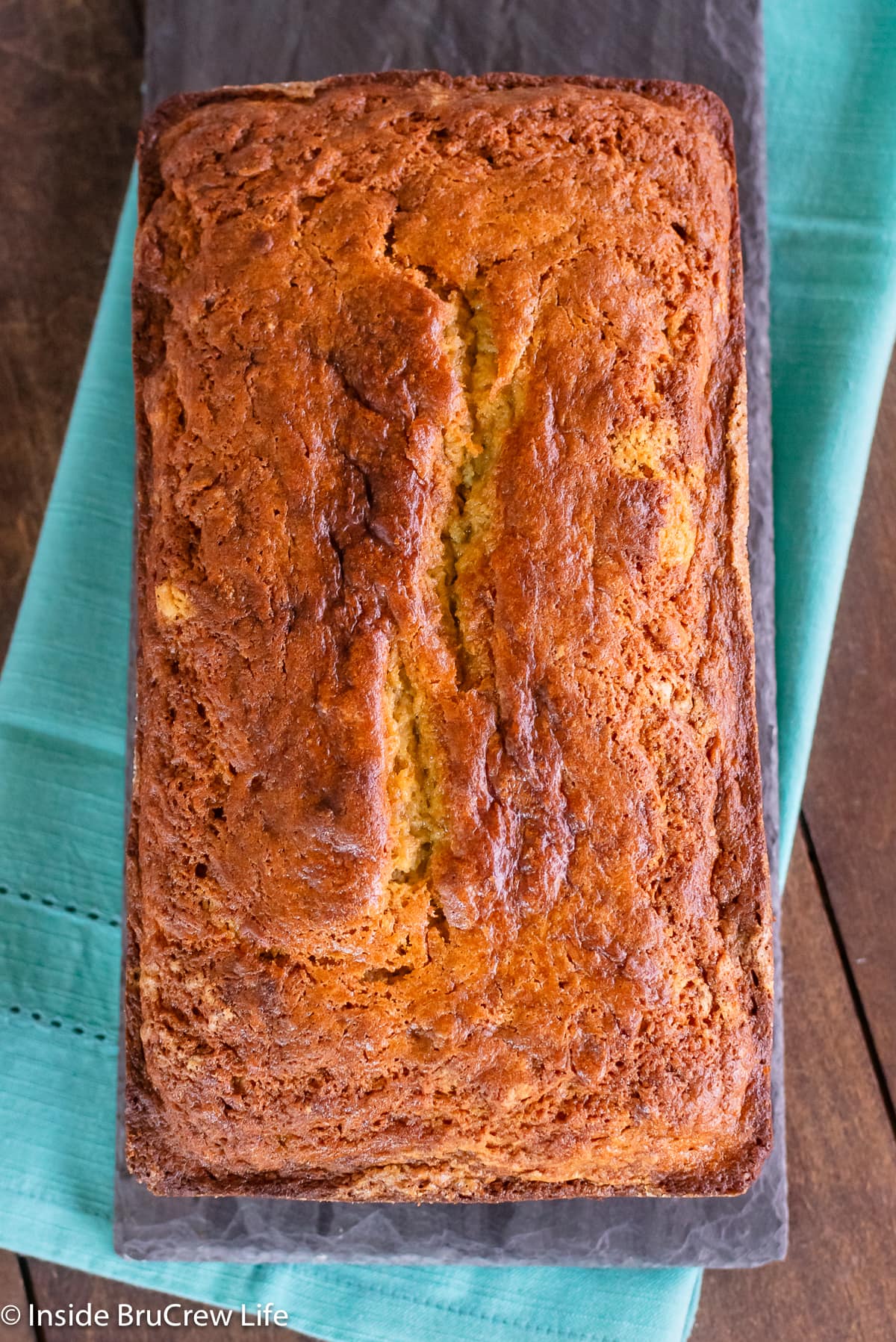 Variations
We enjoy experimenting with different ingredients in our favorite banana bread to create unique flavors. Consider trying a few of these ingredients to customize the recipe.
Chocolate Chips - Milk, semi-sweet, dark, or white chocolate; however, any flavor will work.
Dried Fruits or Veggies - Cranberries, zucchini, pineapple, carrots, pumpkin
Nuts - Walnuts, pecans, almonds, macadamia nuts
Candy - Toffee bits, candy bars, sprinkles
Cookies - Chop up your favorite cookies and stir them into the batter.
Peanut Butter - Creamy or crunchy
Storage Recommendations
I recommend enjoying a few slices of warm bread with butter before letting it cool. It's also excellent with a thin layer of cream cheese!
After baking, allow the loaf to cool completely on a wire rack. Then, please place it in an airtight container or wrap it with plastic. It can be kept on the counter for up to 3-4 days if stored properly.
To freeze a whole loaf, let it cool down to room temperature. Then, wrap it in multiple layers of plastic wrap and store it in a large freezer bag. This will keep the bread fresh for several months. When ready to use it, thaw it in the fridge before serving.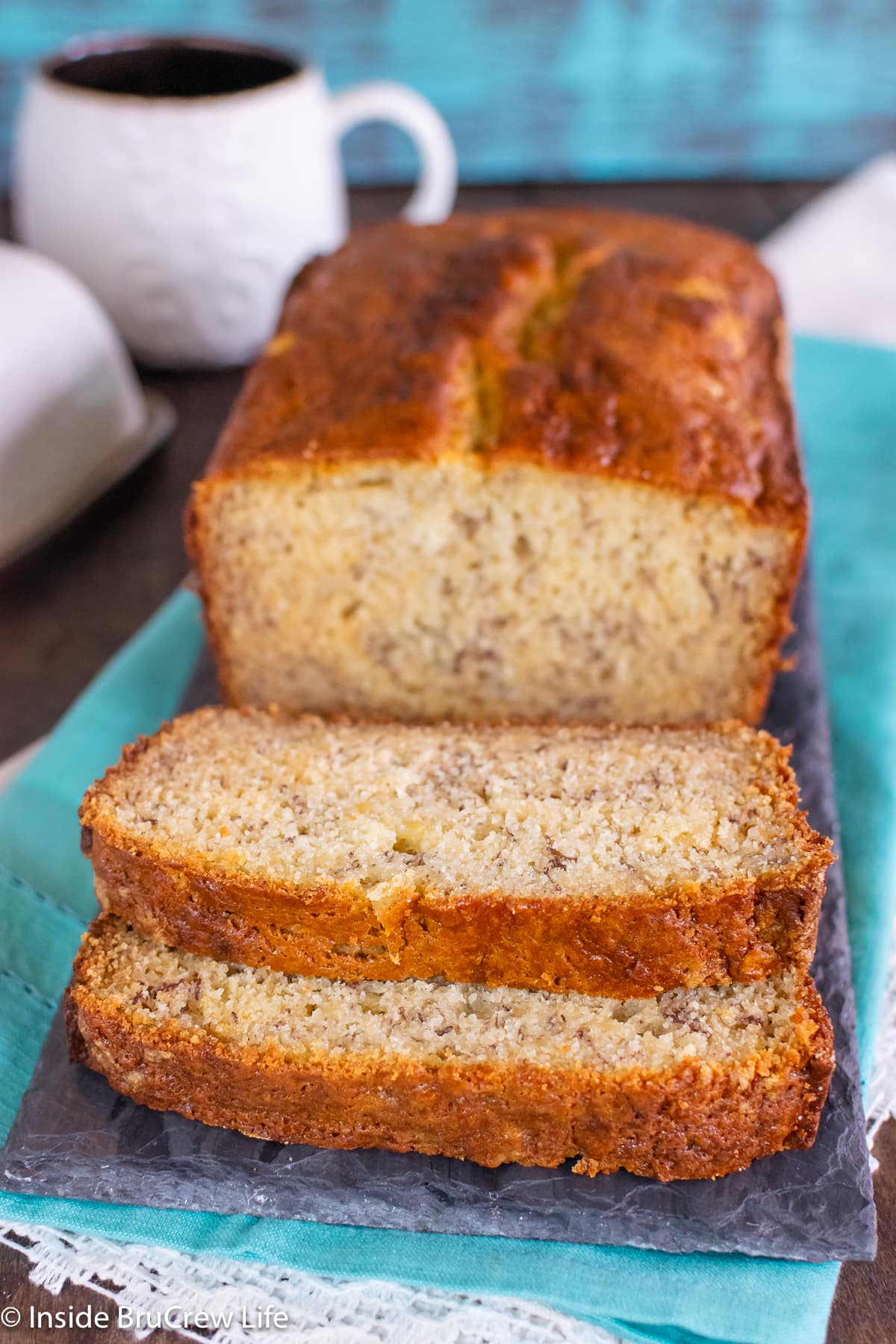 Tips and Tricks
Use overripe bananas. Use dark and ripe bananas for the best banana bread flavor.
Use a well-prepared pan. Spray your loaf pan with nonstick cooking spray so the bread comes out easily. You can also make a sling out of parchment paper to easily lift the loaf out of the pan.
Mash the bananas all the way. Use a fork and a plate to mash each ripe banana before adding to the batter.
Mix just enough. Do not over-mix the batter! Too much mixing can make the bread tough.
Add nuts. Add 1 cup of chopped nuts to the batter before baking.
Try dark brown sugar. Like brown bananas, dark brown sugar adds an extra layer of flavor. It's so rich from the extra molasses!
Don't melt the butter. Many recipes call for melted butter or coconut oil, but this recipe is not like that. Mix the butter until light and fluffy to get the best results.
FAQs
What can I substitute for sour cream?
Greek yogurt and mayonnaise are great substitutes for the sour cream. You can also use buttermilk.
Does banana bread freeze well?
It sure does! Wrap an entire loaf or individual slices in plastic wrap and foil (the layers prevent freezer burn). Then, place in a freezer-safe bag or container for 2-3 months.
Can you use this bread recipe to make muffins?
Yes, you can use this banana bread recipe for muffins. Divide the batter into 24 cupcake liners and bake at 350° for 22-24 minutes.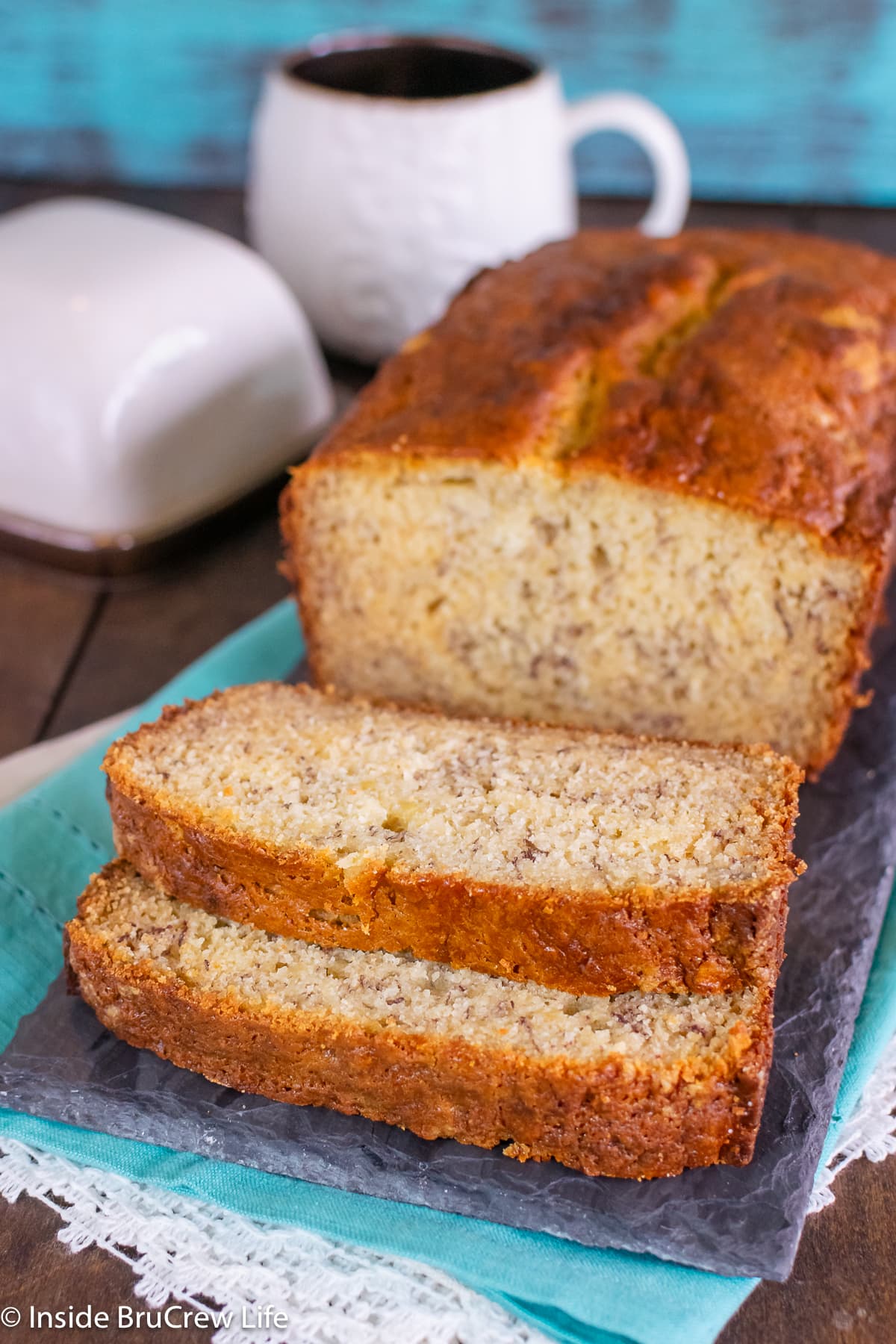 Do you love a recipe you tried from Inside BruCrew Life?
Please leave a 5-star ⭐️ rating and a review in the comments section below.
*This post was first published in April 2016. The photos were updated in February 2021 and republished in October 2023.