These Fluffernutter Pancakes are sure to get smiles from everyone when you serve them to your family for breakfast. Chocolate and marshmallow is always a fun combo.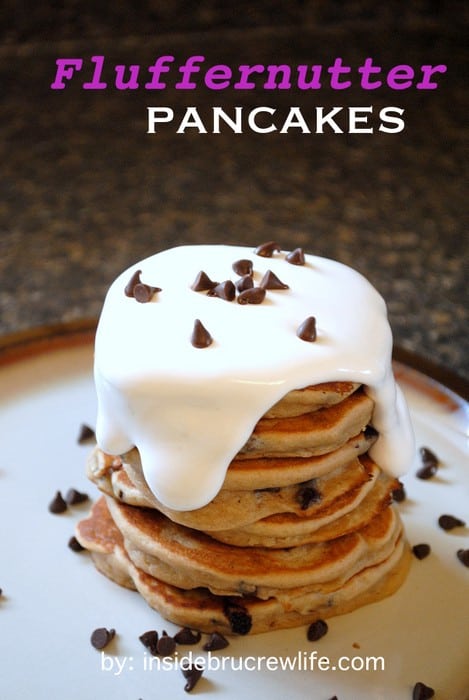 *I always have my kids take showers at night. My irrational thinking is that if they go to bed clean, the sheets stay clean longer. That way I can put off changing the sheets for another day…er a couple of days…ok, maybe even another week.
*There are some nights that I stay up way too late. Curse that night owl gene in me! So some mornings I will get up just long enough to pack lunches and drop the kids at school…then come back home and crawl under the covers for another hour of sleep. Fine, usually it is 2 more hours:-)
*My couch hasn't been vacuumed under in a few weeks…probably time to chase the dust bunnies away before they take over the household!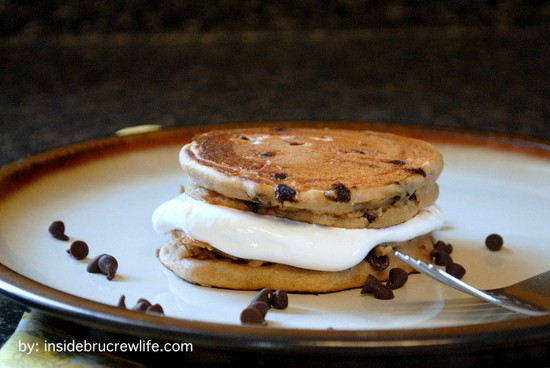 *I made these decadent sugar laden Fluffernutter Pancakes, and then passed them off as our dinner for the evening. We might need to visit the dentist after this meal!  But it was so worth it!
*We were running late for school the other morning and I totally flipped out on the kids for turning on the hazards, and I couldn't find the button to turn it off.
Turns out it got bumped with a backpack on accident! Nothing like sending your kids to school thinking their mom is a ginormous ogre!
It is always humbling to have to ask for an apology from your kids! Definite mom fail that morning!
*Lately there have been way more pictures of food on my camera instead of my kids. I blame it on the fact that I have had a camera in their faces forever and they are rebelling.
Food is just so much easier to photograph. I mean it doesn't move, talk back, or turn it's back on me.
But I have decided who cares. They will want to see these pictures some day, so the camera is coming back out and we will be documenting even the fun little things.
*Have you checked out Pinterest? I confess to be totally and completely in love with it. How cool is it that all the fun things you find can be placed in one place and categorized too?
Come check out my boards HERE and get started pinning! You will become addicted just like me!
I couldn't leave you without adding a recipe.  Enjoy!
Fluffernutter Pancakes recipe: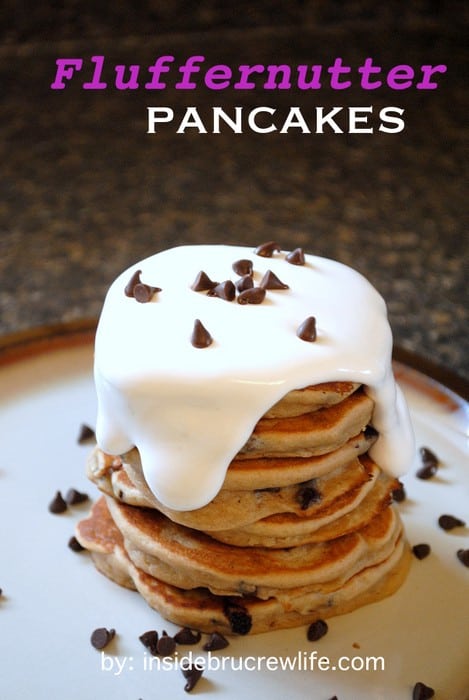 Peanut Butter chocolate chip pancakes become decadent when topped with marshmallow cream.
Ingredients
2 cups pancake batter (I buy the large bag of Krusteaz pancake mix at Sam's Club)
1/2 cup creamy peanut butter
1 cup mini chocolate chips
1/2 cup marshmallow fluff
Instructions
Make up the pancake batter according to the directions on the bag. Measure out 2 cups and put in a separate bowl. Place the peanut butter in a microwave safe bowl and heat for 30 seconds. Stir and heat again for 15 seconds. Stir the melted peanut butter into the pancake batter. Stir in 2-3 more Tablespoons water to thin out the batter.
Stir in the chocolate chips and then cook on a skillet. Make them smaller than normal because of the overload of sugar. Watch carefully that they don't burn…you will have to cook them just a little bit longer than a normal pancake because the peanut butter makes them super thick.
Place some marshmallow fluff into a microwave safe bowl and heat for 20 seconds at a time until slightly melted. Spoon on top of pancakes and sprinkle with more chocolate chips if desired.
https://insidebrucrewlife.com/confession-time/
Copyright Inside BruCrew Life