Make an Easy DIY Fall Wreath to add a festive fall flair to your front door. This fun fall decor is inexpensive and easy to make.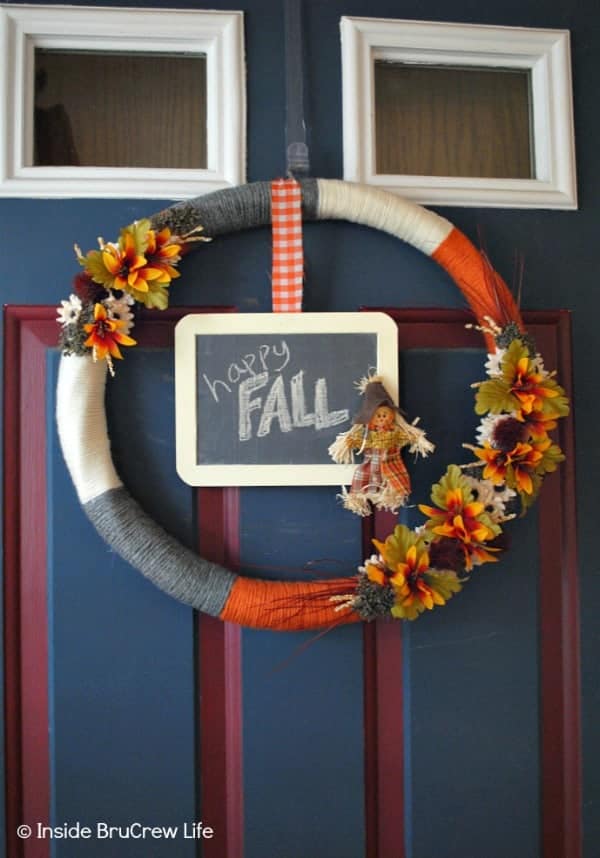 Last month my sister, Jenni, and I decided we were going to start our own club. A Cyber Crafting Club!
We both love doing crafty things and would LOVE it even more if we lived close enough to do them together. One day maybe that will be possible. For now our little club will have to do!
Our goal is to each pick a fun craft to do at the same time. We also want to see how cheap we can keep our crafting. Since we aren't there to help each other there will be lots of texting, calling, and maybe even a Skype call or two while we create our fun craft.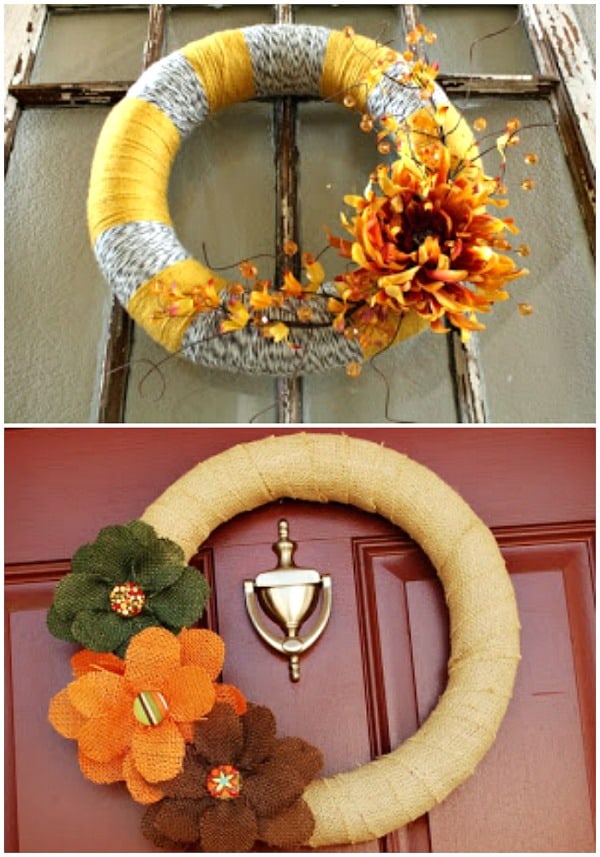 I figured we both could use some DIY fall decor for our house, so this month I chose a fall wreath for us to make for our front doors.
We each picked an inspiration picture as our jumping point.
I think it is always neat to see where someone got their ideas from and how they changed it up and made it their own.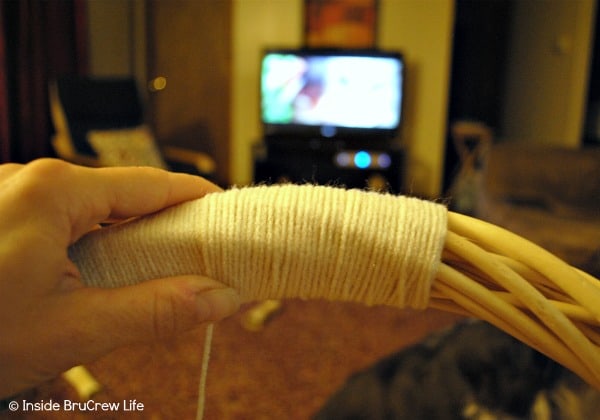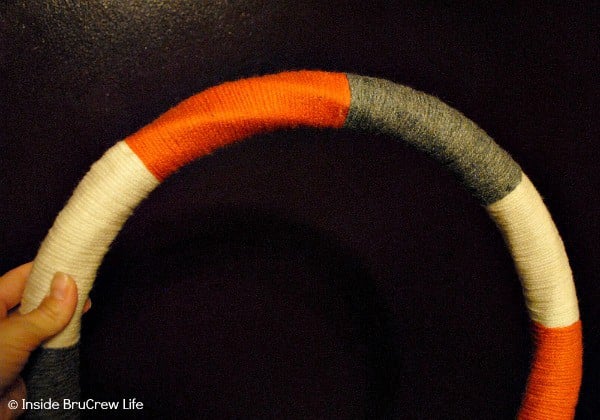 Easy DIY Fall Wreath
I decided to wrap a skinny wreath with three different shades of yarn. Good gravy! That takes forever to do!!!!
Make sure you plant yourself on the couch with a good show or movie to watch because the distraction will keep you from thinking about how slow your wreath is progressing. Or maybe the tv kept me from wrapping faster...
Either way I finally got my wreath wrapped, and my husband and I watched a lot of Lost.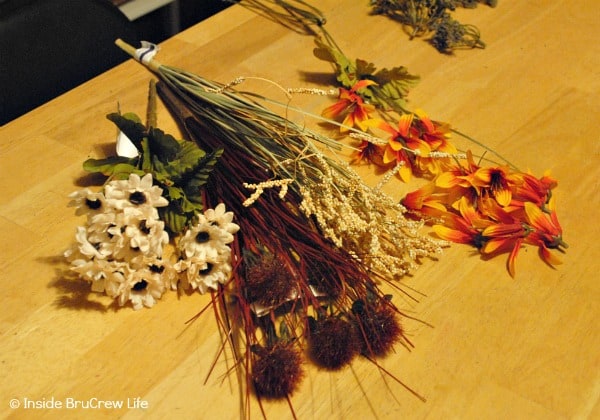 I bought some different colored fall flowers from the Dollar Store to arrange on the front.
Pull the flowers apart and figure out what arrangement you want or like before you start gluing things down.
Once you are happy with your arrangement, dab a small bit of hot glue on the back of the flowers one at a time.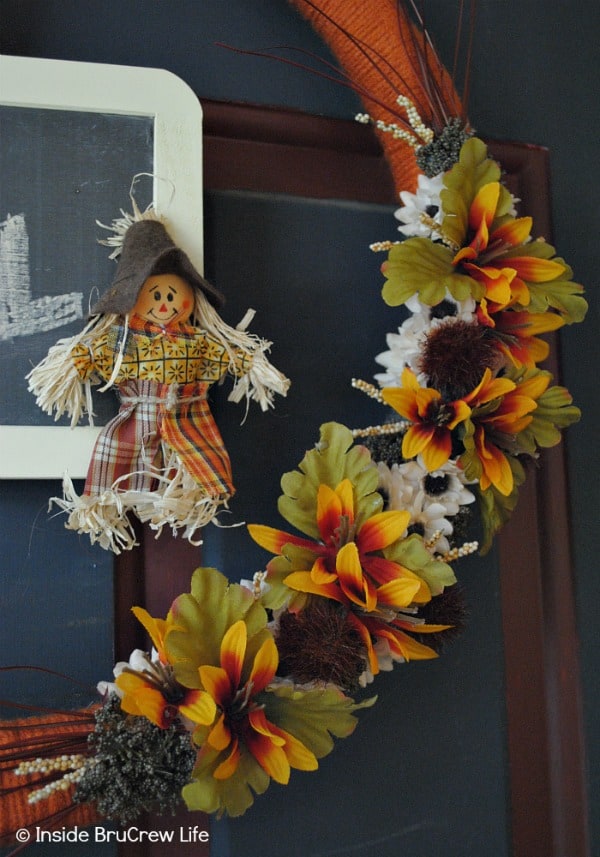 Maybe it was because the wreath was so big and skinny, but I felt like it needed something in the center.
After a bunch of texts and pictures back and forth with my sister, I decided to hang a mini chalkboard in the center with a strip of orange checkered fabric.
Off to Michaels I went armed with my 50% off coupon!
When I got home I painted the frame cream and glued a little scarecrow to the side once it was dry. It was so fun to finally hang this fun fall wreath on our front door when it was all finished.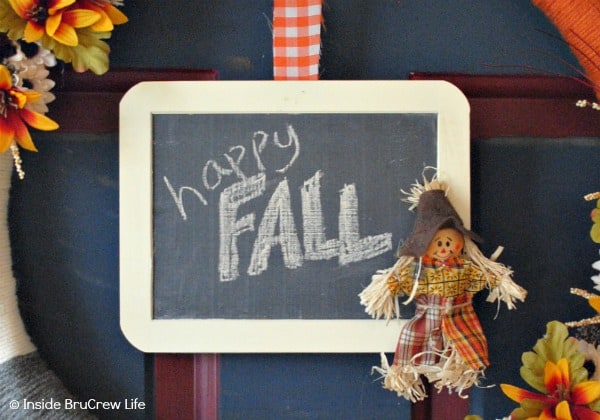 Supplies to make a Yarn Wrapped Fall Wreath:
skinny wreath form - I had one in my craft supplies, or you can buy one at Walmart or the Dollar Tree
yarn - $7.50 for three colors at JoAnn's
silk flowers -$5 at Dollar Tree
chalkboard - $1.50 from Michaels using a coupon
paint/fabric/scarecrow - in my stash (or find at Walmart or JoAnn's)
This next wreath is Jenni's. Don't you just love how cute her wreath turned out?
I am loving the pop of orange against her turquoise door. It's the perfect way to welcome Fall to her house!Jenni completely wrapped her wreath with burlap, and then wrapped a ribbon loosely around the wreath. She then glued flowers and garland to the front of the wreath.
The biggest challenge on making her wreath was getting used to the smell of the burlap. She also said that it was a quick and easy craft to do because the assembly only took her about 15 minutes. Of course, figuring out what she actually wanted to do took her a little bit longer.
I'm glad she powered through the burlap smell because I think it turned out absolutely adorable!
Supplies to make a Fall Wreath with Burlap:
wreath - $1 from Dollar Tree
burlap - $.50 from Walmart
silk flowers - $1 from Dollar Tree
ribbon - $4 from Walmart
garland - in her fall stuff (or buy at Dollar Tree or Walmart)
It was so much fun to make a DIY Fall Wreath with my sister!!! Not everyone gets why I craft and bake so much, but I can count on her to listen and to understand when I call her with the latest fun thing that I am trying out!!!
I am definitely looking forward to seeing what fun craft Jenni has picked out for us to do next month because having someone else to craft with is so fun.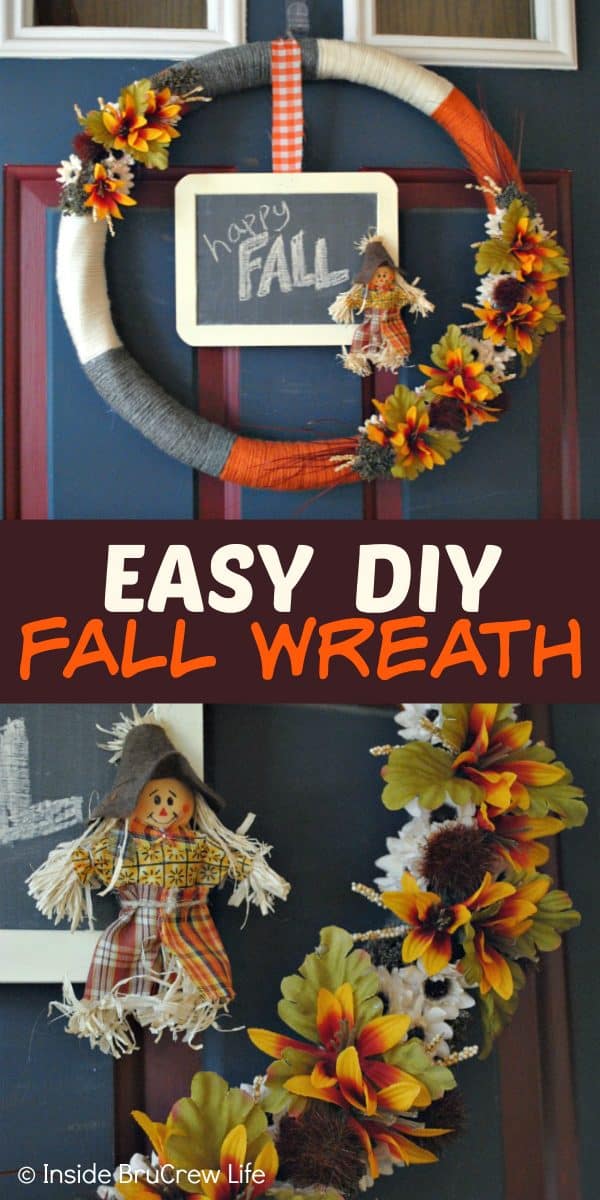 More fun and easy Fall Crafts
French Fry Box with Fabric Pumpkin