Add these Ghost Brownie Cupcakes to your Halloween treat table and watch everyone gobble them up. The hidden cookie in the bottom of each one is such a fun surprise to find!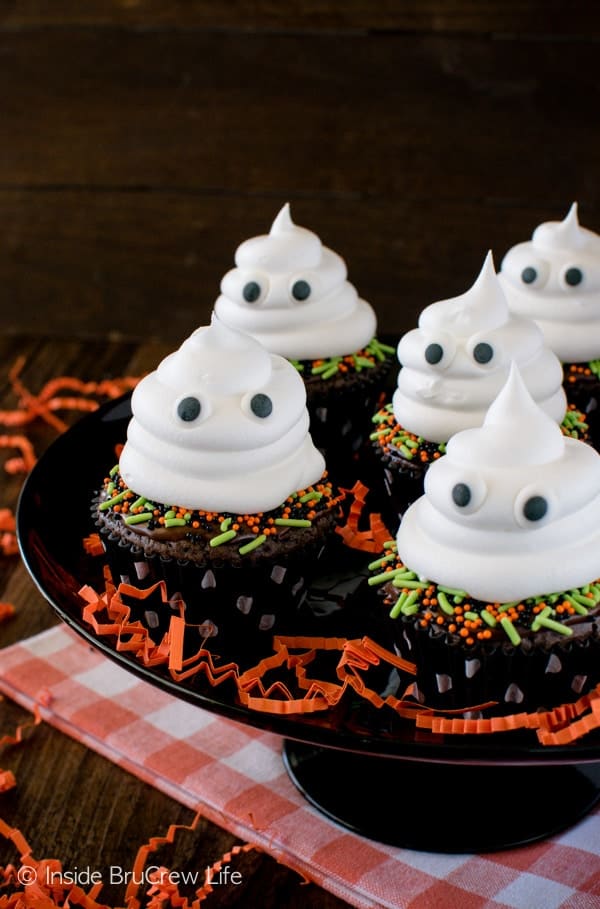 CLICK HERE TO PIN THIS RECIPE FOR LATER!
Do you ever look back at things you did when you were younger and think, "What was I thinking?" I have a few of those moments. Like the time when I cut my hair really short because I thought it would be cute.
I have really curly hair, so you can imagine how this must have looked. It was long year while I waited for those curls to grow back.
Or the time when I was in high school and a group of my friends and I decided it would be fun to play ghosts in the graveyard in a very secluded cemetery in the country. That probably wasn't the smartest thing in the world to do. My mom must not have known what we were doing because if my kids ever told me they were going to do that, I would be taking their keys away.
It's funny how these little ghost treats remind me of those graveyard stops. You see I'm pretty sure we played hide and seek there more than once. Again, "what was I thinking?" At that age I don't much actual thinking is going on.
Today I think of all the scary and dangerous things that could have happened in that dark graveyard...yeah, let's just talk about these cute ghost cupcakes instead of dwelling on the past.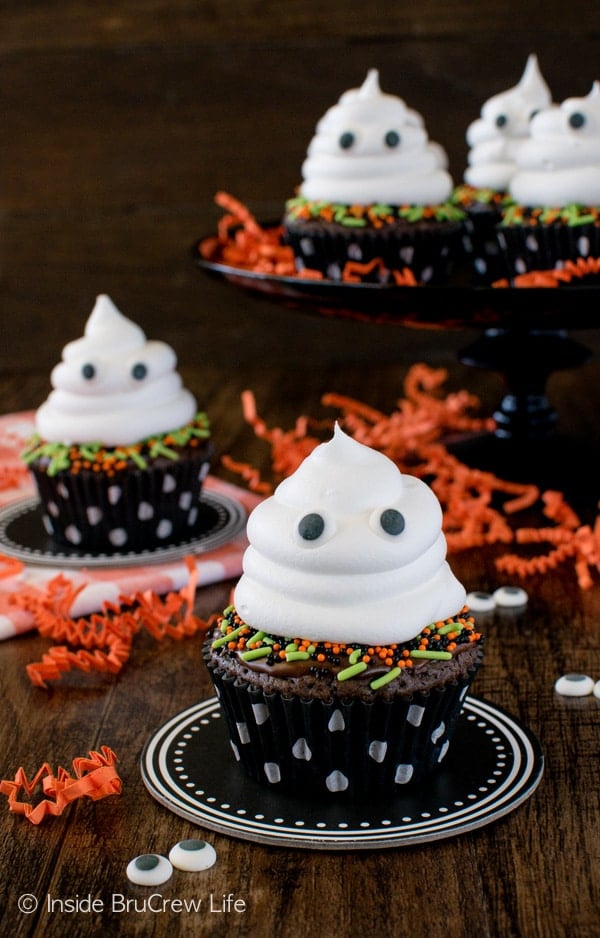 A few years ago I made these coffee cheesecake Oreo brownies with a ghost swirled on top. This year I thought it would be fun to make a similar but easier version. Enter the ghost brownie cupcakes.
These are seriously the easiest cupcake to make. Like 3 ingredient easy. Ok, ok, it's more than 3 if you count the sprinkles and eyes...and the ingredients you need to make the brownies. Fine, forget what I said.
Here are some quick and easy tips for making these cupcakes:
Place cupcake liners in a muffin tin and drop an orange cream filled Oreo in the bottom because that is a fun surprise that no one will be expecting.
Make the brownie batter and spoon on top of the cookies. Bake and cool.
Melt the chocolate frosting just slightly. You do not want it to be so hot that it runs off the tops. It should be just warm enough to spread in a thin shiny layer. Add sprinkles around the edges.
Spoon the Cool Whip into a piping bag with a large round tip. Hold the bag firmly and swirl around the top of the cupcake going up and ending with a tip.
Add candy eyes gently.
Watch the kids smile when they get home from school and see the spooky treats in the fridge.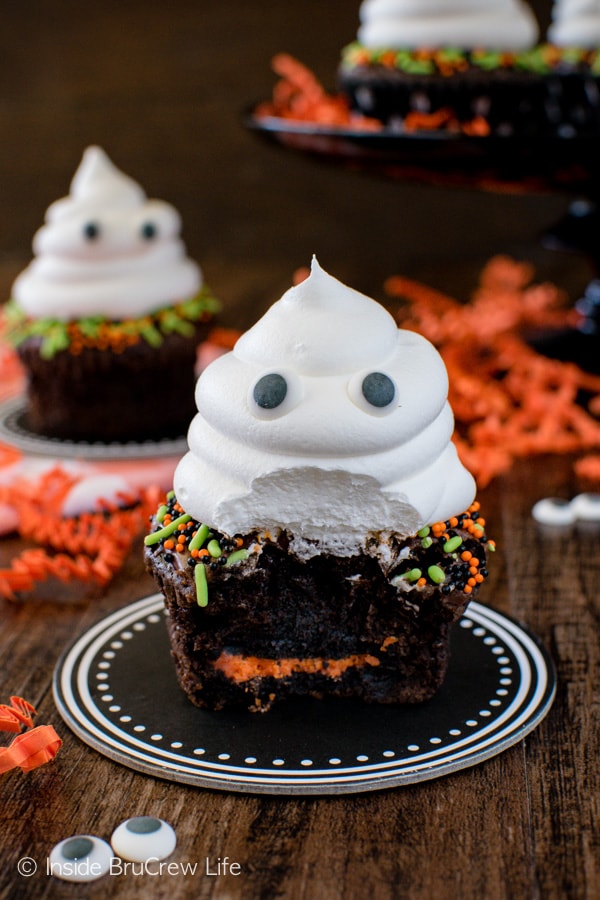 Stay up to date on all the BruCrew baking here:
FACEBOOK | PINTEREST | TWITTER | INSTAGRAM | BLOGLOVIN
Sign up to receive an email in your inbox for each new recipe:
EMAIL SUBSCRIPTION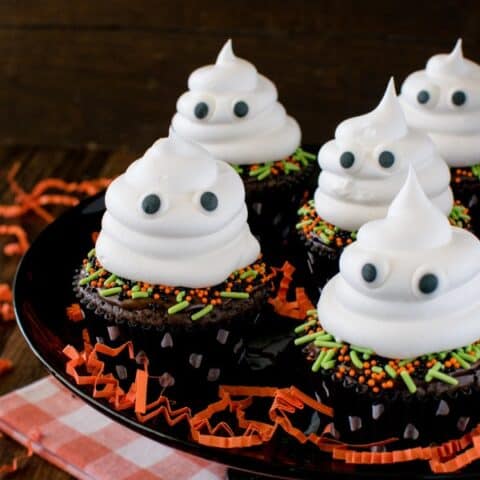 Ghost Brownie Cupcakes
These fun Ghost Brownie Cupcakes have a hidden cookie surprise in the bottom of each one. Great treat for Halloween parties.
Ingredients
1 - 9x13 box brownie mix
¼ cup water
½ cup oil
3 eggs
16 orange cream filled Oreos
1 - 16 ounce container chocolate fudge frosting
1 - 8 ounce container Cool Whip, thawed
sprinkles
candy eyes
Instructions
Preheat the oven to 350 degrees. Place 16 cupcake liners in a muffin tin. Place an Oreo cookie in the bottom of the liners.
Mix together the brownie mix, water, oil, and eggs until combined. Spoon the batter evenly into the prepared liners. Bake for 22 minutes. Remove and let cool in the pan for 2-4 minutes, then remove to a wire rack. Cool completely.
Open the frosting and remove the metal liner. Spoon half the frosting in a microwave safe bowl and heat for 20 seconds. Stir until creamy.
Spread the frosting on the tops of the cooled cupcakes. Add sprinkles around the edges of the frosting. Let set.
Spoon the Cool Whip into a piping bag fitted with a round tip. Swirl ghost shapes on top of each cupcake. Add eyes. Keep refrigerated until ready to serve.
Nutrition Information:
Yield:

16
Serving Size:

1
Amount Per Serving:
Calories:

329
Total Fat:

19g
Saturated Fat:

8g
Trans Fat:

0g
Unsaturated Fat:

10g
Cholesterol:

46mg
Sodium:

63mg
Carbohydrates:

38g
Fiber:

4g
Sugar:

28g
Protein:

4g