A big bowl of this Guacamole Hummus with Football Chips is the perfect appetizer to bring to any game day party.
Something that I have been seeing a lot lately is hummus. Honestly, for the longest time I really didn't know what it was. But everyone seemed to be eating it, so I decided to get cool and jump on the hummus train.
Turns out hummus is just smashed chickpeas. Who knew?
I love chickpeas!!!! In fact, in college I used to buy them and just eat them from the can for a snack! They are still one of my favorite snacks to this day!!! Knowing this, I knew I would love hummus!!!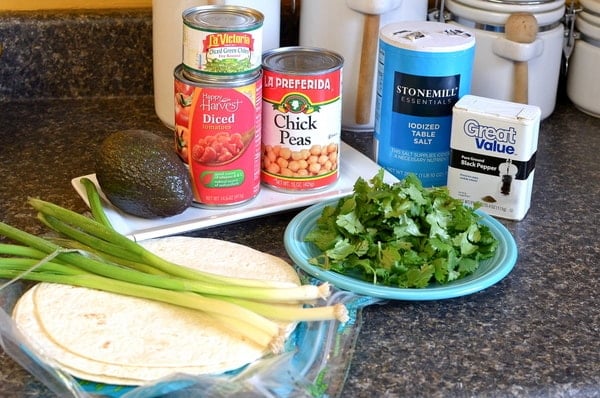 We love this
spicy guacamole
, so I decided to add it to a batch of hummus because I had all the ingredients in the fridge and pantry already.
(let's pretend like the garlic & lime juice is in the picture, oh and another avocado)
The beans give the guacamole hummus with football chips a different taste and texture that is so good.
Apparently I liked it. A whole lot because I almost ate the entire bowl of dip in one day. Pig out much???
If you like guacamole and hummus, I totally recommend you make a big bowl of this goodness to share with all your football loving friends. But you might want to double it, because once you start on it there is no turning back.
And for Super Bowl weekend, go ahead and make some baked football tortilla chips. The chips are super easy to make, and your friends (or kids) will totally think you are the coolest! They are also perfect for scooping up this loaded hot corn dip.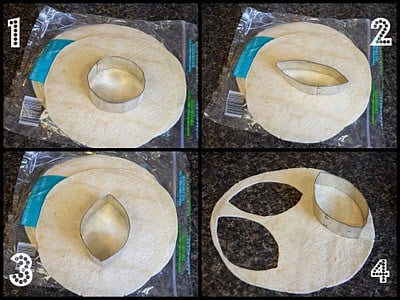 1. Start with a 3 inch round metal cookie cutter.
2. Pinch the ends together.
3. Pull the sides out slightly until it resembles a football.
4. Press cookie cutter into tortillas firmly.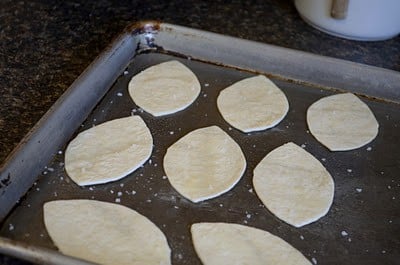 5. Place footballs on a baking sheet.
6. Spray lightly with nonstick spray & sprinkle with sea salt.
7. Bake at 400 degrees for 8 minutes.
The chips will continue to crisp up as they cool on a wire rack.
Don't you just want to dive head first into that bowl of guacamole hummus with football chips???
More recipes to add to your game day plans:
Items used for this recipe: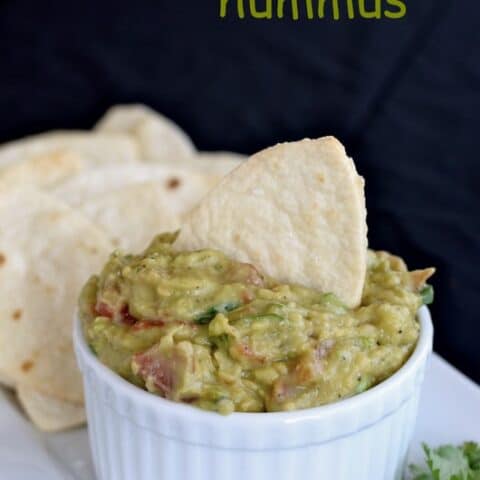 Guacamole Hummus with Football Chips
A big bowl of this Guacamole Hummus with Football Chips is the perfect appetizer to bring to any game day party.
Ingredients
For the Dip
2 ripe avocados
1 can garbanzo beans, drained
½ cup chopped green onions
1 teaspoon minced garlic
2 Tablespoons olive oil
1 - 15 ounce can diced tomatoes, drained
1 - 4 ounce can diced green chilies
2 Tablespoons lime juice
½ cup diced cilantro
½ teaspoon salt
1 teaspoon pepper
For the Chips
10 flour tortillas shells
non stick spray
sea salt
Instructions
Preheat the oven to 400 degrees.
Place avocados on a plate and smash with a fork. Stir in the lime juice.
Pour the beans, oil and garlic into a food processor and pulse until smooth.
Stir together the avocado, beans, onions, tomatoes, chilies, cilantro, salt and pepper. Stir until combined. Refrigerate leftovers.
Cut tortillas into your desired shape. Spread out on a baking sheet.
Spray the tortillas lightly with nonstick spray and sprinkle with sea salt. Bake for 8 minutes. Cool on a wire rack.

*This post contains affiliate links. Inside BruCrew Life may receive a small percentage from sales made through these free links. As always, these do not cost you any extra. Thank you for letting us share products we use this way.
SaveSave
SaveSave
SaveSave
SaveSave
SaveSave
SaveSaveSaveSave
SaveSave