Ok, so when cupcakes are in pairs...
that just means you have to eat them 2 at a time,
right?? :-)This week is round 2 of the cupcake challenge
at Hoosier Homemade.
We had to create a summertime themed cupcake
based on something we did this summer.
In May we headed to the beach for a week of fun in the sun.
Everyday that we went to the beach,
we all would take off
our flip flops and leave them
in a pile on the sand.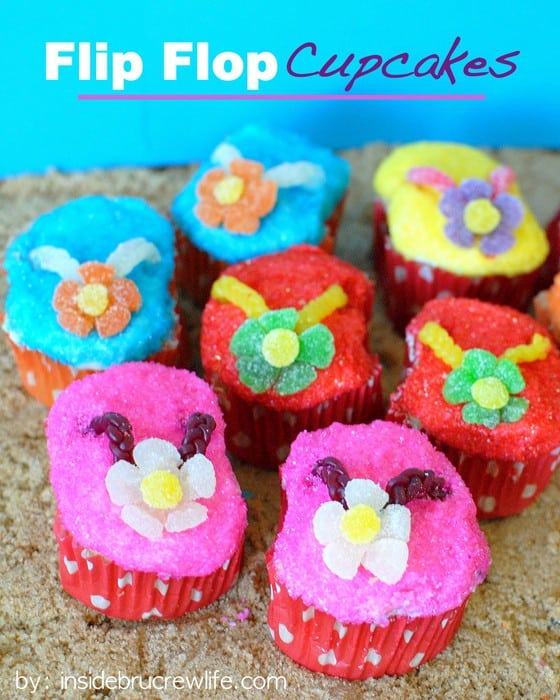 For some strange reason I liked seeing that pile each day:-)
I don't know why...I just did.
Now yes, this "pile" of flip flop cupcakes is way
neater than how our real pile looked...
but I had to make it look appealing:-)
Also, I always had to have some Diet Dr. Pepper in our cooler.
It is one of my fav drinks of all times.
So I tried out the Weight Watcher's cake recipe...
1 cake mix + 1 can of diet dr. pepper = a yummy cupcake
that is somewhat healthier...
but I think I ruined the health factor by adding
lots of frosting, sugar, and candy. LOL!
Hey, with all the cupcakes I have been baking
I had to try to limit a few calories...
These cupcakes were actually pretty easy to make.
I used foil balls (flattened) on the sides
of the cupcake liner so that it couldn't bake round.
(It helped give it the flip flop shape I was going for.)
The cupcakes were frosted and dipped in colored sugar.
Then I used spice drops to create the flowers.
Now I was going to make some boy flip flops, but
they just looked so plain and boring that I decided to
make them all girly:-)
For the straps I used peach rings cut in half,
some licorice lace candy that I braided for a fun strap,
and some more spice drops flattened and rolled.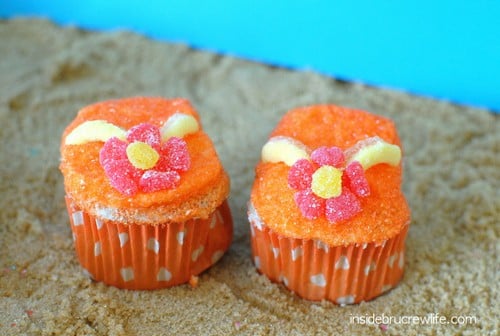 Wouldn't these be adorable for a beach or pool party???