These Irish Cream Chocolate Coconut Cookies have soft chocolate centers and delicious toasted coconut on the outside.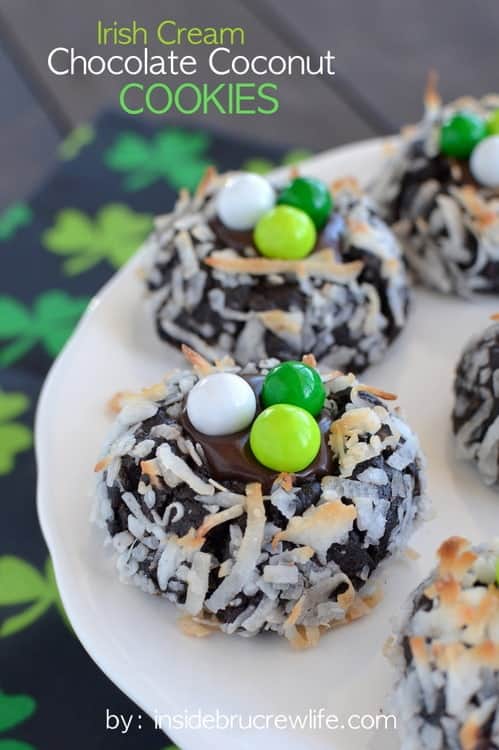 Do you like to celebrate different food holidays? As a food blogger, I tend to really watch for "national holidays" so I can make more fun food. If you google it, you will find just about every day has something delicious they are celebrating.
This time of year everything is showing up in green, mint, or rainbow. It is fun to create different seasonal foods that still work the rest of the year. Just change out the colors, and these cookies will work for any holiday.
Today I am joining with a group of blog friends to bring you St. Patrick's Day treats made using different Pillsbury products. Make sure you keep reading all the way through to find the links to all these amazing recipes.
Cookies are one treat that I love to bake each week. My kids pack their lunches almost every day, and I like to have cookies on hand for them to take. Most of these cookies are made from scratch, but there are the occasional weeks we buy packaged cookies. Yes, this food blogger cheats from time to time.
Some weeks I even use pre made cookie dough. I love that Pillsbury cookie dough comes in a variety of flavors and is so easy to bake up. You can also use the dough in a variety of ways to create fun recipes.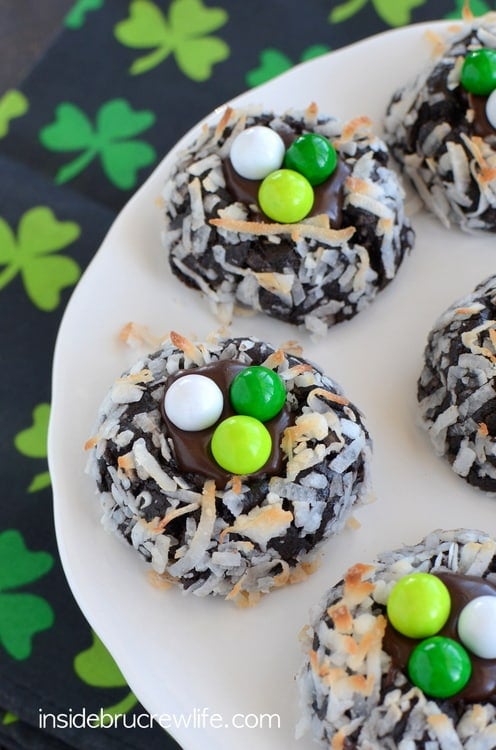 For this Pillsbury creation, I wanted a chocolate thumbprint cookie filled with chocolate cream.
To get a chocolate sugar cookie, you need to crumble the entire package of cookie dough into a bowl and add some cocoa powder. Mix until you have a really nice stiff chocolate dough.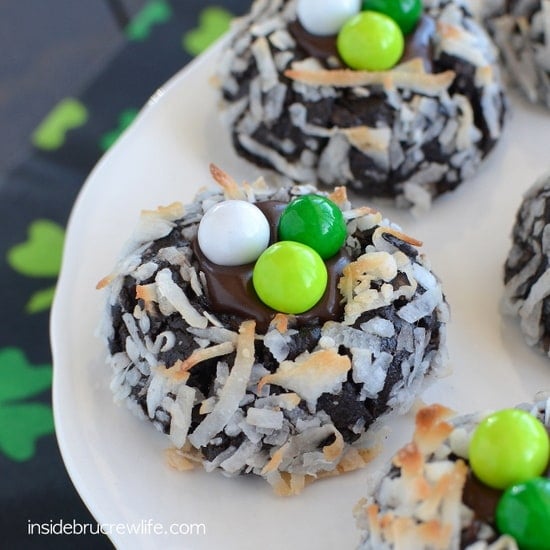 I find myself adding coconut to a lot of things this time of year. Mostly because I am tired of the cold and winter, and coconut reminds me of the beach and summer. Bring on that summer loving!
Roll the chocolate dough into 24 dough balls. After a dip in egg wash and a roll in coconut, they are ready to bake. Don't forget to press your thumb into the centers! You want to have a nice little pocket to hold the chocolate cream. Go ahead and reshape the edges if pushing your thumb in messes up the round shape.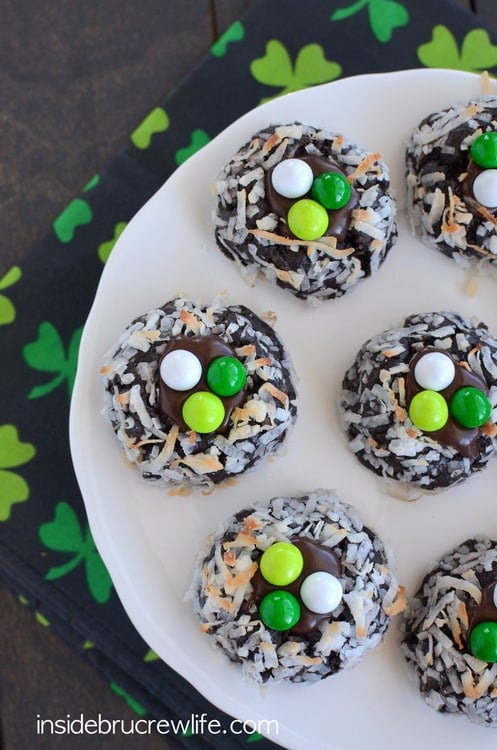 Just look at the gooey chocolate center!!
Did you know you can make chocolate cream (or ganache) from flavored coffee creamer? It is a fun little trick to flavor your chocolate. I used an Irish Cream creamer that I brought to a boil. Remove from the stove and stir in the chocolate chips until you have a delicious creamy mixture. Let it cool slightly before filling the cookie centers. You don't want chocolate running every where. There was a little bit of chocolate leftover in the bowl after filling the cookies...do what I did and eat it with a spoon 🙂 So wrong for the diet, but so right in the moment!
You know you want to join me in baking up another batch. Chocolate, coconut, and Pillsbury...it's a match made in heaven for sure.
These cookies didn't make it into the lunch boxes this week. After sampling 2 -- what? I had to be sure they were good 🙂 -- I boxed up the rest and surprised a coconut loving friend with cookies that day! I have decided to start "surprising" local friends with some of my baking. I bake so much, that we do not end up eating it all. I am really excited about the idea of "gifting" treats in a fun way!
More recipes we love using Pillsbury products:
Andes Mint Cheesecake Brownie Pie