This Peanut Butter Apple Cookie Pizza is a delicious fall dessert that is loaded with all the toppings. The cookie crust with a creamy topping, crunchy apples, and peanut butter cups will have everyone asking for another slice.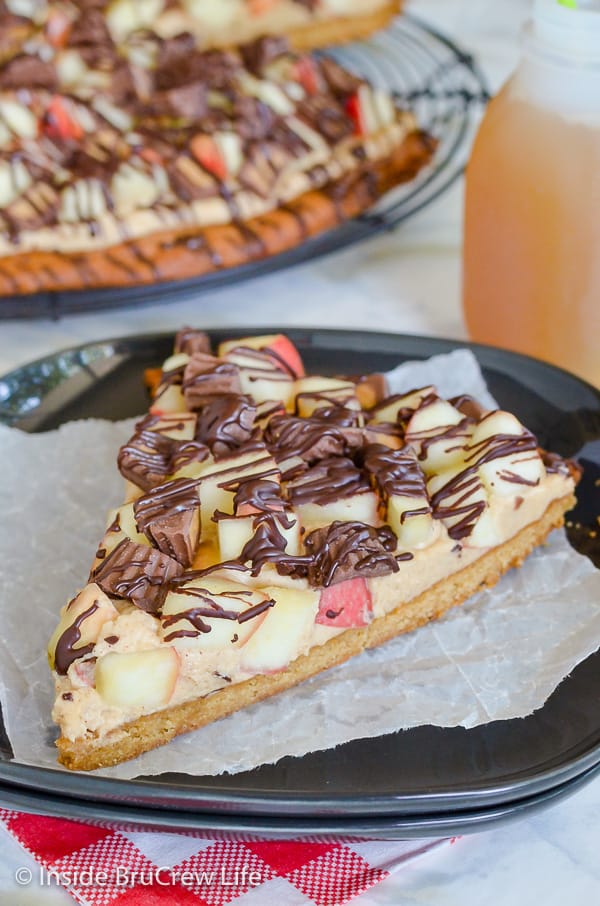 Now that we are officially into the fall season, I want cool weather all the time. Bright colored leaves, chilly mornings, sweatshirts, jeans, bonfires, apple orchards...I want it all.
But life in Florida does not accommodate those wants, so I have my air conditioner cranked down low and a sweatshirt on pretending that it is fall here while I sip on a White Chocolate Pumpkin Latte. Yes, I know I'm all kinds of strange. It's ok.
Then I made the mistake of doing some housework. Every six months or so, I have to deep clean the kids bathroom because teenagers just do not clean as thoroughly as adults. Bye, bye being chilly. But at least the bathroom looks better.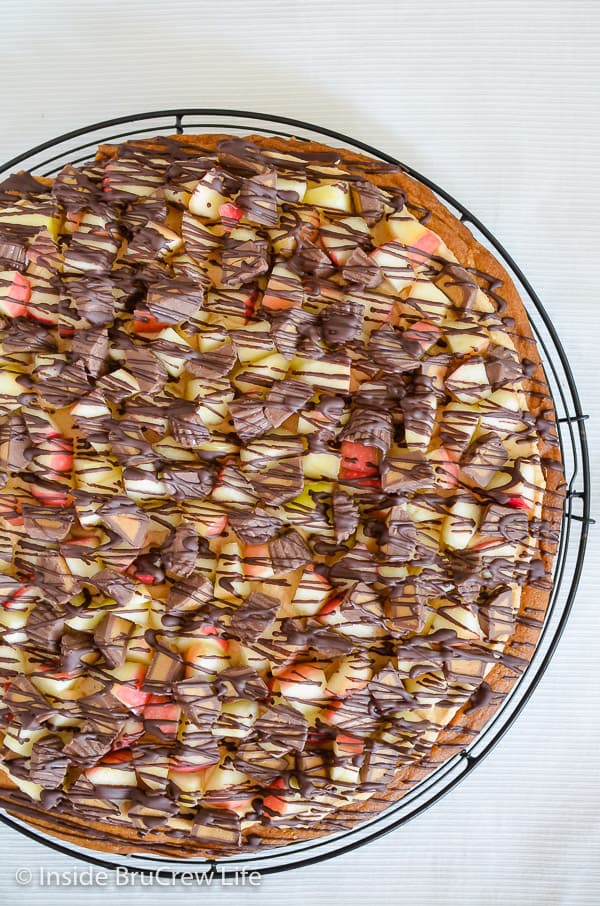 Now I'm back in the kitchen baking up a storm with some more apples. This month I have been all about apple desserts. This Apple Crisp Cheesecake started the apple madness, and now I can't get enough apple treats in my life.
Since I just had a few extra apples to use before they were tossed into the fruit drawer never to be seen again, I decided to make an easy cookie pizza for dessert.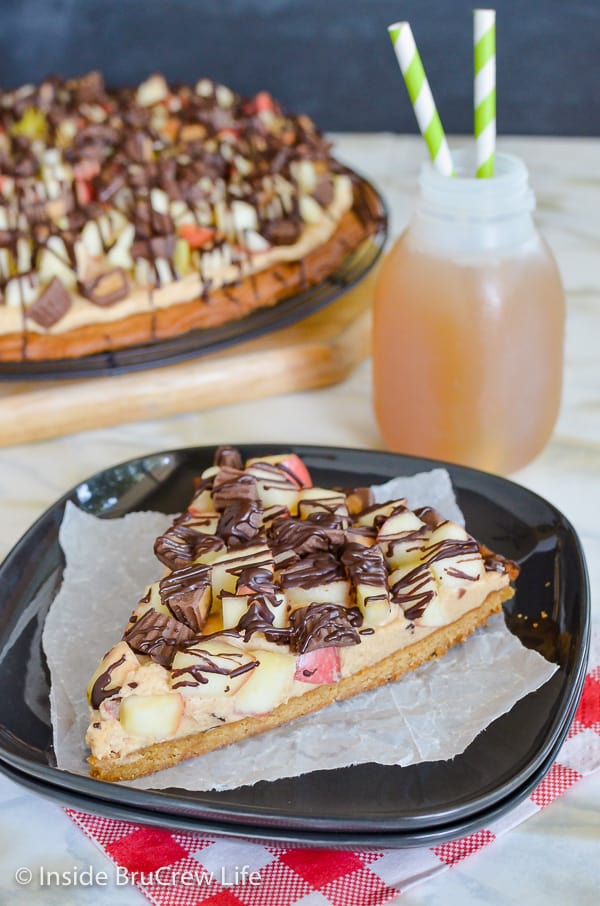 This is a semi-homemade dessert because I used a roll of refrigerated cookie dough. If you are feeling a bit domestic, go ahead and make homemade cookie dough. I was kind of over the domestic part since I did house cleaning for the day.
How to make a Peanut Butter Apple Pizza:
Open the roll of cookie dough and slice it into pieces. Press the circles into a 10 inch circle on a pizza pan. Bake and cool.
Beat the cream cheese and sugar until creamy. Add peanut butter and cinnamon and beat again.
Fold in some Cool Whip to make it light and fluffy. Feel free to make homemade whipped cream and use that instead, if you prefer.
Spread the peanut butter topping evenly on the cooled cookie pizza.
Top with apple chunks and mini peanut butter cups.
Drizzle with melted chocolate. Let it set before cutting into slices. (full recipe below)
Apple chunks, peanut butter cups, and the drizzle of dark chocolate made this peanut butter cookie pizza one of my new favorite desserts. Thank goodness we were sharing it with friends because I couldn't stop eating it.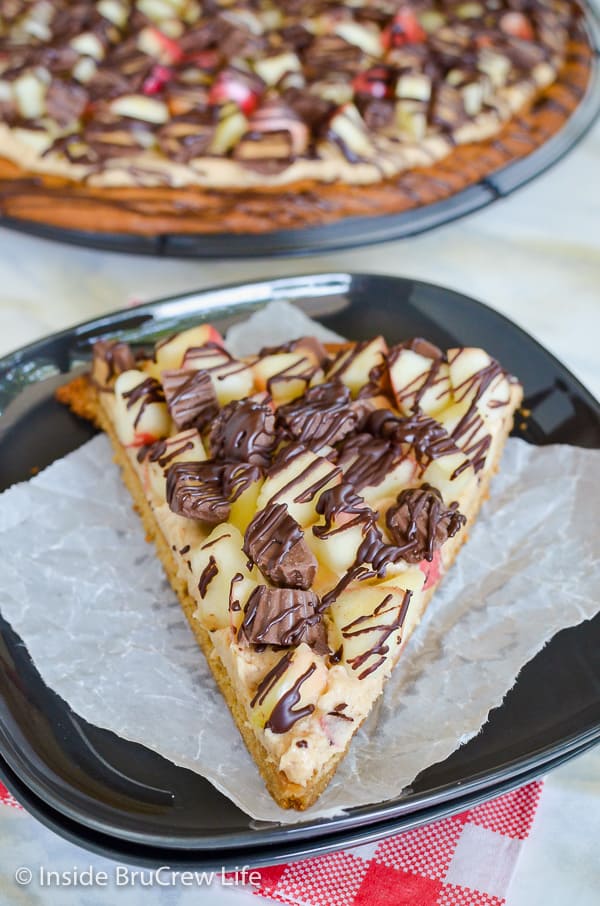 More easy apple desserts you may like:
Fluffernutter Apple Nachos - apples topped with marshmallow cream, peanut butter, and Reese's peanut butter cups make a fun after school snack.
Candy Apple Cookie Cups - a creamy apple and candy bar filling adds the perfect topping to homemade cookie cups.
Cinnamon Sugar Apple Cheesecake Danish - a creamy apple cheesecake layer baked between cinnamon sugar coated crescent rolls is a very good idea.
Apple Snickers Cheesecake Trifle - layers of crunchy apples, creamy cheesecake, and candy bars make this trifle an impressive no bake dessert.
Skinny Apple Blueberry Salsa - apple chunks and dried blueberries tossed in a sweet orange yogurt tastes so good with cinnamon chips.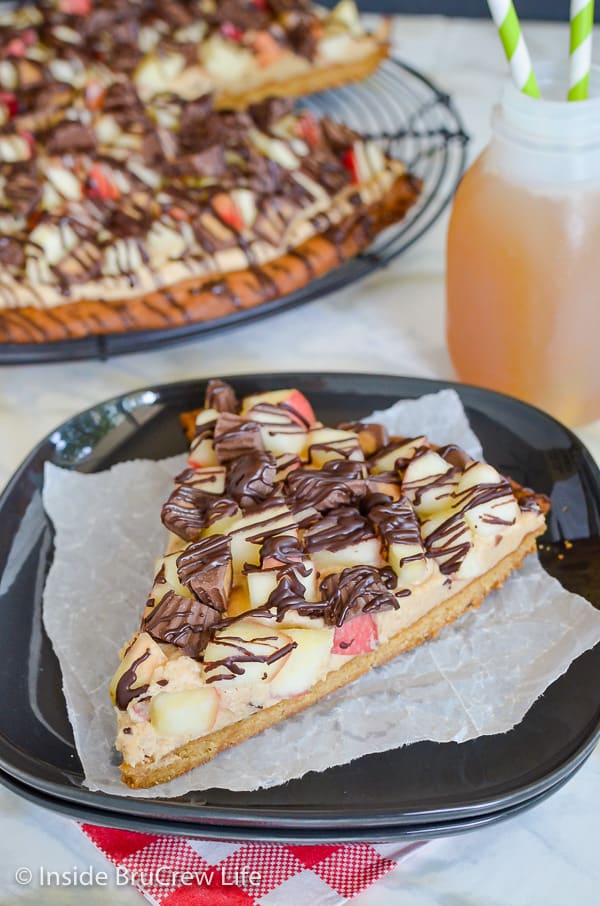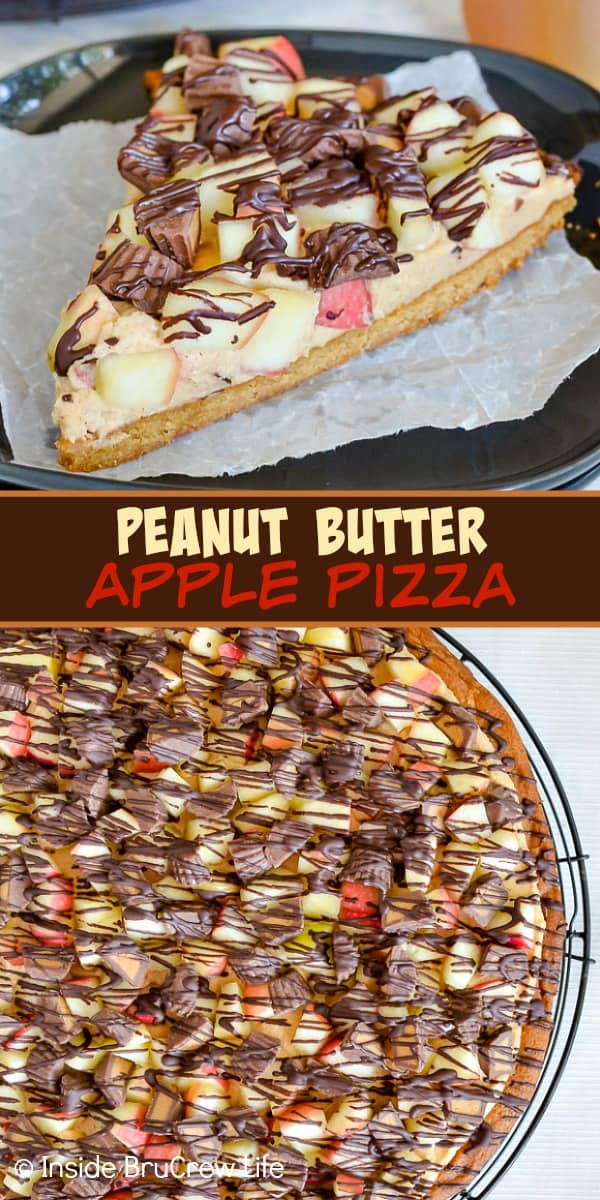 *The post for this Peanut Butter Apple Cookie Pizza was first published September 24, 2013. The photos were re-edited, and the post was republished on September 18, 2019.