Peanut butter cookie dough and a no bake peanut butter cheesecake topping makes this Peanut Butter Apple Pizza one dessert that will not last very long at any fall parties.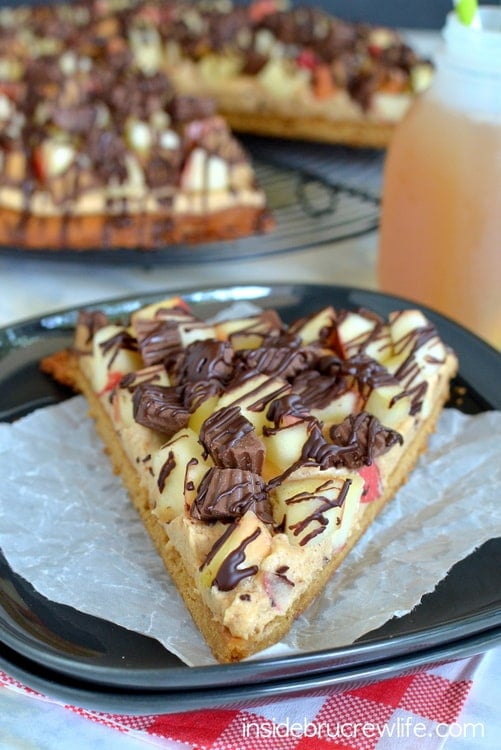 Hey, there friends.
My BFF Aimee and I are teaming up to bring you an entire week of apple goodness again.  Last year we had so much fun doing an apple week that we decided it needed to happen this year too.  There is something just so fun about a theme week of treats.
Usually when I get a flavor idea in my head, I make about 4-5 different things that have the same flavor combos, but are completely different.  The salted caramel has been happening quite often in my kitchen lately, but this week I am giving up all other things and concentrating completely on applicious goodies.  You don't mind, do you?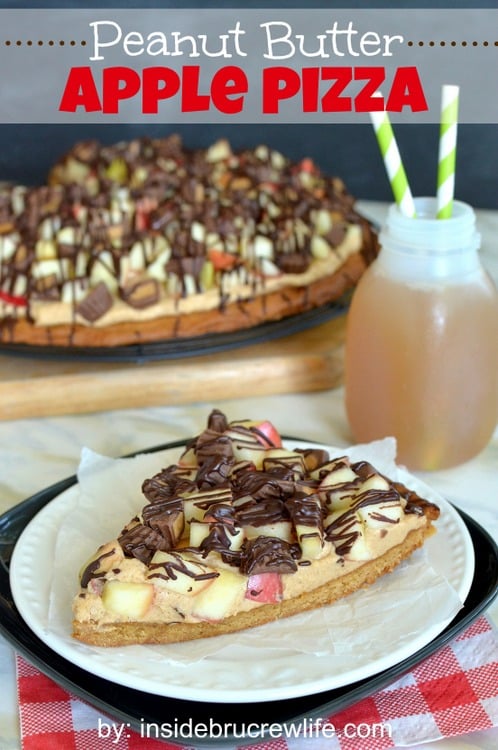 Now that we are officially into the Fall season, I want cool weather all the time.  Bright colored leaves, chilly mornings, sweatshirts, jeans, bonfires, apple orchards…I want it all.  Yesterday I had my windows open, and I was actually chilly all day long.  So much that I even had to find a sweatshirt to wear.  I may have done a few happy dances to celebrate the "cool" moment.
Then I made the mistake of doing housework.  We got some new carpet in our living room, and I thought it would be the perfect time to wipe down the walls.  Bye, bye being chilly.  But at least the room looks better now.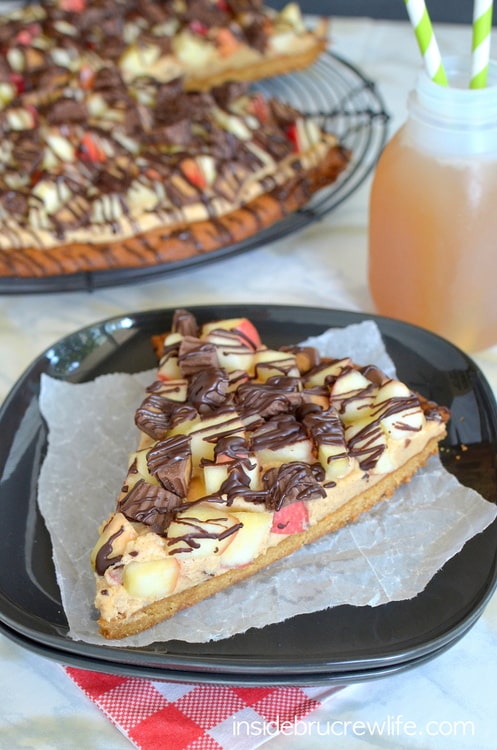 Let's chat about how good this cookie pizza is.  It is a semi homemade treat, so if you are feeling a bit domestic go for it and make your own cookie dough.  I was kind of over the domestic part since I did house cleaning for the day.  Wall cleaning will do that to you.  I went with a ready made dough, so I could start inhaling this cookie pizza faster.
I used an entire roll of refrigerated cookie dough and pressed it onto a pizza pan.  Throw it in the oven for about 15 minutes.  Hello nice warm, happy cookie pizza.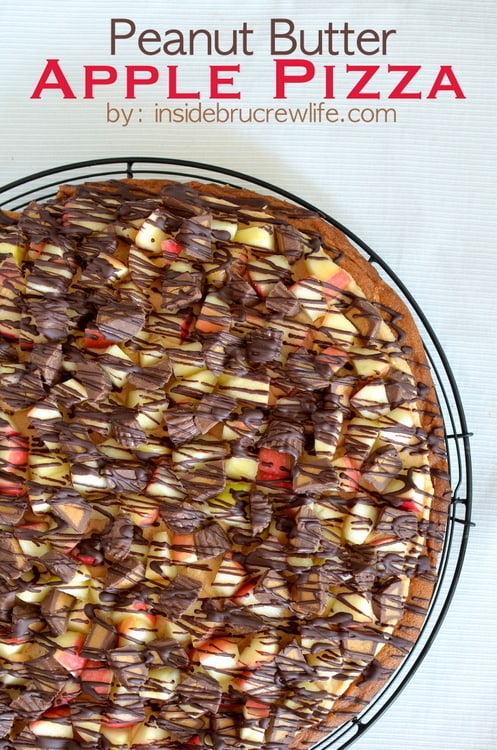 While the cookie is baking, go ahead and work on your topping.  Cream cheese, peanut butter, Cool Whip, and some cinnamon is all it takes.  Beat it all together and resist the urge to eat all of it with a spoon.  Go ahead and eat one spoonful…it's called research.  But set it aside because you have some more "work" to do.
Haha!  I love that I can call baking "work" now.  Best. Job. EVER!
Time to get your apples ready.  I love baking with apples.  How many of you have had the opportunity to try them out?  They come in the refrigerated section of your grocery store where they are in bags already sliced and ready to eat…or bake with.  My kids seriously eat them in no time at all when we have them in the house.  With all the apple things I wanted to make, I had to tell them the apples were off limit.  At least until I was done baking, and then they were fair game again.
Apple chunks, peanut butter cups, and a drizzle of dark chocolate make this cookie pizza one of my new all time favorite desserts.   We seriously couldn't stop eating it.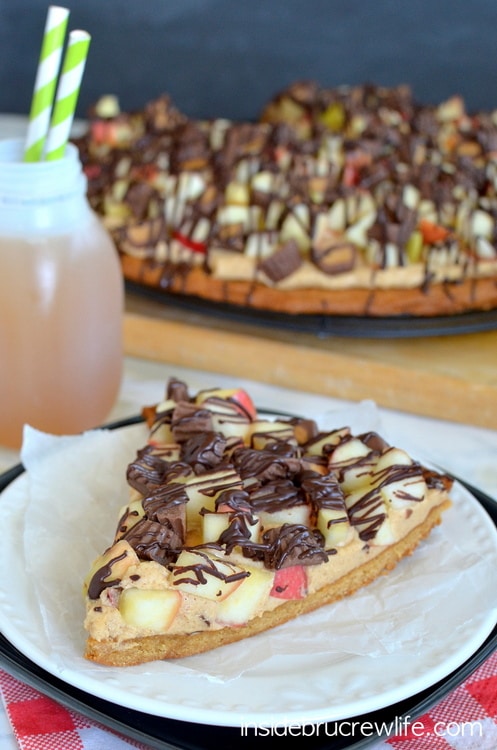 Now head on over to Shugary Sweets and see Aimee's recipe for Apple Pecan Cups.
Day 1 of apple week is off to a great start…
Stay up to date on all the BruCrew baking here:
FACEBOOK | PINTEREST | GOOGLE+ | TWITTER | INSTAGRAM | BLOGLOVIN
Yield: 16 slices
Peanut Butter Apple Pizza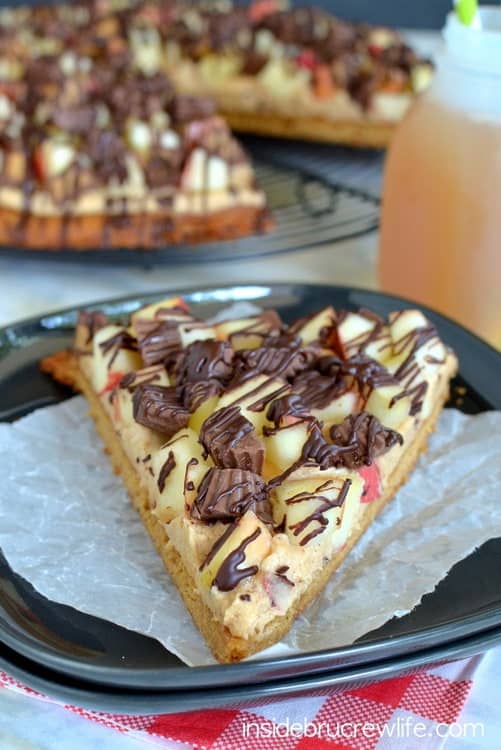 Peanut butter cookie dough topped with a no bake peanut butter cheesecake, apples, and peanut butter cups is a dessert that no one will turn down.
Ingredients
1 - 16 ounce roll refrigerated peanut butter cookie dough
1 - 8 ounce package cream cheese, softened
1/2 cup peanut butter
1/4 cup sugar
1 teaspoon cinnamon
1 cup Cool Whip
2 cups apple chunks
1/4 cup lemon lime soda
1 cup unwrapped mini Reese's peanut butter cups
1/4 cup dark chocolate chips
1/2 teaspoon shortening
Instructions
Preheat oven to 350 degrees.
Open the cookie dough roll and cut into slices. Press the slices evenly into a 10 inch circle on a pizza pan. Bake for 15-17 minutes. Cool completely.
In a mixing bowl, beat the cream cheese and sugar until creamy.
Add the peanut butter and cinnamon and beat again.
Fold the Cool Whip into the mixture gently. Spread the mixture evenly over the top of the cooled cookie pizza.
Place the apple chunks in a bowl and pour the soda over them. Toss gently to make sure all the apples are coated. Drain off any excess soda.
Gently place the apple chunks and peanut butter cups over the filling.
In a small bowl combine the chocolate chips and shortening. Heat for 20 seconds in a microwave. Stir and repeat until melted and creamy.
Spoon into a small ziplock bag with one tip cut off. Drizzle over the entire cookie pizza. Keep refrigerated. Cut into 16 wedges.