Lemon and cheesecake inside a crispy french toast roll is a delicious way to change up breakfast. These Lemon Cheesecake French Toast Roll Ups are easy to make, but they look so fancy and pretty. Perfect for any brunch or breakfast parties you may be hosting.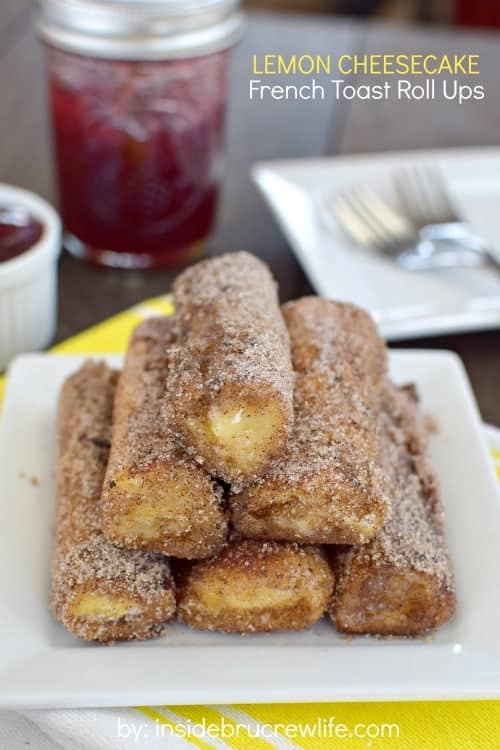 One of my favorite breakfast meals is french toast, but I do not make it that often. Me thinks that needs to change. Warm toasty bread drizzled with syrup should be a part of our breakfasts more often.
Well, maybe part of our breakfast for dinner, since I'm not really a morning person. Something tells me frying bread in the early morning hours might result in someone getting hurt or breakfast being burned. Or both.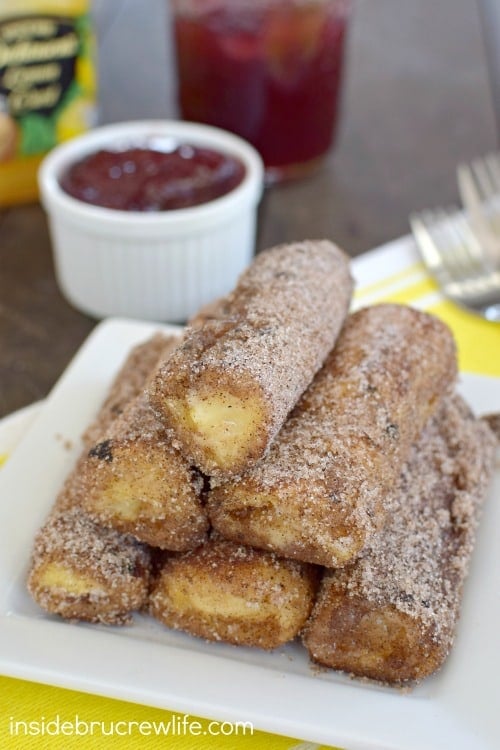 Now I know what you are thinking. Ok, so when did you make these French Toast Roll Ups we see in front of us?
I got all breakfast-y on a Saturday morning earlier this month. And by morning I really mean late morning...ok, fine it was closer to lunch time. French toast for lunch is totally acceptable on the weekends, right?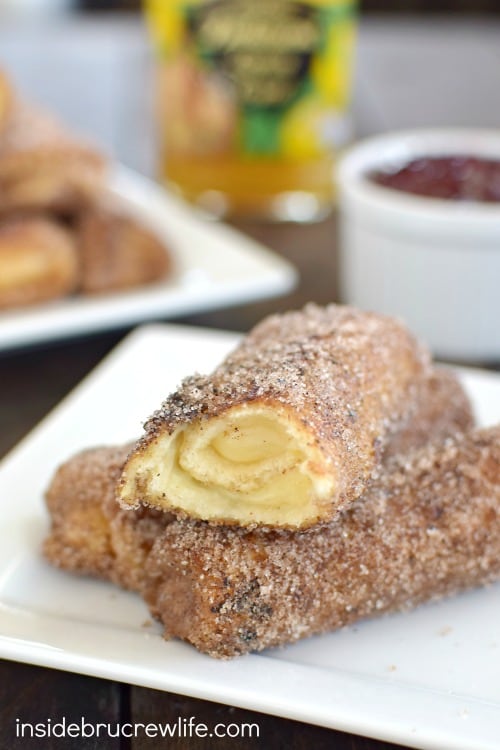 When I got the urge to make french toast, I had a lightbulb moment to fill them before frying them in butter. My first thought was cheesecake because, well, duh cheesecake. It goes with everything. Then I saw a jar of lemon curd in the cupboard, and these Lemon Cheesecake French Toast Roll Ups were born. And bonus, it only uses half a jar of lemon curd, so get your spoon ready to eat the rest. Oh, wait. Maybe I'm the only that does that?
These really are easy to make, but I have a few tips for you to remember as you give them a go in your kitchen. I was really going to take a few step by step pictures, but I would have to have another set of hands to do that. So I might need to have a baking assistant on days like this.
1. Cut off the crusts on all the bread slices. Then roll each piece of bread flat with a rolling pin.
2. Mix together the cream cheese and lemon curd and spoon a little bit along the short end of a slice of bread. Carefully roll it up and set aside. Repeat 15 times.
3. Dip 3-4 at a time in the egg mixture and place in a pan with 1 Tablespoon melted butter. Keep the rest of the butter right there to add to the pan as needed. Make sure you keep rolling them around gently to get all the sides browned.
4. As soon as they are browned and done, roll them in the cinnamon sugar mixture. Serve immediately. These are best eaten fresh from the skillet!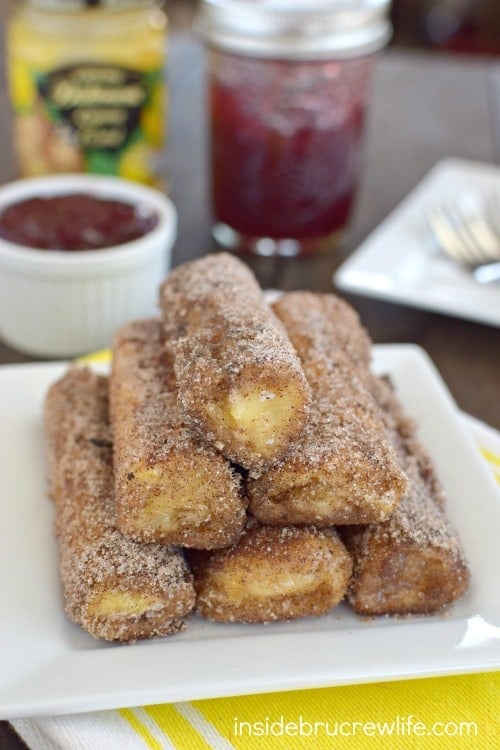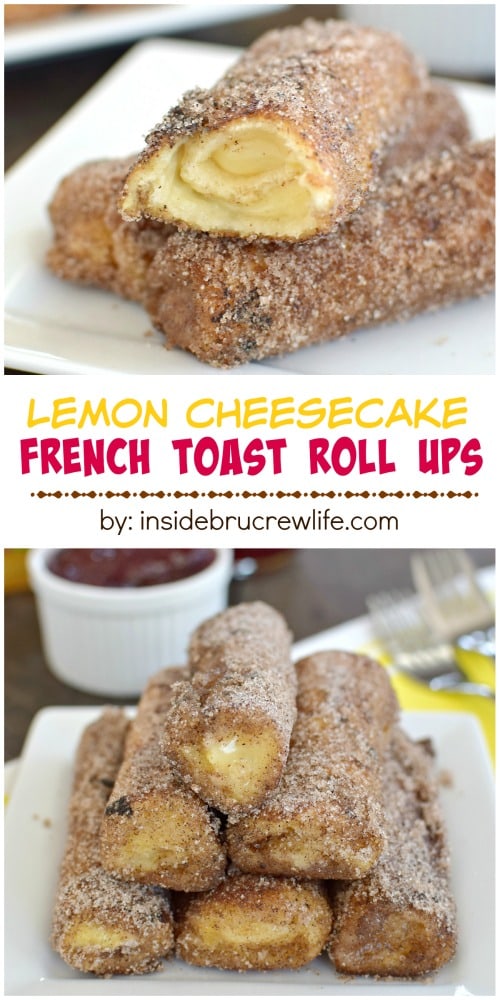 Here are a few more lemon recipes we like for breakfast: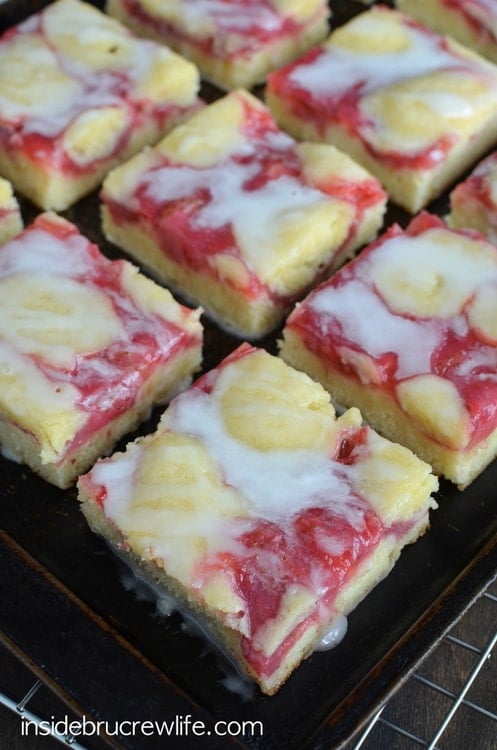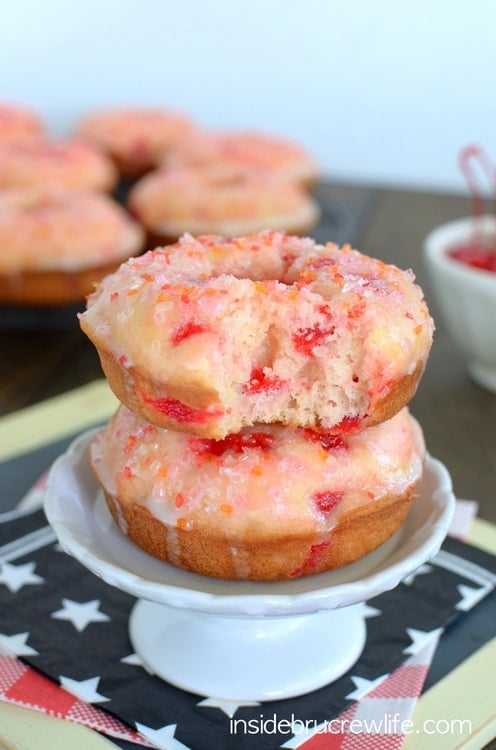 Cherry Lemonade Donuts