Lemon Gingersnap Cheesecake Tarts: crunchy cookie crusts filled with a fluffy cheesecake mousse and topped with a gingerbread cookie is a fun and easy treat to make for holiday parties.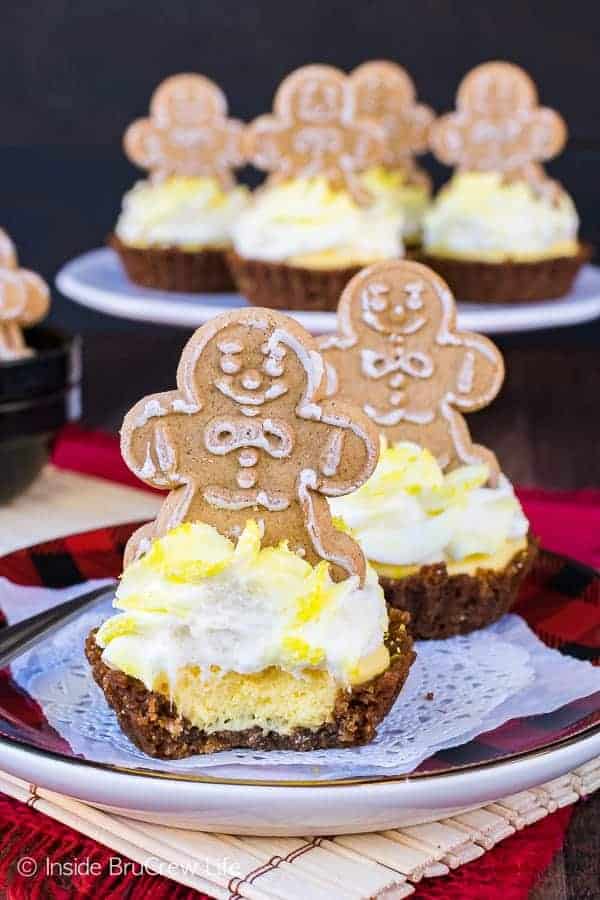 This month is my husband's birthday, and all he wanted was to go see the new Star Wars movie with the family. So this past weekend we ordered tickets, bought matching shirts, and went to see the movie at the IMAX theatre. You guys. I grew up watching the old Star Wars, so those ones have a special place in my heart. Nothing beats them.
If you haven't seen the new one yet, just take what I say with a grain of salt. We didn't like it. At all. It was just strange. Almost like they were trying too hard to reach out to multiple generations. My husband said it was like Stars Wars meets Harry Potter meets Space Balls meets Mary Poppins. Yeah, it had all of those elements in it, plus a whiny old Jedi leader. Not worth it in my opinion to see it in the movies. It would be a good $1 Redbox pick.
But we still had fun going as a family in our matchy matchy shirts. Our kids gave us a few eye rolls when I gave them the shirts and told them they had to wear them. We got a few more eye rolls when I said I had matching flannel pants for everyone to wear on Christmas day. Our daughter said, "great, we are THAT family." Bwhahahaha! Yup, we are.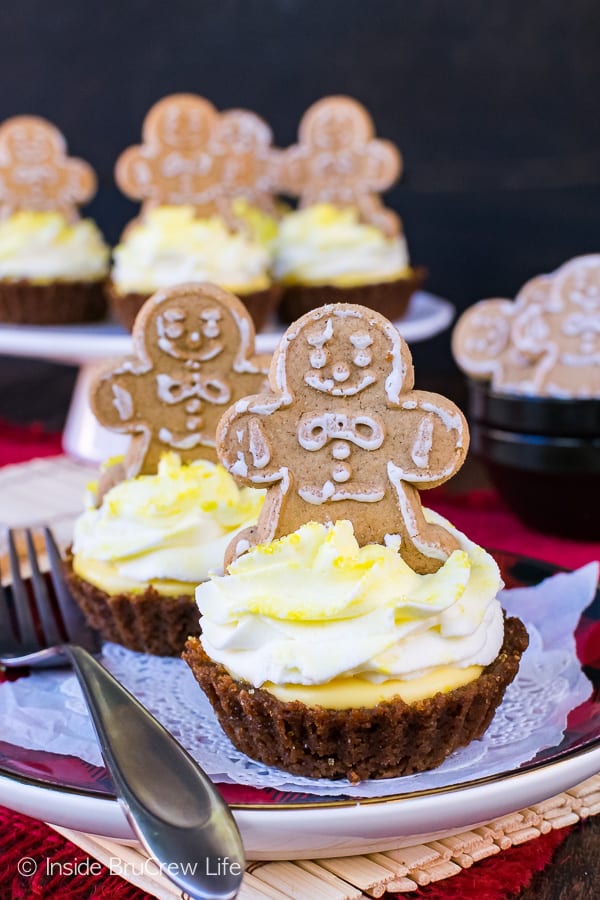 Speaking of things that I don't like, let's talk lemon. Growing up I wasn't a big fan of anything lemon related because I just can't do sour things. My kids know this little fact and are always trying to slip me sour candies. I know better than to accept any kind of candy gifts from any of those little turds.
But last year I made the best lemon bars and realized that I do like lemon as long as it is mixed with enough sweetness.
For some reason this year I was totally craving something lemon. It's not often that I get that kind of craving, so I had to act on it right away.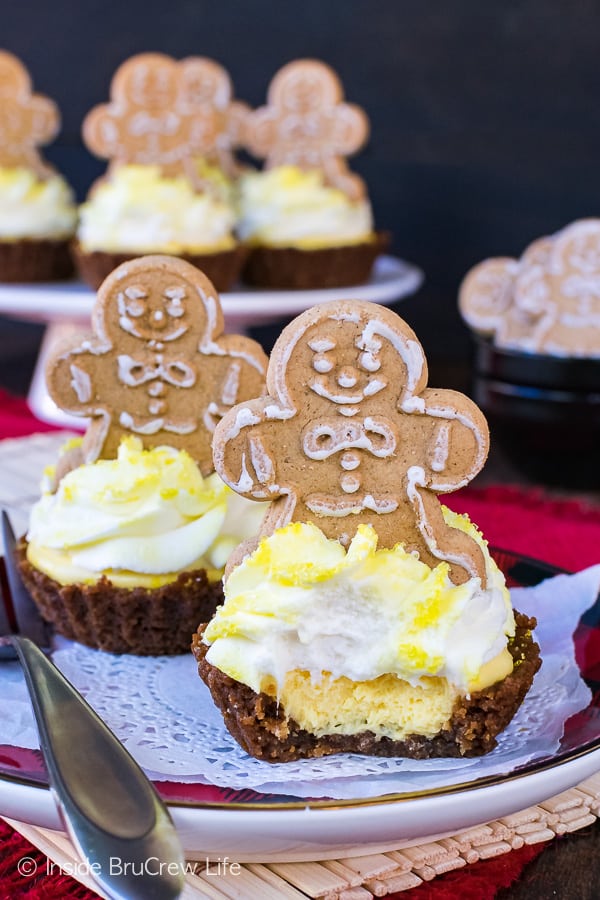 Last year I also made this no bake eggnog cheesecake trifle. Aren't those little gingerbread boys the cutest ever??? I just had to buy another bag this year and use them, so they became part of my lemon dessert project.
Since I was going to add the gingerbread boys to the top of the little tarts, I decided to make a gingersnap cookie crust for the lemon filling.
The spicy cookie crust with the sweet and sour lemon filling made these lemon gingersnap cheesecake tarts such an awesome little dessert.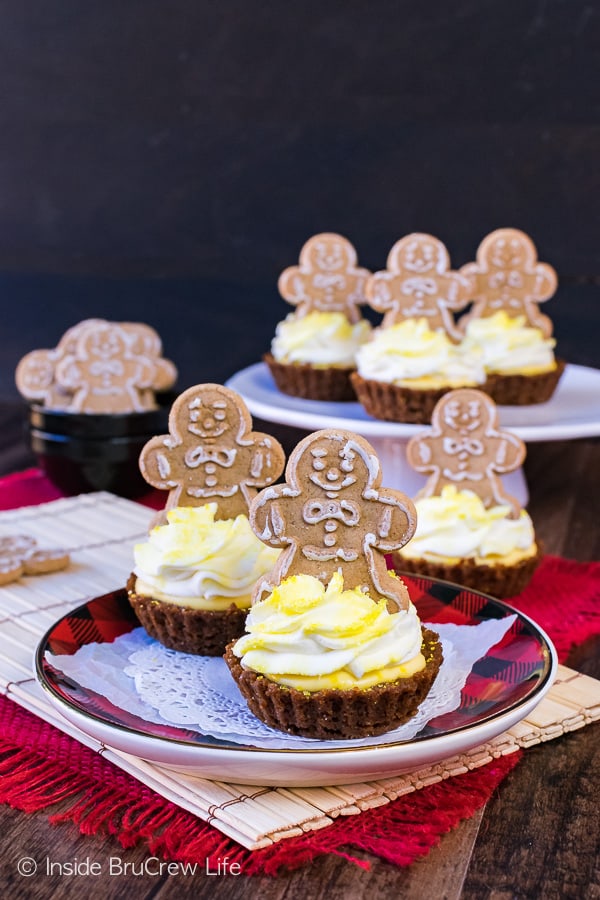 As I was thinking through the cheesecake filling, I remembered how good (and easy) this lemon cream fruit dip was. I decided to add some of that dip to some cream cheese. Best idea ever. After these little tarts chill, the filling become light and fluffy!
A swirl of homemade whipped cream with some yellow sanding sugar added the perfect finishing touch. I love how the yellow sugar slightly dissolves into the whipped cream as it sits in the fridge.
Right before you serve these tarts, add a little gingerbread cookie to the top, and then stand back and die at the cuteness! They are almost too cute to eat. Almost...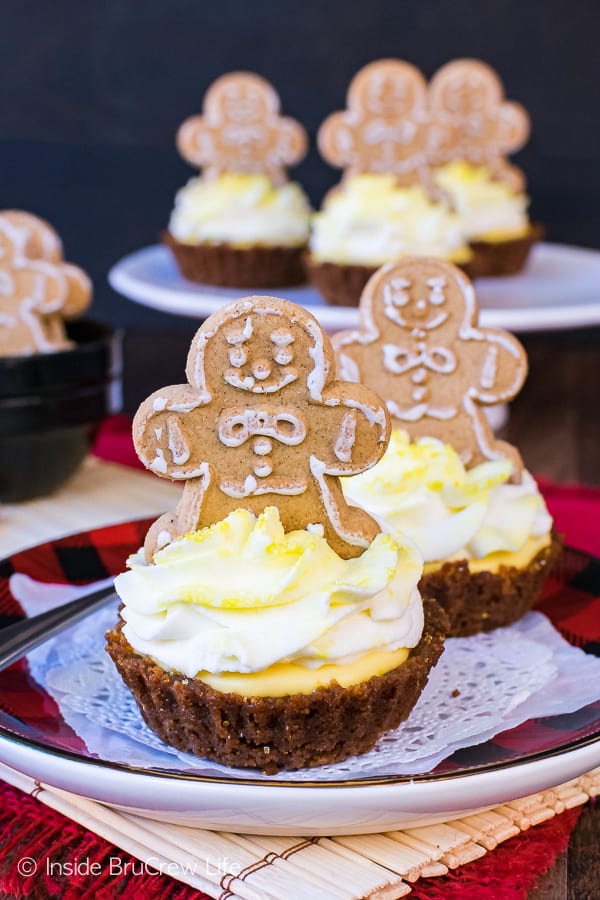 More fun lemon desserts
These Lemon Snowball Cookies from Crazy for Crust are a fun way to get your sweet and sour fix. Love that powdered sugar coating!
A batch of these Lemon Poppyseed Pancakes from The View from Great Island would be the perfect way to start out any holiday morning.
Would you look at the layers in this Outrageous Lemon Lovers Trifle from Melissa's Southern Style Kitchen?!?!?! It's so dreamy looking!
CLICK HERE TO PIN THIS RECIPE FOR LATER!