Sweet and sour pair together to make these the Best Lemon Bars for your tastebuds. They are the perfect treat for dessert.
Add this Lemon Cheesecake Cake and your dessert table will be full of lemon dessert goodness.
*Love these recipes? Sign up for the free BruCrew email to have them sent to your inbox.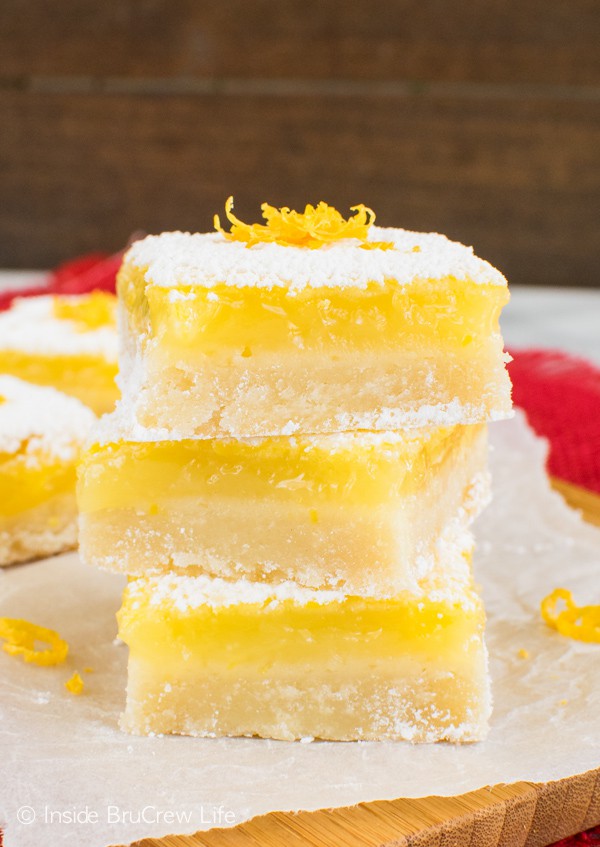 I'm not a big fan of sour things. My kids think it is the funniest thing to try to trick me into eating sour patch kids or sour gummy worms.
They have gotten me a few times, but now I know better than to take candy from them. Unless it is chocolate…then I grab it faster than they can take it back.
Since sour things tend to make me pucker just thinking about them, I usually avoid lemon desserts. If you have been following along with my dessert journey here on the blog, you know that chocolate and peanut butter reign supreme.
But then I decided to give lemon another chance. Last spring I branched out and made these Lemon Sugar Cookie Bars and realized that I do like lemon in small doses.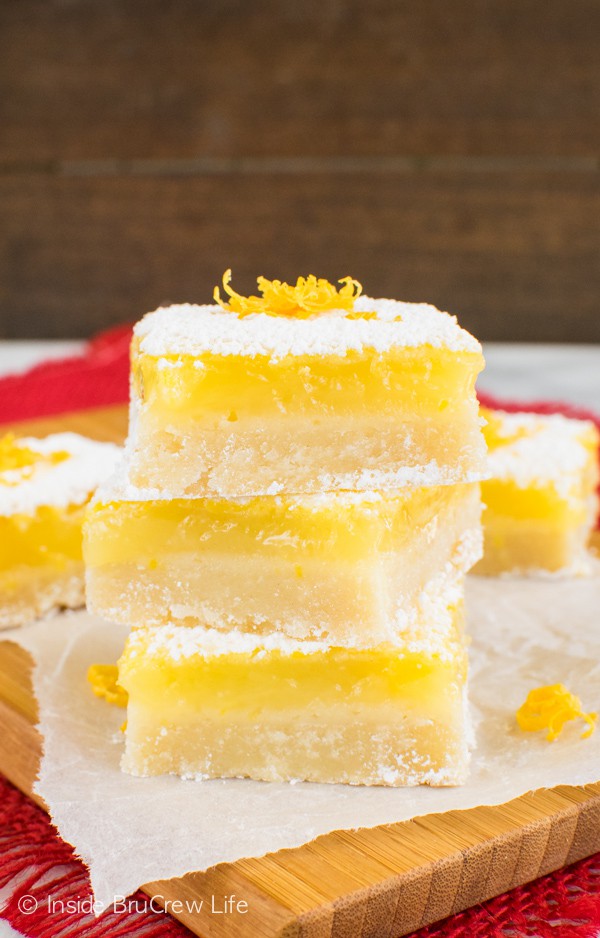 Ok, so what I really realized is that I like cookies laced with lots of sugar and some lemon. But hey, it was a start into the lemon dessert world that I had been avoiding.
Fast forward a year and I'm giving lemon another chance. And I'm still liking it. I have decided that when life gives you lemons, you should definitely make lemon bars!
A few weeks ago I got a call from a girl from our new church. She runs a local bakery here in town, and her resident baker had left a few months ago.
They had an order for lemon bars, and the current recipe in their folder was not working at all. It turns out the former baker must have been tweaking things.
Sadly, I wasn't much help for her that day. BUT…it did get me motivated to buy some lemons and a zester and to work on some lemon squares in our kitchen.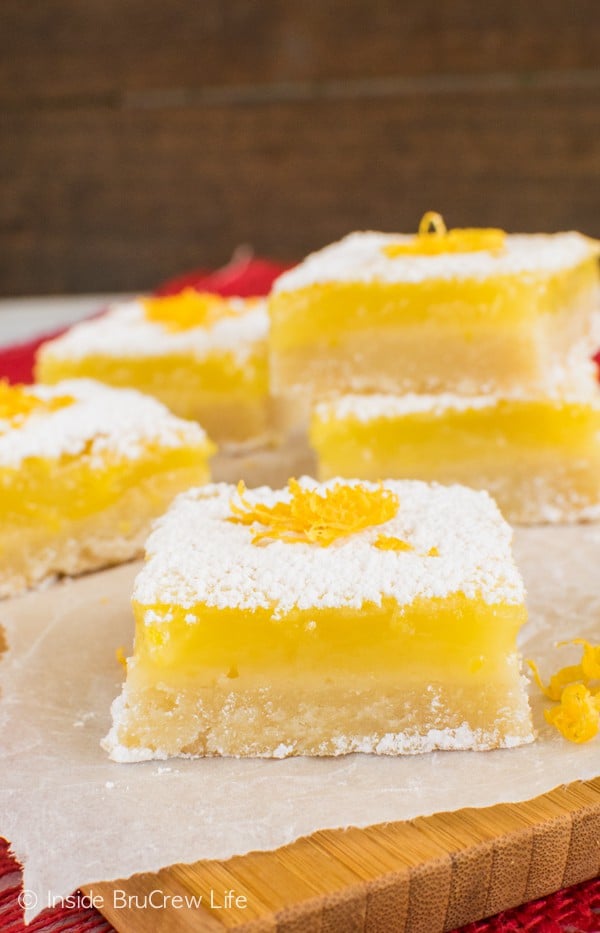 After much research on easy lemon bars and looking at all my old recipes, I came up with a version of the Best Lemon Bars. Now I realized that calling something the best is very relative. Your best might not be my best and vice versa.
Since I'm a fan of sweetening my lemon to keep my cheeks from puckering up too much, I wanted the base to be more cookie like.
I had a feeling that the shortbread crust on these Salted Caramel Shortbread Squares would work, so I tweaked the base to fit an 8×8 pan.
How to make the Best Lemon Bars:
Crust: Mix together flour, powdered sugar, and butter until a soft dough forms. Press it into the bottom of a greased 8×8 pan. The rich buttery crust in these bars worked so well, that I'm pretty sure I will be changing up the original every time now. Bake the crust for 20 minutes.
Lemon Filling: Fresh lemon juice and zest will give you more lemon power in these easy lemon bars. Also, the more zest you use will amp things up more. Add all the filling ingredients into a blender and give it a whirl. When the crust is done baking, pour the filling on top and bake it for another 25 minutes.
Powdered Sugar: Sprinkle the chilled lemon bars with a hefty dose of powdered sugar right before serving.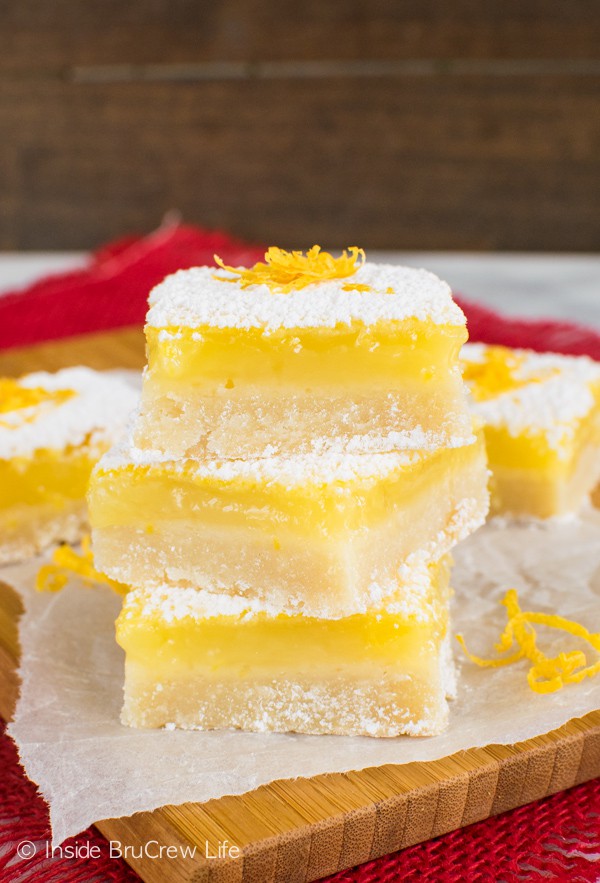 Tips for Lemon Bars:
Since I'm working my way into loving lemon, I only used 2 Tablespoons of zest in the lemon curd filling. If you are a lemon lover, go for more! You could also add some zest to the crust if you wanted to give it more pucker.
One of my favorite tools is this little dusting wand. It makes it so easy to dust these bars with of powdered sugar. Make sure to add the powdered sugar right before serving because it will soak into the homemade lemon bars the longer it sits out.
For someone who proclaims to not like lemon, I sure ate my fair share of these lemon squares. Like I said, they are the Best Lemon Bars because I gave them a slightly sweeter twist. That's how I roll around here.
Common Questions about Lemon Bars:
Do lemon squares freeze well? Yes, after the bars cool completely, wrap them tightly in foil or plastic wrap and freeze for up to one month. Thaw completely before serving.
Do lemon bars need to be refrigerated? The lemon filling is basically a custard, so if you are not serving them the same day, they need to be stored in the refrigerator. However, if you are serving them at a party, they will be fine at room temperature for a few hours.
How long do lemon bars last? It really depends on who is eating them. Around certain people, they will be gone in a day. But if you keep them in the fridge, they should keep for up to four days.
How do you cut lemon bars neatly? Line your pan with foil or parchment paper, so you can lift the bars out easily when they are cooled. Cool the bars to room temperature, then refrigerate until firm. Use a sharp knife that has been dampened in warm water to make clean cuts.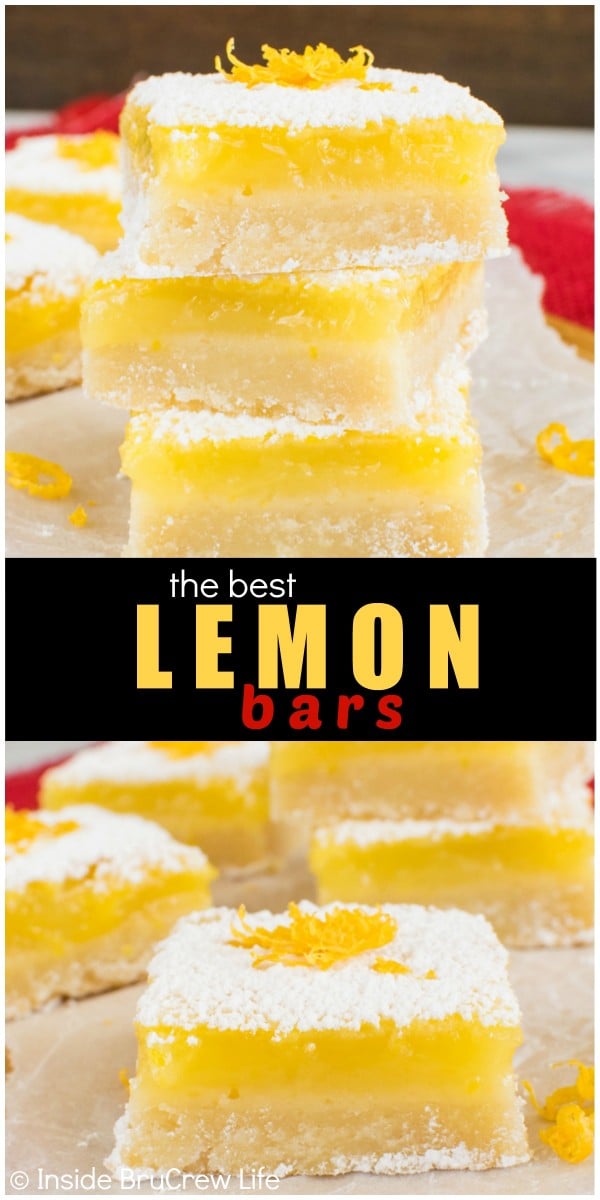 More lemon desserts you may like:
Easy Lemon Cheesecake Danish – lemon curd and fresh fruit make these little pastries so pretty and delicious
Lemon Cream Fruit Dip – this easy two ingredient dip is perfect for dipping all the fresh fruit in
Lemon Coconut Cupcakes – a pocket of lemon filling and sweet lemon coconut frosting makes these cupcakes disappear in a hurry
Strawberry Lemon Snack Cake – sweet cake topped with homemade strawberry filling and lemon glaze
Connect with Inside BruCrew Life! Follow us on social media, so you never miss a post.
Email Subscription | Facebook | Pinterest | Twitter | Bloglovin
I also created a fun new Facebook group, and I would love for you to join. It's a group where you can share your favorite recipes, ask questions, share photos, and see what's new with the BruCrew. If you would like to check it out, you can request to join HERE.
Be sure to follow me on Instagram and tag #brucrewlifebaking, so I can see all the Inside BruCrew Life recipes you are making.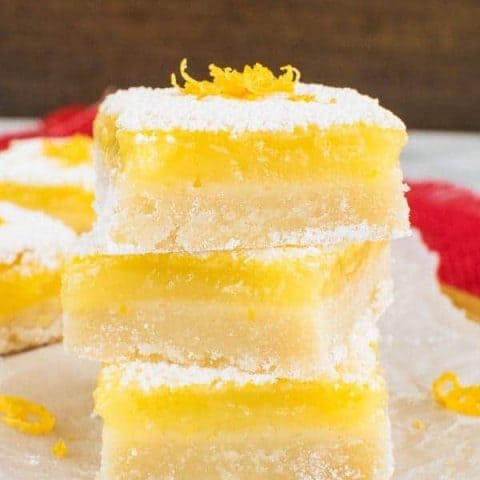 The Best Lemon Bars
A sweet cookie crust gives the Best Lemon Bars the perfect balance of sweet and sour.
Ingredients
For the Crust
1 1/2 cups all purpose flour
1/2 cup powdered sugar
3/4 cup unsalted butter, softened
For the Filling
1 cup granulated sugar
2 Tablespoons all purpose flour
1/4 teaspoon salt
1/2 cup lemon juice
2 Tablespoons lemon zest
2 large eggs
powdered sugar, for garnish
Instructions
Preheat the oven to 350 degrees. Line an 8x8 pan with foil and spray with nonstick spray.
Mix the flour, powdered sugar, and butter together until a soft dough forms.
Press the dough into the bottom of the prepared pan. Bake for 20 minutes.
While the crust is baking, pour the filling ingredients into the blender and pulse until light and frothy.
Pour onto the hot crust and bake another 25 minutes. Remove and let cool completely. They will set up as they cool.
Sprinkle with powdered sugar right before serving. Makes 16 bars.
Nutrition Information:
Yield:

16
Serving Size:

1
Amount Per Serving:
Calories:

224
Total Fat:

9g
Saturated Fat:

6g
Trans Fat:

0g
Unsaturated Fat:

3g
Cholesterol:

46mg
Sodium:

46mg
Carbohydrates:

34g
Fiber:

0g
Sugar:

23g
Protein:

2g
Nutrition facts are an estimate and are not guaranteed to be accurate. If you need special diet advice, please see a registered dietician.
*This post contains affiliate links. Inside BruCrew Life may receive a small percentage from sales made through these links. As always, these free referral links do not cost you any extra. Thank you for letting us share products we use and love this way.