This easy two ingredient Lemon Cream Fruit Dip is a delicious and fresh dessert that everyone will love. It's a great fruit dip recipe to share at parties and picnics.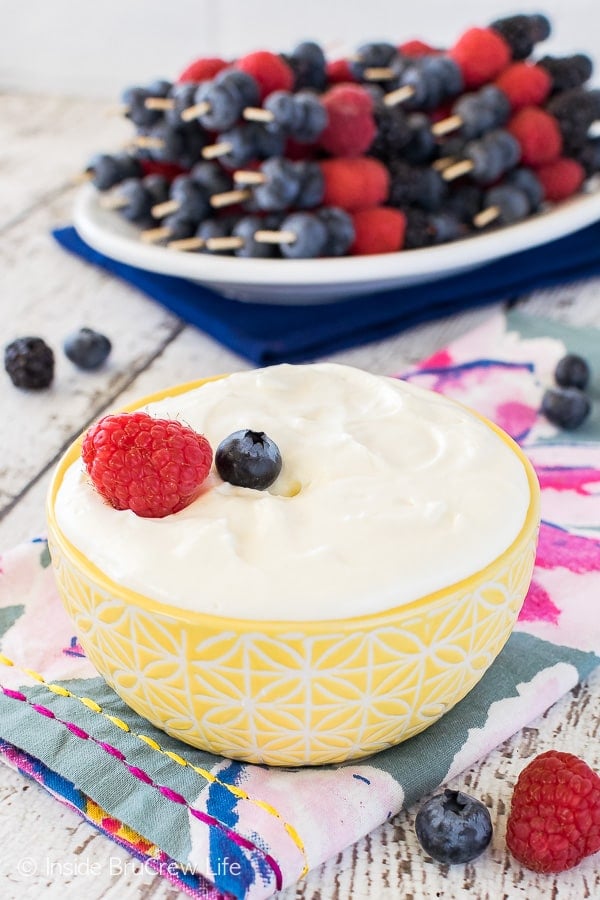 Fresh fruit doesn't last very long in our house. It seems like whenever I buy a few boxes of fruit, they just magically disappear. Yay for fruit being magically delicious, right? Most days I love that our kids can't get enough of fresh fruit. Well, most days anyway.
There have a been a few times when I bought fruit to make things like this Lemon Cream Berry Pie, and there wasn't enough fruit left in the fridge to cover the top like I planned. But, hey, I made it work.
A few weeks ago I made a batch of this dip as a topping for these Homemade Strawberry Waffles. It was so good that I was literally eating it by the spoonfuls. Fast forward to the other day, and I was still dreaming of this dip because it was that good.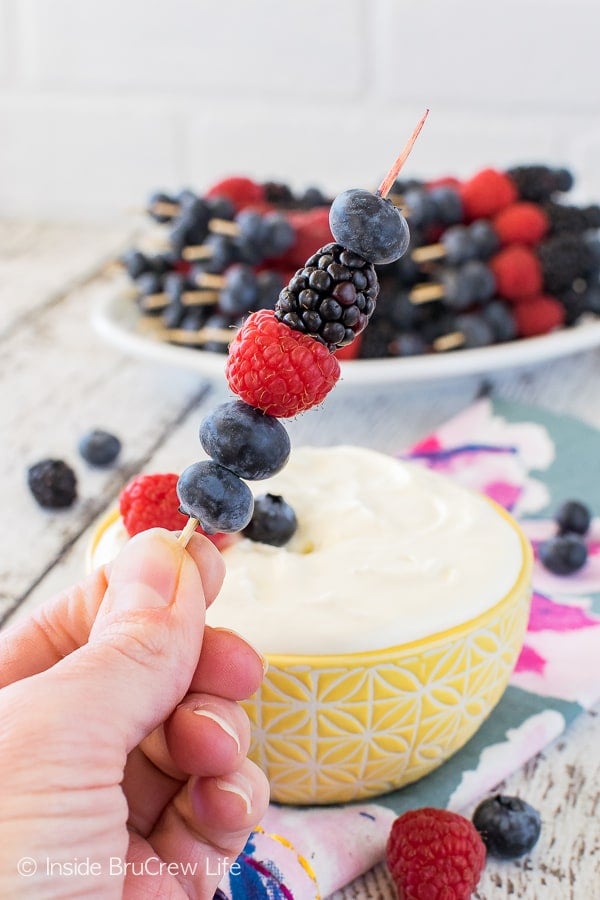 Lucky for me I still had the two ingredients that are needed to make more of this lemon cream fruit dip. Yup, you read that right. You are only two ingredients away from a bowl of creamy lemon perfection!
Heavy whipping cream and lemon curd make the creamiest and most delicious dip you can imagine! The only dip that I think is possible better is this Hot Chocolate Cheesecake Dip. It's another delicious mixture that I cannot stay away from.
I knew if I bought the berries too early the berry monsters in our house would attack, so I had to plan this lemon dip very strategically.
Buy the berries late at night. Hide the berries in the back of the fridge, so no one snags them for breakfast. Make the dip and fruit skewers while the kiddos are busy with schoolwork. Take pics and eat my fill. Have the leftovers out for an after school snack along with some mini muffins.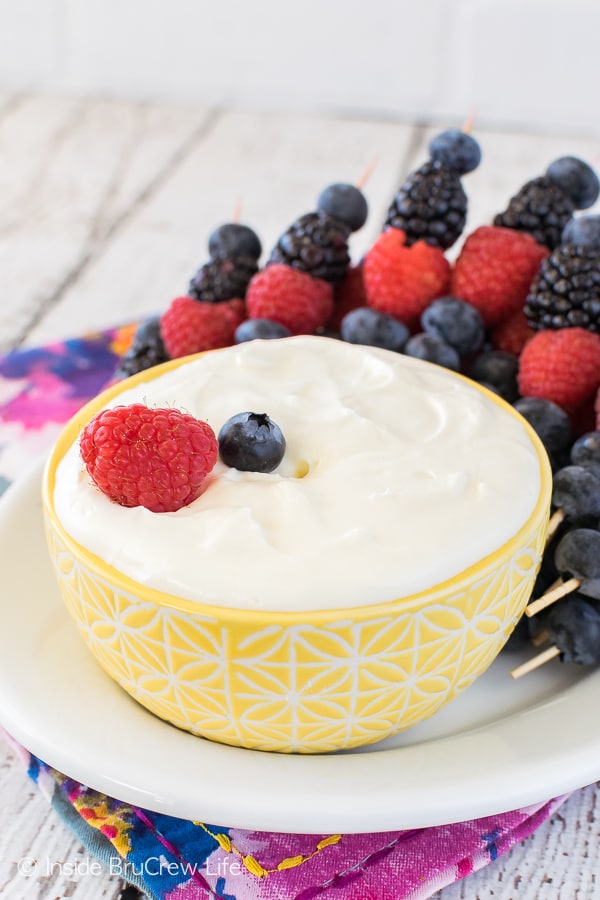 If you wanted to make a batch of this dip even faster, you could substitute 2 cups of Cool Whip in place of the whipping cream. It has taken me a little while, but I have found that homemade whipped cream is actually better in some recipes.
Don't get me wrong. I'm not giving up my containers of the fluffy white stuff. No way! I still have some in my fridge and freezer because I do puffy heart love the stuff.
Whipping cream just gives a different taste and texture to some things. This fruit dip is one of them. It has a light creamy texture without being too sweet. Trust me...you will be eating it by the spoonfuls. Ok, maybe that's just me.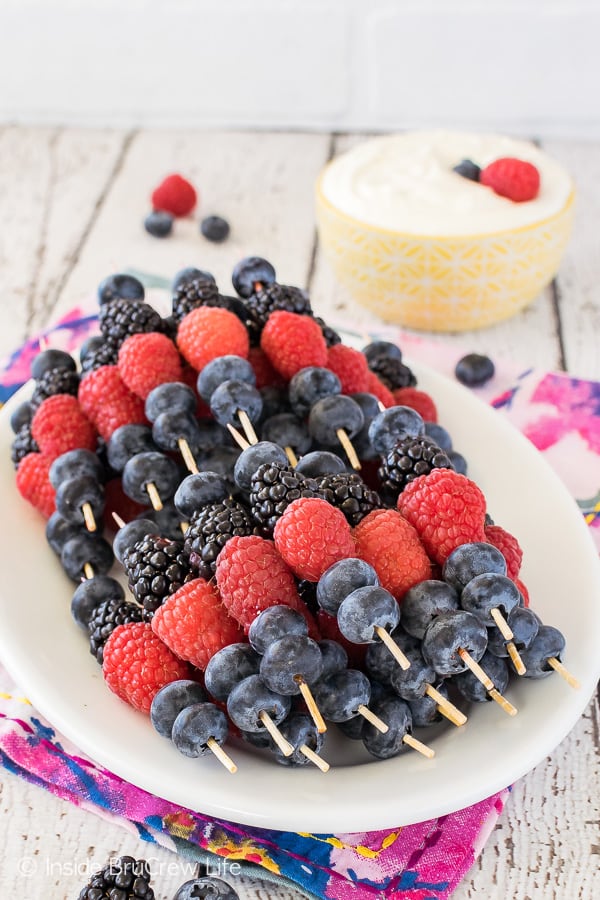 Since the dip isn't overly sweet, it is the perfect compliment to fresh berries. I decided to use little skewers with blueberries, raspberries, and blackberries just because I love the colors together.
I also love that the little berries work better on short skewers. Aren't they just the cutest? Feel free to use any berry combo that you love.
You could even add little mini marshmallows to make them be patriotic fruit skewers.
How to make Lemon Cream Fruit Dip:
Place a metal mixing bowl and wire whisk attachment in the freezer for at least 10 minutes.
Pour whipping cream in the chilled bowl and whip until it thickens slightly.
Heat the lemon curd in the microwave for a few seconds. Just enough to take the chill off and soften it.
Spoon the lemon curd into the whipped cream and beat on high until soft peaks form.
Chill in the refrigerator until you are ready to dip all the fruit.
Bring on the fruit skewers because I'm a gonna be dippin' today!!!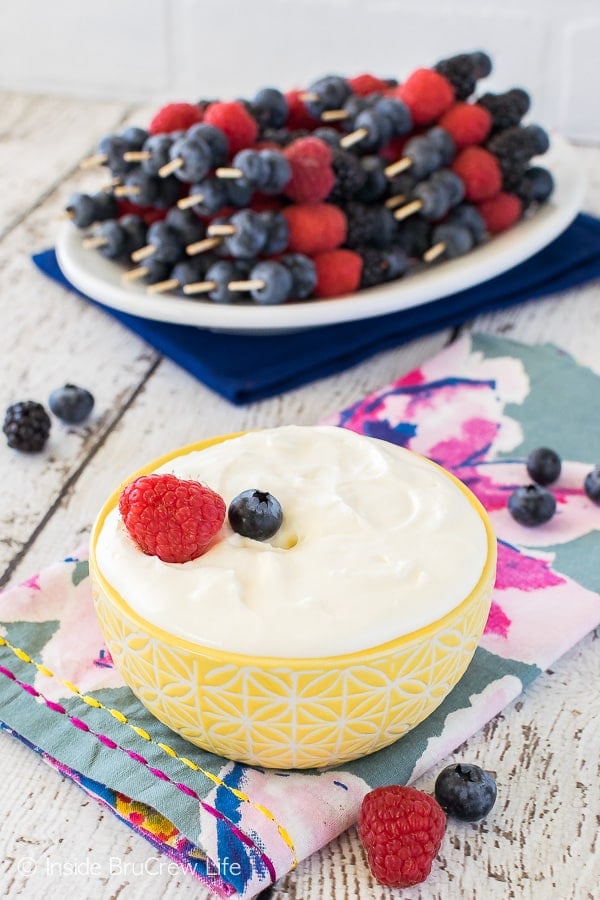 More easy fruit dip recipes: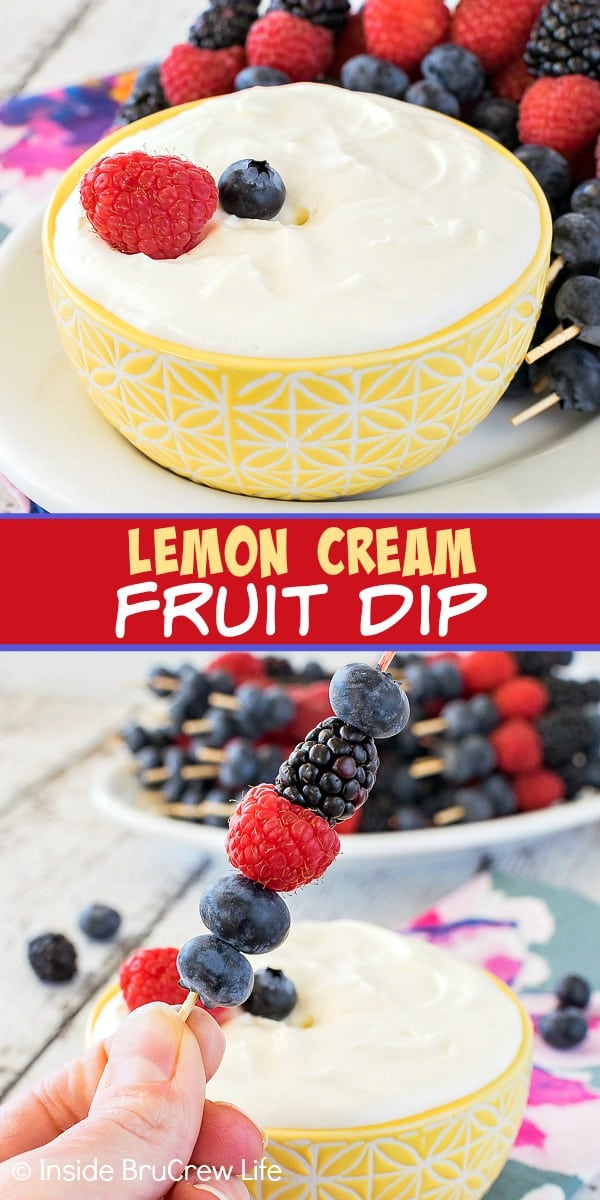 *The post for Lemon Cream Fruit Dip was first published on February 22, 2017. The post was updated and republished April 24, 2020.